Chicken Tikka Masala recipe is worth diving into the world of curry for a delicious healthy gluten-free dish you won't soon forget! (Gluten-Free, Dairy-Free Friendly)
Our cookbook The Easy Gluten-Free Cookbook goes live tomorrow! So exciting. TODAY ONLY you can save yourself $2 off at checkout using the coupon code 2VEGBALANCE
I have a super dark, delicious secret … I am absolutely in love with Chicken Tikka Masala. Like obsessed.
I've personally never liked curry dishes.
Traditionally, I've stayed far away from them but something has happened in the last year and oh-my-word, I cannot get enough of this dish.
There apparently is conflicting evidence WHERE this dish actually originates from.
My thought was it was from India, well I guess it also has some very strong ties to Britain. Actually Glasgow!
Glasgow is where we will be spending a month  early next year for some hiking in the highlands. If I end up having Chicken Tikka Masala in restaurants there on a daily basis, I'm going to be a happy girl.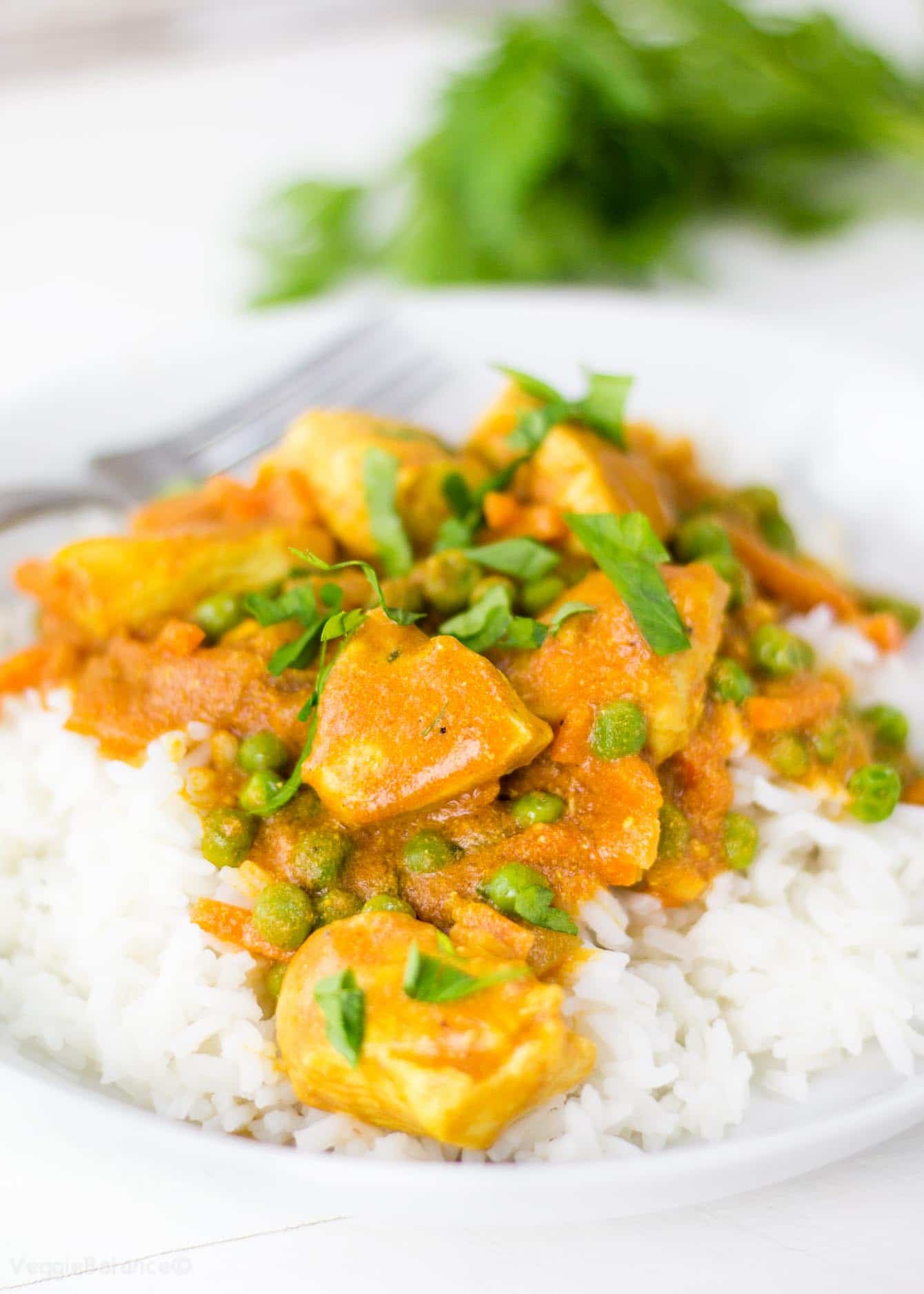 I'm not sure how or when this love for curry developed. It's almost the same as my love for red wine. Just one day, it hit me out of nowhere!
There are two downsides to this Chicken Tikka Masala dish:
Your house will smell like curry for days. I've found that if I make a double batch and freeze most of it this helps with the occurrences that my house will smell like curry for 3 days later. Now if you are not having company over not a big deal. If you are trying to sell your house like I was when I made this? Mmmmm… Not the best option.
YOU will smell like curry. This is just like the super garlicky caesar dressing my father would make growing up. The next day we could seriously smell the garlic coming out of our pores. This Chicken Tikka Masala has this exact problem … except with curry.
Now if you like the smell of curry, then it's not a problem.
I think that is why I never tried any type of curry dishes. I definitely don't like the smell, but after trying it I found out the taste of it is amazing. Even if it might look unappetizing and smell blah,  it's still freaking phenomenal.
It's a lot like our Picadillo Mexican Beef recipe, it might not look the most appetizing dish but it's amazingggggggg.
I've made these with dairy-free options as well so if you need to follow a dairy-free diet,  we've got your solution here. See the recipe below for those swaps.
So there you have it – if you have never tried this amazing dish because of the exact same hangups as me, give it a shot. It's amazing, delicious, made in one pan and is seriously THE BEST dinner everrrrrrrr.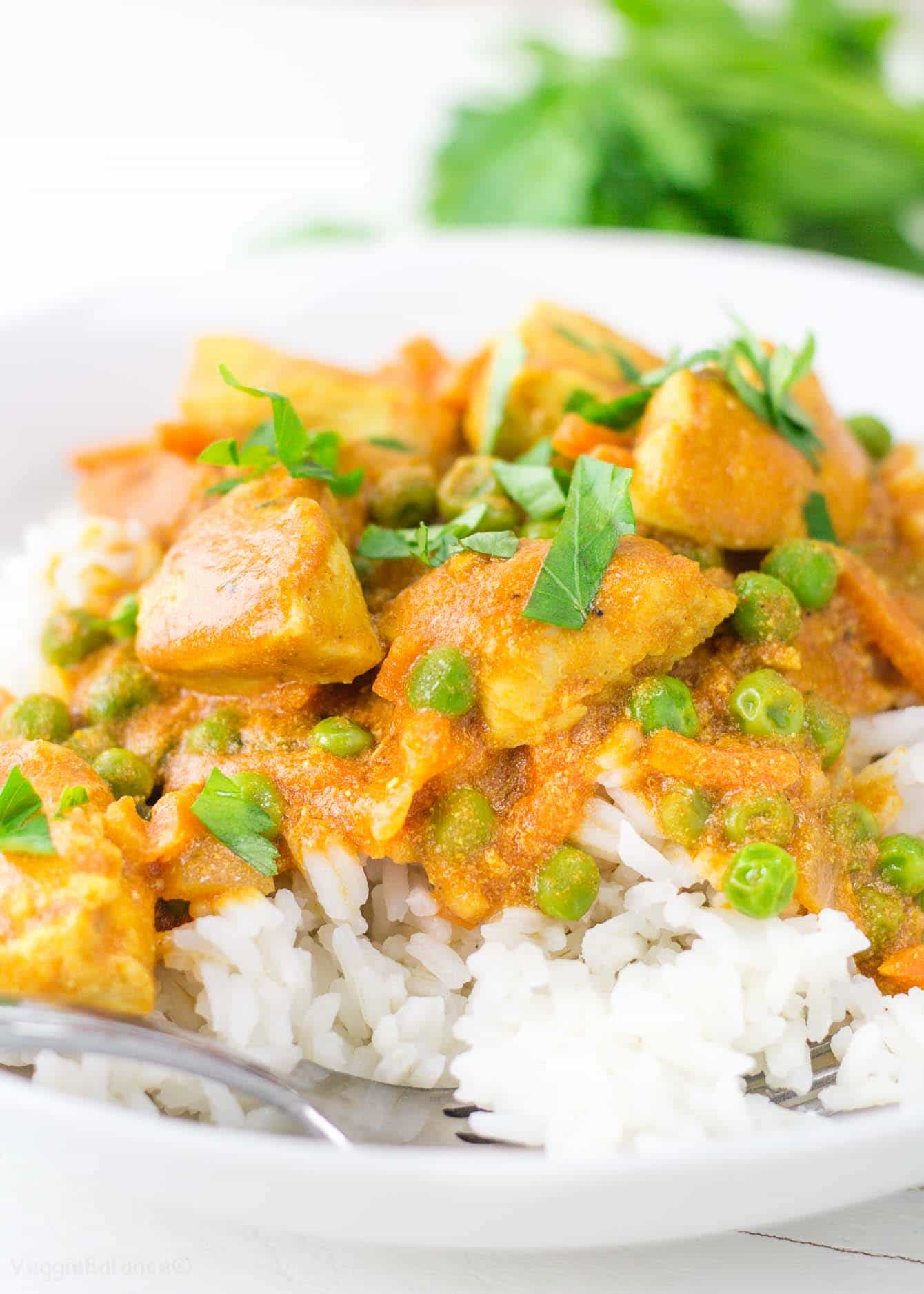 Chicken Tikka Masala
Gluten-Free, Nut-Free, Dairy-Free Friendly
Chicken Tikka Masala recipe is worth diving into the world of curry for a delicious healthy gluten-free dish you won't soon forget! (Gluten-Free, Dairy-Free Friendly)
Yield: 8-9
Prep Time: 7min
Cook Time: 20min
Total Time: 27min
Ingredients:
1.5 pounds skinless chicken breast, cut into small eatable bites
Pinch Salt and Pepper
1 cup white onion, finely chopped
1/4 cup butter (or dairy-free alternative)
1 (15 oz) can tomato sauce
1 teaspoon garlic powder
1 Tablespoon fresh ginger (or 1/2 teaspoon dried ginger)
2 Tablespoons curry powder
3 cups frozen peas and carrots
2 Tablespoons lemon juice
1/2 cup milk (or dairy-free milk alternative)
2 Tablespoons of plain greek yogurt (or dairy-free yogurt alternative)
Directions:
Heat a large skillet over medium high heat. Add a teaspoon of olive oil and add chicken. Season with salt and pepper. Sear outside of chicken bites until no longer pink.
Add onion and butter, cook until onions are translucent in color.
 Pour in tomato sauce, garlic powder, ginger, curry powder, peas and carrots, lemon juice.
Turn heat down to a low-medium heat and cover. Simmer sauce 10-12 minutes, or until sauce is bubbling.
Remove the pan from the heat, gently stir in milk and greek yogurt.
Serve on top of rice or cauliflower rice for a lower carb option.
Recipe, images, and text ©