Flourless double chocolate chip cookie is a chewy treat that will make you weak in your knees. Gluten-free and your only cookie recipe needed. (Gluten-free, Vegetarian)
As I write this, I'm eating cookies. BEST DAY EVER.
If you are looking for a delicious, chewy, flourless double chocolate chip cookie that will make you weak in your knees, do not look any further. You will get selfish with these, even greedy you might say. Store them at the back of the fridge where no one else sees them kind of selfish. Then sneak a cookie out when no one is looking.
Yes, they will make you do some naughty things. It is totally and 100 percent worth it my friends.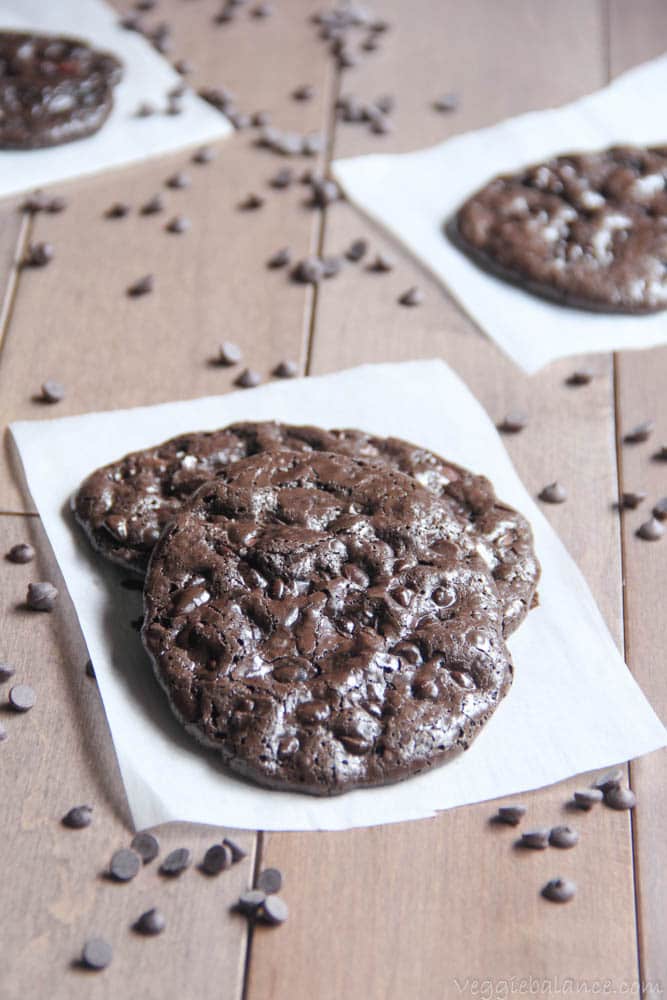 The little diddy of how these cookies came to exist goes like this.
One afternoon I was doing my normal blog work and so happens I came upon this recipe. I don't do this very often but next thing I knew I had a bowl whipped up and they were in the oven. I had myself a sweet-tooth extra chocolaty craving calling my name. I couldn't resist.
O . M . G .
Can I even attempt to write how phenomenal these cookies are? Let me try.
They are the cats meow. The bees' knees kind of delicious. They are the stuff your face with so many cookies you've lost count. They are the most chocolaty, gooey and chewy cookie I've ever had in my life. The best part?
It's flourless AND I guarantee you probably have the ingredients already on-hand. #AWESOMESAUCE. Double Chocolate Chip Cookies are THE BEST!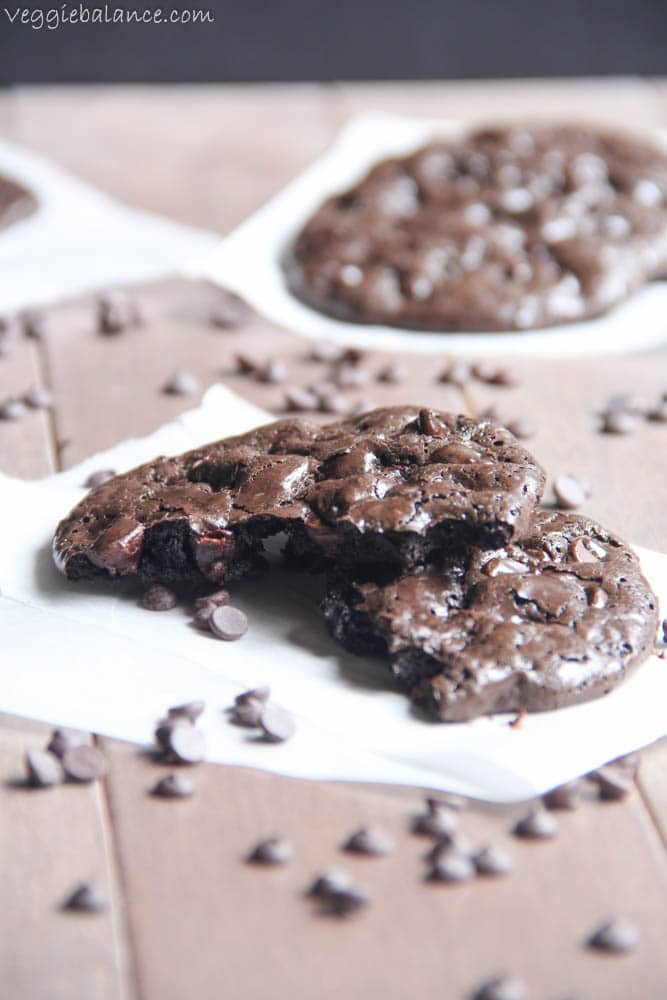 Now, they are most definitely not my normal kind of low-sugar recipe. The fact they are gluten-free fit the book they belong on here. Plus, sometimes you have to super duper indulge.
They are way to delicious to not share with EVERYONE.
My disclaimer is this though. Do not make these unless your OK with eating the entire batch yourself. Believe me, it will happen.
The word 'share' does not belong with these cookies.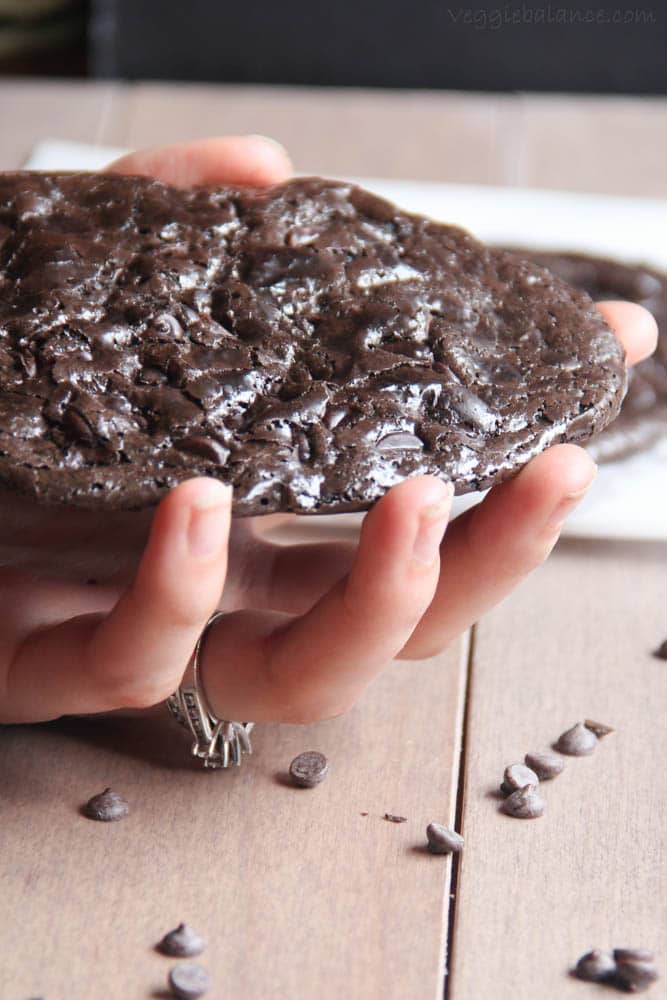 In my very humble opinion. If a cookie is as big as your hand, it's an automatic win.
Don't you agree?
I also just randomly snapped the above photo at the end of the shoot. Who knew I would totally fall in love with it. Love those moments. #photographywin
Yes I know hashtags don't do anything in blog posts. However, they sometimes just work perfectly to sum up my feelings.
Anyways, ADD moment aside. I would like to say I'm sorry. I'm sorry for failing as a food blogger. Today is national ice cream day and I am posting cookies. *GASP*
Sorry loves. I just vote we throw a scoop of ice cream on top of the cookie and call that a win. Yeah, that sounds perfect. 🙂
Flourless Double Chocolate Chip Cookies
Chewy flourless double chocolate chip cookie that will make you weak in your knees. Gluten-free and your only cookie recipe needed.
Yield: 1.5 dozen
Prep Time: 10 min
Cook Time: 15 min
Total Time: 25 min
Ingredients:
Directions:
Preheat oven to 350 F

Prepare a baking sheet with parchment paper

In a bowl mix the powdered sugar, cocoa powder, cinnamon and salt. Stir slowly until combined.

Stir in the egg whites, vanilla extract.

Fold in the chocolate chips

***The batter will look a little shiny and watery, that is fine. ***

Spoon a Tablespoon of batter onto the baking trays about an inch apart. Beware, they will spread out quite a bit. I used a toothpick in-between cookies in case they spread too much.

Bake for about 15 minutes. Cookies will start cracking on the surface.

Let them cool on the baking sheet for 10 minutes then carefully remove them to a cooling rack.
Nutrition Information:
Serving size: 1 cookie Calories: 198 Fat: 8 g Saturated fat: 5 g Unsaturated fat: 0 g Trans fat: 0 g Carbohydrates: 34 g Sugar: 28 g Sodium: 22 mg Fiber: 3 g Protein: 1 g Cholesterol: 0 mg
Recipe, images, and text ©