Peanut Butter Jelly Energy Bites bring the flavor of childhood while meeting the energy boosting needs of adulthood! (Gluten-Free, Low-Sugar, Dairy-Free and Vegan friendly)
If this recipe doesn't break you out into a song… We can still be friends, but for those who do get a little tune in your head/heart, "Hi bestie!"
It's Peanut Butter Jelly time!
I can't resist to sing this song the entire time I make them, eat them and even while I write this post.
Because in my house, it's ALWAYS peanut butter jelly time.
I've had to upgrade and make myself newer energy bites every couple weeks to motivate myself to get out of the house and into the gym. Cause, winter.
Snow. So much snow, I can't take it. Thinking this being my last winter here in Michigan I'd start feeling a bit nostalgic. No. Not at all. Get me out of here.
What's the best and sure fire way to motivate me? Well in this case, peanut butter and jelly into the form of energy bites.
Dear Peanut Butter Energy Bites, get me through this Winter please and thank you.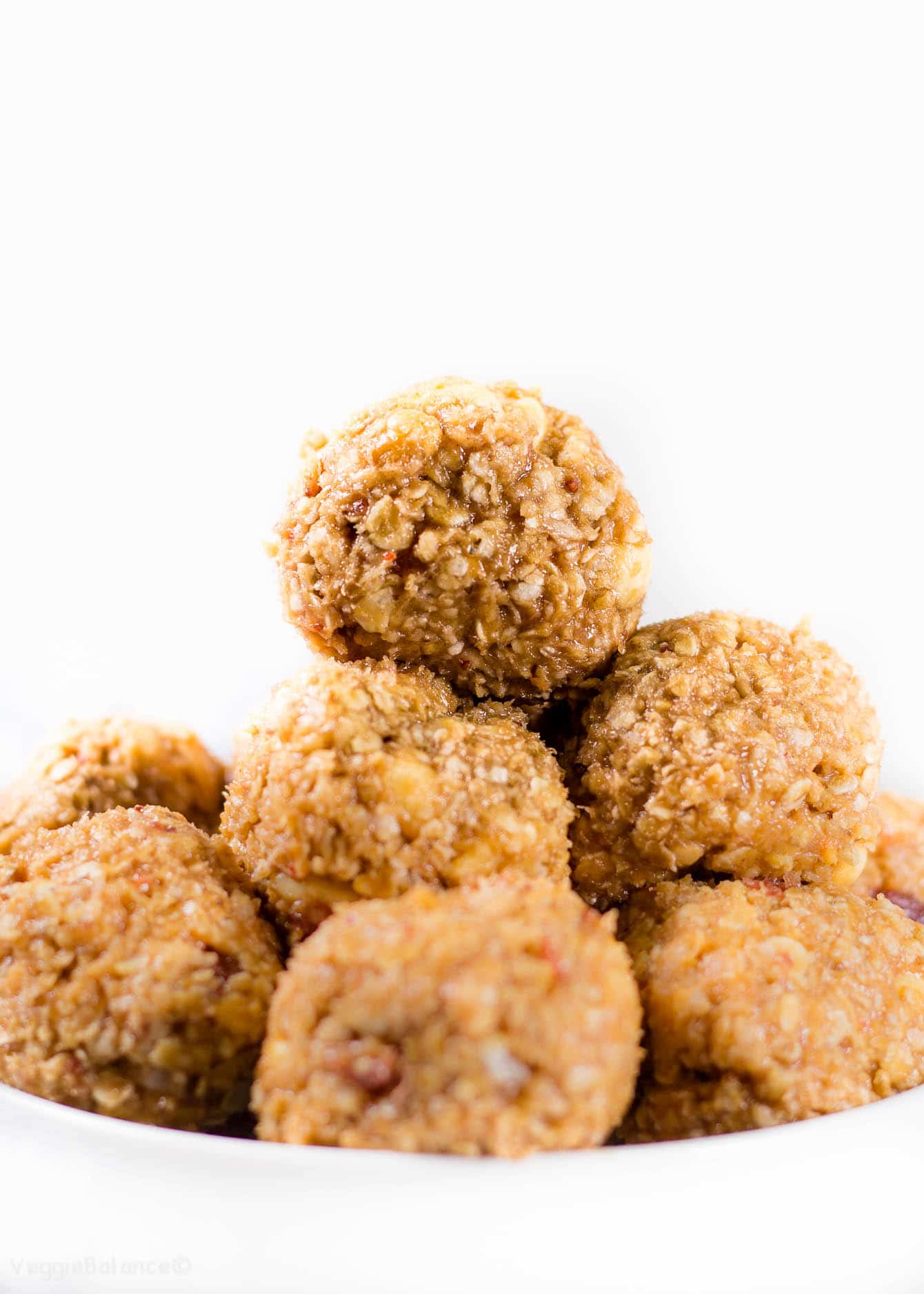 TIP: These can be a tad sticky at times if left outside of the fridge. I prefer to keep them refrigerated for that reason.
TIP: I prefer Jam versus Jelly for a few reasons. The huge chunks of fruit are in Jam and it does help out cutting back on the stickiness when there is more fruity chunks of deliciousness in there. MMM… jam is my jam!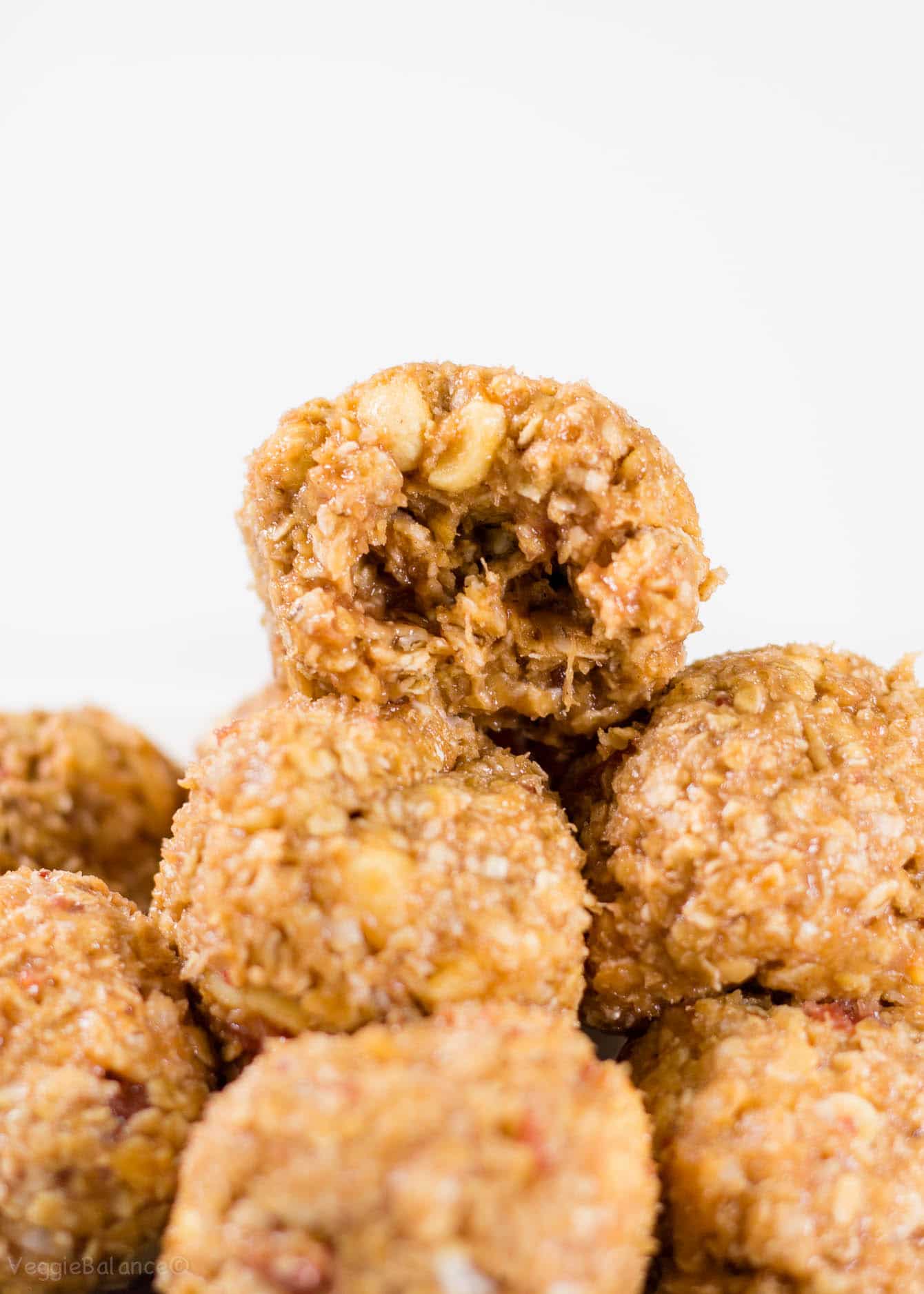 Now that the holidays are over, I feel like we all could use a little EXTRA motivation. All my midwesterners, I know you understand me.
The holidays are amazing and all, but then the reality hits that there are 2-3 more months of cold, snow, sleet and ice without any delicious food holidays on the horizon.
Yes, truly we need it to be Peanut Butter Jelly Time with these Peanut Butter Jelly Energy Bites.
ENERGY! I need ENERGY!
What about you?
Peanut Butter Jelly Energy Bites
Gluten-Free, Low-Sugar, Dairy-Free and Vegan friendly
Peanut Butter Jelly Energy Bites bring the flavor of childhood while meeting the energy boosting needs of adulthood! (Gluten-Free, Low-Sugar, Dairy-Free and Vegan friendly)
Yield: 1 dozen
Prep Time: 10min
Cook Time: min
Total Time: 10min
Ingredients:
1/2 cup creamy peanut butter
1/2 cup roasted peanuts
1/4 cup strawberry jelly or jam
Pinch of salt
Directions:
In a medium bowl mix together oats, peanut butter, peanuts, jelly and salt.
Refrigerate for 30 minutes to 1 hour.
Roll heaping tablespoon of mixture into a ball, continue until all energy bites are made.
Store in an air tight container in the fridge. Enjoy within 5-7 days.
Weight Watcher Points: 6
Nutrition Information:
Serving Size: 1 Energy Bite, Calories: 160, Total Fat: 10.6g, Saturated Fat: 1.9g, Cholesterol: 0mg, Sodium: 132 mg, Potassium: 132 mg, Total Carb: 13g, Dietary Fiber: 2.1g, Sugars: 5.8g, Protein: 5.8g
Recipe, images, and text ©