Roasted Brussel Sprouts with Bacon, Apples recipe brings the best of savory sweet salty goodness home with your veggies. Don't settle for boring brussel sprouts. (Gluten-Free, Dairy-Free, Nut-Free, Low-Carb)
Random fact about me: I can't stand reheated brussel sprouts. I won't eat them unless they come freshly roasted from the oven.
I mean, if I was starving and I had nothing else around and HAD to eat them, I would. Truly not something I'd want to eat by choice.
However, rustle up a pan of these freshly roasted brussel sprouts out of the oven and prepare yourself to HAND OVER THE ENTIRE PAN.
I'm odd, I know. But I feel we have this honesty train here where I'll share how quirky I am to the entire world. Sharing it all to the entire world, that's not weird at all.
When you add some bacon and sweet apples to the mix, eating the entire pan is actually not out of the question. So. Good.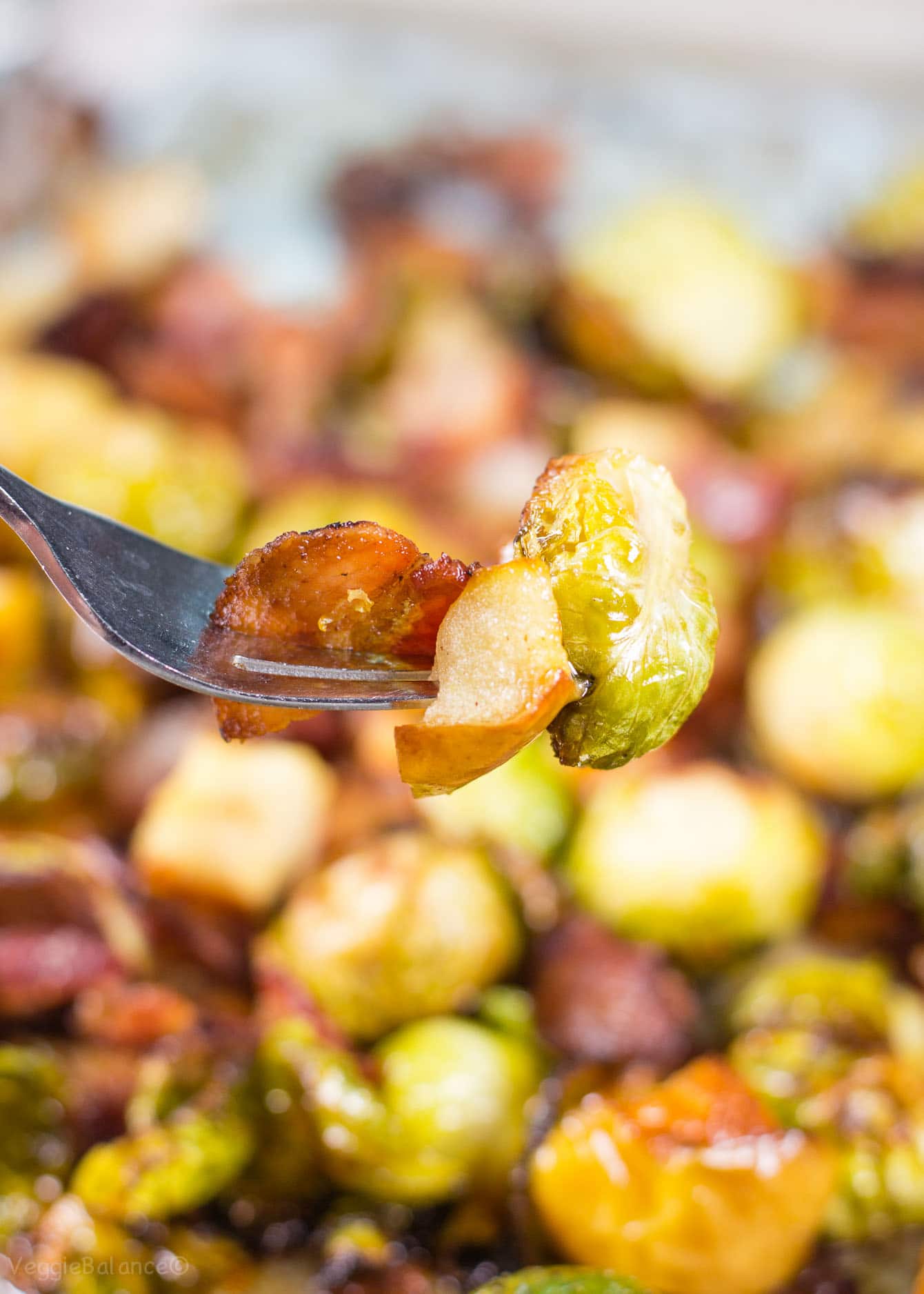 Like our best-ever roasted broccoli – I can eat that for dinner all by itself. These Roasted Brussel Sprouts with Bacon and Apples are right up there.
We have another recipe very similar to this in The Easy Gluten-Free Cookbook. Roasted Brussel Sprouts are the jam.
My mother never made them when we were growing up. I think it had something to do with the fact she was forced to eat them when she was growing up. If I was forced to eat re-heated brussel sprouts I don't know if I'd ever want eat them ever again either.
Thankfully, my mother saved me from hating brussel sprouts and now I'm old enough to be able to make them how I want to make them. With bacon.
Add a little healthy sweetness with the apples and this is how we do it.
Child of the 90s – did you just break out in song??
So if you've always hated brussel sprouts you've got to try roasting them with bacon and apples. I promise, this will not disappoint. Even brussel sprout pessimist can tolerate it when there is bacon involved. Right?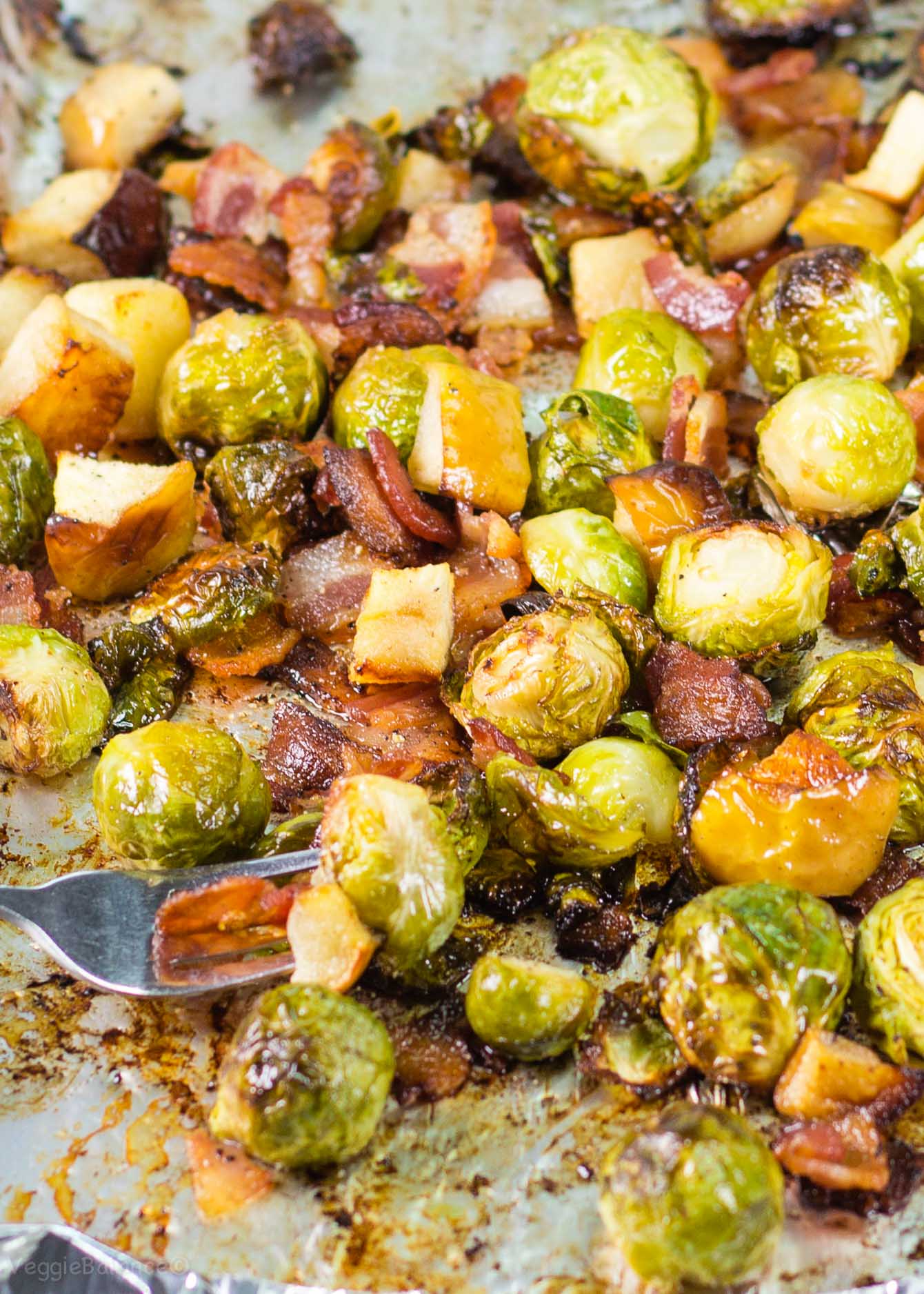 Roasted Brussel Sprouts with Bacon, Apples
Gluten-Free, Dairy-Free, Nut-Free, Low-Carb
Roasted Brussel Sprouts with Bacon, Apples recipe brings the best of savory sweet salty goodness home with your veggies. Don't settle for boring brussel sprouts. (Gluten-Free, Dairy-Free, Nut-Free, Low-Carb)
Yield: 8
Prep Time: 8min
Cook Time: 32min
Total Time: 40min
Ingredients:
1 pound brussel sprouts, rinsed, ends trimmed
1/4 pound bacon or turkey bacon, chopped
 1 large apple, chopped
1 Tablespoons olive oil
Pinch Black Pepper
Pinch of Salt
Directions:
Preheat oven to 350 degrees F
Toss brussel sprouts, bacon, apples, olive oil, black pepper and salt. Spread evenly across a large sheet pan lined with aluminum foil to help with clean up.
Roast for 30-32 minutes, tossing brussel sprouts every 10 minutes. Or until bacon is cooked crispy and brussel sprouts are well browned on the outside.
If after 30 minutes and bacon is not crispy enough for your taste, turn upper broiler on high for 2 minutes.
Serve immediately
Nutrition Information:
Calories: 87.9 Total Fat: 5.6g Sat Fat: 1.8g Cholesterol: 7.5mg Sodium 245.1mg Carb 6.6g Sugars 3.5g Protein 4.2g
Recipe, images, and text ©