I know, your probably thinking.. what is this girl thinking. Black beans in the brownies? Yes, I might be a little crazy and I once was skeptical too. I mainly never made them because I knew if I made them once I'd be hooked. Sure enough, I'm hooked.
I'm a fudgy brownie kind of girl. Don't give me the dry cake like brownies, those will not do. Give me a moist fudge brownie and it'll make me weak at the knees. My hubby has a very similar reaction to brownies lol.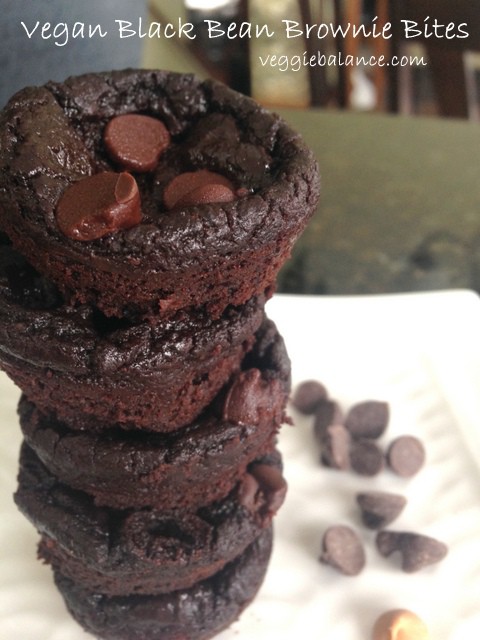 We use to make them quite often, loaded with sugar of course. With my clean eating lifestyle change, having a pan of these in the house is simply counter-productive.
These however are lower sugar, vegan and grain-free! They have now become my go-to dessert when I'm feeling a urge for chocolate. Which lets be honest, is quite often.
At just 57 calories a brownie and 2 g of protein each I'm going to call these a homerun.
I understand you can bake these in a 8×8 pan for about 25-32 minutes.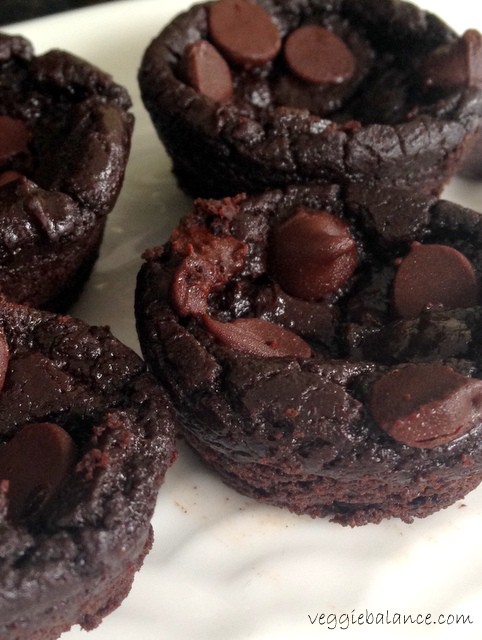 While I have not tried it I don't see why not. I like making them in a mini cupcake pan because then I am able to easily divide the nutrition for each brownie bite. Also, putting it into a 8×8 pan its so easy to keep slicing 'slivers' off the edges over the day.
Because believe me they are that delicious. I stored mine in the fridge as I read a comment that storing them in the fridge enhances the flavor? Do it, they were totally right.
Vegan Black Bean Brownies
Healthy vegan and grain-free fudgy black bean brownies. Low sugar and low fat.
Yield: 24
Prep Time: 5min
Cook Time: 25min
Total Time: 30min
Ingredients:
1 (15oz) can black beans drained
2 Flax Eggs (1 TBS ground flax + 3 TBS water per egg) or 2 eggs
1/2 cup cocoa powder
1/3 cup sugar
1/2 teaspoon olive oil
1 Tablespoon unsweetened almond milk
1 teaspoon balsamic vinegar
1/2 teaspoon baking powder
1/2 teaspoon baking soda
1/2 teaspoon ground coffee
1/4 cup semi-sweet chocolate chips
(For even healthier version: Take out 1/3 cup sugar and substitute 1/3 cup blueberries and 1/3 cup dried cherries)
Directions:
Preheat oven to 350F. Coat mini muffin tin with a little olive oil and set aside.
In food processor, add black beans and puree. Add flax eggs and pulse a couple more times till fully combined.
Add cocoa powder, sugar, olive oil, almond milk, balsamic vinegar, baking powder, baking soda, and ground coffee. Pulse a 10-15 times to combine completely.
Fill mini muffin tin about half way. Sprinkle 4-5 chocolate chips on tops.
Should make about 24 brownie bites or 6 normal muffin pan brownies.
Bake for about 20-25 minutes in mini pan or until a inserted toothpick comes out clean
Nutrition Information:
Calories: 57 Fat: 1.7 g Saturated fat: .8 g Unsaturated fat: .3 g Trans fat: 0 Carbohydrates: 10.1 g Sugar: 4.9 g Sodium: 1.3 mg Fiber: 2.2 g Protein: 2 g Cholesterol: 0
Recipe, images, and text ©
Love this recipe? Share it with your friends with the buttons below! Also if you like FACEBOOK page you can be updated when other yummy recipes like this are added!