Almond Cherry Baked Oatmeal is a delicious way to start the day off. Just whip a few ingredients together, bake and you're off to a great gluten-free start! (Gluten-free, Vegetarian, Vegan)
I've been on vacation. Yes, an actual real vacation. It was to put it simple, heaven.
We went to Las Vegas for the Rock n' Roll half marathon. 13.1 miles running down the Las Vegas strip at night with the lights and live bands all along the way.
If you are a runner, it is definitely a run to add to your bucket list. I was feeling nervous about it. My broken shoulder acts up on long distance runs.
I can run, I just can't swing my arm like you naturally do when running, and when I get fatigued during longer runs it's harder to remember to not swing your arm.
Adding to the stress of that already, I twisted my ankle the weekend before in a 5K trail run (placed first in my age group, woot!) AND, yes I said and, I came down with a head cold that week.
Possibly had to do with the 5K trail run was outside, 30 degrees and raining … possibly. Yeah, probably wasn't the greatest idea, but what can I say I'm a sucker for races I've already paid for.
So between the combination of that I was definitely not feeling up to par in the sense of training.
Thank goodness I did my first 25K the beginning of the summer other wise I don't think the run would of gone so smoothly. But it did! Actually it went amazing, felt amazing and had a amazing vacation.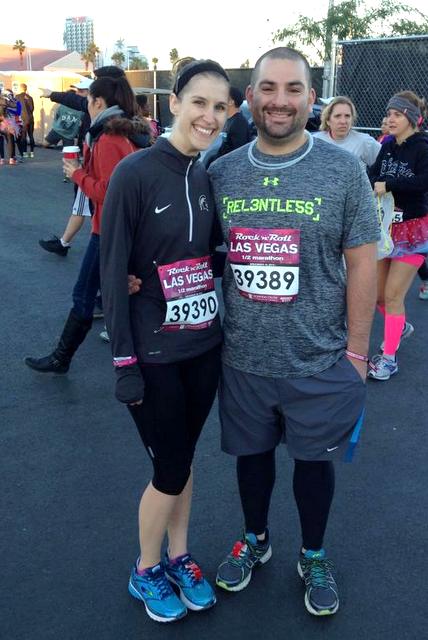 Man, I was missing my homemade food though.
Love vacations, but not having a home cooked meal and most importantly fresh produce can really take a toll on you. I recently discovered baked oatmeal with the chocolate peanut butter baked oatmeal.
I twisted it into my own version with my favorite combination ever for oatmeal, almond butter and dried cherries. I was even craving this during our trip in the mornings!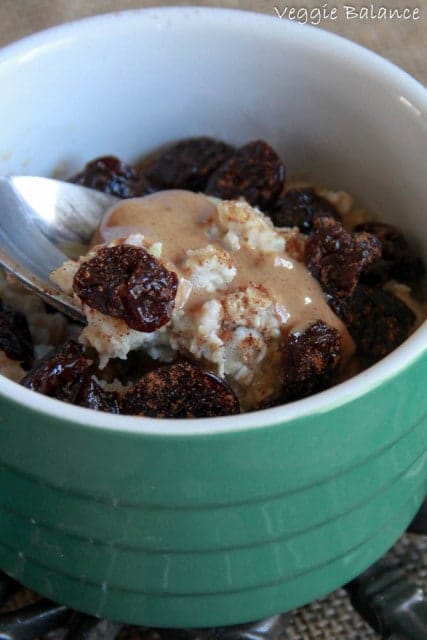 Actually I've made it for breakfast the last three mornings now since returning. I will never gets enough of it.
Perfectly baked oatmeal with sweetness from the applesauce and dried cherries, with a perfectly gooey almond butter center. It's perfect for those cold winter mornings.
Oh yeah, did I mention we came home from warm Las Vegas to cold Michigan and 5-7 inches of snow? Yuck. Even though Las Vegas had a cold snap (of course on race day) it was much warmer then the 10 degree weather we came home to.