Cucumber Radish Salad made with 5-ingredients and all-natural ingredients. Gluten-Free, Vegan and Vegetarian.
Look at those colors! This cucumber radish salad is not only a beautiful, colorful dish to accompany your main course, but it's also absolutely fresh and delicious! What's the best part other then it being beautiful? It's 5 simple ingredients!!
I threw this together on a whim one day and was pleasantly surprised by how well it turned out. I couldn't get enough of it, and I just had to share it with all you lovelies.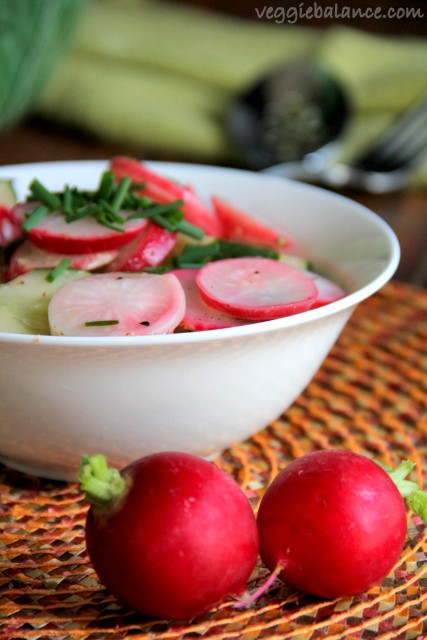 It all started with one of those companies that deliver farm fresh produce to your door. They finally came to Michigan! I've been so envious seeing people who live in California and Chicago posting photos of their freshly delivered fruits and veggies.
Finally I can be one of those people flaunting my freshly delivered, organic, non-GMO produce. Yesssss. I'm going to use them till my own garden starts officially kicking off and provides me some fresh backyard goodies.
One thing that I absolutely LOVE about the delivered produce, it brings me a little out of my comfort zone as a cook and makes me think out of the box on what I normally would make. Would I normally buy radishes at the store?
No, I can almost guarantee you I wouldn't. Who knew the flavor, crunch and bite they have would go so perfectly paired with a cucumber!
This salad has about a week limit, after more than 5 days both the cucumber and radish become a little 'soggy' so I advise to eat this salad over a couple days.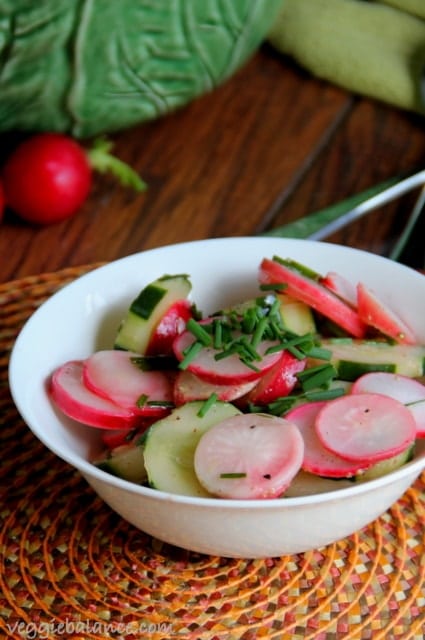 As I type this though, my arms are exhausted. Just having them in this position to type I've realized how tired my body is. Why you may ask?
I have joined the crazy Crossfit crowd officially. You know what? I LOVE IT. It totally reminds me of my gymnastics years, it always pushed me and proved to me what I was really capable of.
Plus, I have an addictive personality when it comes to working out, I have this weird drive in me that just refuses to give up. Especially when it comes to running. Literally, I'll have a conversation in my head when I want to stop running.
"No, you are not stopping, don't you dare even consider walking. You can do it, you are capable of more. Keep GOING."
Just realized a moment in my head is a little scary and mean. I think any runner or anyone involved in any physically demanding sport needs that voice. If you just give in to that first moment of weakness, it's almost the same as giving into eating that entire pan of brownies. Whoa Yeah that was a tough love moment perhaps, but seriously just had a epiphany moment myself.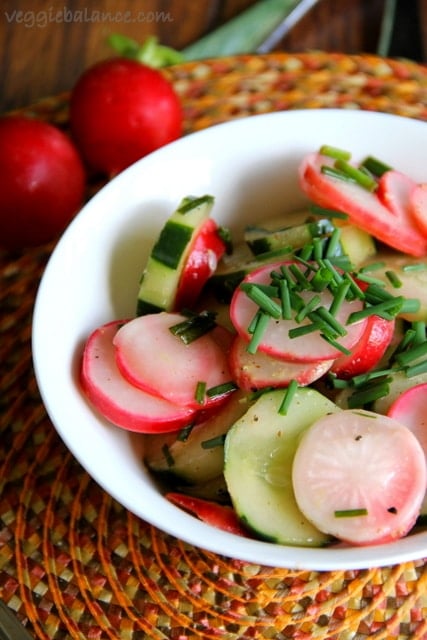 Fortunately this delicious summer salad you can eat 2-3 bowls of and have the littlest regret.