Flourless Chocolate Cake recipe is a decadent, fudgy, gluten-free, dairy-free cake with refined sugar-free options. Top it with a dairy-free chocolate ganache and it's ready to impress.
Think chocolate. Delicious chocolate cake with an even more delicious, fudgy, creamy chocolate ganache, topped with a sweet and delicious strawberry.
The bomb diggity bomb, guys. Seriously.
What is more bomb diggity is this cake is 100% flourless, gluten-free, and dairy-free.
Awesomesauce, right?

MY LATEST VIDEOS
This gluten-free flourless chocolate cake with double the chocolate is something I've had on my "Must Make" list for a while. You would think that because it is my job to make food and share it, I'd run out of things I want to make, right? Simply not true. How is that possible?
It's kind of a blessing and a curse at the same time. Once I perfect a recipe, I'll make it again once in a while, but it's generally onto another recipe to master.
This cake, however, will be an exception to that rule. It will be made at every single possible occasion.
Gluten-free individuals: We can be gluten-free and eat our cake, too! Best day of my life.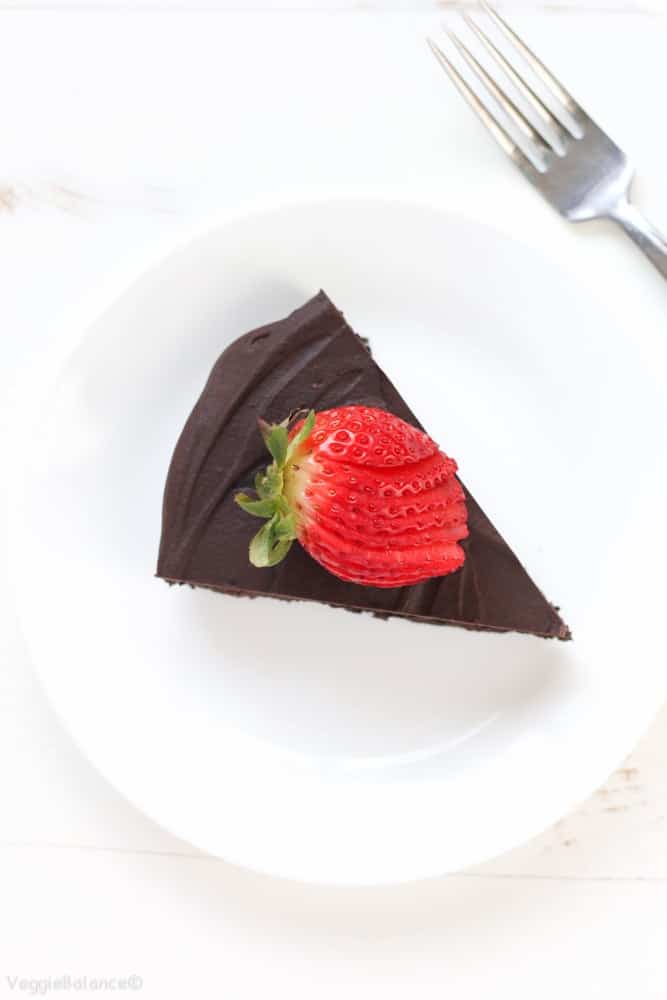 Top a decadent slice of this cake with a couple perfectly sweetened strawberries, raspberries OR (if you are feeling especially naughty) a scoop of vanilla ice cream.
Ice cream is like hot chocolate to me—it's a super duper treat.
In the summer though, and while training for the last couple half marathons, my super-duper treat turned into an almost every weekend event. Frozen Yogurt places, you are my kryptonite. Mix that with running 10-11 miles, burning 1400 calories, and my body is practically dragging me to the nearest FroYo.
This gluten-free flourless chocolate cake has the same effect—it has super powers over me.
Make it for a special occasion (like say, Valentine's Day) to make sure you have something to share with that special someone. Best if you have multiple people to share this with.
Otherwise, you'll find yourself with the whole pan, fork in hand, watching Big Bang Theory . . .
It happens.
Only problem, I'm currently not training for a race . . .
Note to self: Sign up for a race so that I can keep eating this cake every weekend.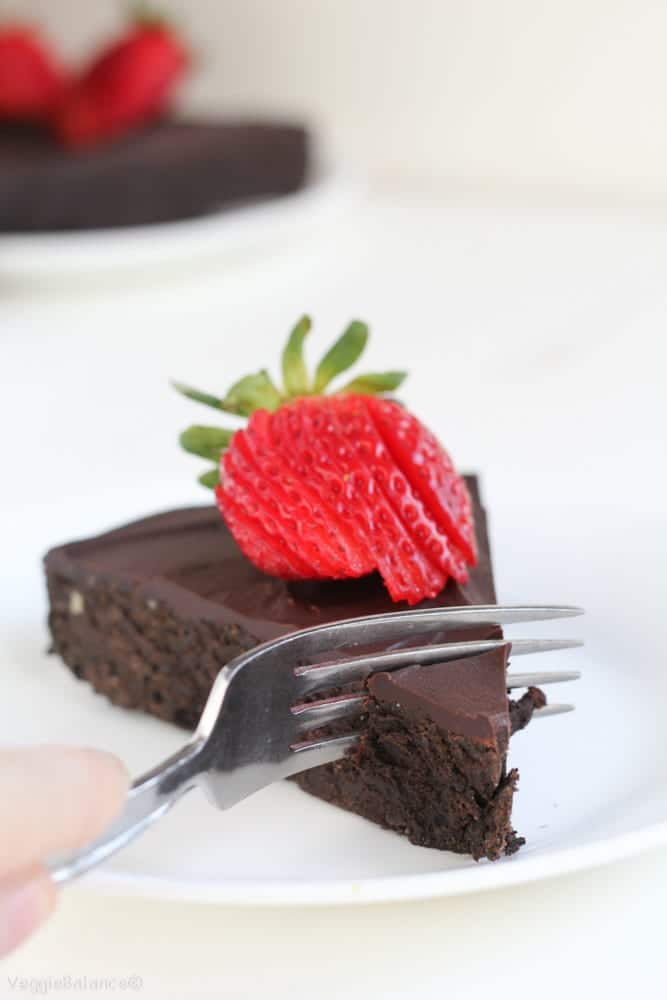 This flourless cake was mastered in a pinch. I made 3 of these cakes in one night, two of which ended up in the trash, but I was determined.
Lately, I've found myself making food for not just R and me, but friends and family. I put together a tapas dinner for my mother on her birthday (which included this cake), dinner for my sister and friends when we were in Tennessee, and then this weekend we are having friends over to our home.
Here are the allergies / food preferences between us all:
Gluten-Free
Minimal Dairy
No Meat / Fish
No Mangos
No Cumin
Like Barney Stinson from How I Met Your Mother says, "Challenge Accepted".
I'll make sure to share what I come up with on Snapchat. You aren't following me on Snapchat yet? I'm obsessed with Snapchat. (username: veggiebalance)
I have kind of fallen in love with the tapas dinner style for entertaining. Multiple little dishes with multiple little bites of delicious food? Count me in.
This flourless chocolate cake will be making another appearance this weekend.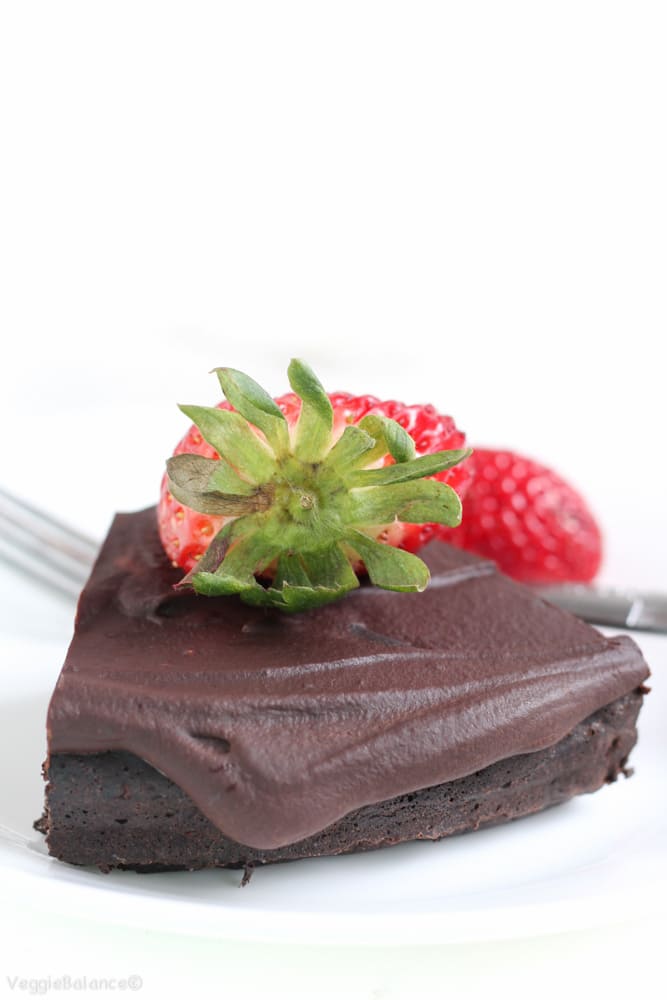 Extra Fudgy.
Creamy Chocolate Ganache.
Decadent.
Irresistible.
Luscious.
Tempting.
Gourmet Gluten-Free Flourless Chocolate Cake will wow your guests.
Or, if you are making it just for yourself, I don't blame you; I would (and have) too.
Top it with a fresh strawberry though; we need some fresh fruit in the mix to make it ultra-healthy. 😉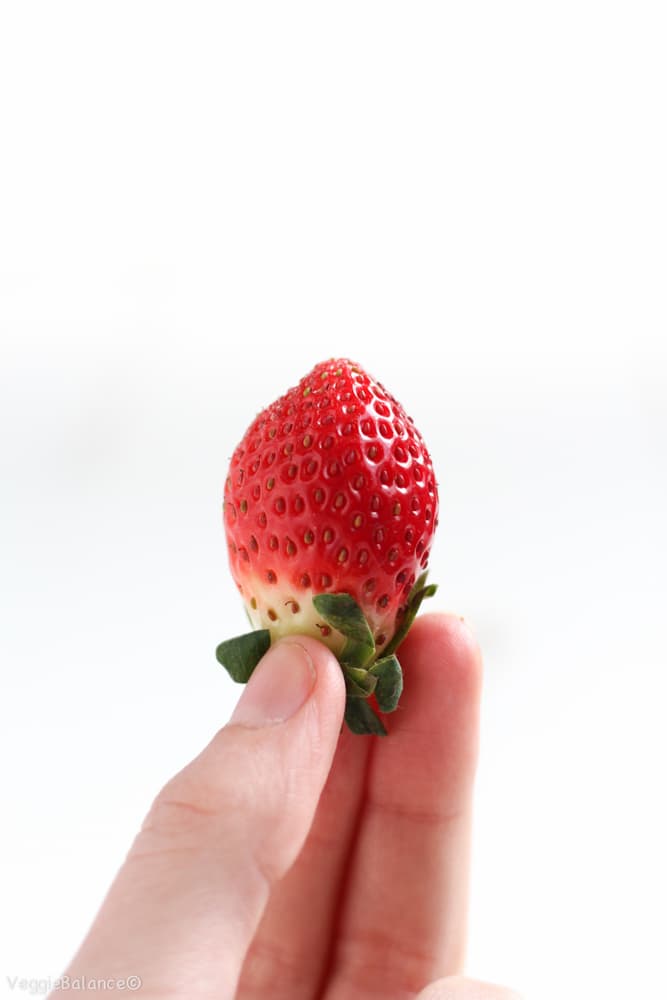 Tips for this delicious Flourless Chocolate Cake.
It is best if made in a springform pan – I have not tested it in a normal cake pan.
This was made with both varieties of my favorite gluten-free and dairy-free chocolate chips: Mini Variety or Dark Chocolate Chips
This cake is extremely rich : You do not need a huge slice of it to be satisfied. Nutrition Facts are based on smaller portioned sizes for this reason.