Fresh Vegetable Soup recipe. Packed with all-natural ingredients. Gluten-Free,Vegetarian! It's too easy to not make, plus tip for fresh vegetable broth. (Gluten-free, vegetarian, vegan)
We have had a very mild winter this year in Michigan. Regardless, winter means lots of soup! Fresh Vegetable Soup to the rescue!
Nothing better than warm comforting soup on a cold winter day. Month of January I decided to make it everything Mexican, no worries though the soup is back!
Today is marking what I'm hoping is the last weekday at home recovering from this shoulder surgery. I won't lie though, it's been nice having time off.
We got 17 inches of snow on Monday. Not having to worry about calling in to work and just watching the snow fall was awesome. I scheduled my surgery for this time of the year because I was hoping I'd be able to stay inside for the couple weeks and just watch the rest of winter pass without stepping a foot outside. Mission accomplished!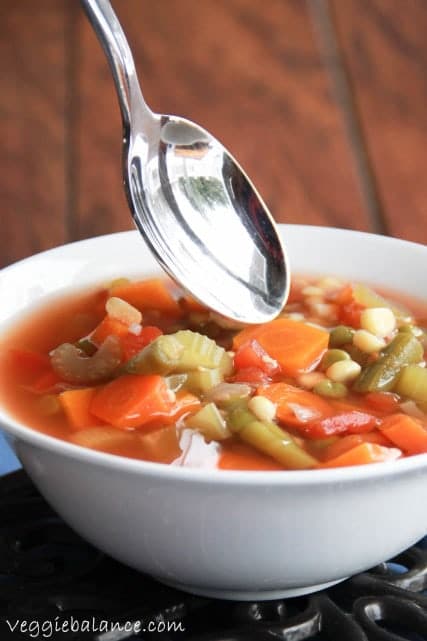 I'm still trying to figure out what the heck I'm going to wear to work since I can't button my own pants without a good 10-minute struggle. Then I finally give up and ask for help.
Stupid skinny pants, they are too skinny to button with one hand. I have a feeling I'm going to be a fashion train wreck these next couple weeks. I'll make sure to show you guys this train wreck on Instagram. 🙂
Now, lets get talking about this warm, delicious and nutrient packed vegetable soup. It's one of those soups that is a win-win. I shared this over on the VB Instagram account a while back so I'm sharing this again. It's a winner of a tip.
I needed to make more vegetable stock (recipe for homemade vegetable stock).Over the course of a couple months I save my ends and scraps of onions,celery,carrots and freeze them. I made this vegetable soup and filled my scrap bucket up enough to make a huge batch of vegetable broth. It's a perfect solution to avoid waste.