Frozen Yogurt Bark recipes for those quick, tasty and nutritious snacks. Keep those late-night cravings at bay with these amazing gluten-free treats!
(Gluten-Free, Dairy-Free, Vegan, Low-Sugar)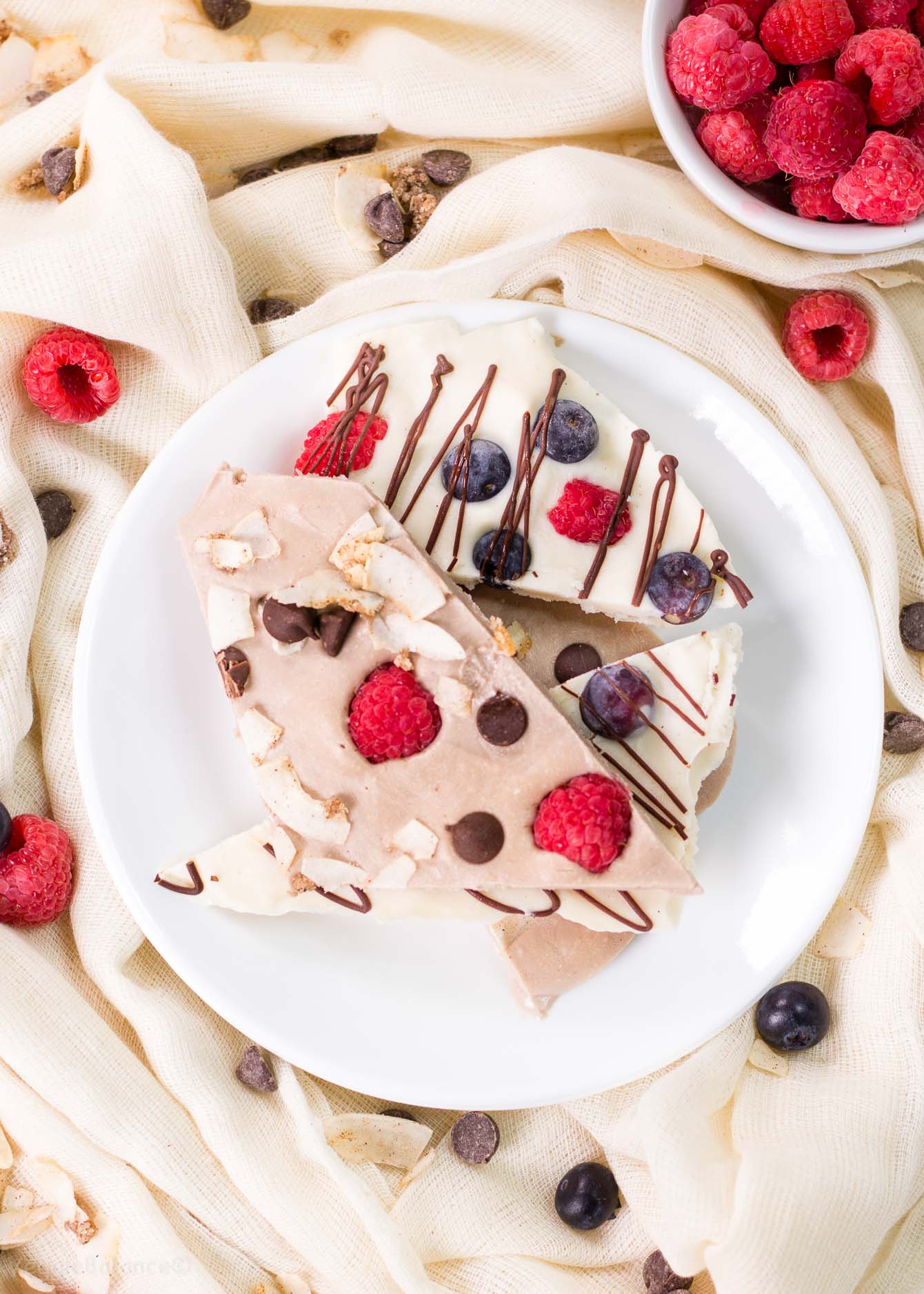 This post is sponsored by Silk. To learn more how this supports VeggieBalance to continually bring you free recipes every week. Find out here.
Ready for this deliciousness? Coming to you today, we've got not just one but TWO ways to spice up snack time.
I'm personally a HUGE yogurt fan. It is my absolute favorite for breakfast and even as a post-workout snack.
You can dress yogurt up or down. Add granola to the mix, fresh fruit and even chocolate chips have made it into my yogurt at times. (No shame here!)
Just like everything in life, there are times when you just need to change things up.
Frozen yogurt bark is definitely a tasty change up you've been missing out on and we are going to show you have to make yogurt bark.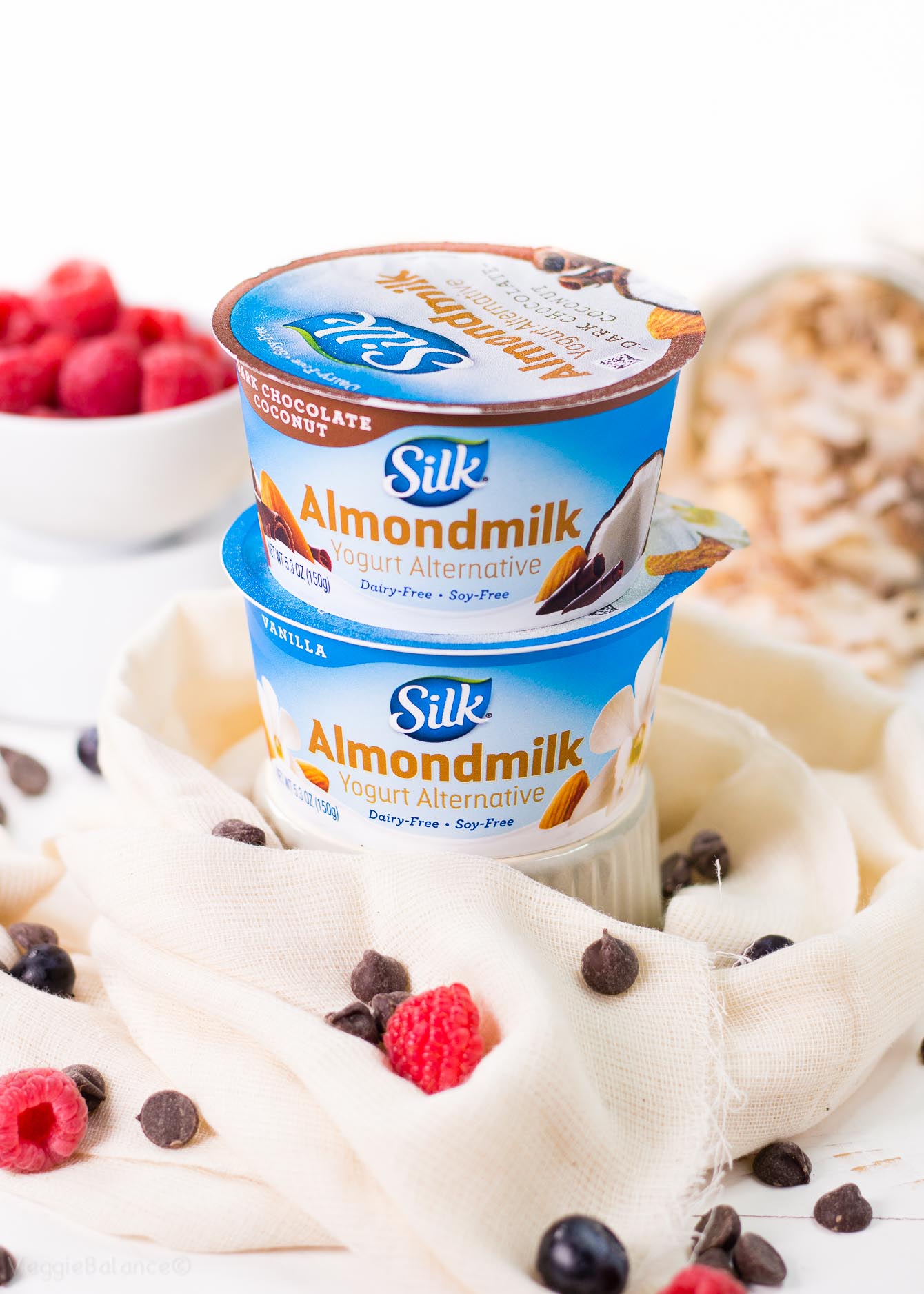 What is Yogurt Bark? Types to Make?
Yogurt bark is simply yogurt frozen and broken off into pieces.
First frozen yogurt bark recipe is my night time snack favorite. CHOCOLATE. Everything about chocolate makes everything in this world RIGHT. Topped with some toasted coconut, raspberries and we've got ourselves that late night snack to curb cravings.
Second Yogurt Bark recipe is with our good ole' steady vanilla yogurt, add raspberries, blueberries a chocolate drizzle for fun. This one is my favorite during the day while I'm sitting at my computer working.
Want to hear the best part of it all? It's dairy-free and vegan!
Silk has a Dairy-Free Almond Milk Yogurt alternative that is super tasty. Check it out for a coupon!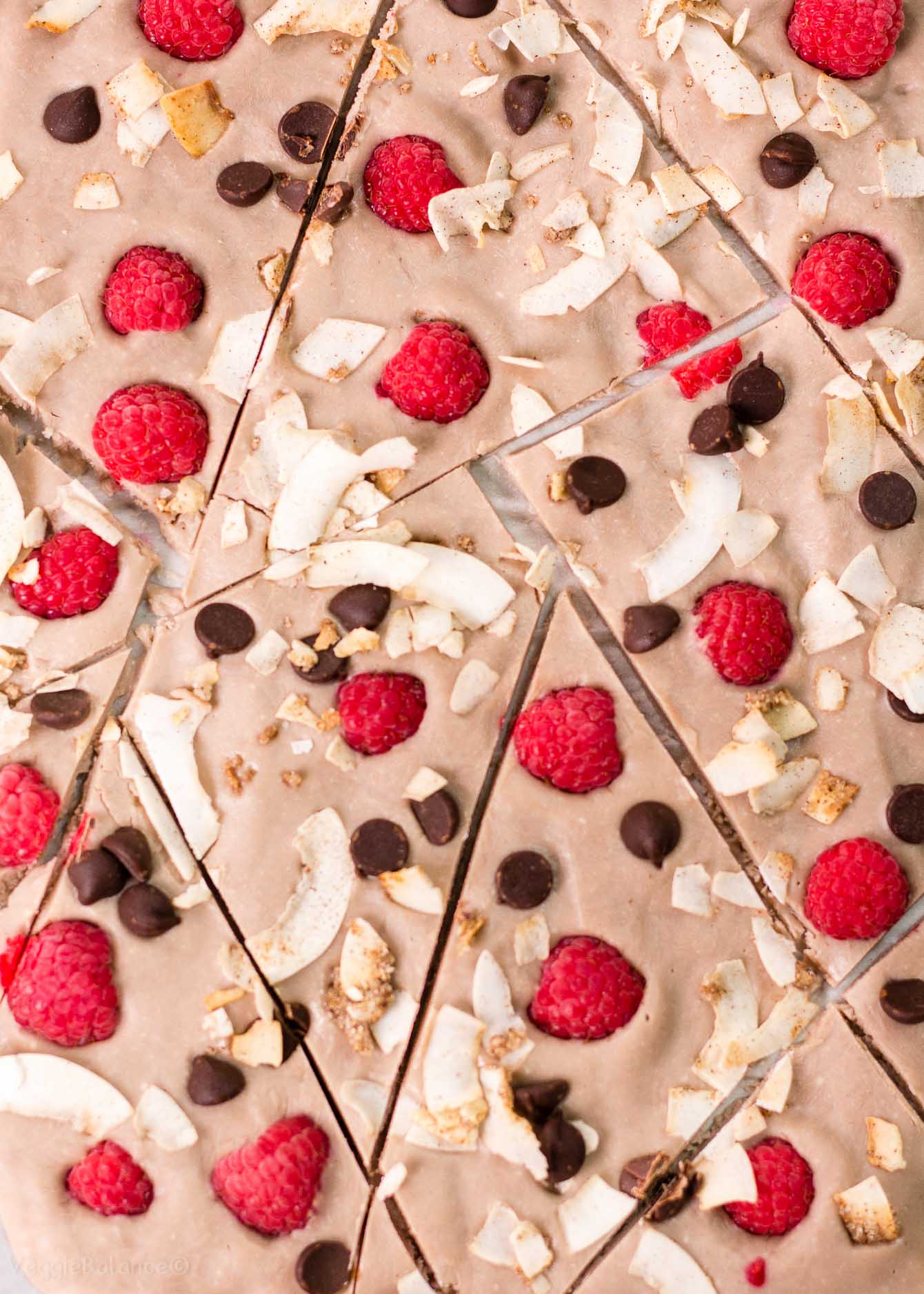 Another reason I need more recipes like this frozen yogurt bark?
Well, us moving into a new space (still trying to figure out this oven) and my husband returning home from his deployment. I'm still trying to figure out HOW to keep our house filled with tasty and nutritious treats for two.
It's been 7 months that he's been gone and the days of making one meal that lasts me all week are over. Food goes WAY too fast in this house now and I'm still adjusting to the fact that it seems I'm constantly trying to find something to eat with minimal work.
Craving a little mint flavor? Check out this Low Carb Peppermint Bark from All Day I Dream About Food.
I'd make a huge batch of picadillo or chicken curry and eat it for the ENTIRE week guys. Not anymore.
Don't get me wrong. I wouldn't trade having him home for a fridge full of food.
Hello Frozen Yogurt Bark. You are seriously the best solution for my current problem.