Chocolate Pudding Pie is gluten free, no-bake and will have your taste buds dancing with delight! This delightful dessert sans gluten is perfect for every season, gathering or just because.
(Gluten-free, Vegetarian)
This post is sponsored by Bobs Red Mill. To learn more how this supports VeggieBalance to continually bring you free recipes every week. Find out here.
Chocolate Pudding Pie without the gluten is something to celebrate. Fluffy, chocolaty deliciousness is always worth celebrating. Pies truly are a slice of happiness, topped with fluffy goodness.
When it requires ZERO baking this becomes even more of a favorite of ours. Using simple high quality ingredients and this pudding pie is a winner.
It's true, you don't need to wait for a special occasion to celebrate with gluten free pie. But this pie is PERFECT for any upcoming gatherings you might have. We cannot wait to eat all the fooooooood.
As with the best of gluten free options, your guest will be none-the-wiser about this pie's gluten-less status. Exactly as it should be. 😉
Check out this Gluten-Free Ice Cream Cake Copy Cat from Eat at Our Table.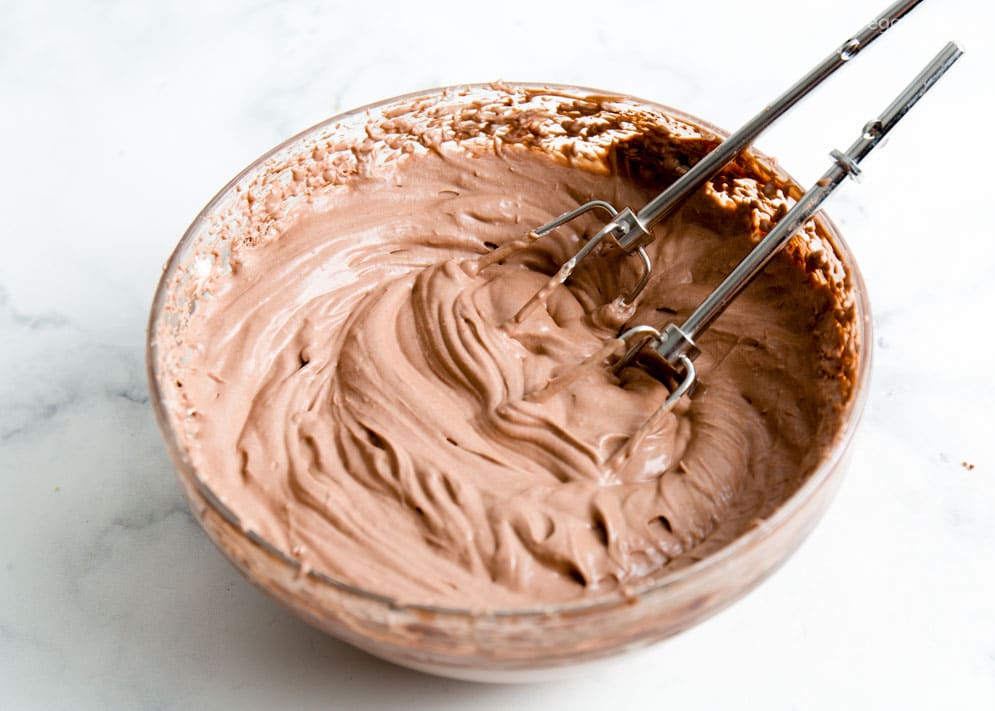 Chocolate Pudding Pie 101
Some tips and tricks to keep your delicious chocolate pudding pie safe for consumption.
Does pudding pie need to be refrigerated? Yes, to this pie is best stored in the refrigerator. Cover the pie and it will last for 2-3 days. (We lean toward 2 day to be safe.)
Can chocolate pudding pie be frozen? Yes, it can! Allow the pie to fully cool and wrap tightly with plastic wrap. This nature of this pie means a shorter shelf life, so be sure to thaw and eat within a month.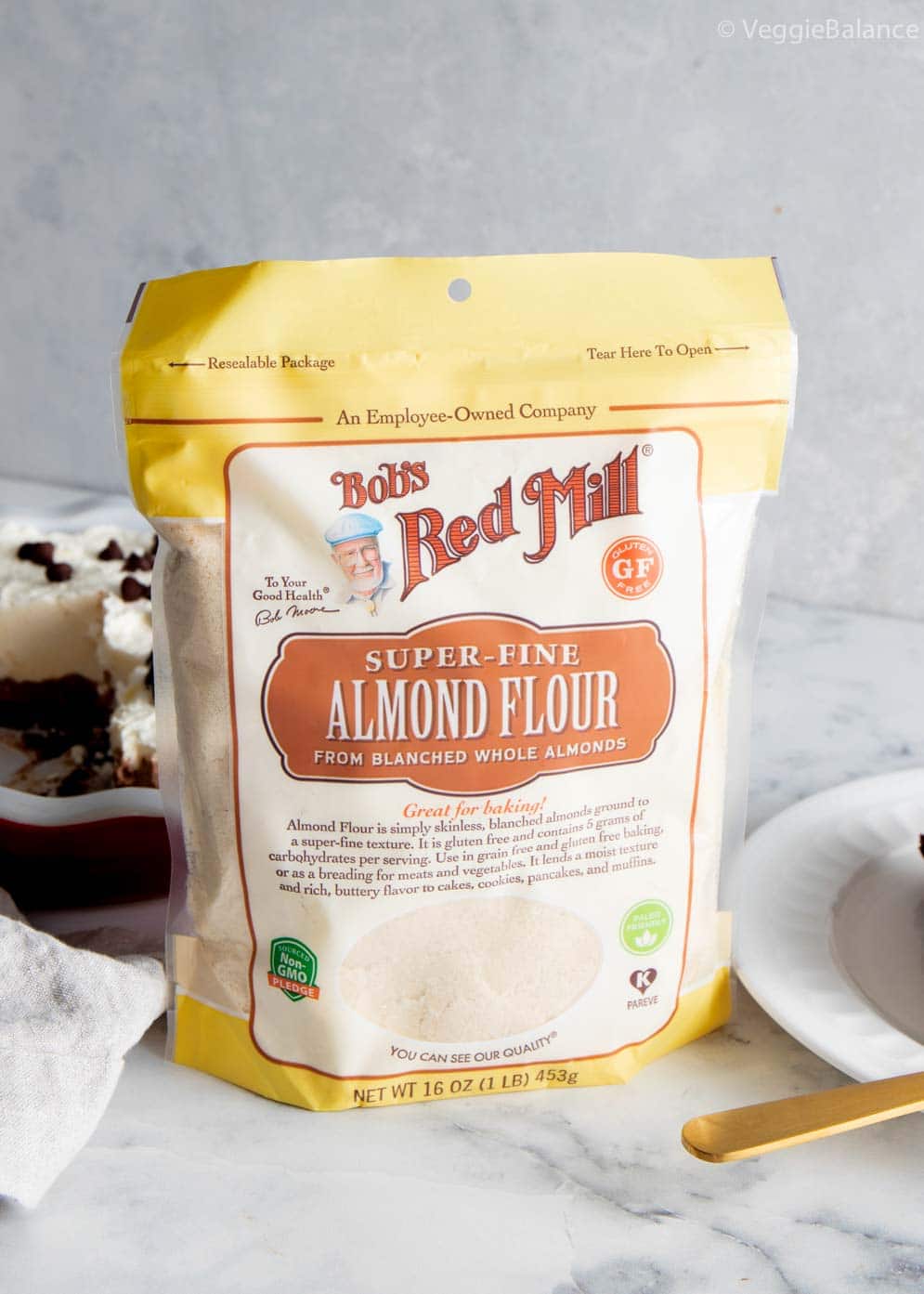 Homemade vs. store bought chocolate pudding pie filling
We're always going to encourage homemade for some obvious reasons. You can control the ingredients as well as the balance. In this case, it also makes for a more authentic flavor, which we LOVE.
What you'll need for your pudding filling: Cream cheese, honey, dutch cocoa powder, almond milk (milk also works, but we prefer almond milk), whipped cream (see below for how to make fresh homemade whipped cream.)
What can you use for toppings: Bonus toppings can kick this chocolate pudding pie up a notch. We lean toward small dark chocolate chips for a classic finish. But you can also opt for shaved almond slices, peanut bits, or if you're feelin' naughty, a peanut butter sauce drizzle.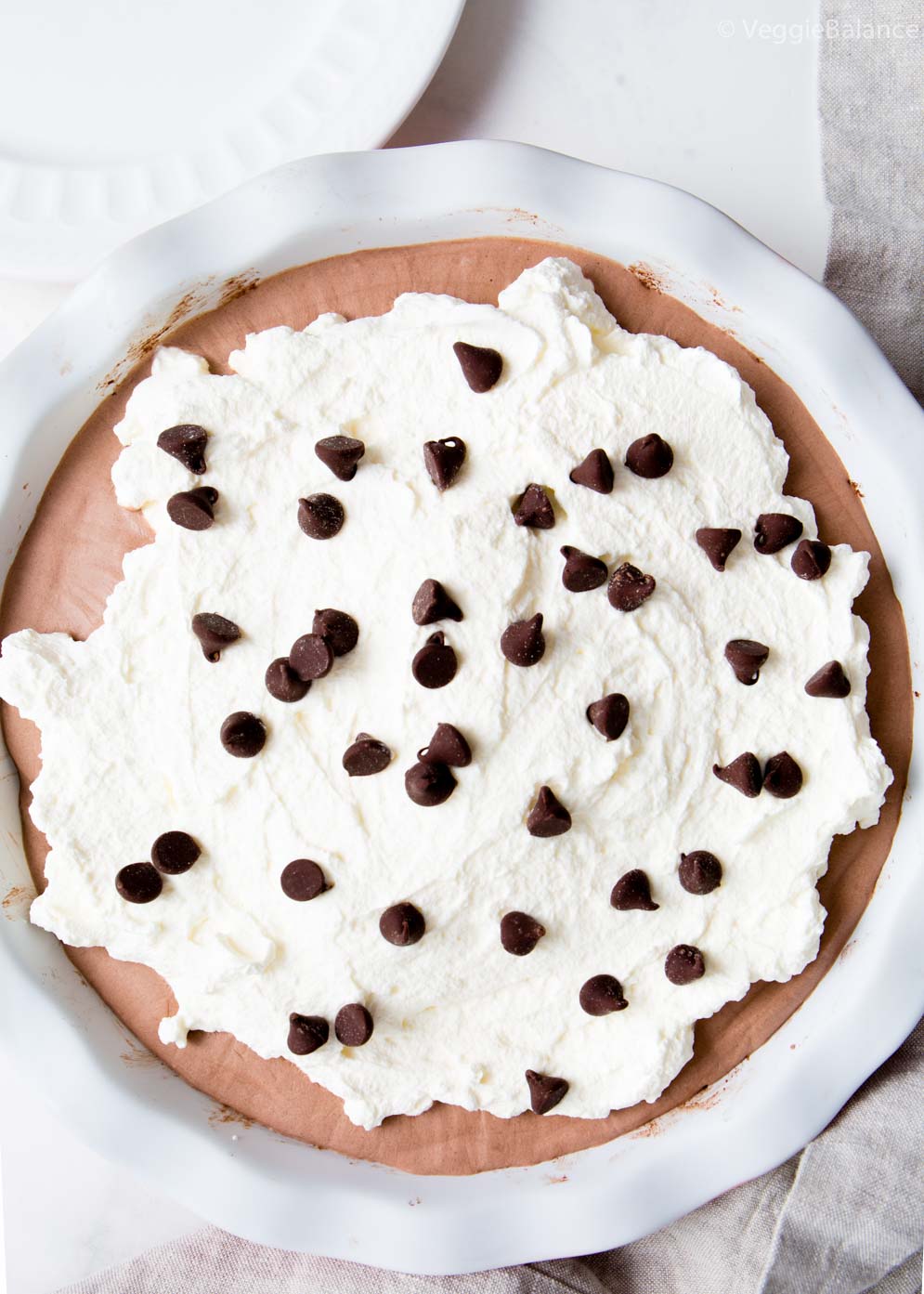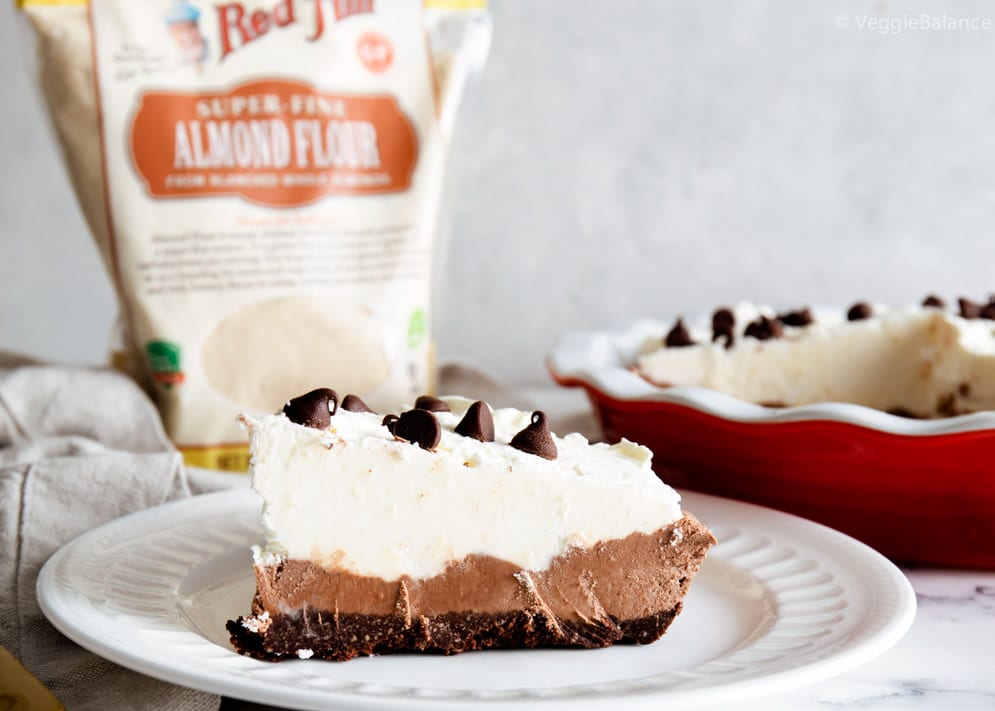 Custard, pudding or what?
Custard, a close cousin to pudding, has been around since the Middle Ages and used for pies. This might bring you to wonder, what's the difference?
Pudding: It's true, pudding has a complicated definition. It is typically a milk-based dessert. However, pudding can be sweet OR savory.  It's not always as clear because pudding can mean different foods in different places around the world. (Some puddings are not our cup of tea, as it were.) But we love classic chocolate pudding, especially for pie.
Custard: On the other hand, custard is prepared with milk or cream, but includes egg yolk to help thicken. We're fans of custard too.
Flan: Oh, flan. Flan is also a sweet dessert with a little more substance. Eggs, milk, sugar and vanilla make for a sponge-like delicious dessert. It can stand on it's own, contained in the structure that the ingredients create.
Mousse: A mousse can also be sweet or savory. But the difference is the air bubbles infused to create a light and fluffy texture.
Our goal for this pie was to make it as basic and natural as possible, keeping the sugar lower.
Hard truths: Did you know that most pie slices have 25-30 grams of sugar in them?! So without sacrificing the flavor and goodness, we were able to reduce the sugars. That's also something to celebrate. A celebration slice. 😉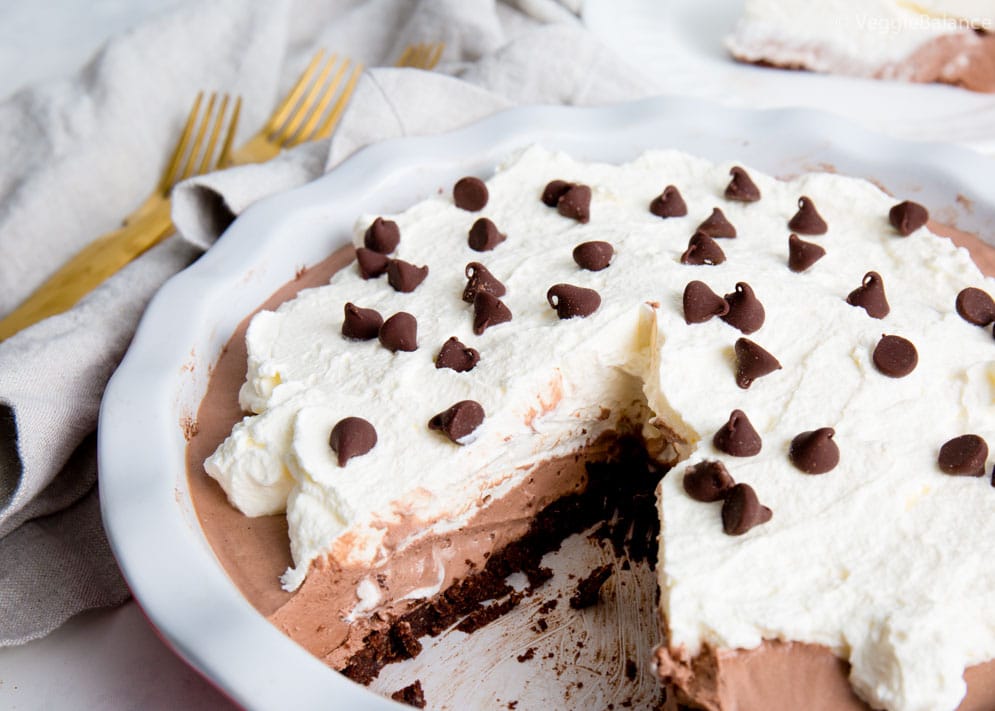 Other recipes you might enjoy:
Need Help To Make Your Own Fresh Whipped Cream?
We've got you covered, just check out our how-to make fresh whipped cream. Light. Fluffy. AMMMMAZING.
We wouldn't top our pie (or anything) with store bought whipped cream these days. Homemade is SO worth it!