Healthy Baked Potato Wedges are the perfect All-American side dish, snack, eat-while-sitting-on-the-kitchen-floor goody. Get those good carbs and satiate your french fry desires with a healthier twist. (Gluten-free, Vegetarian, Vegan)
French fries. Now, if there is a food that is my Achilles heel and when I'm craving something REALLY bad…. It's heavenly french fries.
Peanut butter has become my favorite guilty pleasure as I've jumped into this journey and mainly because it's not bad for you. Yeah, it's high in calories but it's a good calorie and good fat.
Well, french fries, I can't say the same for sadly. There is nothing good about them.
Deep fried in grease with calories through the roof. I mean seriously a little serving of fries is enough for one meal of mine! Don't let me fool you, I will splurge and I will eat french fries with abandonment.
What's the best though is when you can find a way to eat your favorite food in a healthier way with zero guilt. Vegan Mac n Cheese is a perfect example of a guilty pleasure turned into a healthy pleasure and now it's the baked potato wedges. Say hello to your new and favorite snack! or meal 🙂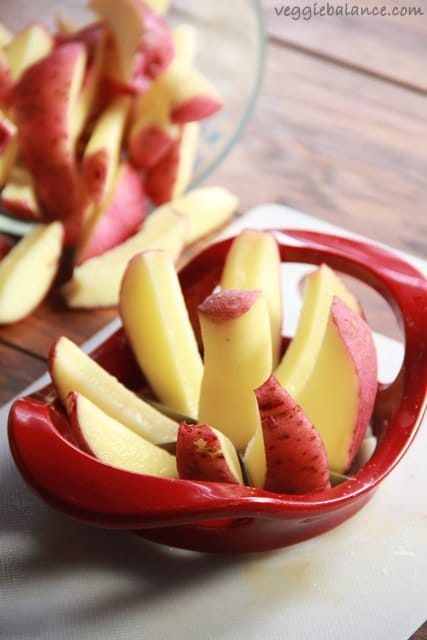 Now, you want to see a crazily insane easy way to make potato wedges? Use a apple slicer! Genius. Yes, I do  realize I'm calling myself a genius, but lets be honest… Best Idea Ever. Just push down on the potato and voila, instant potato wedges!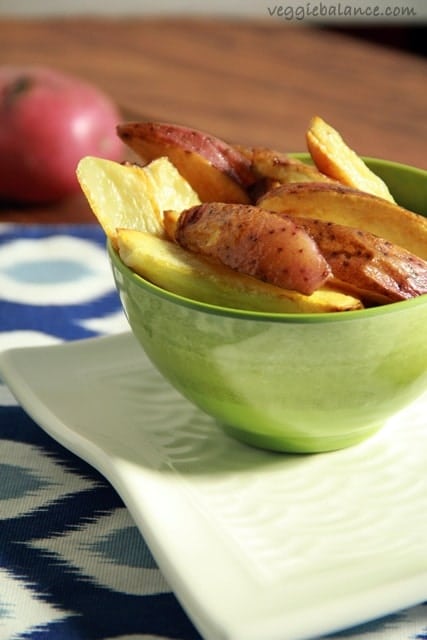 I can pretty much guarantee these will become a staple in the household. Roland and I spoke very few words to each other while mowing down on these… I was to busy stuffing my face and thinking when I'm going to makes them again, like tomorrow.
We both agreed, they are being made again … and again. Which, for being literally potatoes and a little bit of olive oil is totally doable. There is nothing bad about them! Told you they are going to be your favorite guilty pleasure snack!
Now, one thing I know, people are so scared of potatoes because oh my goodness they are high in carbs! Well, true, but your body needs carbs for energy and natures all natural carbs in potatoes are your best form. So eat those carbs and fuel your body. Potato wedges are the first step in doing that. 🙂