How to Make Cobb Salad recipe with holiday leftovers. Such a delicious and easy salad to make any anytime of the year. (Gluten-free)
What to do with all those holiday leftovers!?! Let me help you out. Today we are going to forget about ALL those cookies, pies, and drinks we may have devoured over the holidays (which made our stretchy pants a requirement). That's right, today I'm going to show you How to Make a Cobb Salad with holiday leftovers.
Yep, we are going to turn all those delicious leftovers into a delicious Cobb Salad.
Leftover Ham? Yes.
Leftover Salami / Summer Sausage? Yes.
Leftover Sliced Cheese? Yes.
Leftover Black Olives? Yes.
Here is How to Make Cobb Salad. Best day ever.
Generally, we don't have any black olive survivors because of my sister, but since she hasn't  been home this year (because of my precious new niece), there are olive leftovers, too. I can only eat so many olives by myself.
Put this black olive obsession into perspective: My grandmother bought my sister 10 cans of black olives one year for Christmas as an inside joke. The funny thing about it, between the two of us, we demolished them all within the month.
In addition to your leftovers, all you need are some diced onion, hardboiled egg, spinach, and your favorite dressing.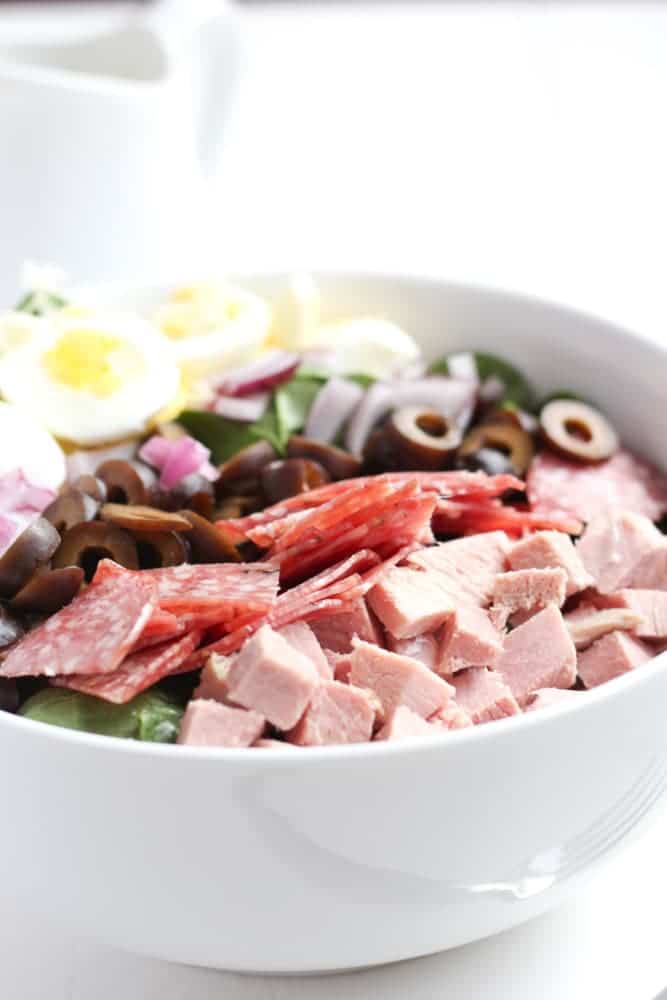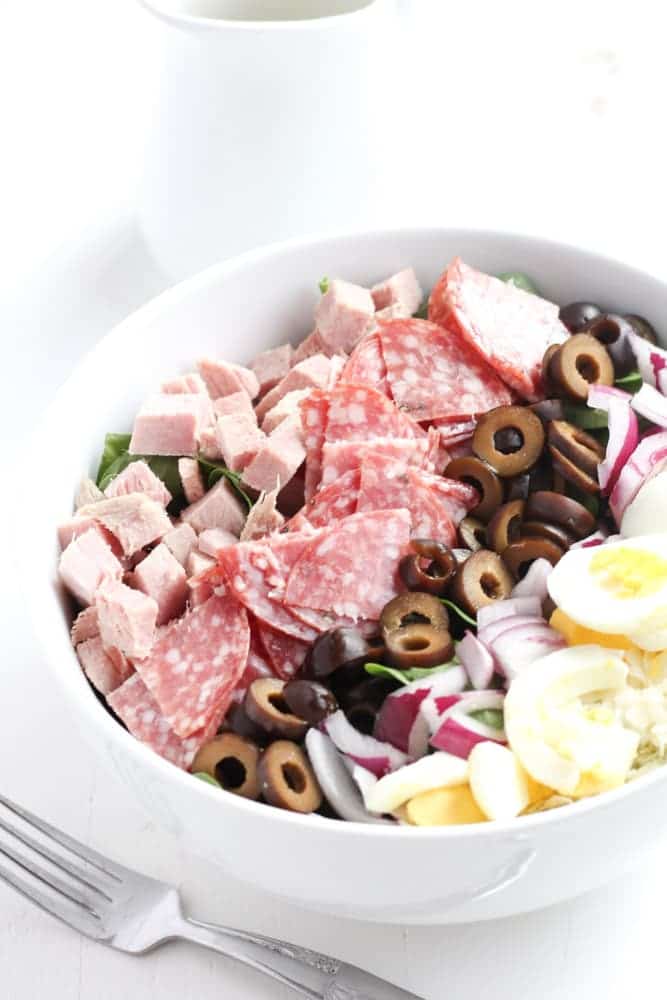 Big Epic Cobb Salad, my friends.
I have a weakness for big epic salads. Generally, taco salad is my go-to epic salad of choice. I'll tell you though, this Cobb salad actually gave that taco salad a run for its title of best salad ever.
All my favorite ingredients on top of a massive bed of spinach? Uhh, yes. I need that for the amount of treats I've demolished this week.
Nothing better than a protein packed spinach salad to give my body some nutritional love. It truly needs some nutritional love.
Spinach salad is always a staple in my daily diet. I always feel better when I eat my daily spinach salad or make myself a batch of garlicky sautéed spinach.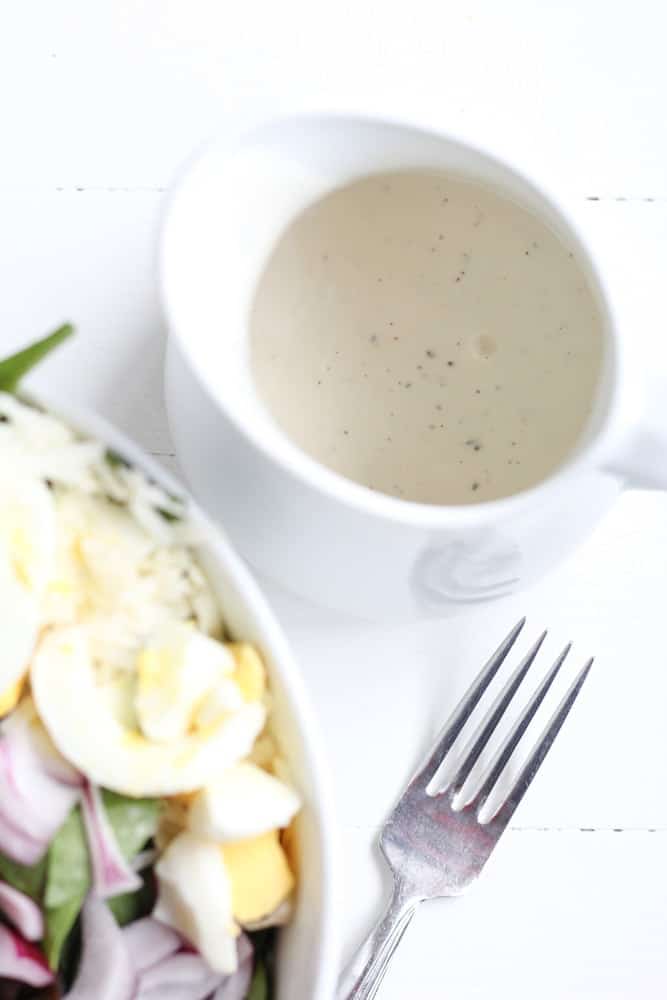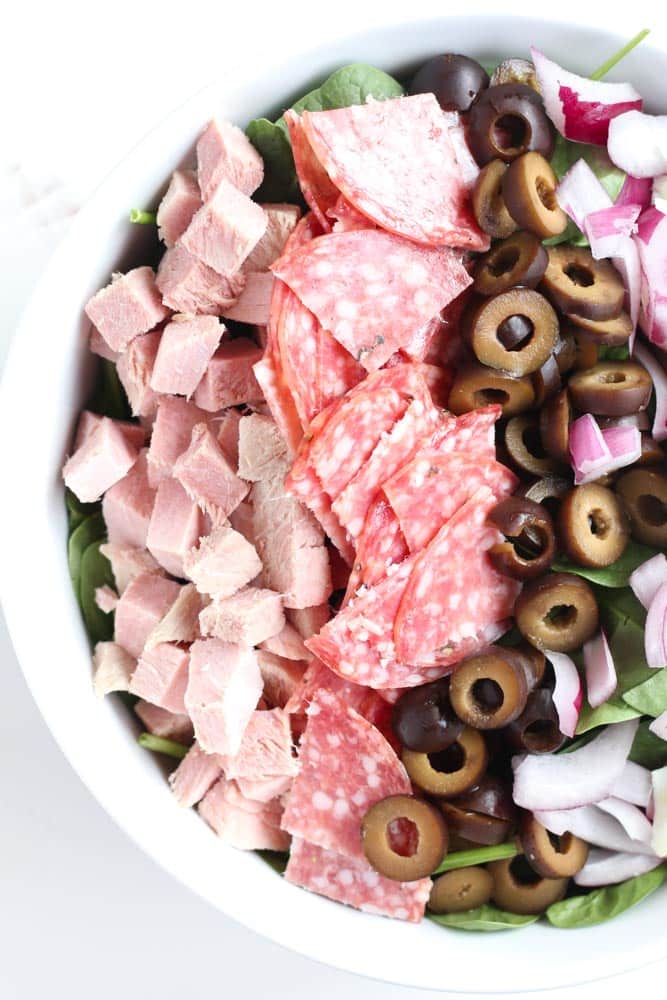 Yep, we definitely need some spinach love in our lives this weekend, to recoup and get ready for the New Year.
We are coming to the end of December and another year down. Not to mention, our month of giving back is coming to a close, too, and I can't wait to tally how much we are going to be able to donate back to the community.
This is all possible because of you visiting Veggie Balance! Thank you, thank you so much.
So grab your large mixing bowl, add some muscle growing spinach, layer your mountain of leftovers on top of that, pour your favorite dressing over it all, and there you have it.
It's devour time. 🙂