Italian Winter Soup recipe made with all-natural ingredients, warm, hearty and healthy Italian soup easily made in the crockpot! (Gluten-Free and Dairy-Free.)
HAPPY ONE YEAR ANNIVERSARY VEGGIE BALANCE!
She is officially one year old today! So cool, this has been so much fun. What better way to celebrate than with a hearty, warm Italian winter soup! Seriously, this time of year soup is a must in the Midwest.
Earlier this week without the windchill was -28F°. Disgusting. It is almost impossible to get warm. Lots of blankets, some kitty love, flannel pj's, bowl of warm soup and you got yourself the perfect Sunday afternoon.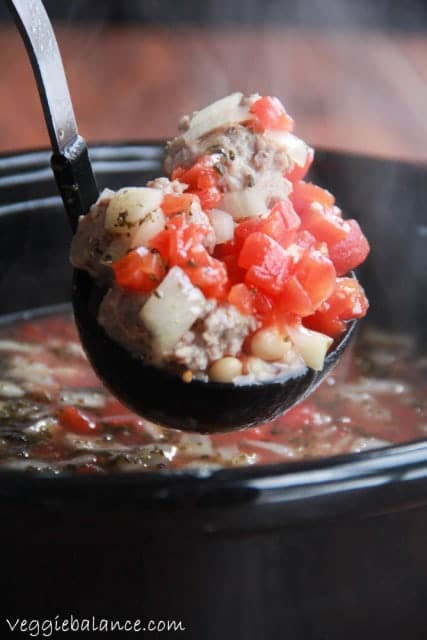 Now I know this isn't the traditional Italian winter soup with pasta, but since when do I make traditional stuff here? Believe me, you won't miss the pasta one bit. There is so much flavor in this soup. I compare it to a big plate of spaghetti with Italian sausage meatballs just covered in tomato sauce. My friends, it is that tasty without the need for pasta.
Gluten-Free? Can't go wrong with that!
Made in the crockpot? Totally can't go wrong.
It's a total Italian feast in your mouth!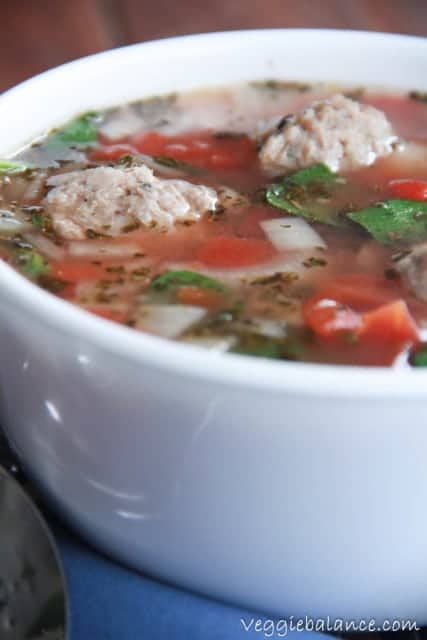 It's been 4 weeks since D-day (aka Shoulder Surgery). It's been so frustrating! I just want to get back in the kitchen and spend my weekends throwing things together and planning my meals out!
Yeah, don't let me fool you and think I've been concocting delicious recipes while recovering from this surgery. Actually, it's more of sitting in the lazy boy and not moving. . .  at all. Cannot wait to get my body even halfway to it's normal.
I stockpiled and prepared recipes for this, but truly didn't think I prepared enough now. My stockpile is dwindling.
Time to volunteer the husband to help!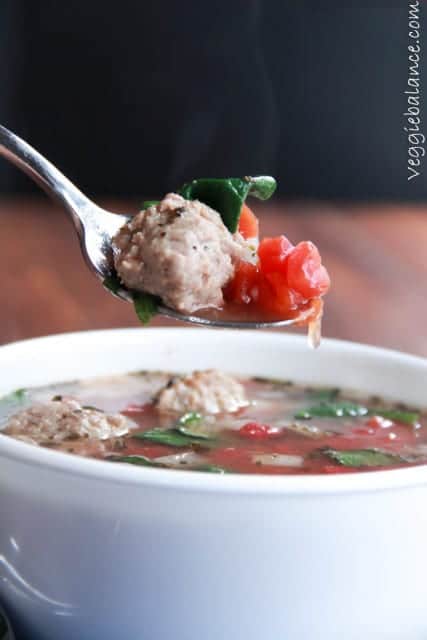 Which actually he's pretty awesome in the kitchen as long as you tell him specifically what to do. Cooking together is one of our favorite things to do together. It's our talking and spending time together time. The only problem, he's methodical and slowly works through chopping, stirring and everything in between is slow.
Whereas I'm a tornado.
I just go. No time for directions for him, just go. End result is questioning what the heck happened in this kitchen!
So when we do cook together I need to dial back my energy and go with his flow. I also have to tell him every single step that needs to be done. Gosh, I'm a control freak. Good thing Roland isn't and is the exact opposite.
Opposites attract right? 🙂