No Sugar Added Vanilla Bean Granola. Super easy, healthy breakfast to make. Perfect with just milk, on top of yogurt, or even just eating plain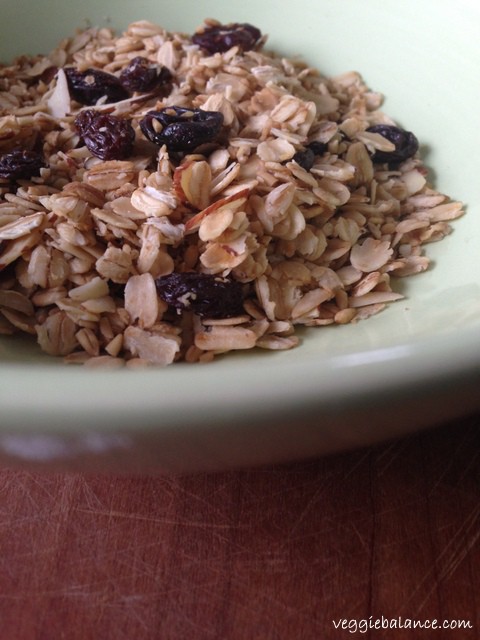 Everyone has a morning routine right? I do, every morning I put a cup of water in the microwave for my morning green tea, take out one or two peanut butter protein bites, turn the news on, pull my blankey over me and enjoy 15-20 minutes of nothing but drinking tea and watching the news.
Oh and perhaps a kitten on my lap telling me to go back to bed.. That happens too.
Yep, that's my routine. I have to give myself a deadline when I have to get up and get my workout clothes on, otherwise I would never get up.. I love my relaxed mornings, its a perfect start to my day. Life is too special to be stressed out all the time. I like to revel in my cup of tea and just take in that morning. It's perfect.
For some reason though I was craving something different the other morning.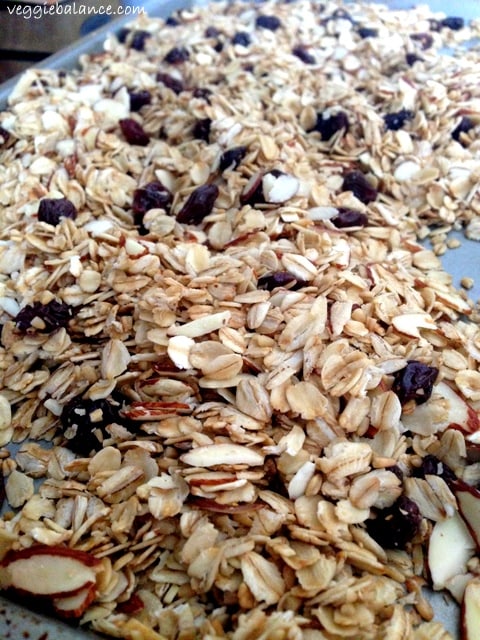 I wanted the homemade granola my mother made over Christmas. She vacuumed packed it for me so I could eat it when I wanted to. It was heavenly delicious with a little almond milk on it. So of course I asked for the recipe.
I was amazed how much sugar and calories was in it! Between the dried fruit and honey that's sugar overload for me! I calculated that the previous recipe would of had 20 grams of sugar in 1/2 cup. That is half of my daily sugar right off in the morning.. No thank you.
So, I of course was going to experiment with this recipe and make it myself, and on the first batch I'm in love. Here my friends is the best low-sugar, but tasty vanilla bean granola I've ever had. My version cut the sugar down to 6 grams! Booya!
It's perfect for on the go as well. Our weekend away from home and in hotels I bagged this granola up and ate it for my breakfast.
So here you have it! A delicious low sugar granola!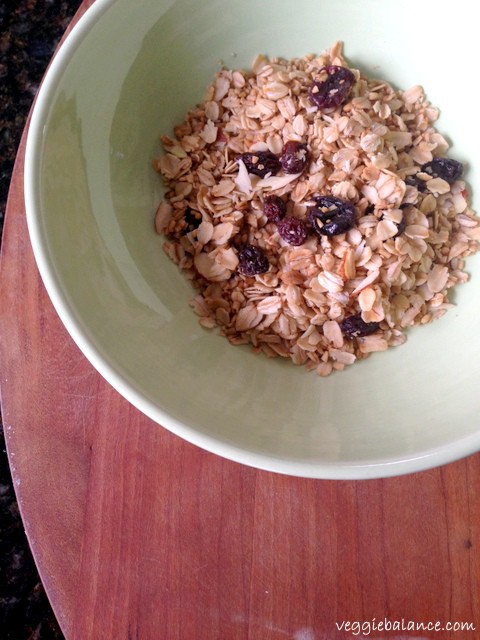 You can change up what fruit you want in it too. I was trying to go for a super low and natural sugar granola so had to stay away from my favorite dried fruits like cranberries. Both the raisins and the cherries had no added sugar to them.
But what I REALLY wanted to put in was dried organic apricots with no added sugar, but my store hasn't carried them for almost two weeks now! BOO …. I have seriously been going to the store just patiently waiting for them to restock them… so far no luck..
It's alright though, I'll take this low sugar vanilla bean granola any day.