Slow Cooker Sweet BBQ Cocktail Sausages are a super easy and delicious appetizer you can whip together quickly for an epic get-together dish with just 3 ingredients. (Gluten Free, Dairy Free)
This post is sponsored by Klement's Sausage. To learn more how this supports VeggieBalance to continually bring you free recipes every week. Find out here.
Looking for a quick and easy appetizer for your next get-together? These Slow Cooker Sweet BBQ Cocktail Sausages will dazzle your taste buds!
Slow Cooker Sweet BBQ Cocktail Sausages for the win:
Slow cooker means no muss, no fuss
3 simple ingredients
Perfect appetizer for a crowd
Made in under 2 hours
This is the appetizer of all appetizers, my friends.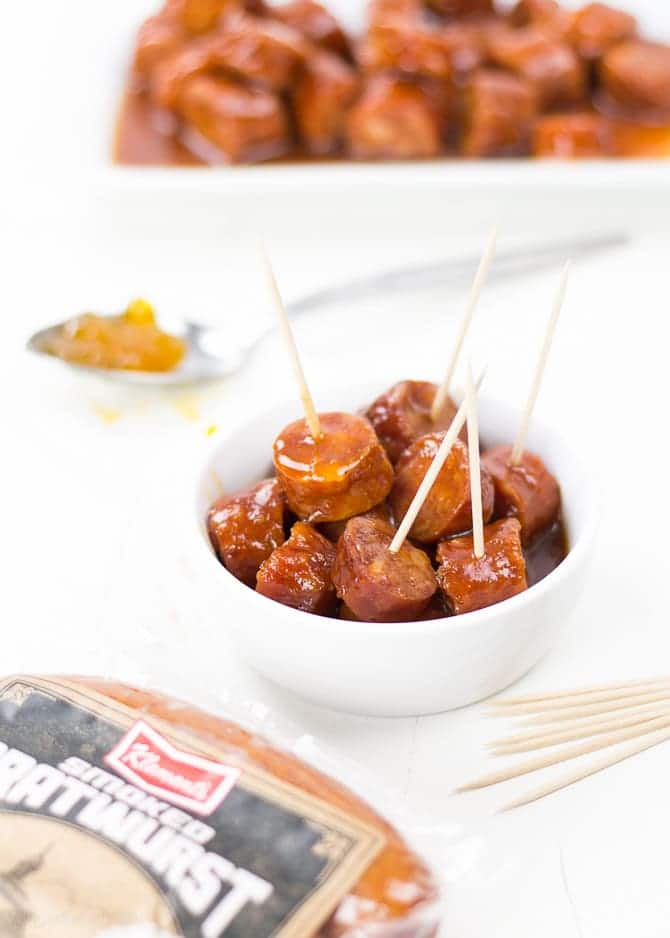 When 3 ingredients meld together into a delicious and sinfully simple appetizer, you'll feel a little guilty when the compliments roll in.
I'm a lazy entertainer. The less work I need to do the better.
Slow cooker smokies recipes have been around for a long time but there were a couple things I wanted to change.
I wanted to choose the type of sausage I was using – in this case I love smoked, chopped bratwurst. (Thank you Klement's Sausage)
I wanted to use all-natural apricot jam instead of the run of the mill grape jelly
I wanted to incorporate my own homemade barbecue sauce
With that criteria and a mission to be a lazy cook, the Slow Cooker Sweet BBQ Cocktail Sausages were born!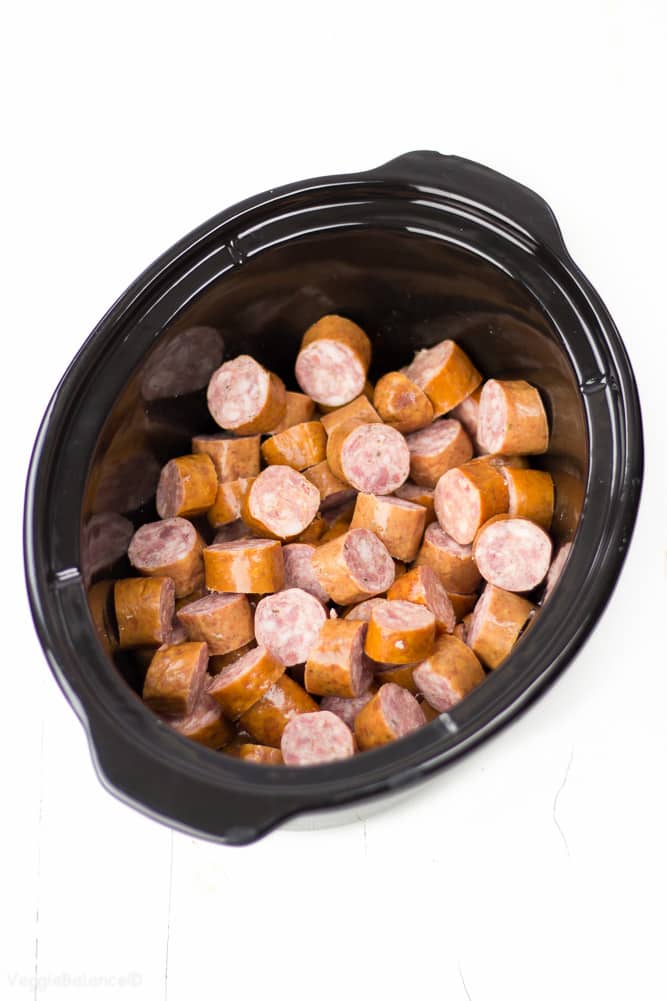 While spending a few days in Tennessee helping my sister with the newest addition to the family, I got a taste of southern living and warm weather. I'm so ready for you summer. (Also, I am totally ready to move)
I cannot wait for the days of cookouts and delicious slow cooker appetizers like this one.
Ready for plates piled with sweet bbq cocktail sausages, coleslaw, grilled corn and grilled peaches with ice cream.Are you ready for it?
Just in case you need some help with your summer dishes menu, here are some delicious front-runners for your to-do list:
Slow Cooker Sweet BBQ Cocktail Sausages (obvi)
The list could go on forever considering I am such an advocate for easy-peasy delicious dishes. These Sweet BBQ Cocktail sausages are just how we roll.