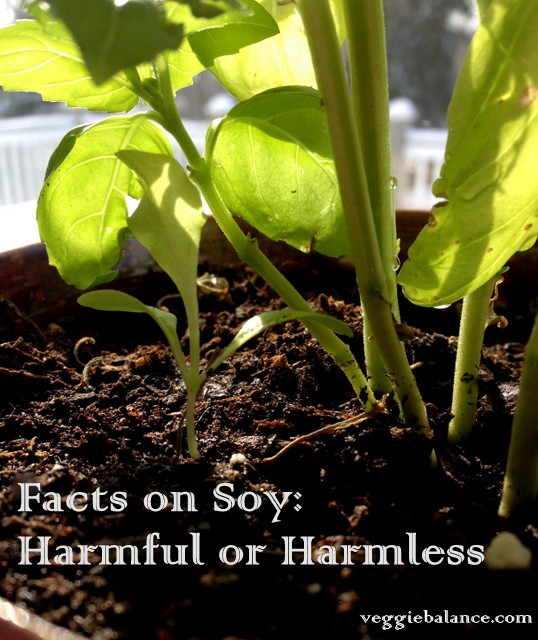 Soy is one of the top produces grown in the United States. Actually 80% of the crops for the world are grown in the United States. What use to be touted as a miraculous legume hasn't been so miraculous lately. More than 90% of the soybeans that are grown in the United States are genetically modified. Of course they are also doused in chemical herbicides. Numerous studies have linked consumption of soy to reproductive issues along with infertility, thyroid decline, cancer, heart disease along with numerous other ailments.
Now, there is a big difference between unfermented soy and fermented soy.
Fermented Soy Types:
Tempeh
Miso
Natto
Fermented soy milk and sauces
Unfermented Soy Types:
Soymilk
Tofu
Soy nuts
Soy protein isolates
Fermented soy does have benefits and has been proven to inhibiting cancer, cardiovascular diseases, even helping with menopausal symptoms. Unfortunately unfermented soy is largely what is available and consumed in the United States.
There are many studies with unfermented soy and the negative effects on our bodies. It has a chemical called goitrogens which slows down the function of the thyroid. Also, contains phytic acid which doesn't allow minerals such as copper, calcium, iron and zinc to be absorbed into the body. It is also loaded with phytoestrogen which mimics the hormone estrogen. Studies have linked to it to disrupting endocrine function, causing infertility and even increasing risk for breast cancer.
With the facts on soy we now go onto soy lecithin. You've probably noticed it quite frequently in your food labels if you read ingredients. It is in a lot of products. It is used to keep things together, most commonly it helps oil and water mix.
Harshly extracted with chemicals the raw soybeans creates a oil which becomes soy lecithin. Keep in mind those raw soybeans are unfermented and 90% likely to be genetically modified along chemical herbicides in that oil. Which then brings us all back to the side effects to consuming unfermented soy to begin with.
CONCLUSION
So what does that leave us with? Well, it's up to you. I think the most important thing is being informed and making a educated decision from there. I personally avoid unfermented soy and soy lecithin as much as possible. Eating a plant-based diet and avoiding processed foods is extremely helpful in avoiding both. There are many things that are organic soy lecithin but the oil was still extracted with harsh chemicals, are an unfermented soy, and that still means they are most likely genetically modified unless otherwise listed on the product. You decide.