It's official. Here in Michigan we are going stir crazy with this cold weather. It's also putting an extreme damper on my training for the 25k..
Ugh. I grew up in Michigan and am ok with winter but the amount of snow and extreme cold we've had and STILL have, I'm staying inside as much as possible.. Sigh… the treadmill it is then.
I made Crockpot vegetarian chili with healthy corn muffins over the weekend and that didn't last long in my household. I'm pretty sure my husband had three helpings in one day.
By Monday I was already trying to think what I wanted to eat for dinner again. I wanted something comforting, and filling. That's when I came across this RECIPE.
My friends this is seriously the mother of all soup recipes. I was totally skeptical at first, but after I took the first bite, I knew I have found the most amazing cream of mushroom soup EVER.
It is completely vegan and completely grain free soup. To make it even more fantastic, I calculated the entire recipe to be 232 calories…. 232 calories?!?! Yes… You wouldn't know it by the rich and full flavor. Seriously, the mother of all soups people.
It was dinner the first night and lunch the next day. I honestly contemplated going to the store and buying the ingredients again just so I could make it once more. But I already had spaghetti with homemade sauce on the menu for the rest of the week.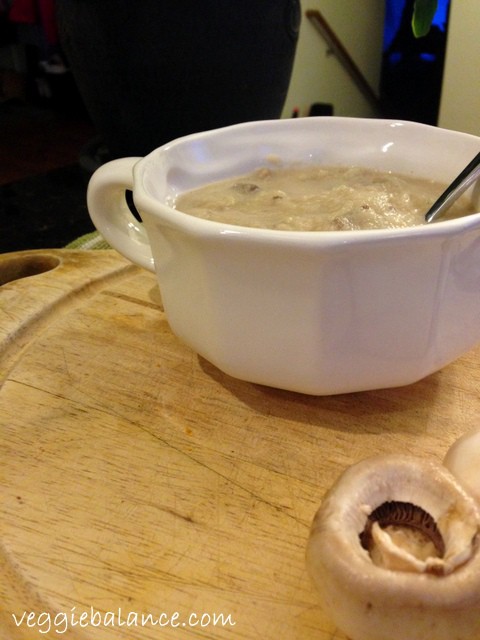 I need to get more carbs in my diet again now that I'm back to running the longer distances. Had to take 6 weeks off because I was put in the wrong type of running shoes… People, never run in old or wrong shoes, you'll regret it and walk around with a massive walking boot.
Which I might add it totally inconvenient and cold during the winter time! Now, I feel like an expert about shoes after what I went through. Wish I knew it all before my first real pair of shoes. Ehh, it is what it is. I'm back running and practicing yoga and it feels amazing.
Anyways, try this soup. I seriously paraded my bowl around work to my coworkers to show them this amazing