Thinking about starting a worm composting bin? You've come to the right space. Here we are going to go through everything about how to start a worm composting bin and the first couple weeks maintaining it.
Worm Composting 101
At first starting a worm composting bin AKA vermicomposting can feel a bit overwhelming. Fear not, it's actually really simple and we'll go through all the issues or confusion that can happen with your new worm bin and worm composting.
I've gone through it all when it comes to owning a worm bin and have learned the ins and outs and now I want to share that with you.  After moving to a city though we had to find a way to get rid of our food waste.
Buying a Worm Compost Bin
We go through the pros and cons of indoor composting and what exact compost bin type we recommend. For an in-depth reason for why this type of of bin go here.
If you know this worm bin (affiliate link) is on the way or you've just received your worm composting bin and not sure how to proceed here are all the questions that may come up from it. Proceed below 👇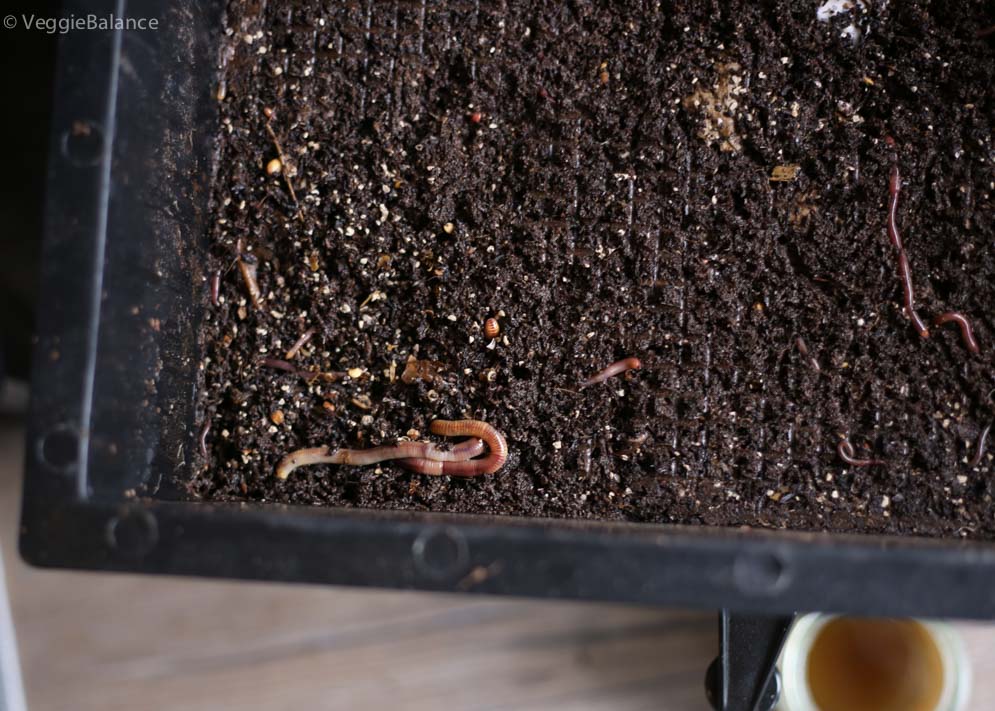 How to Start a Worm Bin
We are creating a super in-depth tutorial on step-by-step how to start the worm bin once you get it. The worm bin you get should have decent instructions for the basics. But here are a few other tips to helping getting your bin set up right out of the gate.
Coir Moisture Mat
I've found that using a moisture mat for the top tray REALLY helps with a few things. One, it creates a nice area for the worms to nest in or move around when it's too cold or too hot. I've also found that it helps keep out any unwanted fruit flies that may somehow get in.
It's also a decent thing for the worms to snack on in event they have eaten up all the food we've given them. Handy when you are on holiday for an extended period of time. I definitely count it as a vital accessory to worm composting bins.
I couldn't find the one I purchased but this Jute Moisture Mat (affiliate link)  is a comparable option.
For a in-depth article on how to avoid fruit flies and other pests you might find in your worm bin go here.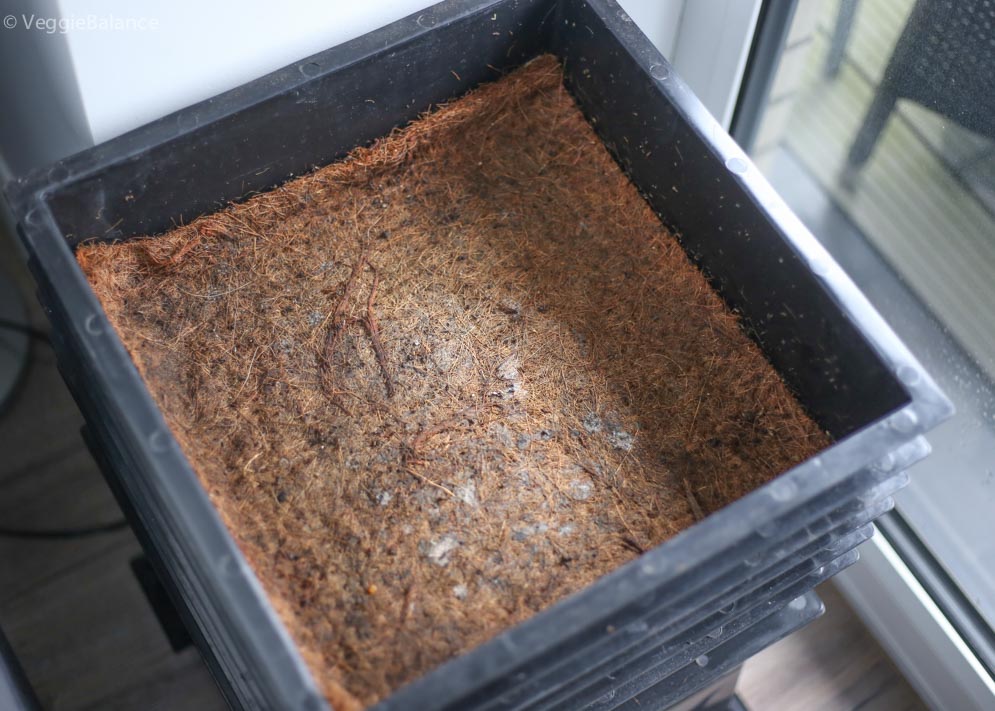 2. Plenty of Carbon
Be sure to add plenty of carbon to the mix. Cardboard is an excellent carbon resource but be sure to remove any residual glue or strings from packaging before adding it to into your bin. Like the coir moisture mat it also is food for the worms to snack on between feedings as well.
To begin when you are starting your worm bin you may have difficulties with the bin being too dry. Spritzing with a little water will help with this. Bedding needs to be damp but if you take a handful of bedding and squeeze it together ,if water oozes out… it is way too wet. This is when cardboard comes in handy. Cardboard absorbs moisture and can be a wonderful addition to getting the living conditions right.
3. Lime Mix / Crushed Eggshells
I've noticed that not all worm bins come with lime mix and therefore it's really worth mentioning. Lime Mix helps balance the conditions inside the bin. It will help regulate the PH levels and acidity levels within bin.
You can get the same results out of crush eggshells.
How to Create Crushed Eggshells for Worm Bin: Bake your used eggshells for 20-25 minutes at 400 degrees F. Allow them to cool and add to a blender or food processor. Blend together until it creates a fine powder.
You will find that depending on the time of food adding to your bin there may be times that you need to add more lime mix to your bin. For example: coffee grounds are extremely acidic and acidic conditions will bring other bugs into the ecosystem. If you get a ton of small little tiny white dots for example this generally means you need to add more lime mix.
Add a hefty handful of lime mix when you set your worm bin up.
Note: All bugs aren't bad for the ecosystem but some are so for a in depth into the bugs you may find pop-up in the worm bin go here.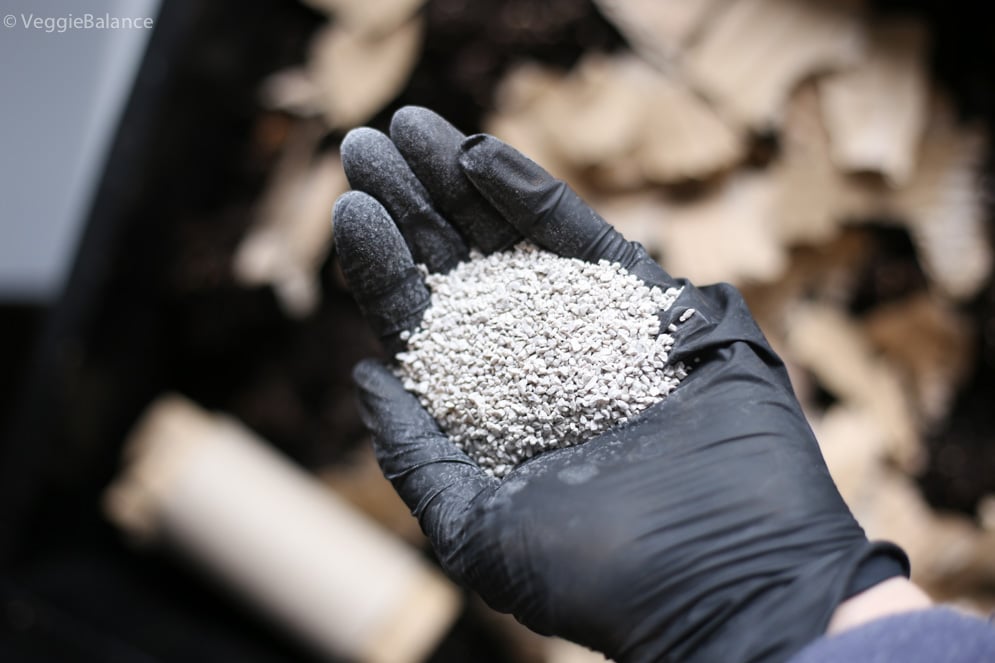 How Many Worms to Start a Compost Bin
Most worm composting bins come with either .5 kilo/1pound or 100 worms type of deal. The most important factor is that the worms are healthy and active upon arrival. Once you continue to give them food and give them happy living conditions they are going to breed and make tons and tons of babies. So in the end it doesn't really matter how many worms you start with but more that they are healthy and you have patience.
Fun Fact: Worms will not procreate over the confines of their space. So if you are giving them the additional food or space they will procreate like crazy. If they begin feeling cramped and food is sparse their breeding will slow down significantly.
Our bin started with around 100 worms. Our bin easily has 10x that amount now after a year. Rule of thumb is they will double their population every 3 months. You can purchase more worms if you want them to be devouring large amounts of waste quick but in reality your best bet is to just wait and let them get settled in.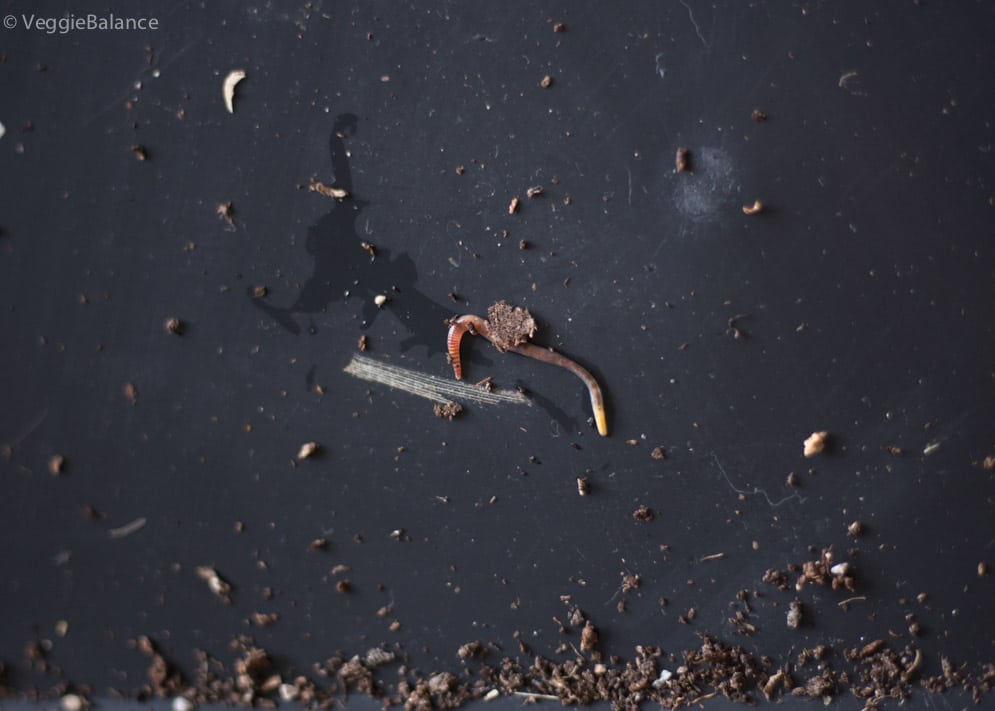 How to Keep Worms in Compost Bin
As long as the living conditions are ideal they will happily stay inside your bin. There are a few factors that will potentially have them trying to escape.
New Home – When the worms are put into their new home they aren't use to these conditions and in result can be essentially 'lost' and can wander. The best solution for this is leave a light on the bin for a couple days. Since a worm is photosensitive (I.E. they do not like light/sun) leaving a light on the new bin will help prevent them from wandering around into the light.
Conditions aren't ideal – Either it's too acidic, to dry, too wet or a specific type of Blue Worms have been known to be more of escapers compared to red worms.
There really is only two reasons that you will have difficulties keeping worms inside. If the living conditions are ideal and they still are having some escape it's very possible you have Blue Worms. If you are wondering what are the differences between red and blue worms check it out our article on that here.
How to Maintain a Worm Compost Bin at first
At first you want to give them a small helping of food to start. (See picture below) They are going to be a bit in shock and therefore won't be devouring all the food quickly as they will once they are settled.
NOTE: Worms do not have teeth start them off with wilted lettuce or something extremely soft like apple cores. Our loves apple cores.
If you are unsure what you can and can't feed them either go to our post on WHAT and WHAT NOT to feed your composting worms.
For the first week you'll want to check on their conditions and be sure that bedding is not to acidic, too wet or dry.
For a massive in depth post on how to properly feed and make sure you are not overfeeding them see our post here.