Zucchini Lasagna brings Italian food in all it's glory to life with a vegetarian twist. Don't miss out on the deliciousness that is fine Italian – no meat necessary and the carbs can get trimmed too. (Gluten-free, Vegetarian)
Eating vegetarian can take out a lot of options at restaurants. The good ole' steady is Italian food, it never fails me. You are almost always able to find a pasta menu item without meat, just with a lot of cheese. Maybe it's the cheese which makes me love Italian food so much?… that would make more sense.
I love cheese, but my body doesn't like large amounts of cheese or carbs. Isn't that just everything and anything Italian? Yes. So welcome to this delicious zucchini lasagna! And thank you to my neighbors for providing me with such a perfect specimen of a zucchini to make zucchini noodles. This zucchini lasagna is just what my body wants to get my Italian food fix!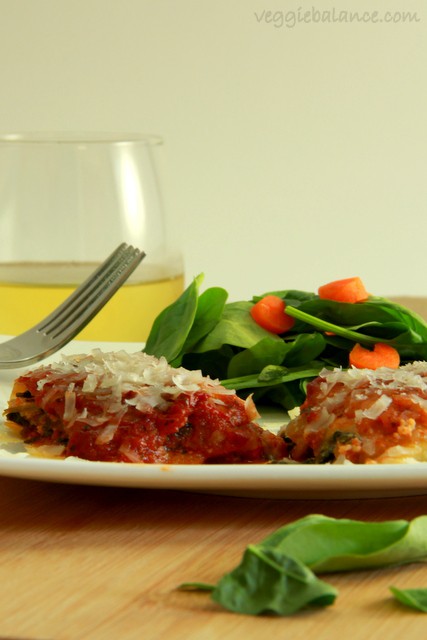 My dream location is someday to visit Italy. I have vision of being in pasta and wine heaven. Even before Roland and I were engaged we started saving our change as our someday honeymoon to Italy. Well, since he went overseas almost a month after our wedding we never got that real honeymoon and those jars of change are still there and still are being added too.
I can't wait for that moment where we cash them out and buy plane tickets to Italy. It's going to happen, just perhaps 5-6 years from now.
I'll be honest though, I'm tainted from my last trip to Europe. The traveling part SUCKED. The plane ride was forever (I hate planes, planes over water especially) not to mention the time change and feeling of being so jet lagged, then on top of that when I returned home I came down the next day with what my husband refers as the 'Irish Plague'.
I was sicker than a dog for two weeks after returning home. I mean so sick that being two years ago I still cringe just thinking of it. I loved Ireland though, loved everything about it, I would move there down the road, aside from the Irish Plague. <3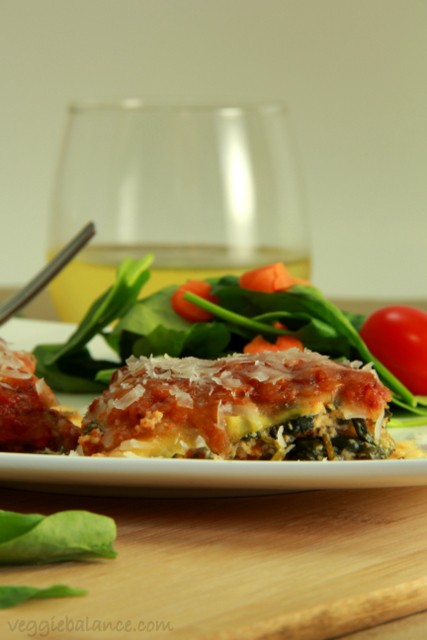 This zucchini lasagna is so simple to throw together. I had all the ingredients in my fridge all ready so I took it as a sign. Even had fresh mozzarella that I sparingly used on top. It was meant to be.
Now making zucchini noodles are actually really easy once you get a hang of it. I use a vegetable peeler and slice one side to produce long thin zucchini slices.
Once you hit the seeds turn the zucchini over and start peeling on the other side. I believe it would be easier with a mandolin but those terrify me. Enjoy!