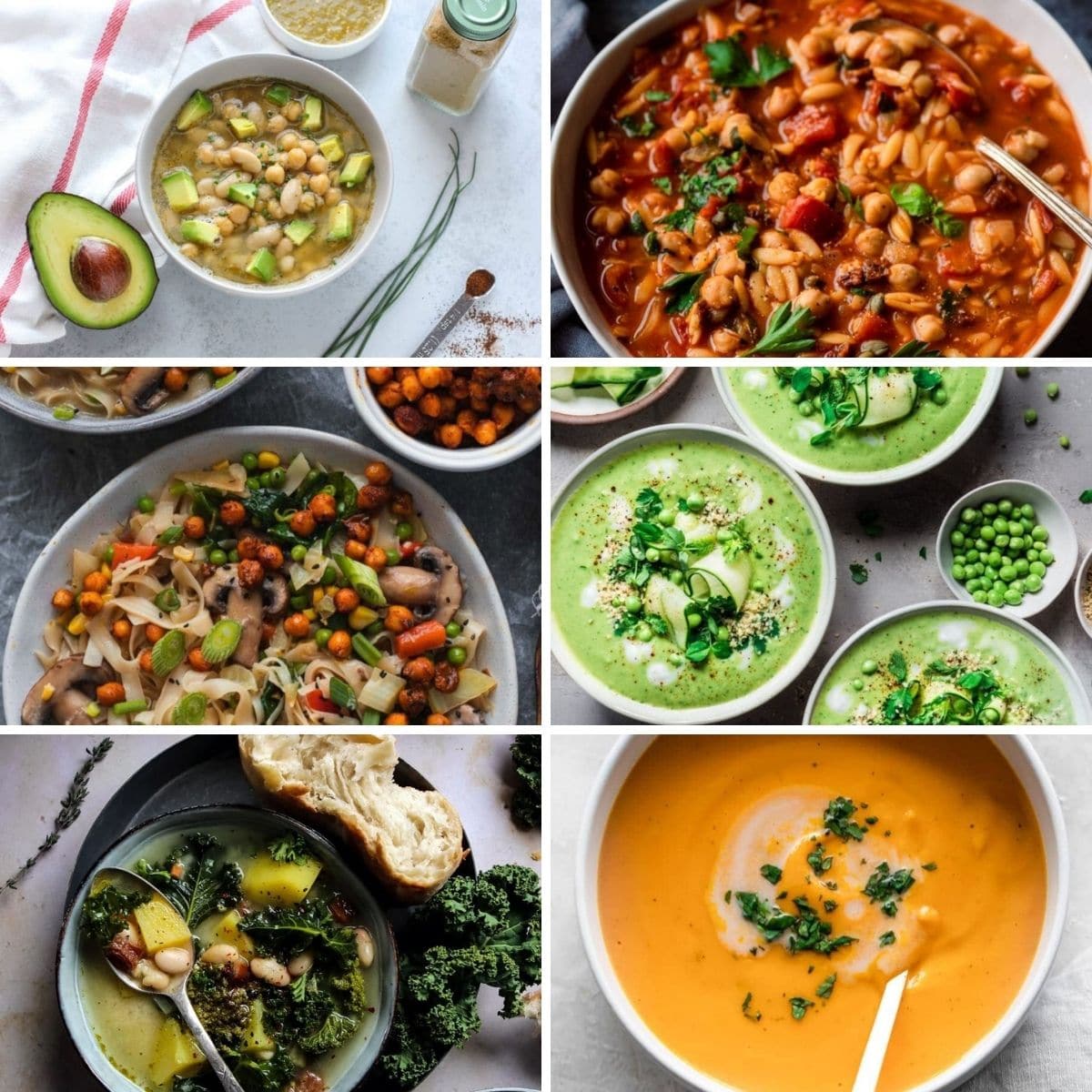 There's nothing better than a steaming bowl of nourishing soup on a cold day, or a day when you're just feeling a bit blah. There are so many vegan soup recipes that pop up on Google that we wanted to give you a little guidance for your lunchtime.
Here are our favorite 41 vegan soups from around the web. We love the range of vibrant colors, filling ingredients, and inviting smells that they deliver. Also, they're all pretty easy to put together, so you can spend less time in the kitchen and more time enjoying the food with your family.
French onion soup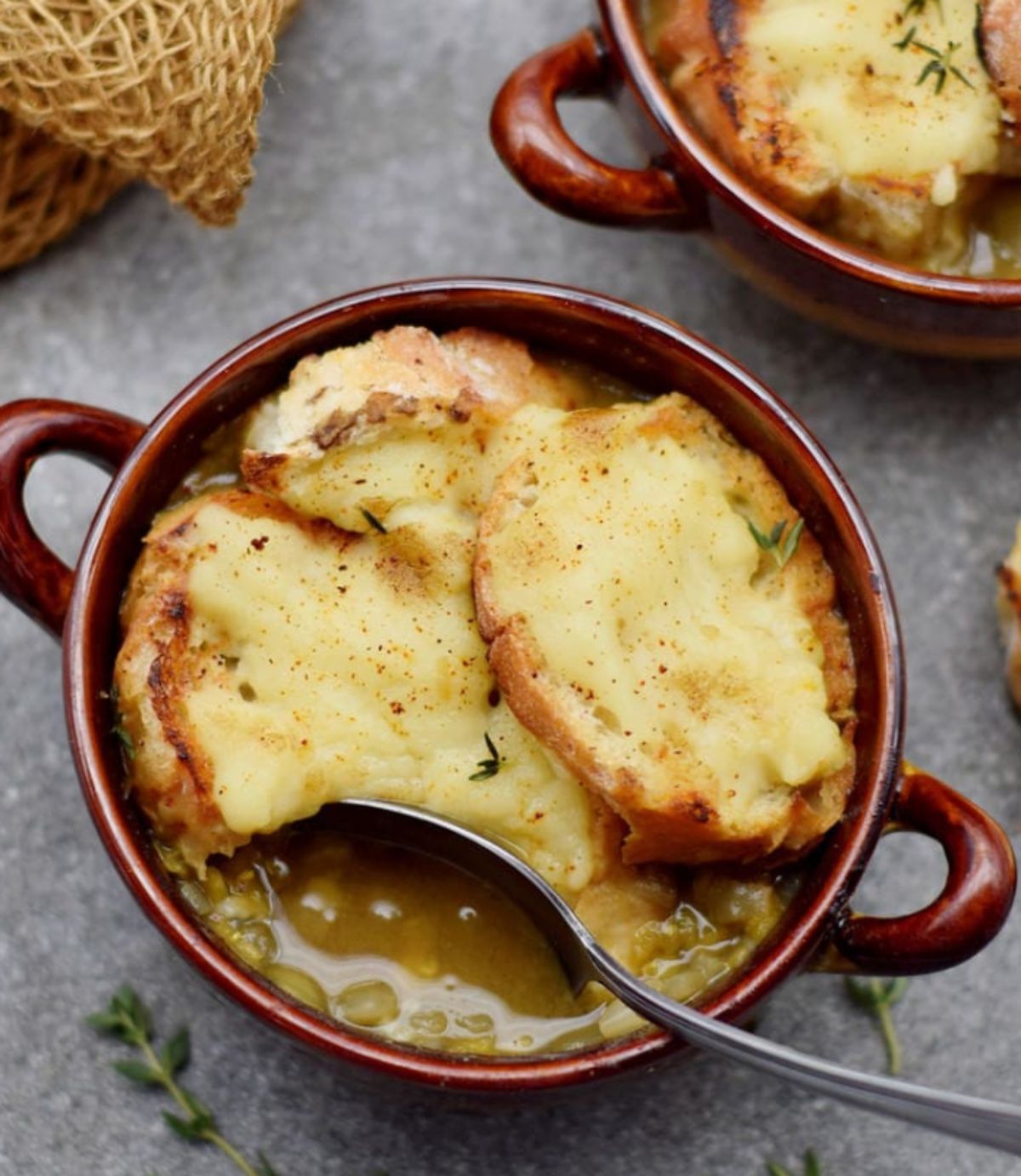 Let's start with a classic – the French Onion soup. Topped with a mouthwatering vegan cheese baguette, this recipe from Ella Vegan incorporates all the things you want from a French Onion soup. Decadence and deliciousness, without any of the dairy!
Vegan stew with dumplings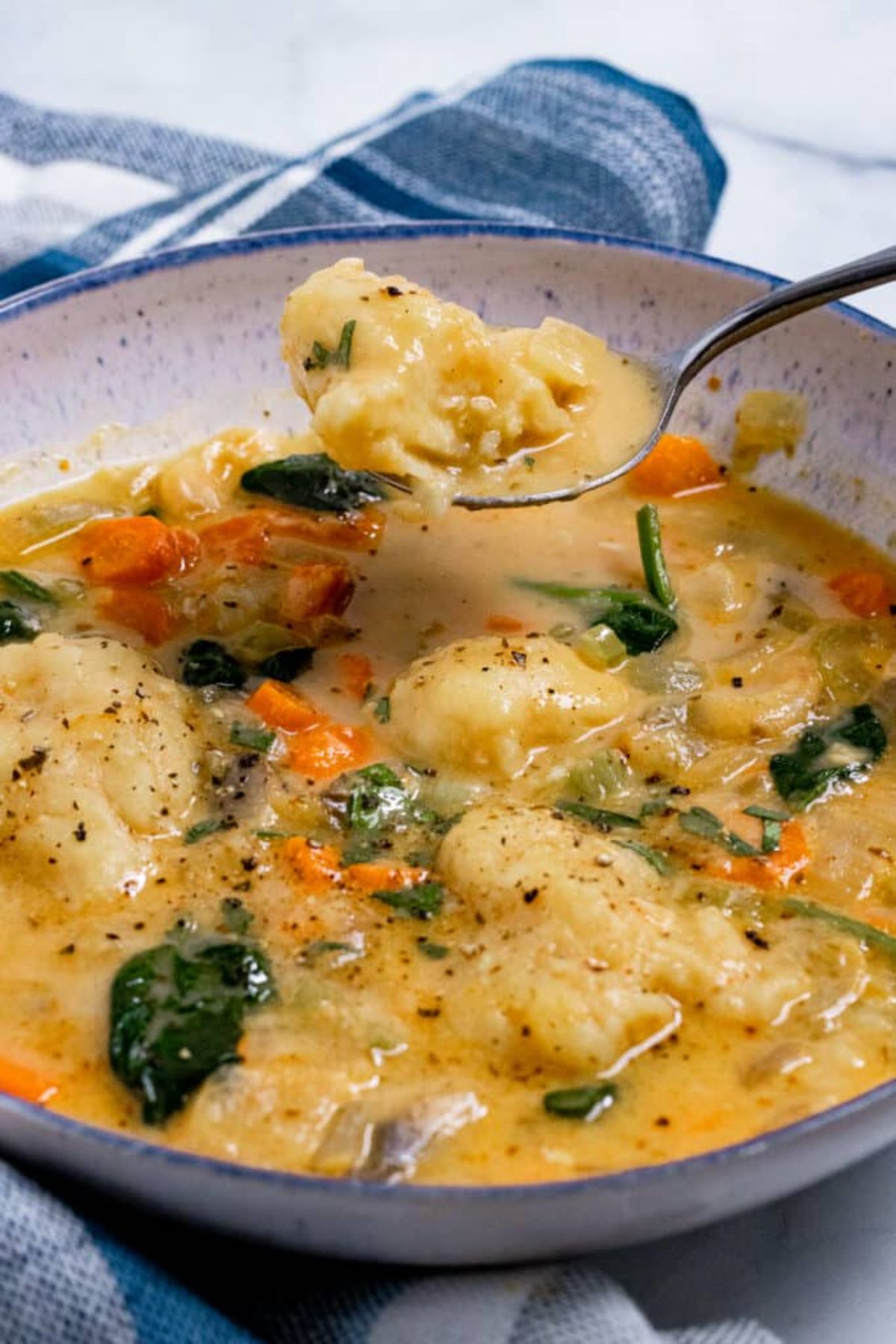 I'm going out on a limb here and claiming that stews are just thick soups! This one from Zardy Plants is on the table in 30 minutes, and the vegan dumplings will take your cosy supper to the next level.
Northern-style Thai coconut soup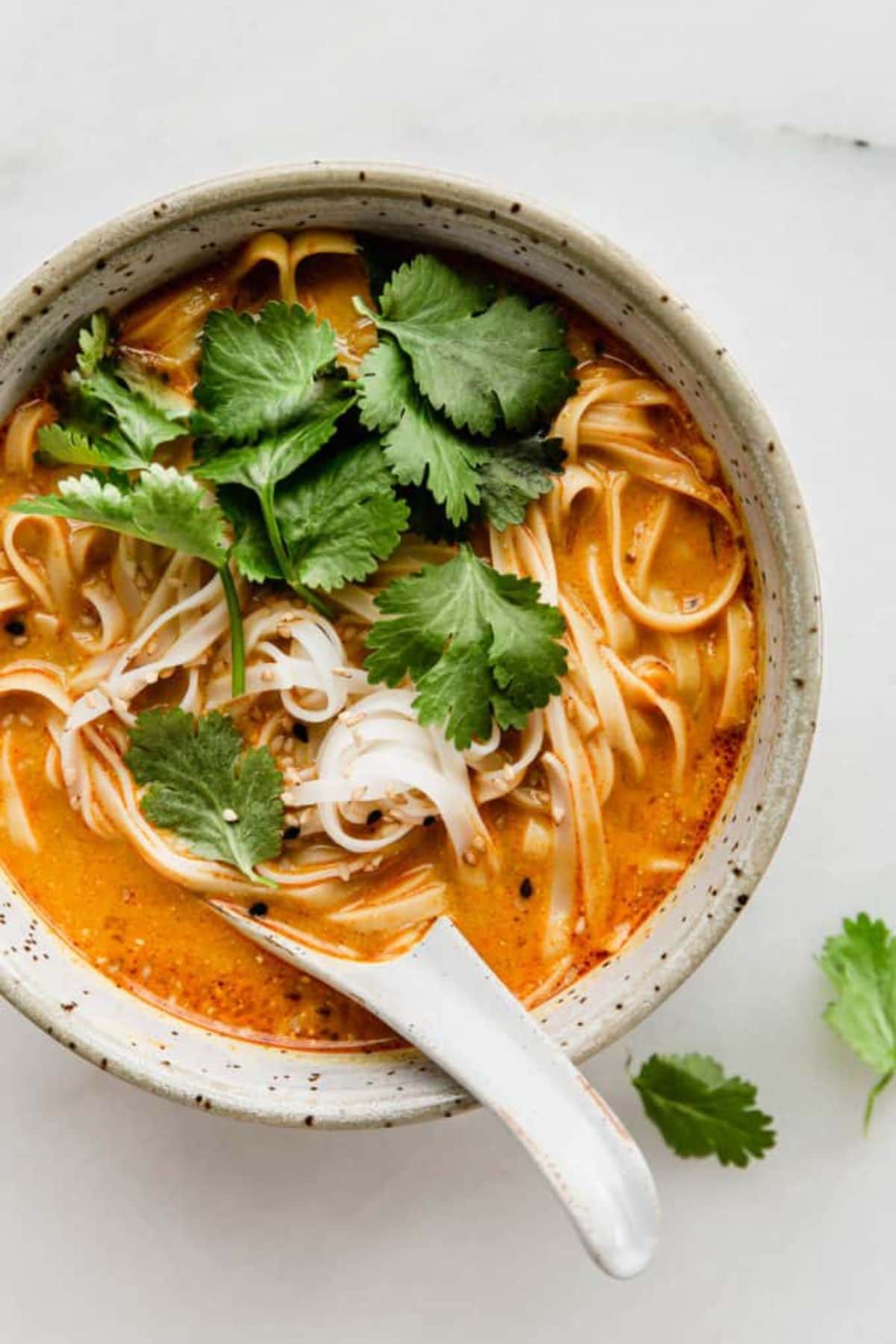 This burst of flavor from Choosing Chia is a vegan spin on the Thai soups Tom Kha and Khao Soi. Chillies, lemongrass, coconut milk and herbs blend to create something really special. It really brings the heat!
Vegan Moroccan stew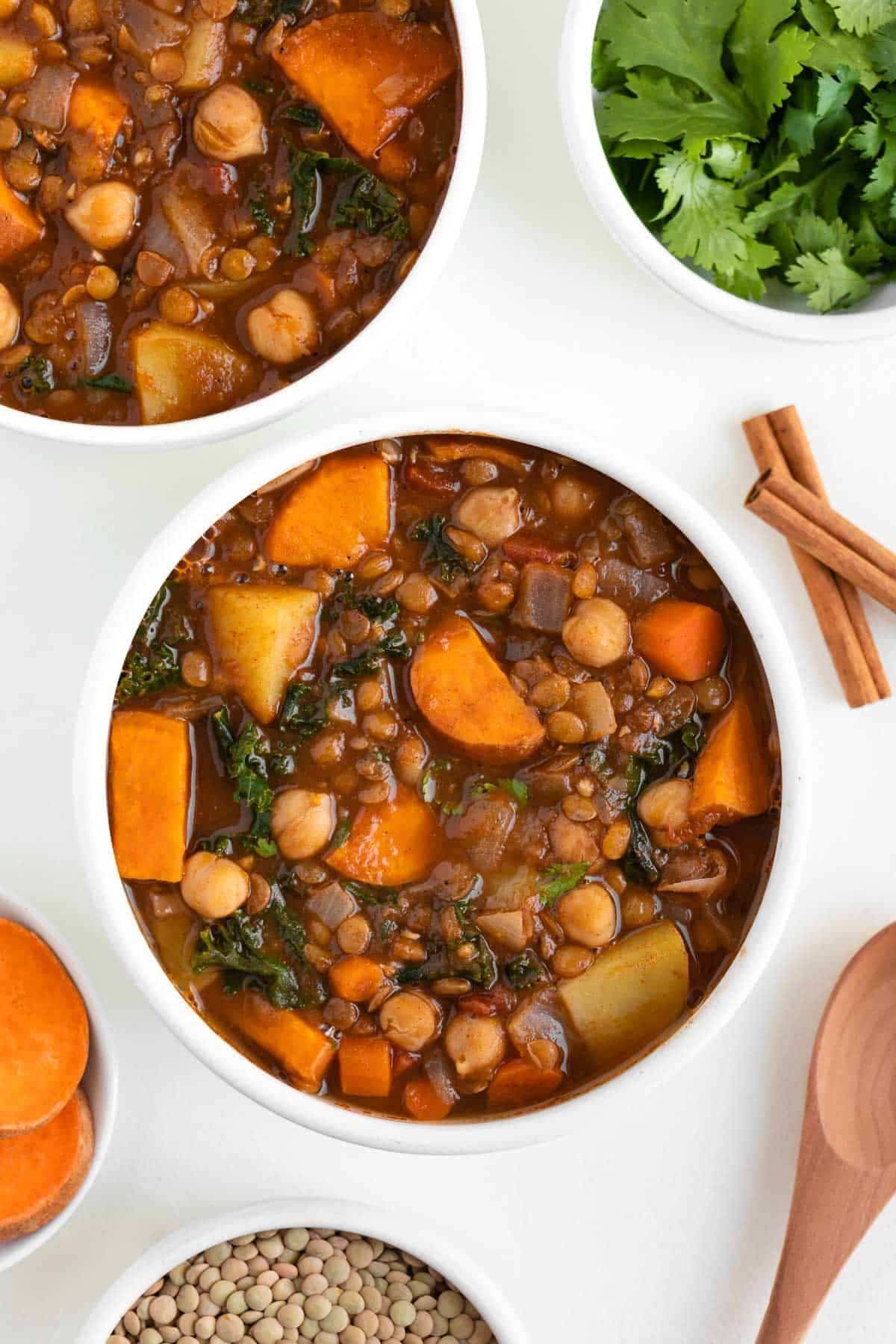 Another hearty soup/stew is this delicious Moroccan dish from Purely Kaylie. Bringing a delicate balance of sweet and savory flavors, it is interesting enough to serve to guests and easy enough to eat on Wednesdays.
Vegetable barley soup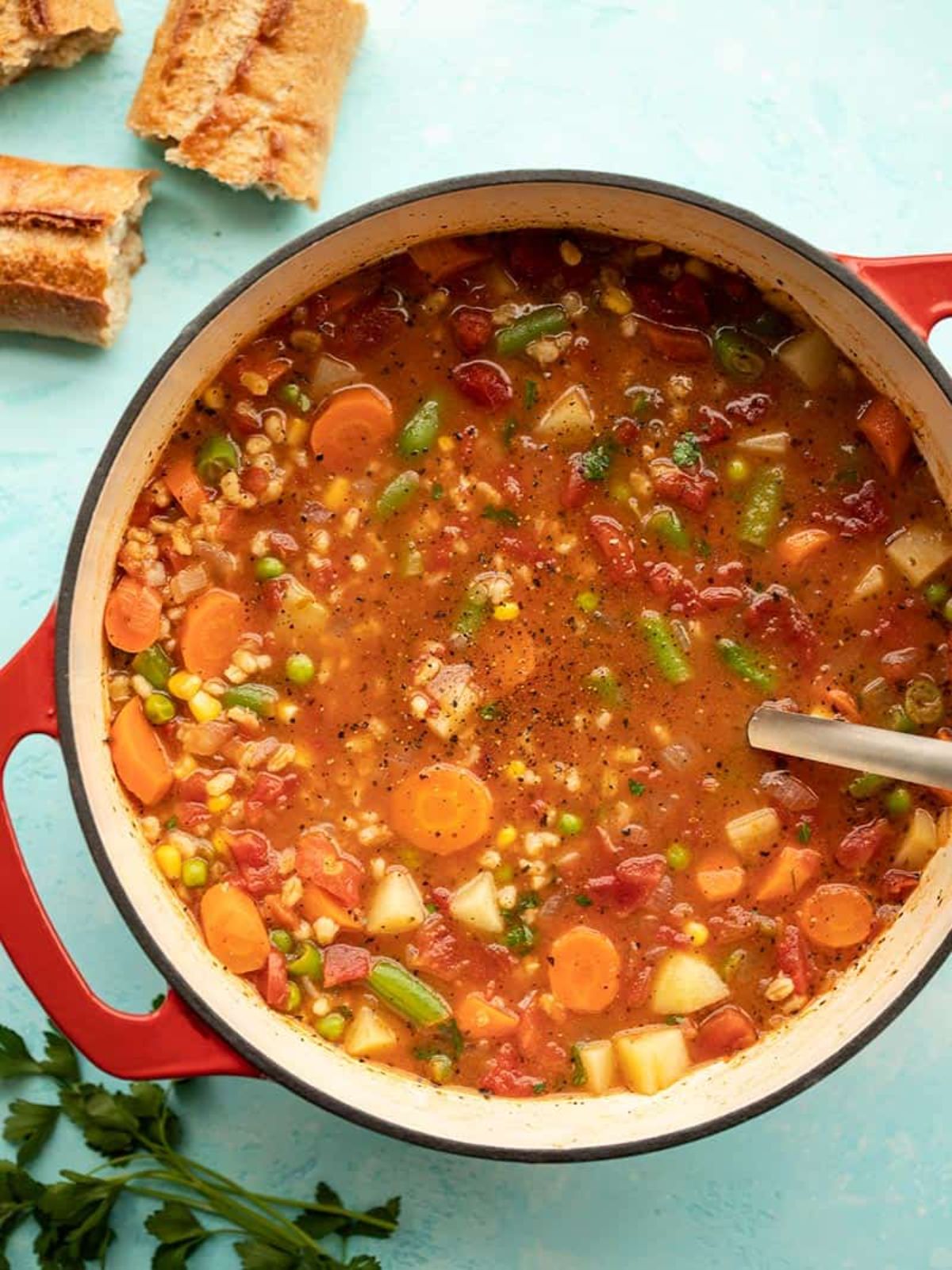 This is why soups are so awesome. This recipe for vegetable barley soup from Budget Bytes is quick, easy, filling, and doesn't cost the earth. Full of nutritious veggies and hearty barley it's a great way to stay full until breakfast.
Easy pumpkin soup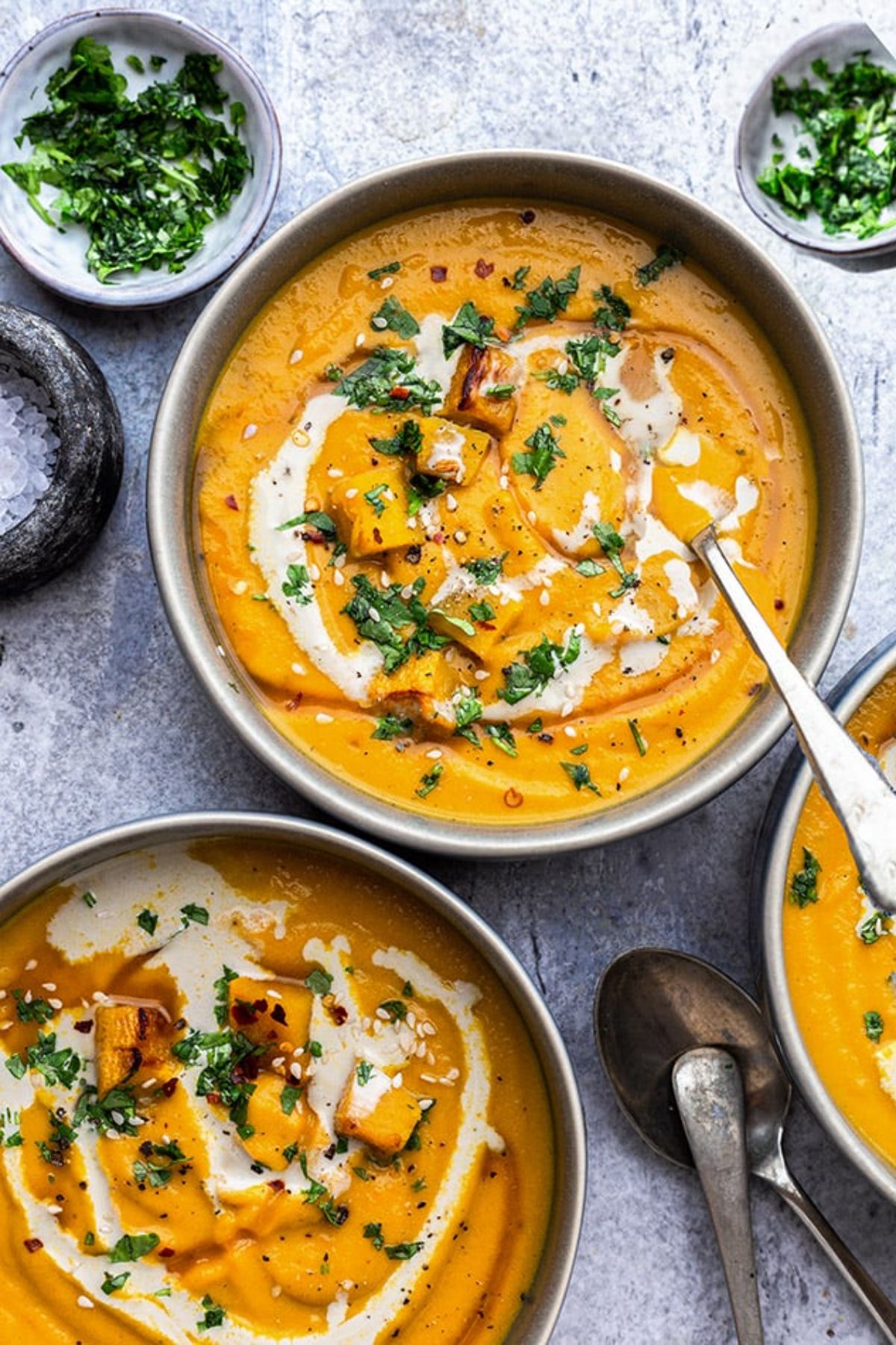 This vibrant recipe from Life Made Sweeter is gluten-free, vegan, paleo, and suitable for those doing Whole30. Basically, everyone will love it! It's packed full of pumpkin goodness and super-quick to make.
Olive Garden vegan gnocchi soup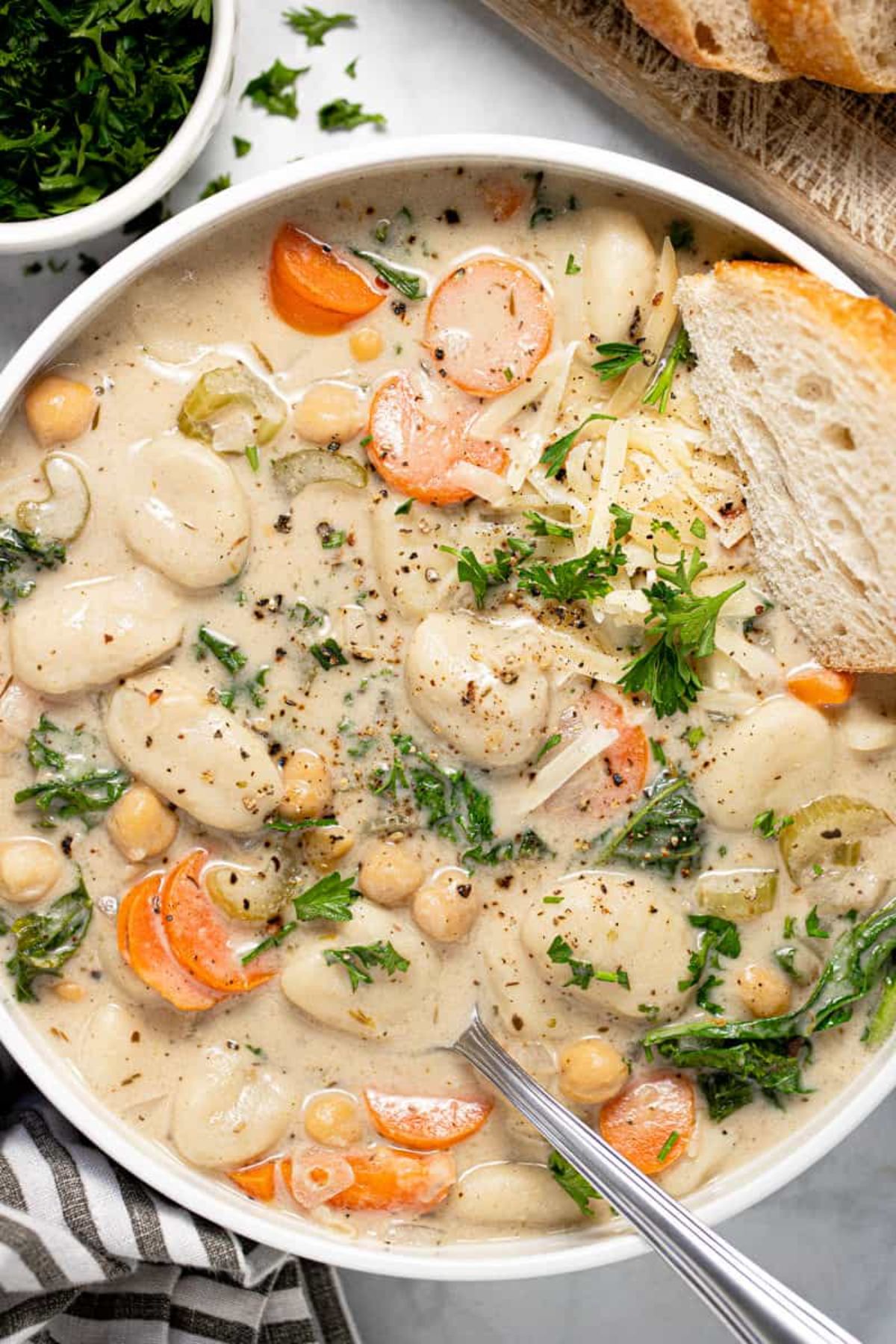 You can't beat a good gnocchi, and this vegan gnocchi soup from Midwest Foodie serves up fluffy pillows of deliciousness. A take on the Olive Garden staple, it's full of yummy veggies and will be ready in 30 minutes.
Vegan nabe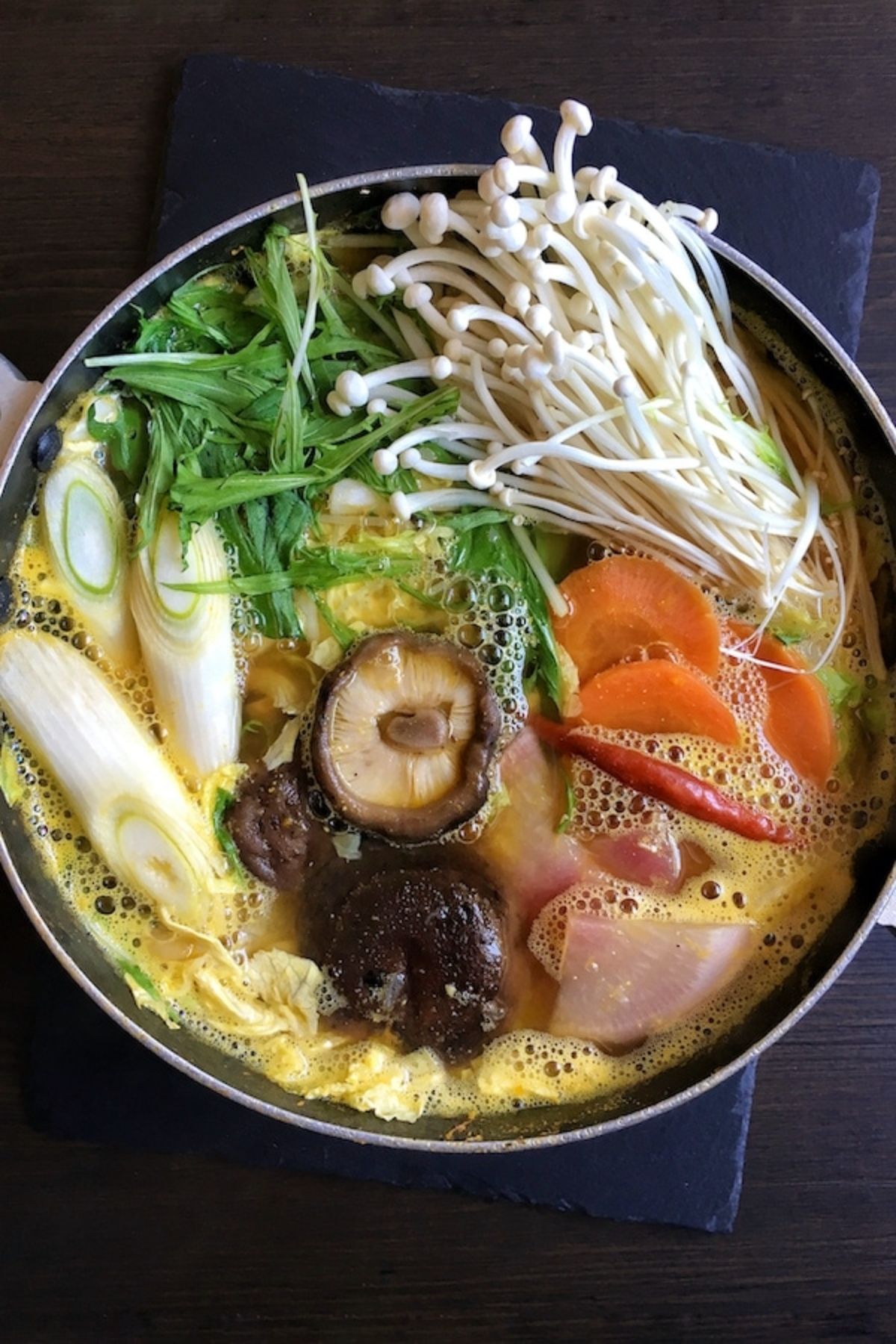 Nabe is basically a Japanese miso hot pot. From The Comfort of My Bowl whips up this vegan version which makes the perfect winter supper. The miso adds extra depth to the dish, so it's a good choice if you're into umami.
Asparagus soup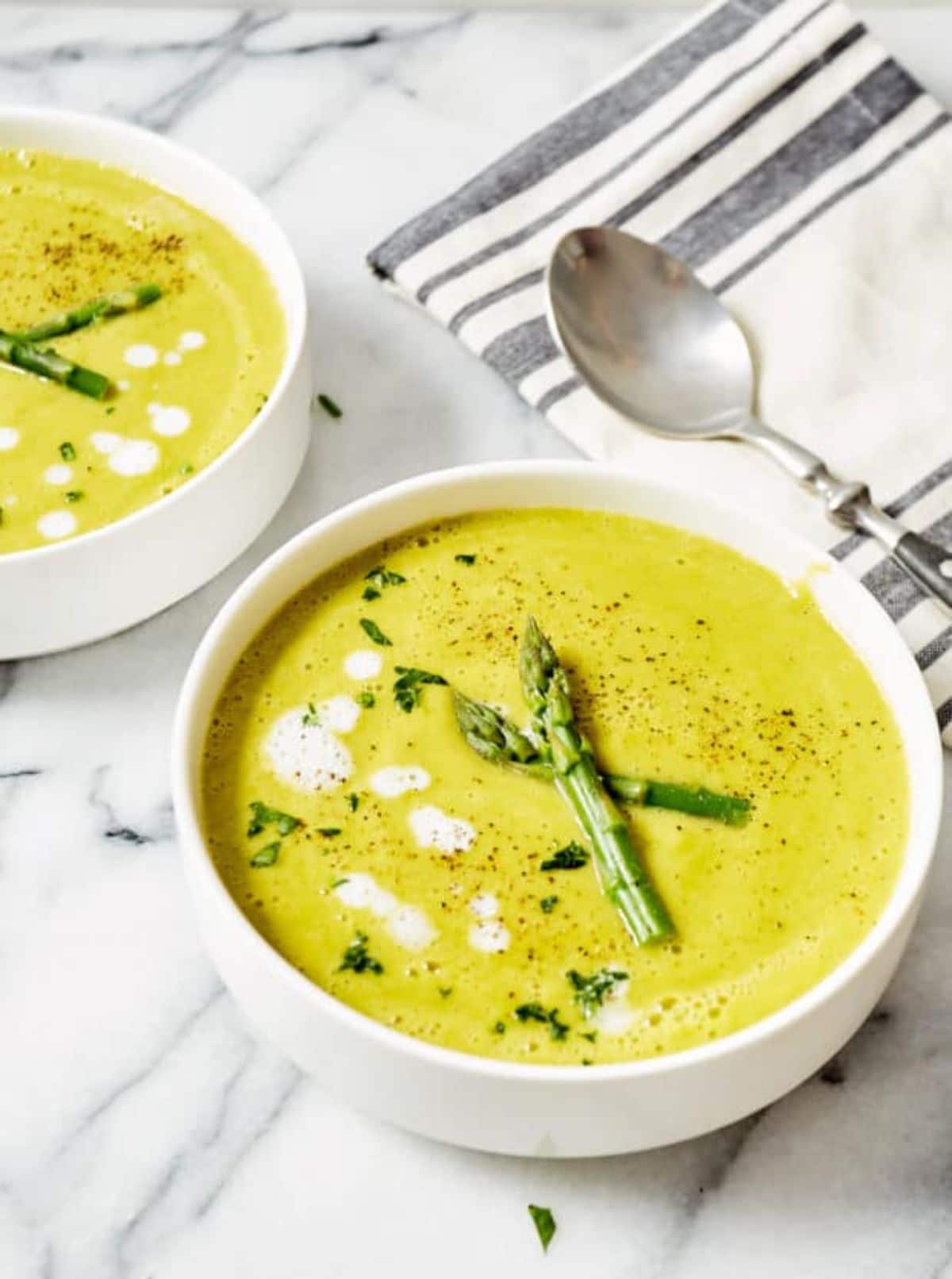 This fresh vegan soup from Clean & Delicious makes asparagus even more inviting! Creamy and delicious, it's the perfect meal for that transition between winter and spring. It'll have you looking forward to green shoots and warmer days.
Vegan corn chowder with potatoes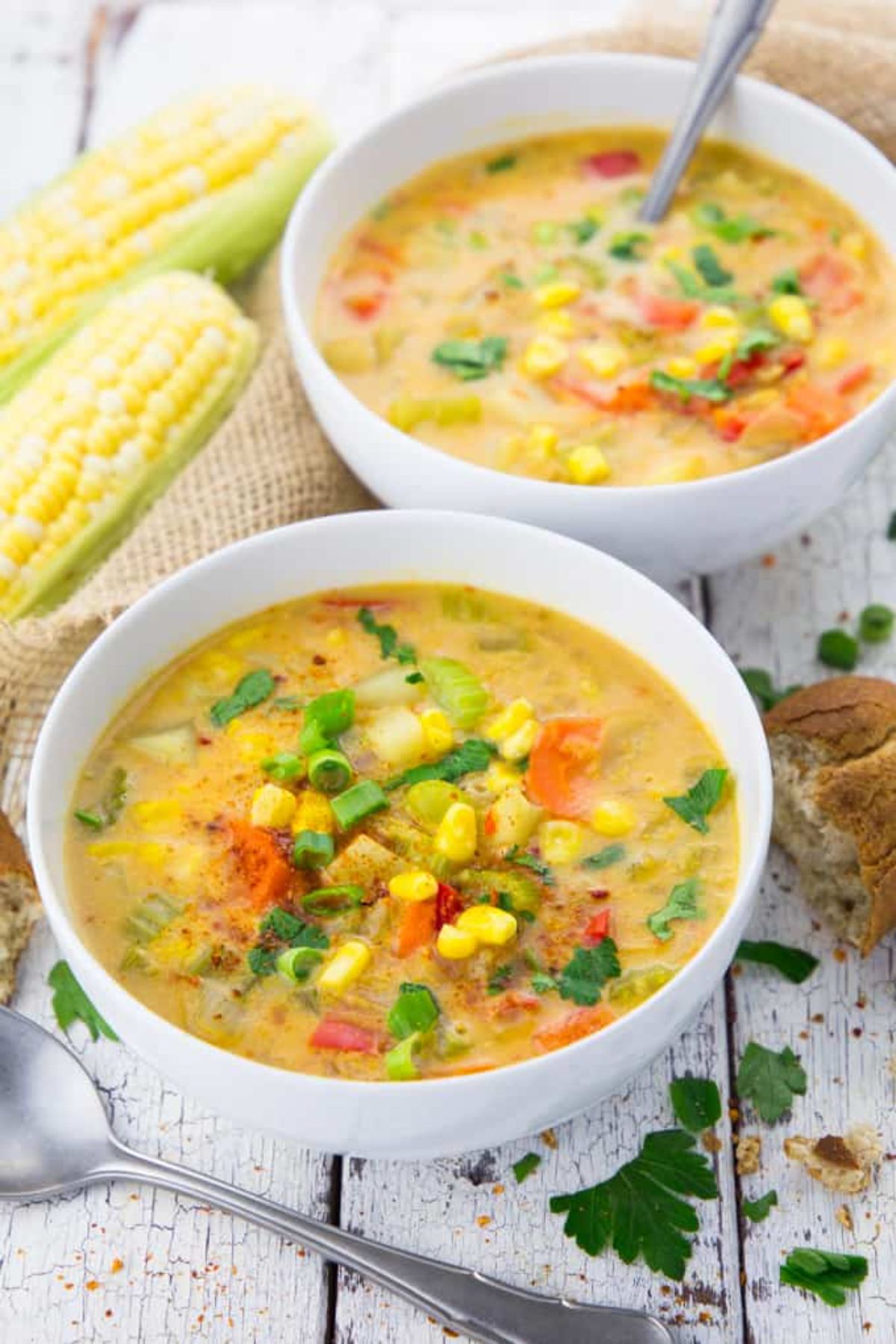 This budget-friendly vegan soup from Vegan Heaven is the sort of meal that makes you feel like spring is here. Healthy and filling, the potatoes will replenish the energy from a run around in the early sun, and the coconut milk brings a creamy touch.
Lentil tortilla soup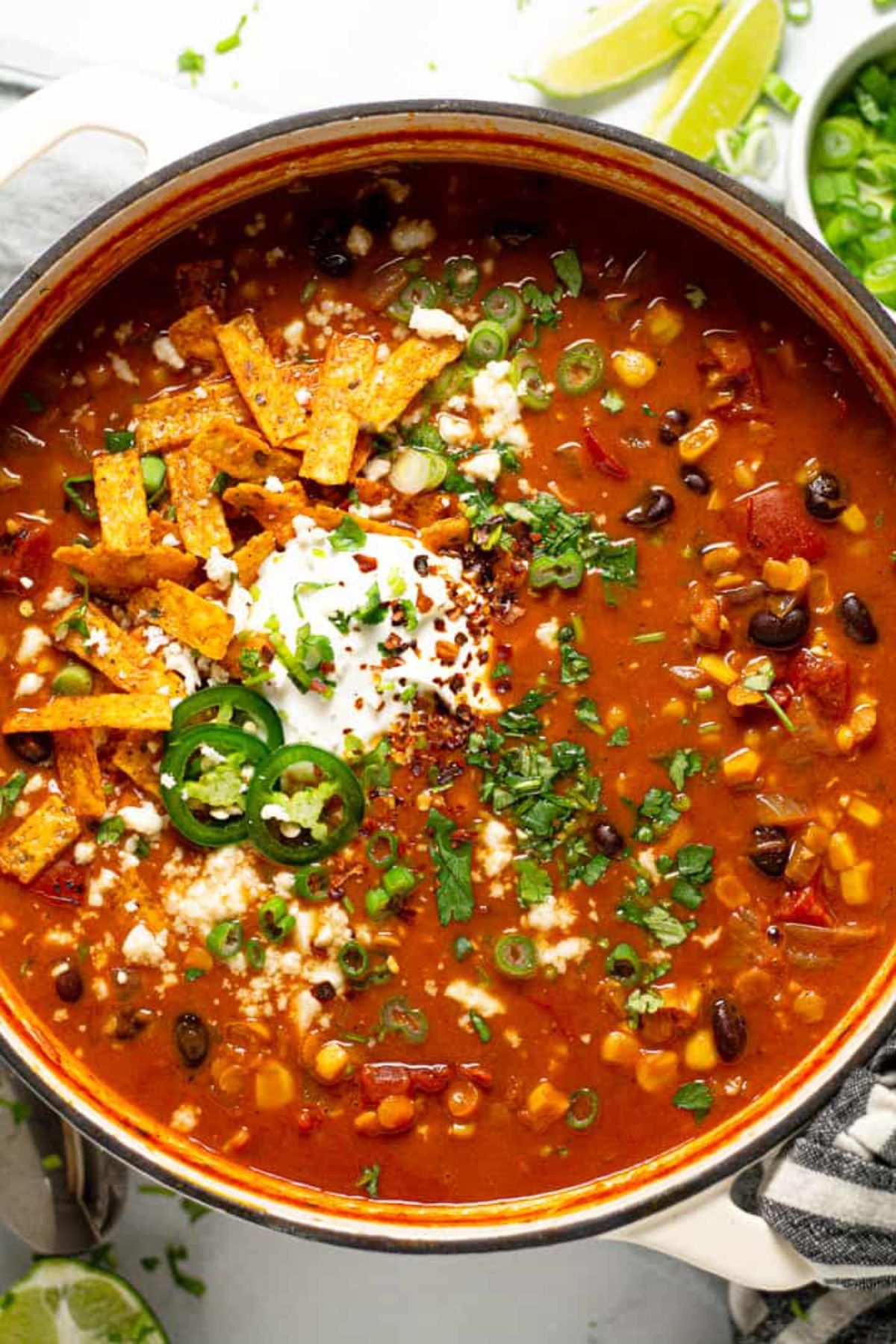 Having one of those days when dinner needs to be on the table an hour ago? Then this soup from Midwest Foodie is a useful one to keep in your arsenal. Ready in 20 minutes, based on pantry staples, and so hearty that even your favorite meat-eater will be impressed!
Lemon rosemary white bean soup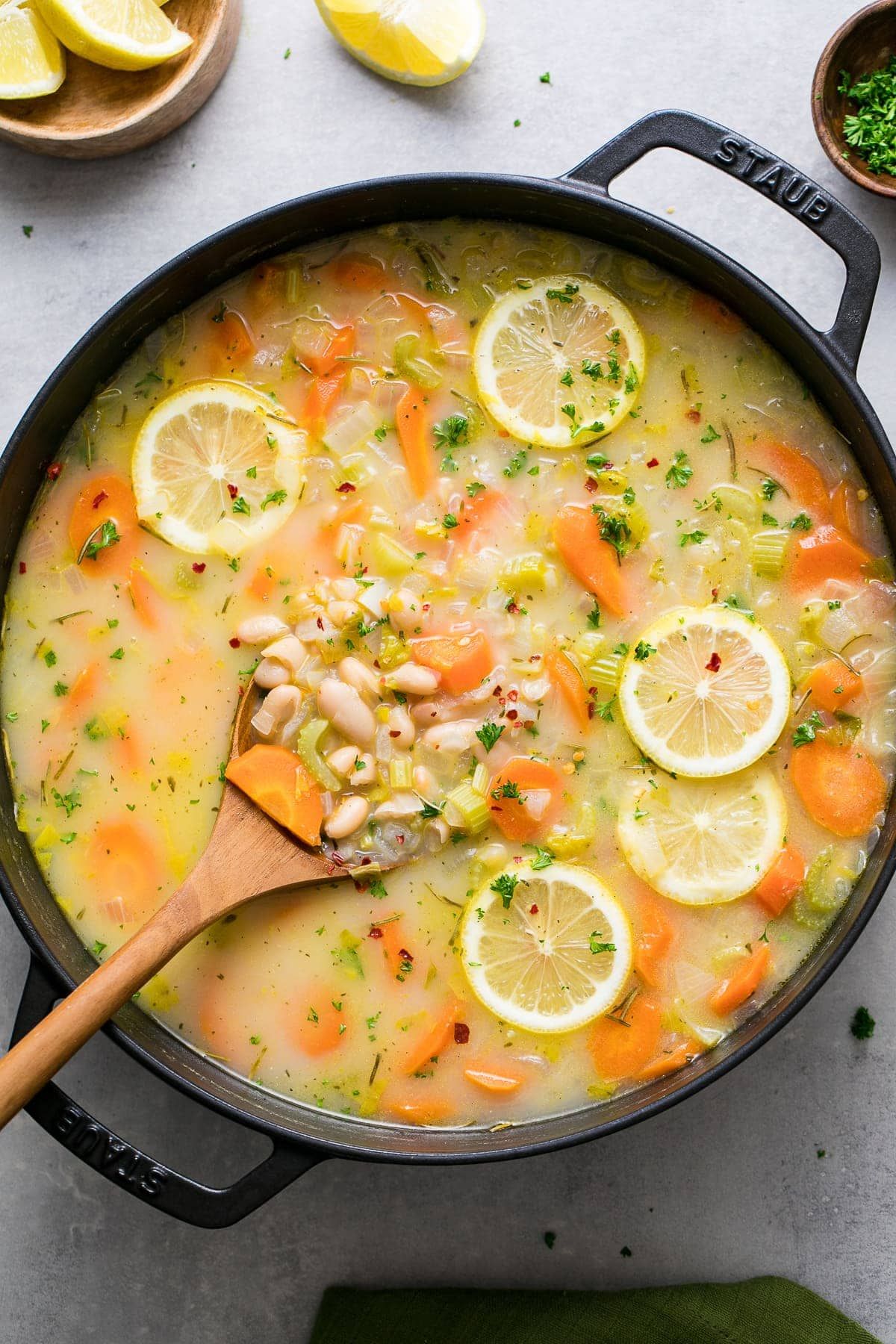 The list of ingredients in this refreshing soup from The Simple Veganista might look long, but I bet you have most of it already in your pantry. Full of flavor, zesty, and mouthwateringly tasty, it's well worth trying.
Golden coconut lentil soup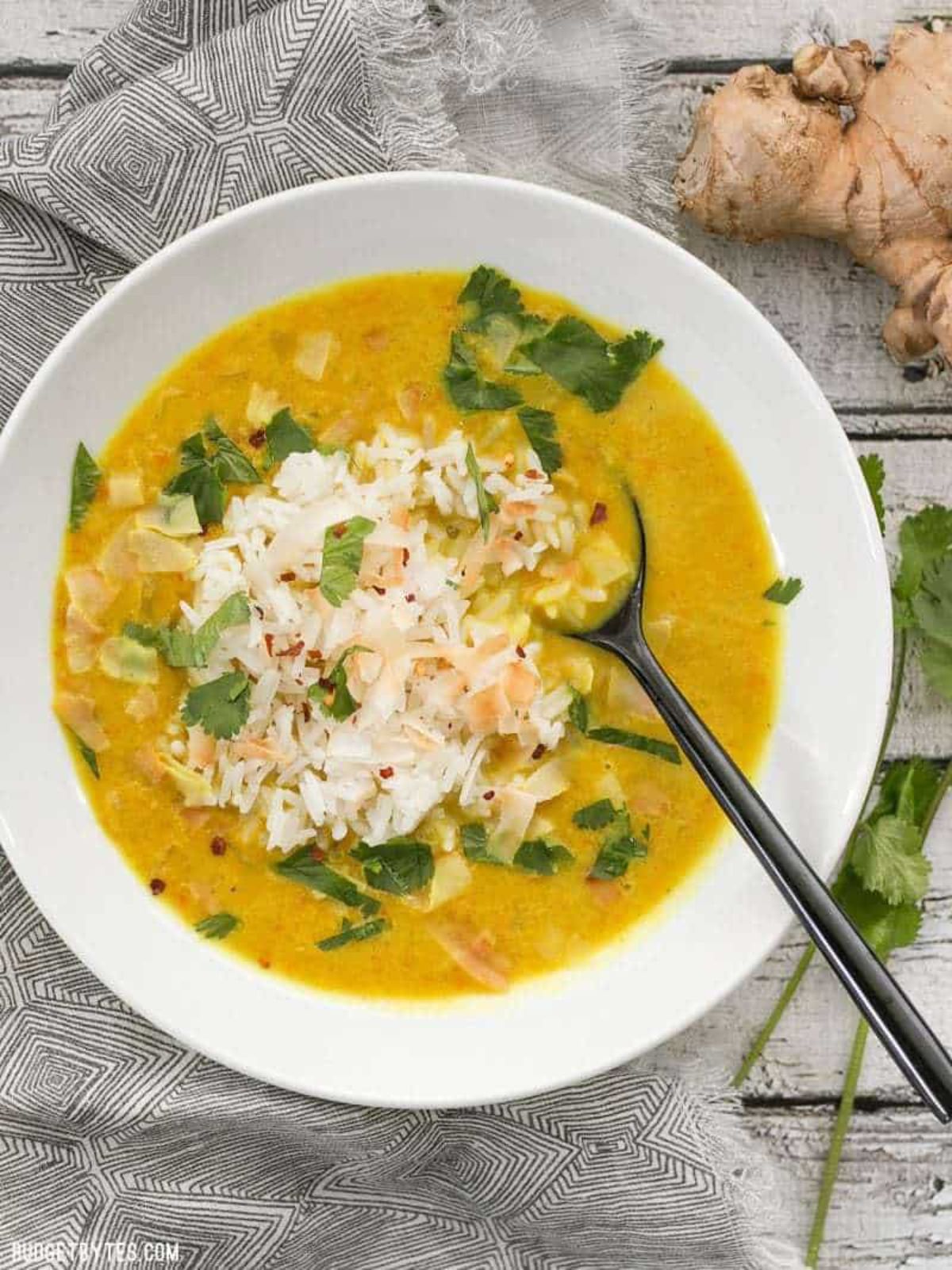 Lentils are the most useful ingredient you could have in your pantry. Cheap, filling, and happy to take on the flavor of whatever you cook them with. This coconut soup from Budget Bytes is clean and refreshing. And it will power you through your afternoon with no trouble at all.
Vegan khao soi soup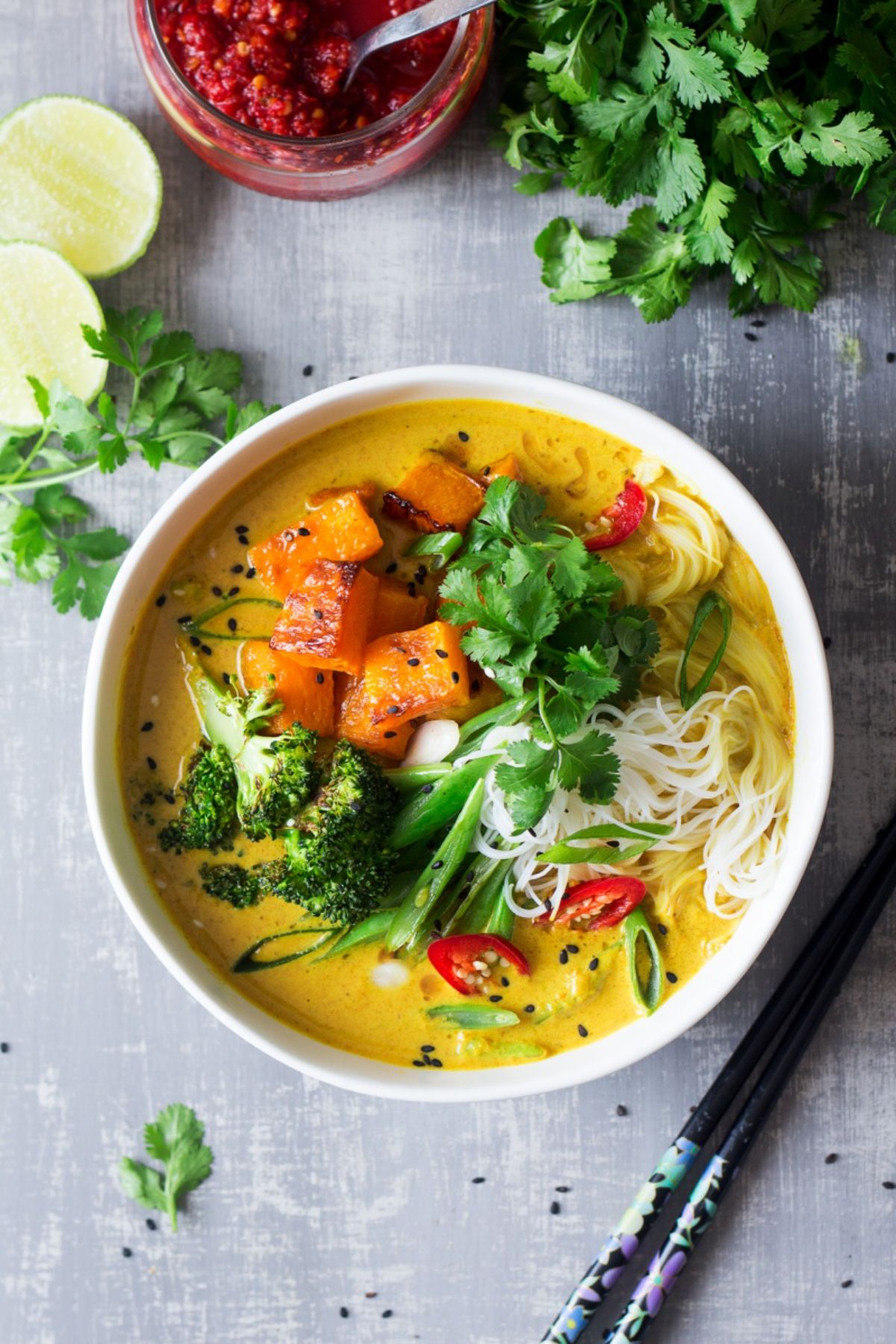 Another Thai-inspired vegan soup recipe here, this time from Lazy Cat Kitchen. It's the perfect way to liven up a gray and wet evening. Dish your friends up a bowl of this flavorsome delight and they'll be all smiles.
French carrot lentil soup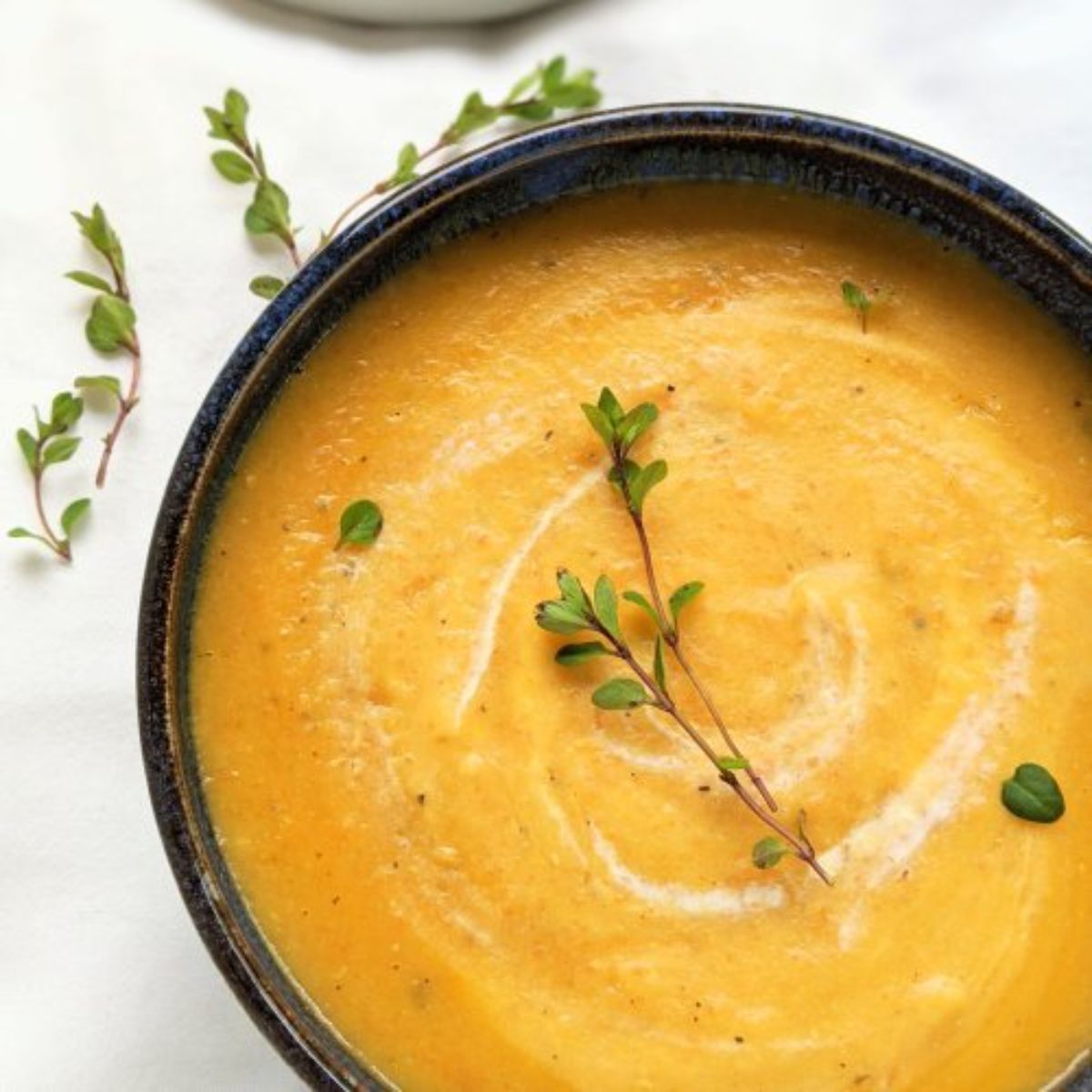 It's the Herbs de Provence in this soup from The Herbeevore that make it French, rather than it being made with French carrots! The mix of thyme, rosemary, marjoram and oregano make this creamy soup stand out from the rest. You'll want to make double of this recipe!
Cuban black bean soup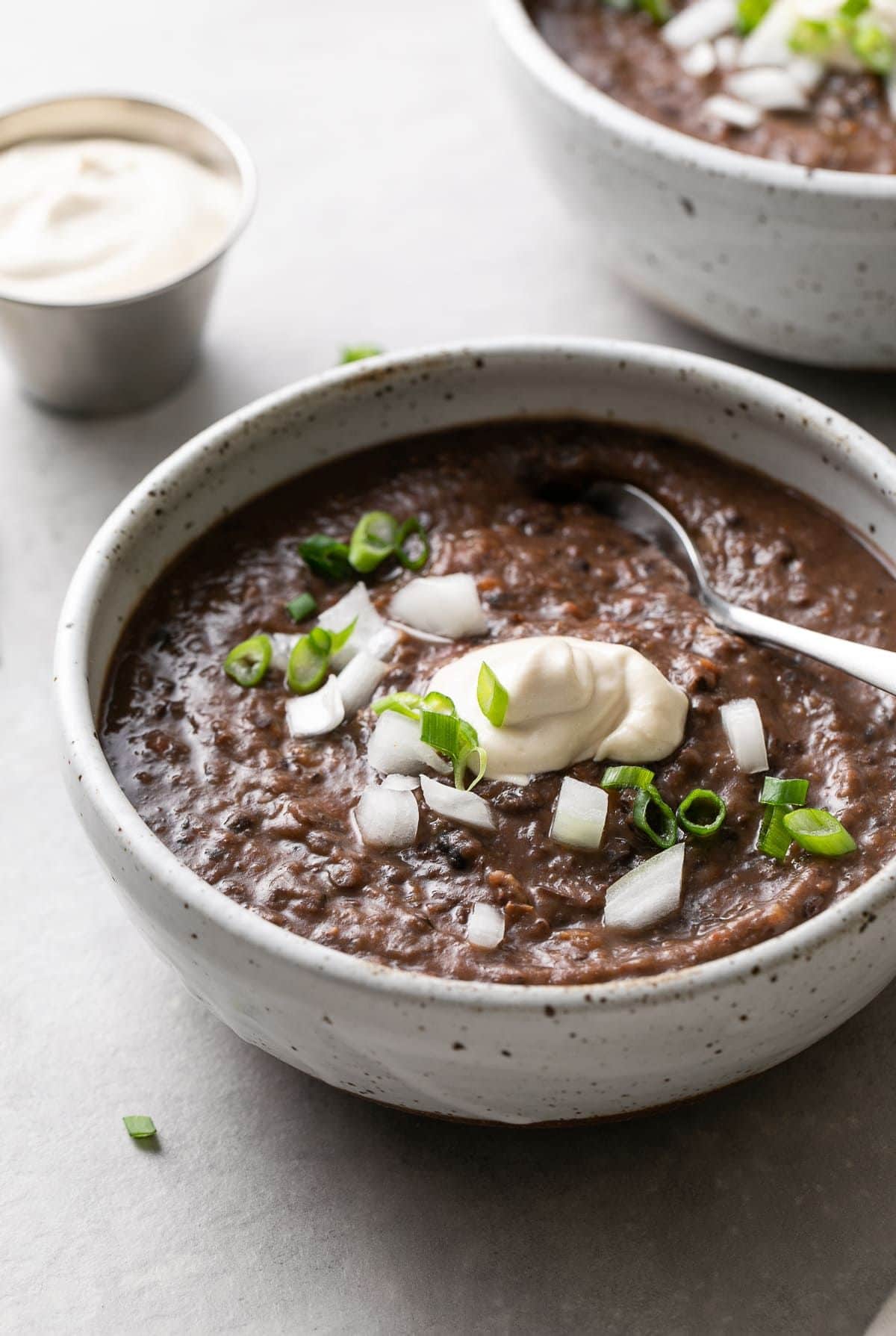 While you wouldn't necessarily think that black beans would make a soup look inviting, the deep rich color of this vegan offering from The Simple Veganista will prove you wrong. Drizzle with vegan cream and top with scallions and you'll be itching to tuck in!
Chickpea vegetable chowder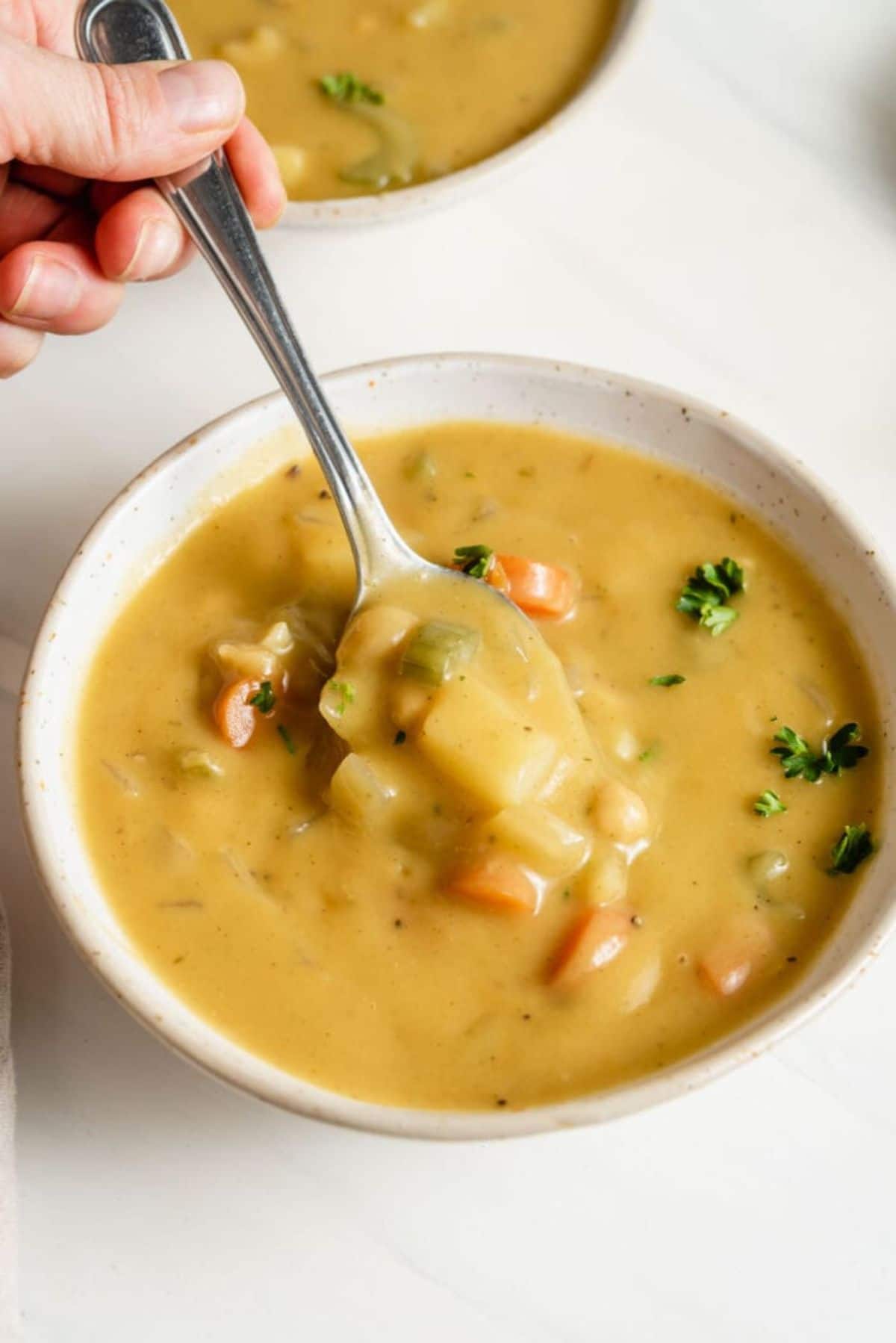 Based around simple ingredients, this vegan soup from Running on Real Food will give you enough energy for your training run and keep your kids happy at lunchtime. The pureed chickpeas give this dish its signature thickness.
Cauliflower soup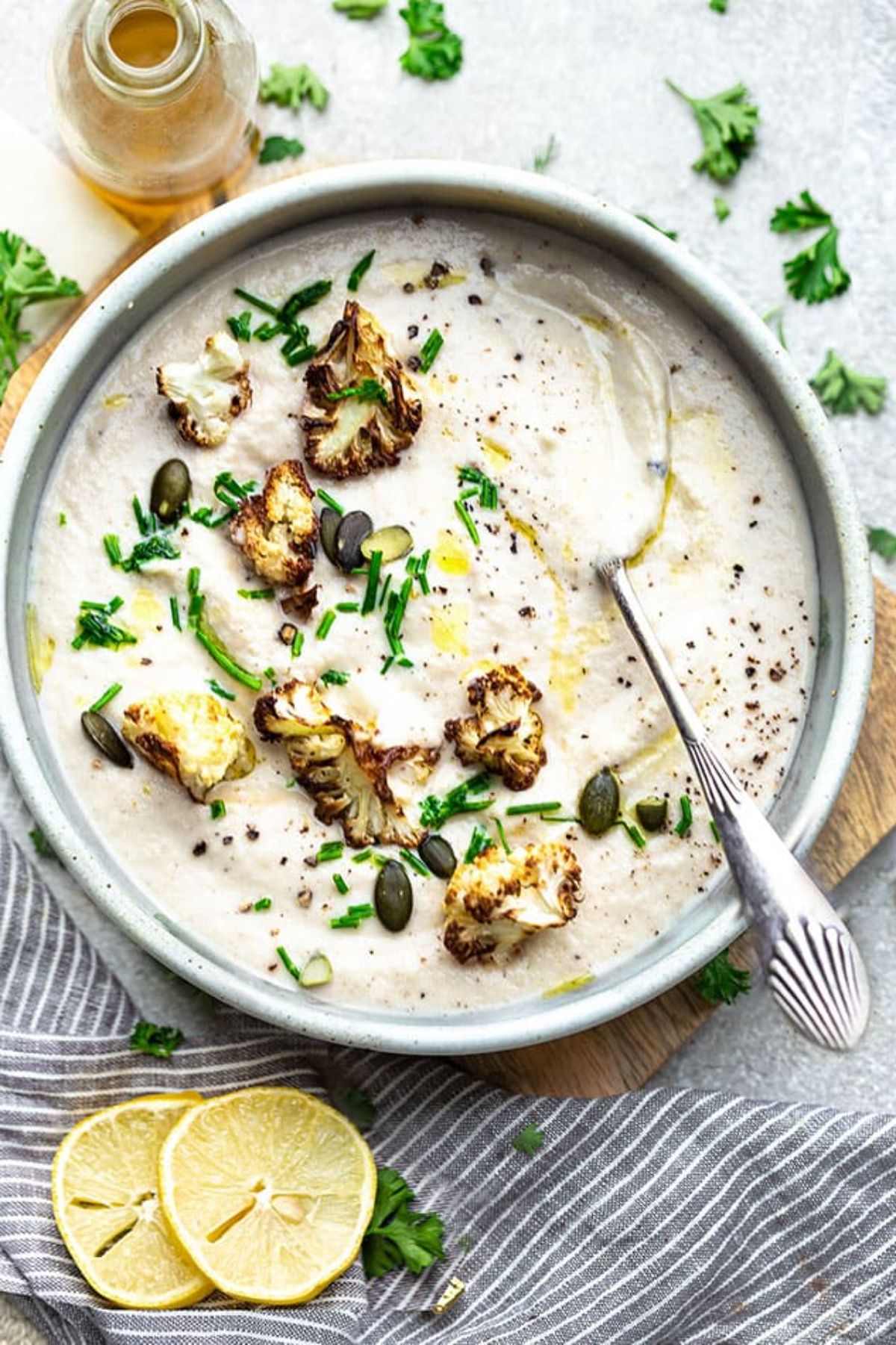 Life Made Sweeter uses cashew cream to give this dish the hearty feel you won't be able to get enough of. It's gluten-free, paleo, Keto, low-carb and delicious enough to serve up to the whole family.
Vegan vegetable noodle soup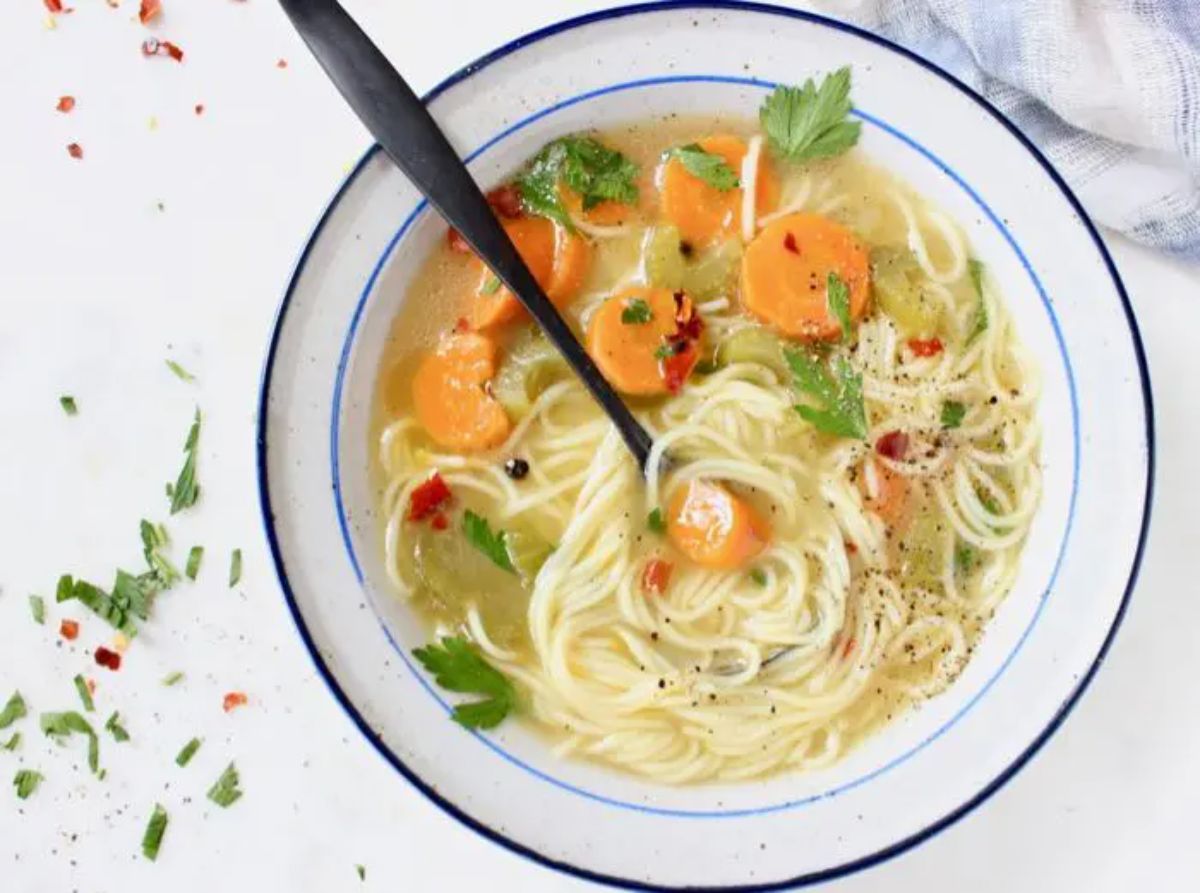 Fresh parsley always makes me think of bright summer days. This soup from Veggie Society is packed full of vegetables, angel hair noodles and topped with loads of Italian parsley, so I'm very happy.
Zucchini and leek soup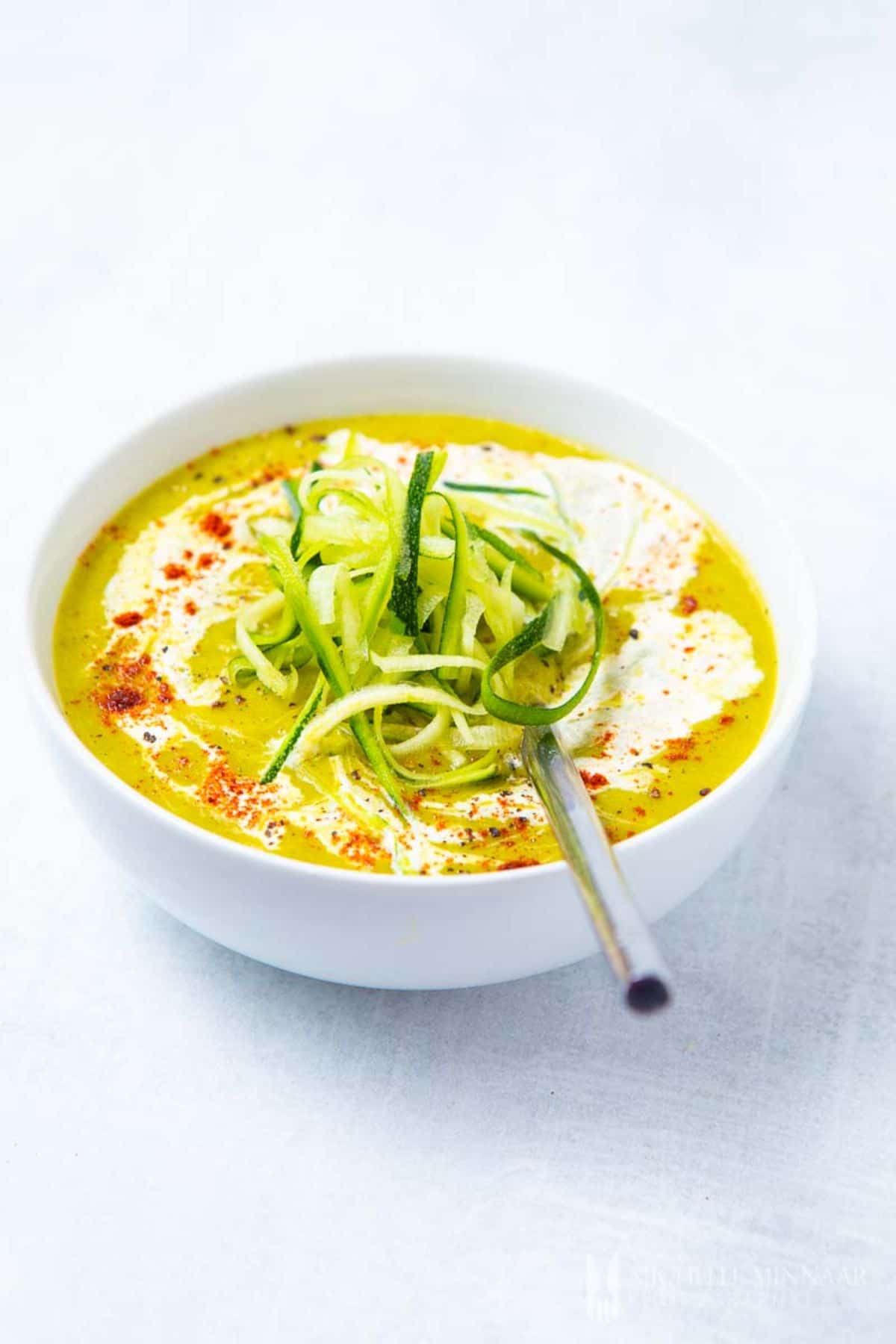 Granted, zucchini isn't packed with as much flavor as, say, carrots. But the green summer veggie brings vibrant color and texture to any dish. Combined with leeks and celery, Greedy Gourmet's vegan soup is delicious and summery.
Vegan tom kha soup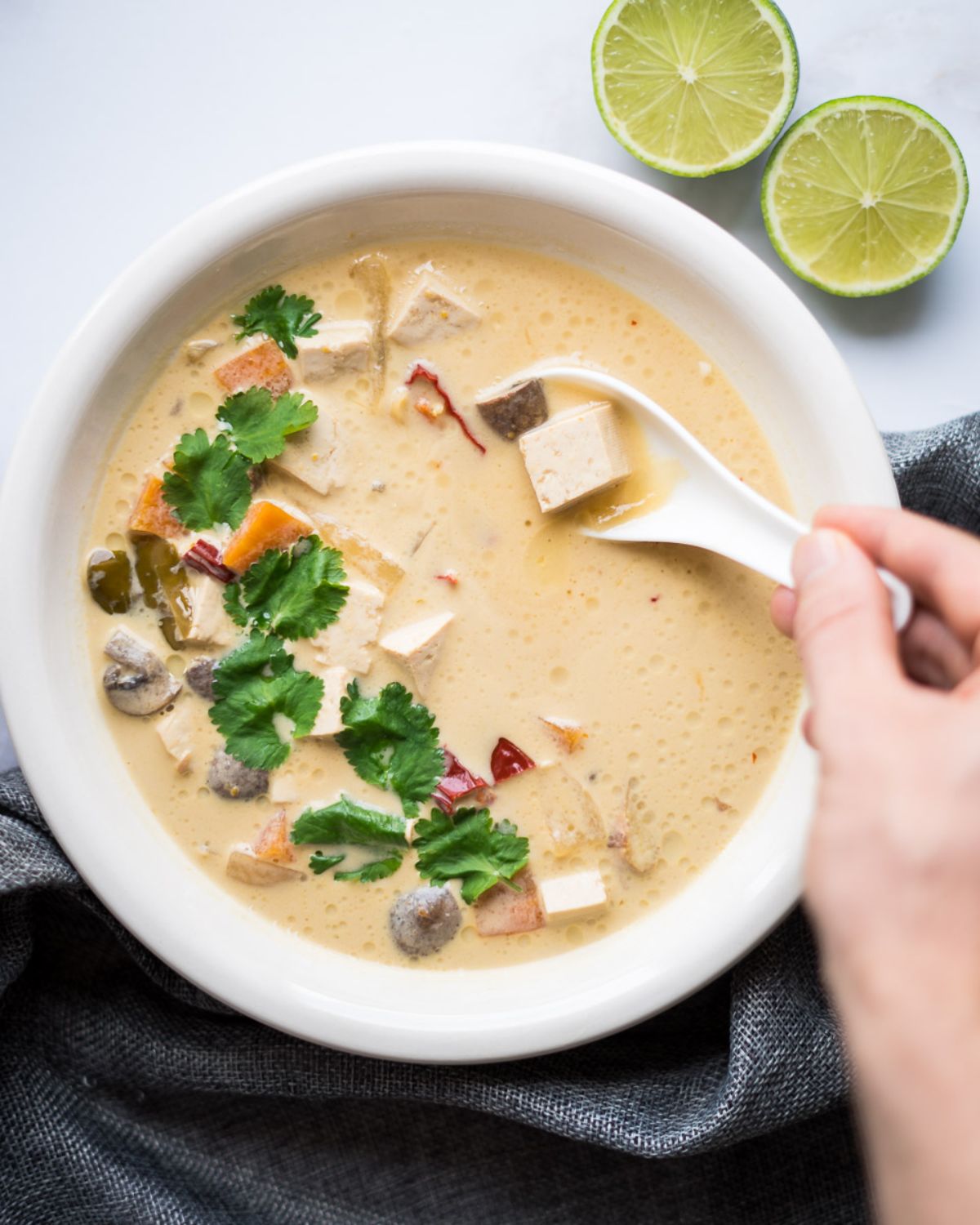 Six Hungry Feet shows you how to make your own red chilli paste to go in this spicy vegan soup, but you can use a jar in a pinch. Combined with your favorite vegetables and some additional Thai flavors, this is one for the weekend.
Creamy white bean soup with kale and gremolata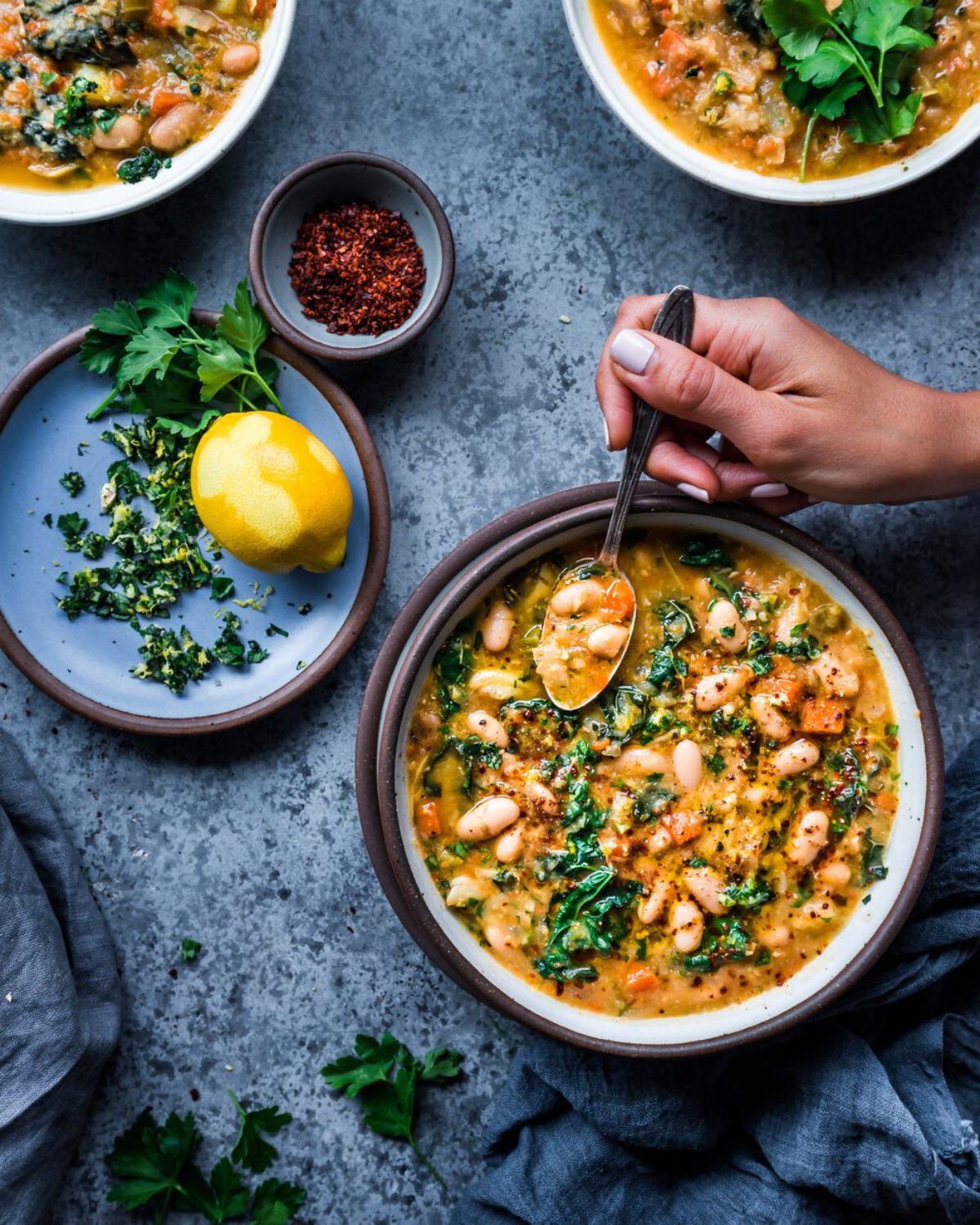 One-pot dishes are one of the reasons I love soups so much. Less washing up, less time in the kitchen, and if you have a pretty pot you can even take it straight to the table. This white bean soup from Rainbow Plant Life is so versatile you can even make it in your Instant Pot.
Creamy vegan tomato soup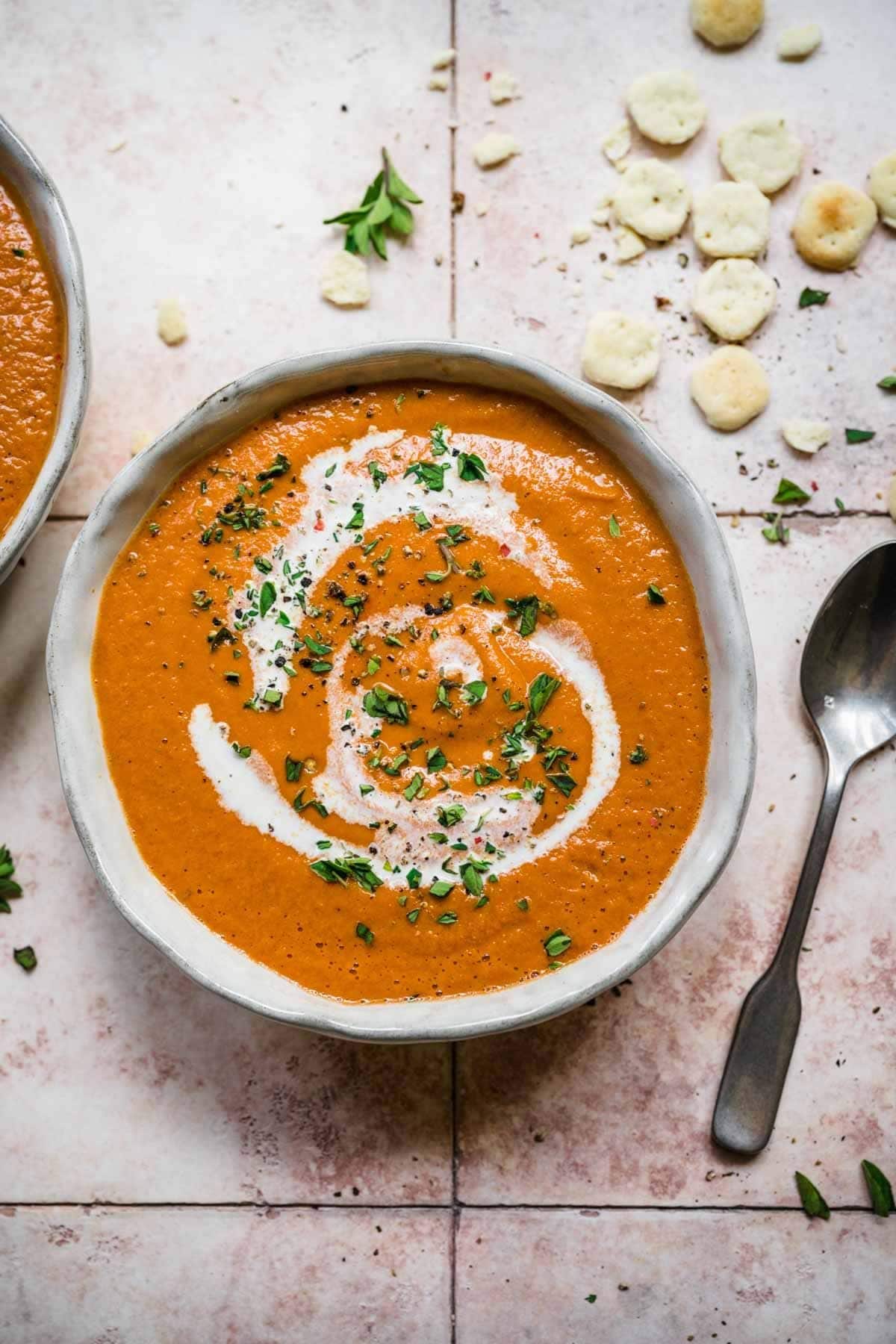 With a roasted tomato base, this vegan soup from Crowded Kitchen feels rich and velvety. Adding in sun-dried tomatoes really ups the flavor game too.
Instant Pot chickpea orzo soup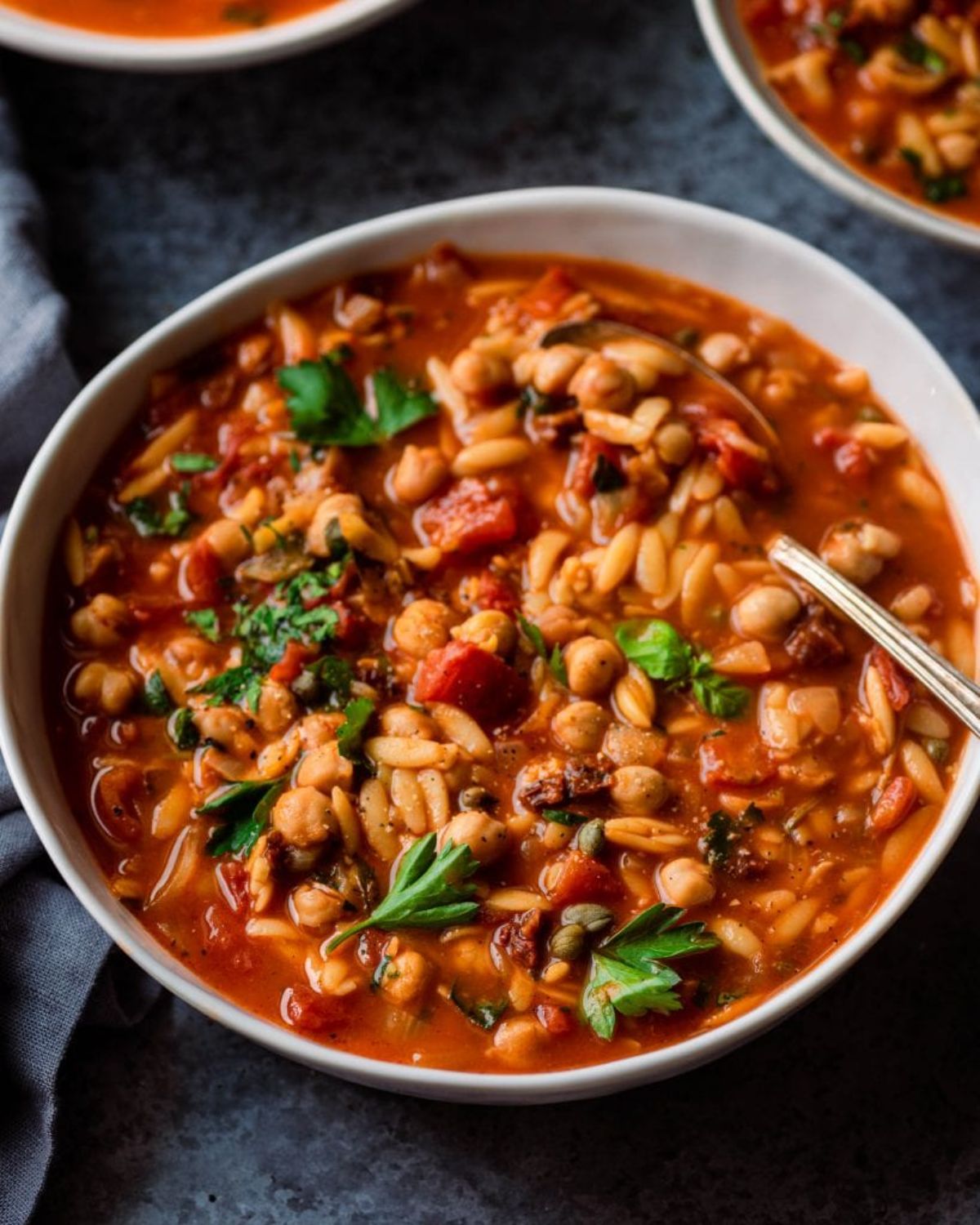 If you've invested in an Instant Pot then you have a lifetime of delicious soups and stews ahead of you (made in no time at all, while you put your feet up!). This recipe from Rainbow Plant Life should make it onto your list. It's full of flavor and texture, topped with fresh vibrant herbs.
Noodle soup with roasted chickpeas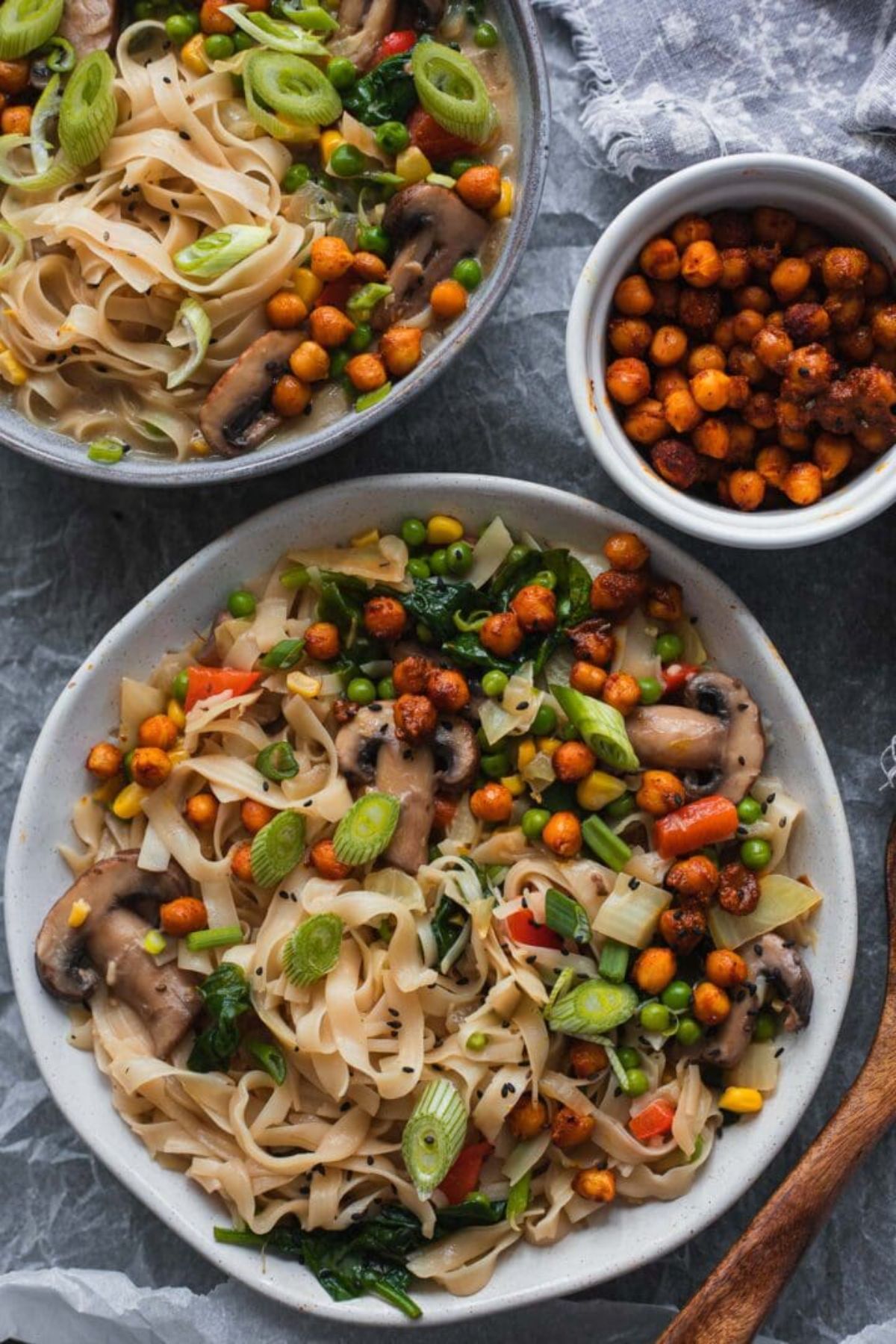 If you like your soups with a bit more bite, then this noodle soup from Earth of Maria is right up your alley. The roasted chickpeas add just the right amount of crunch, giving you something to get your teeth into at teatime.
Sweet potato soup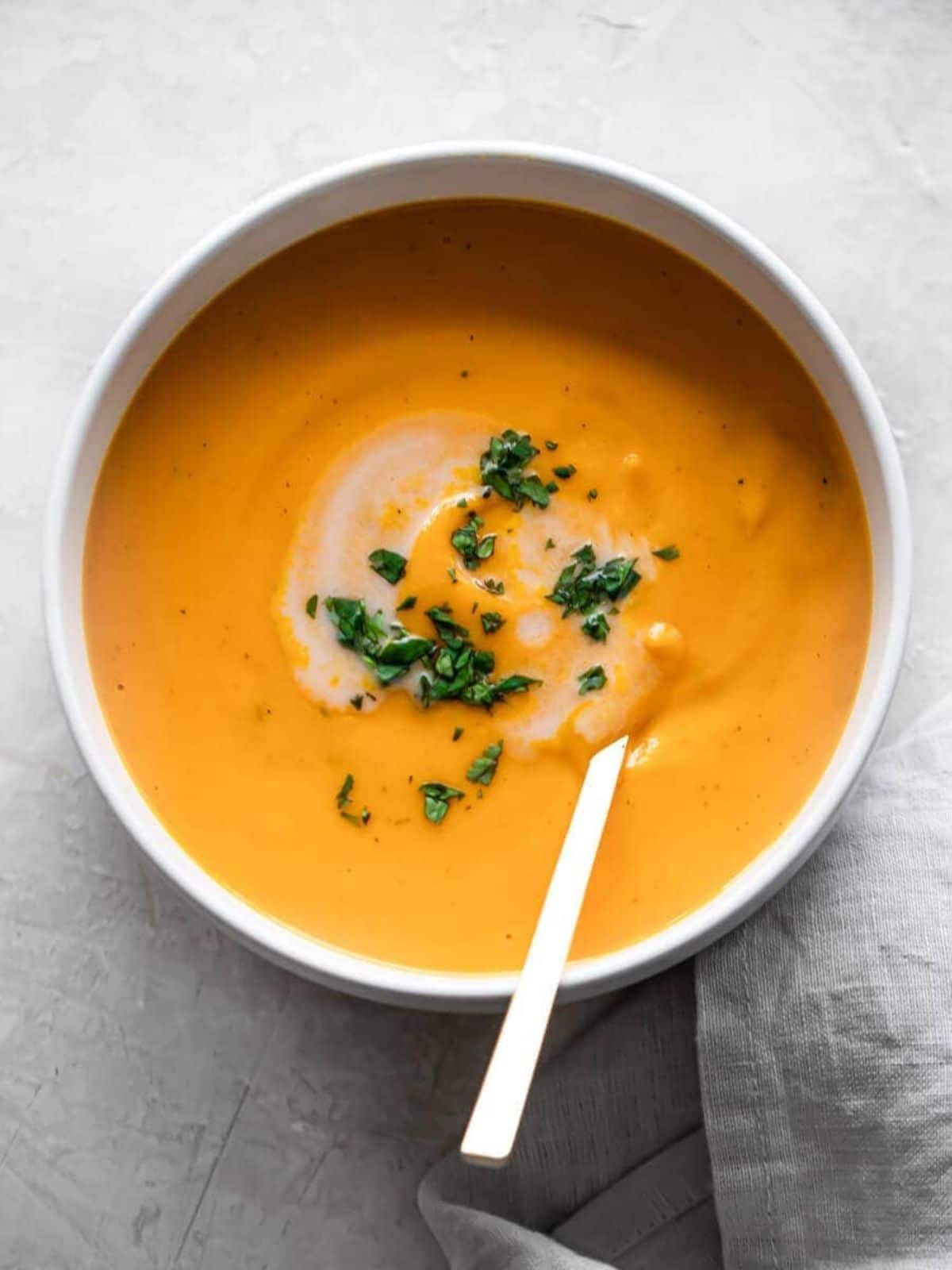 Simple, classic, and delectable, this sweet potato soup from Real + Vibrant is the easy supper you've been waiting for. Add some fresh bread and you're sorted.
Vegan lasagne soup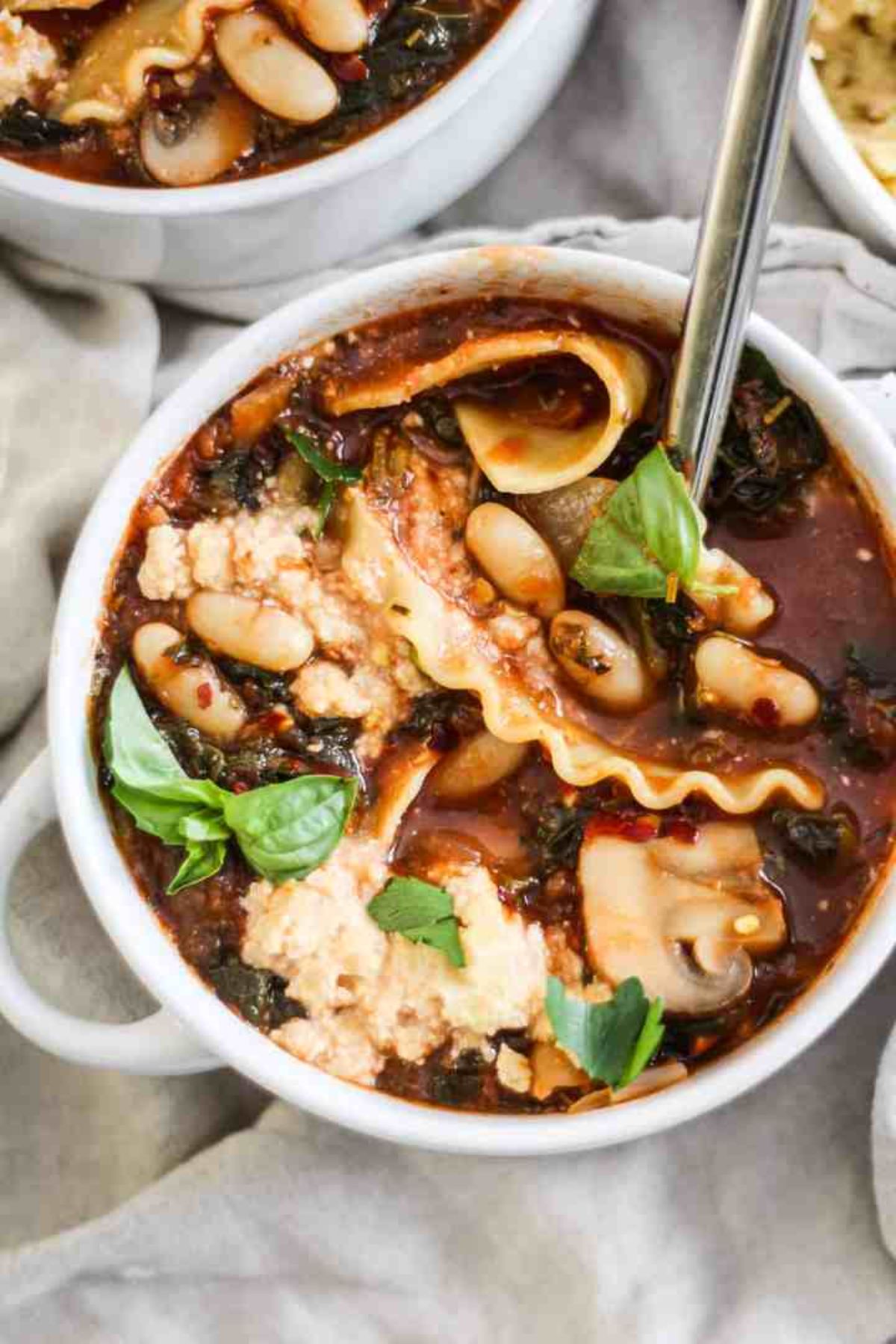 Grateful Grazer uses white beans, and a macadamia nut ricotta cheese to bring the creaminess to this delicious lasagne soup. A meal in a bowl, you'll feel as if you're hugging an Italian grandmother.
Easy vegan potato leek soup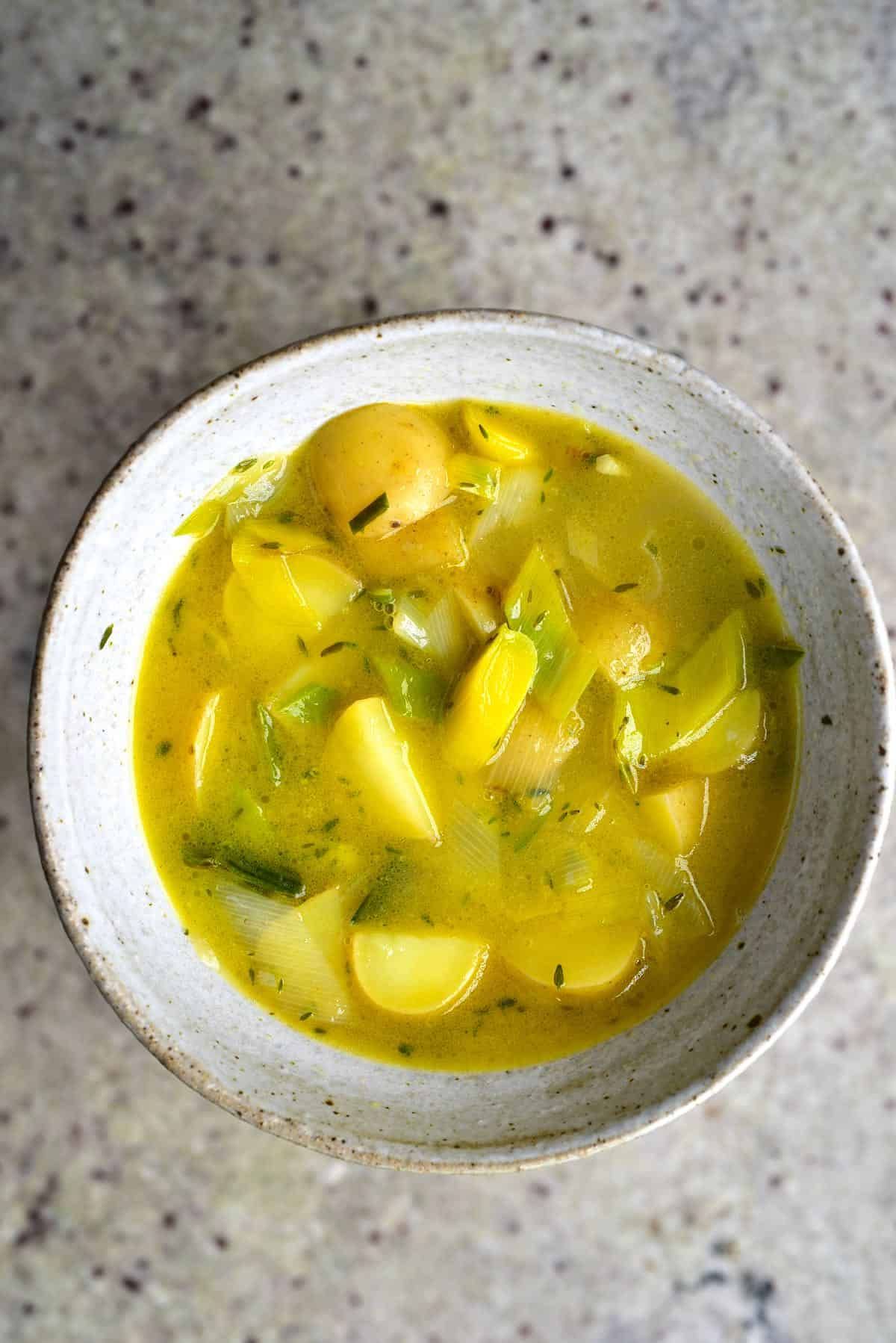 Everyone's different. Thankfully, otherwise, life would be boring! So we're pleased that Alpha Foodie gives both chunky and smooth options for this potato leek soup. You can choose your preferred texture and everyone's happy.
Vegan zuppa toscana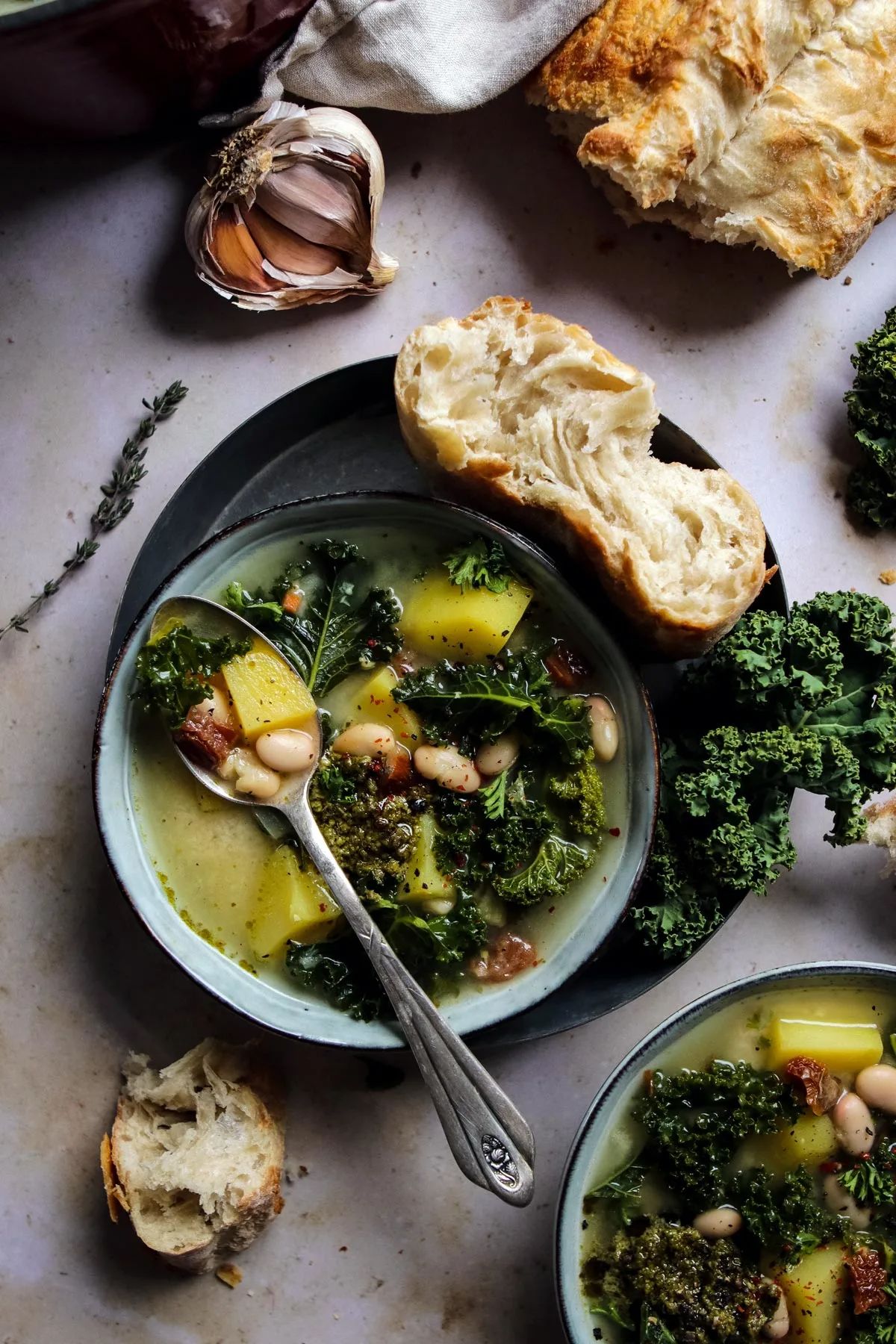 I love kale, and will add it to anything, so I'm in love with this soup from Happy Kitchen Rocks. The fresh green vegetable lifts the dish while the white beans make it super filling.
Red lentil spinach soup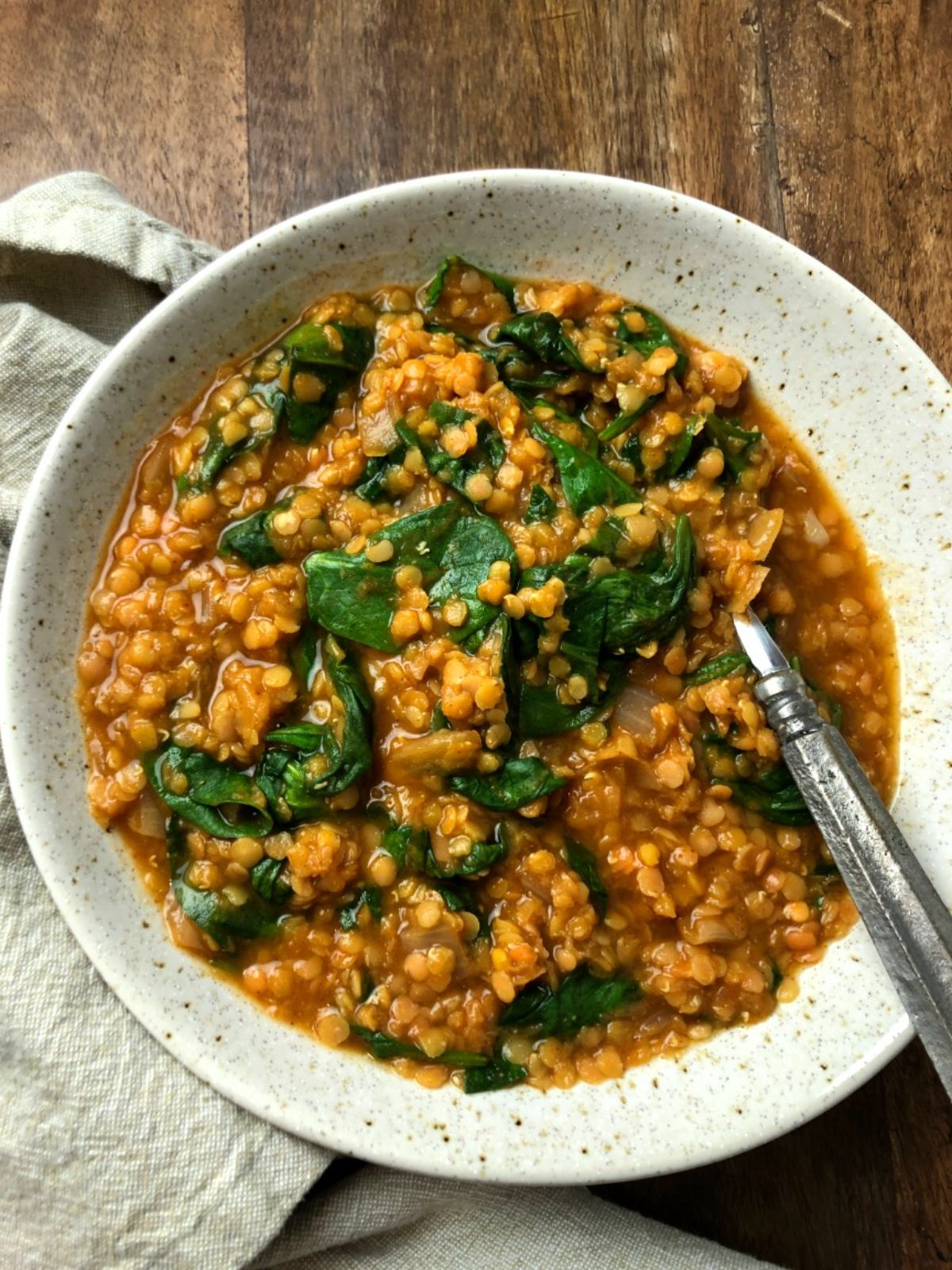 Instead of sticking a ready meal in the microwave when you're just back from work and pressed for time, it's almost as easy to whip up this soup from The Vegan 8 instead. But this recipe is full of healthy, filling ingredients, so it's a much better option.
Creamy avocado gazpacho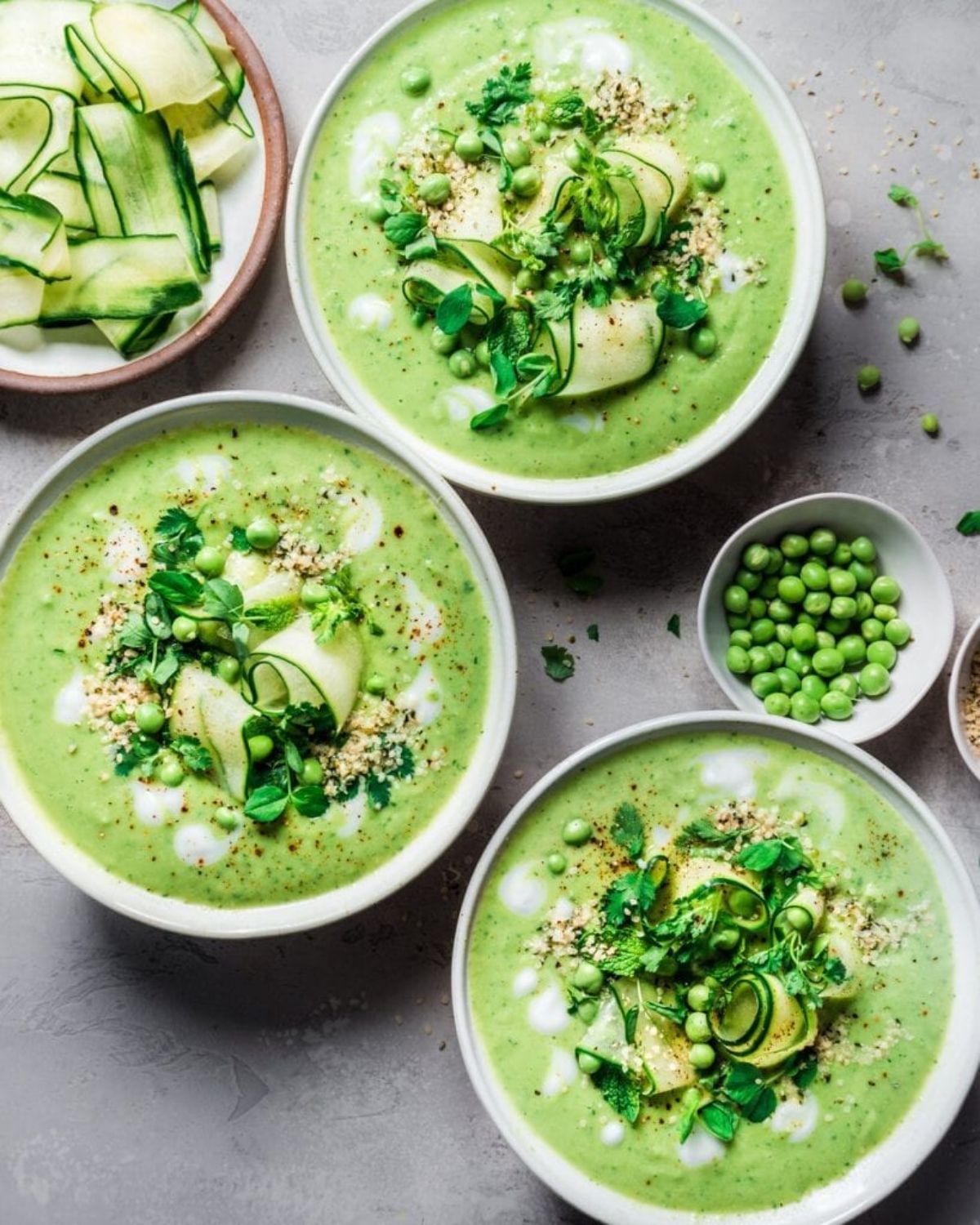 I get it, cold soup might not be your thing. But I'd encourage you to set aside your reservations and give this recipe from Rainbow Plant Life a try. A perfect cold creamy vegan soup filled with nutritious avocado and peas, coconut milk and vibrant lime and cilantro. It'll convert you!
Hungarian vegan mushroom soup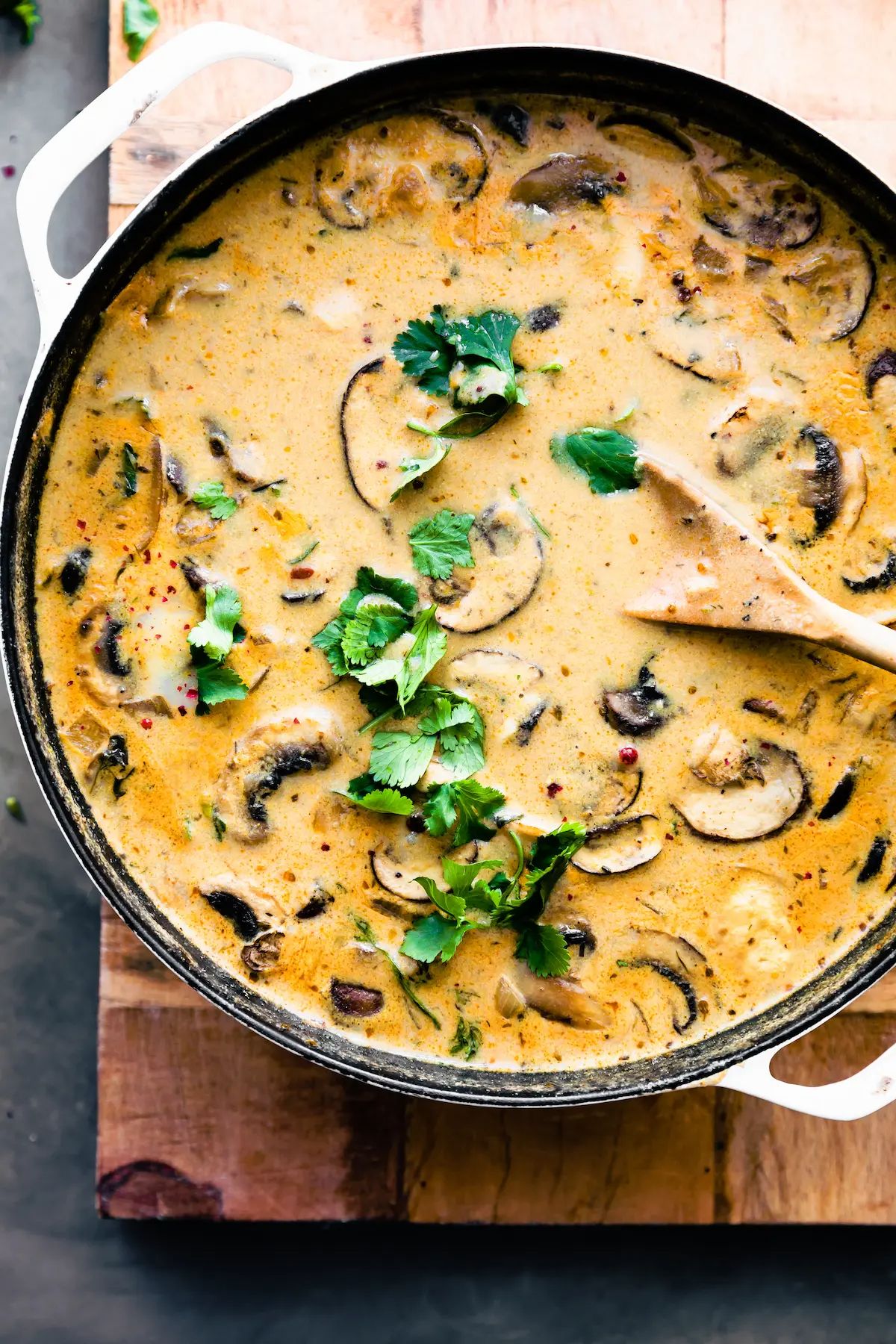 A lot of dairy-free soups promise to be creamy but don't deliver. This Hungarian-inspired soup from Cotter Crunch keeps its promises. Creamy, rich, filling, and vegan, the mushrooms add bite and the flavors are gorgeous.
Vegan potato soup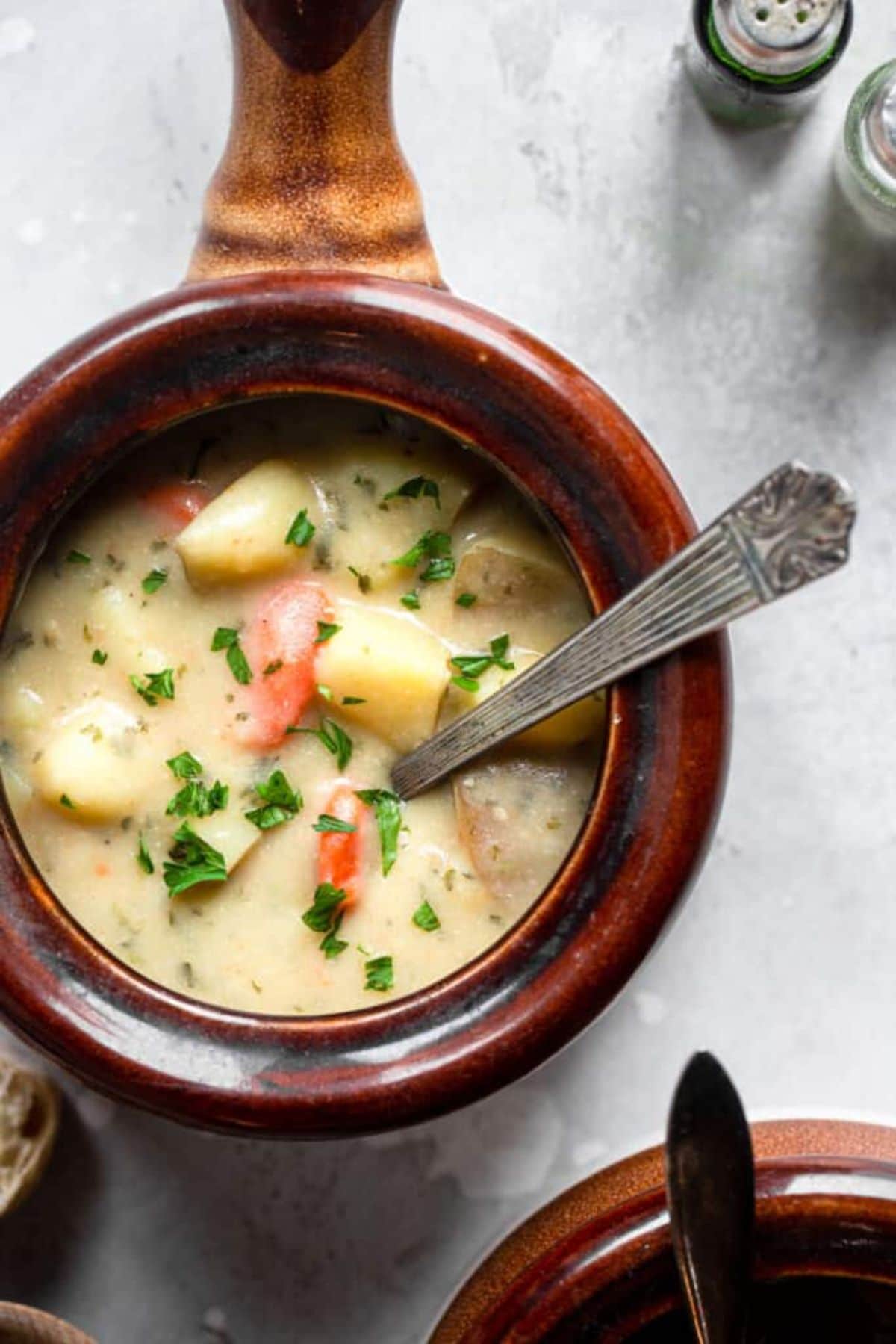 I fed this soup to my son's best friend, who hates anything that looks vaguely healthy, and he ate the whole bowl before asking for seconds. It's a flavorful, moreish vegan concoction from Food Faith Fitness, and you'll make it more than once.
Thai coconut noodle soup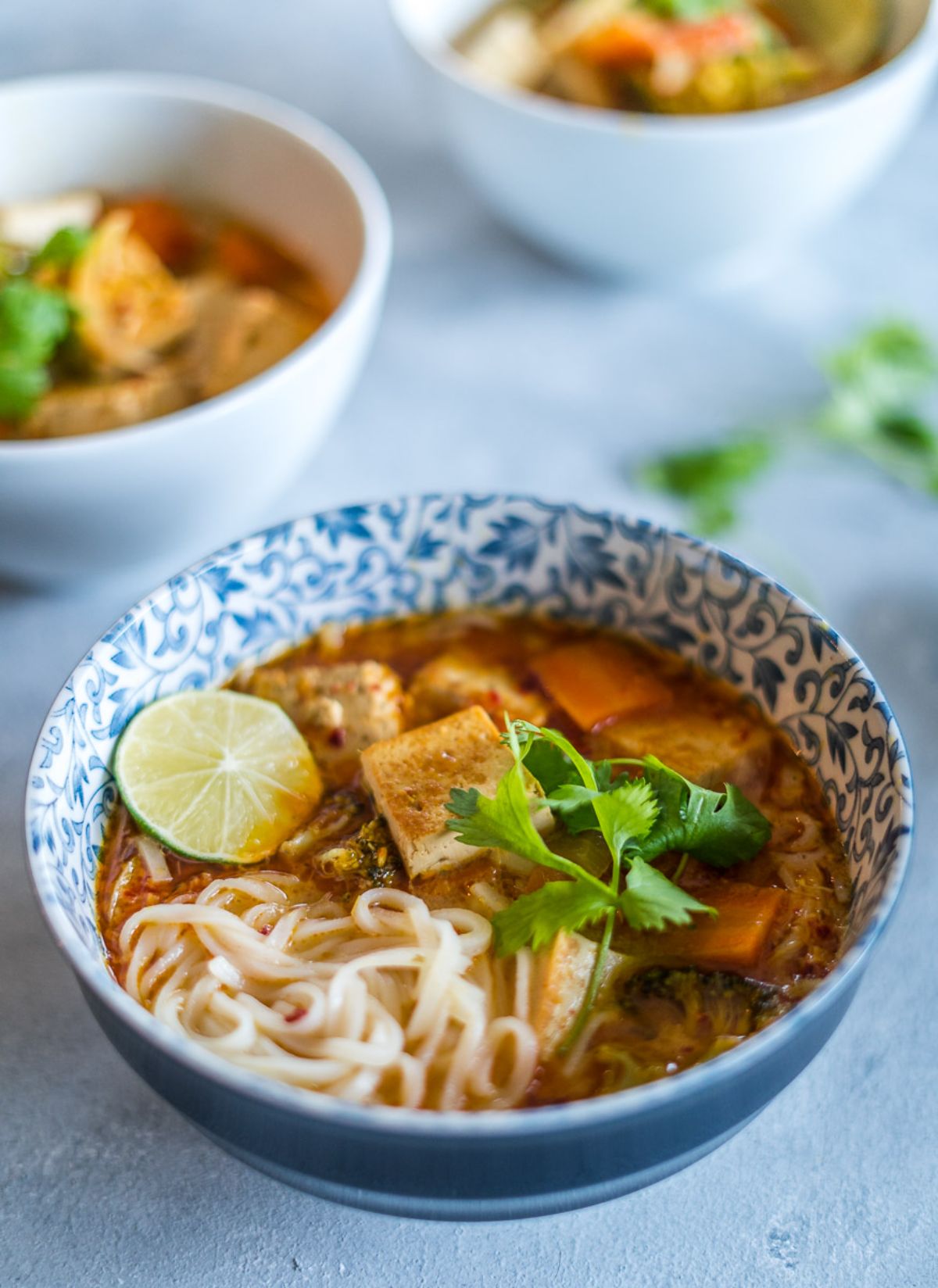 Six Hungry Feet draws inspiration from their time in Northern Thailand for this authentic Thai noodle soup. It involves a good quality curry paste that you can purchase or make using their included recipe.
Vegan chili Verde soup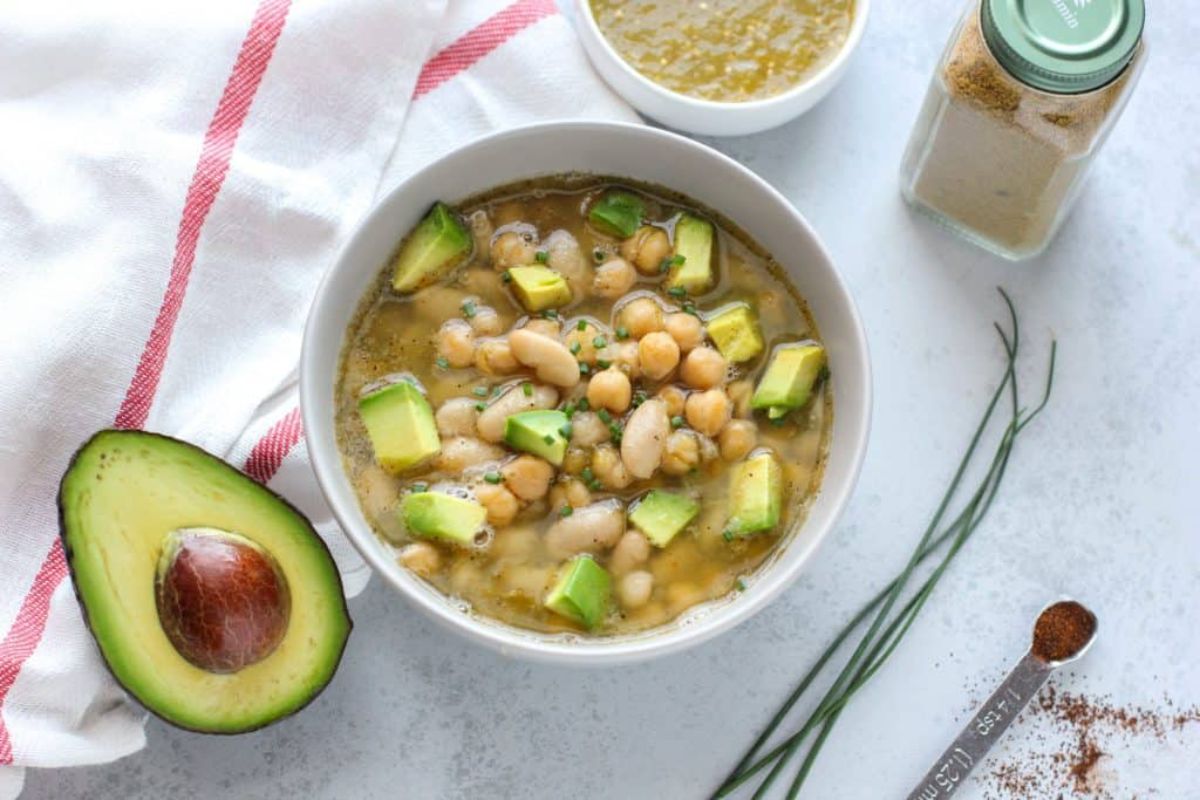 Possibly the quickest soup on our list, this chili Verde from I Heart Vegetables is made from a bunch of ingredients you almost definitely have in your pantry right now. 5 minutes of prep, and then let it simmer for a while before tucking into a tasty treat.
Potato jackfruit stew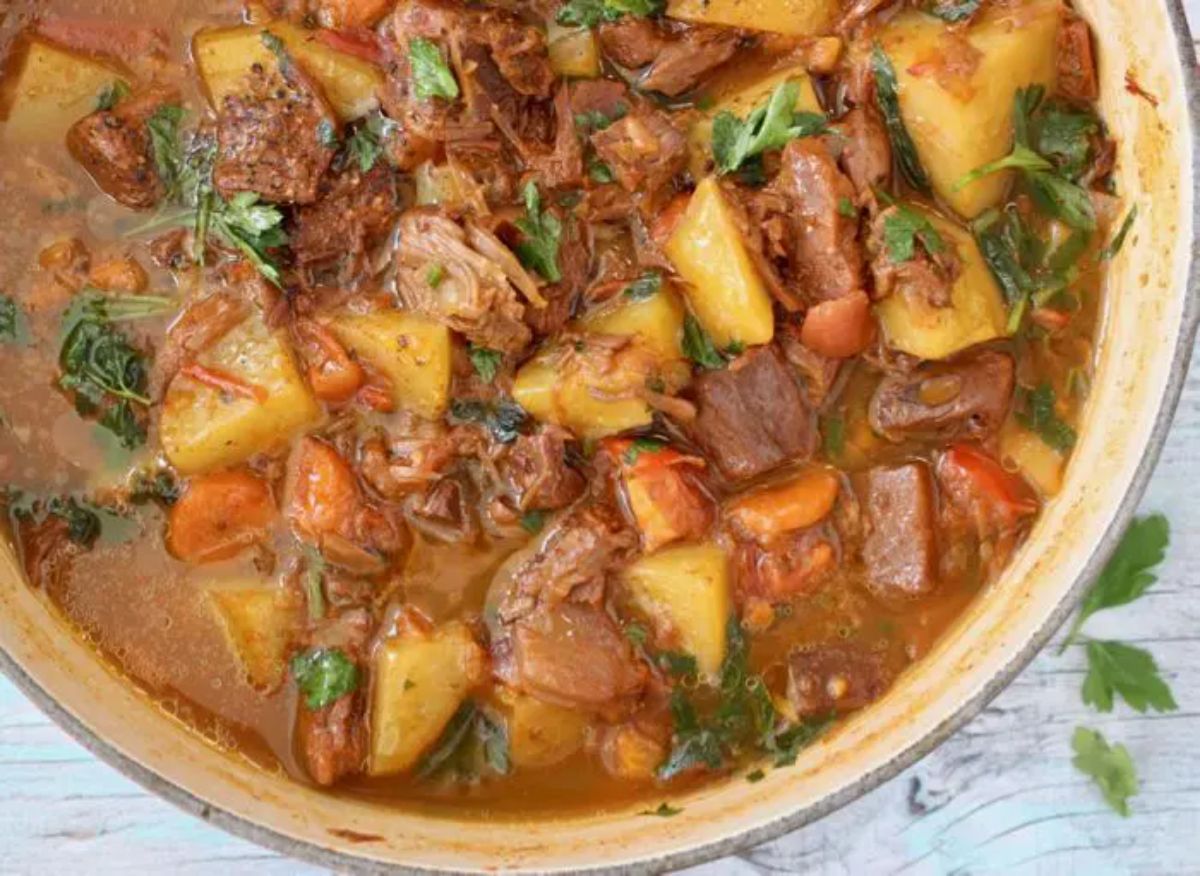 Veggie Society uses milled flax and chia mix to make this stew nice and thick. It's a great weekend supper for the whole family to tuck into with garlic bread to soak up the leftover dreamy flavors.
Vegan Irish stew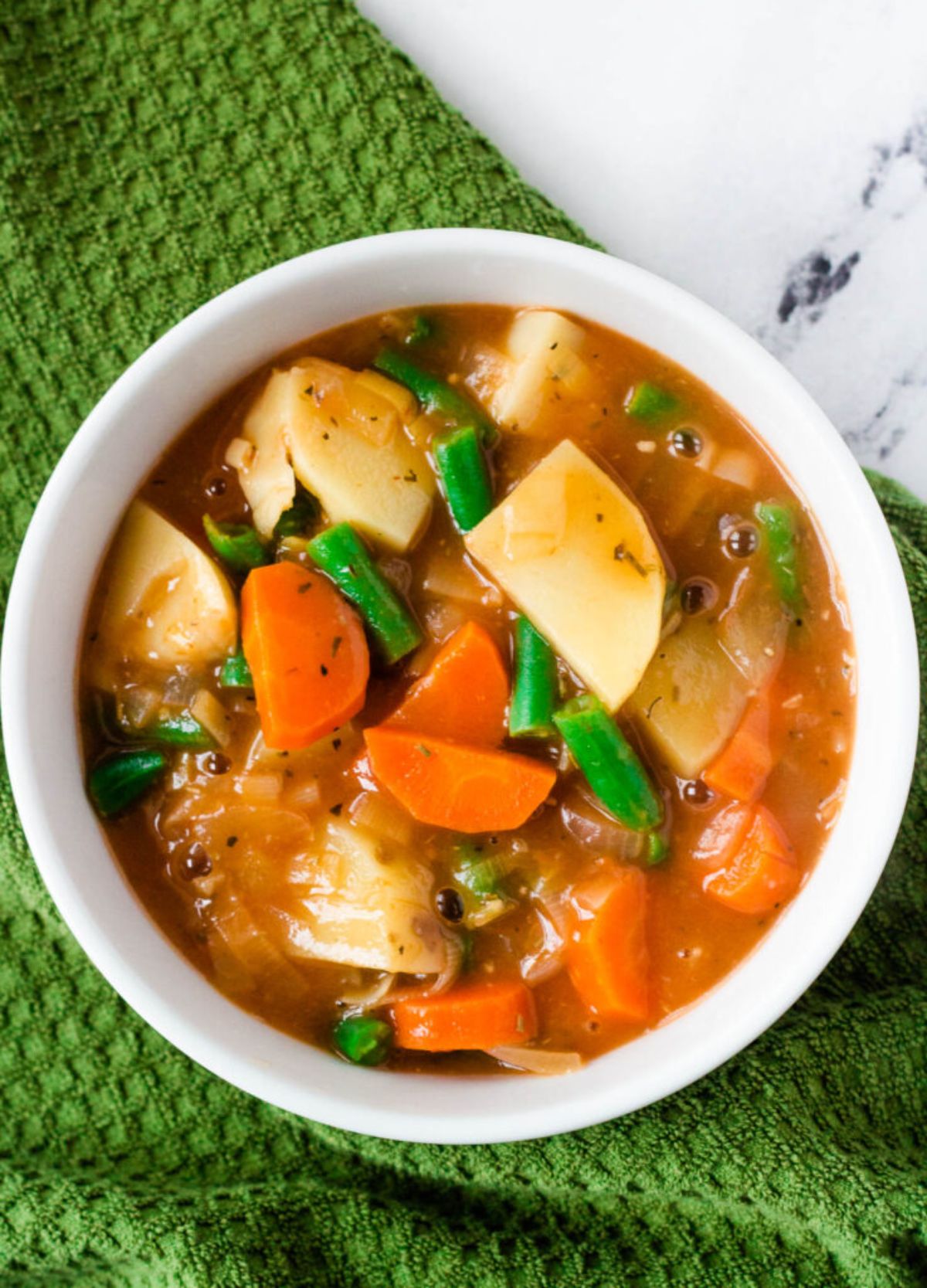 If you're looking for a hearty stew to serve up on your St Patrick's Day celebrations, or just a filling weekday supper, you'll love this Irish stew from Keeping The Peas. The usual Irish stew is made with mutton, but this keeps it vegan with a rich vegetable stock.
Ramen noodles with Shiitake mushrooms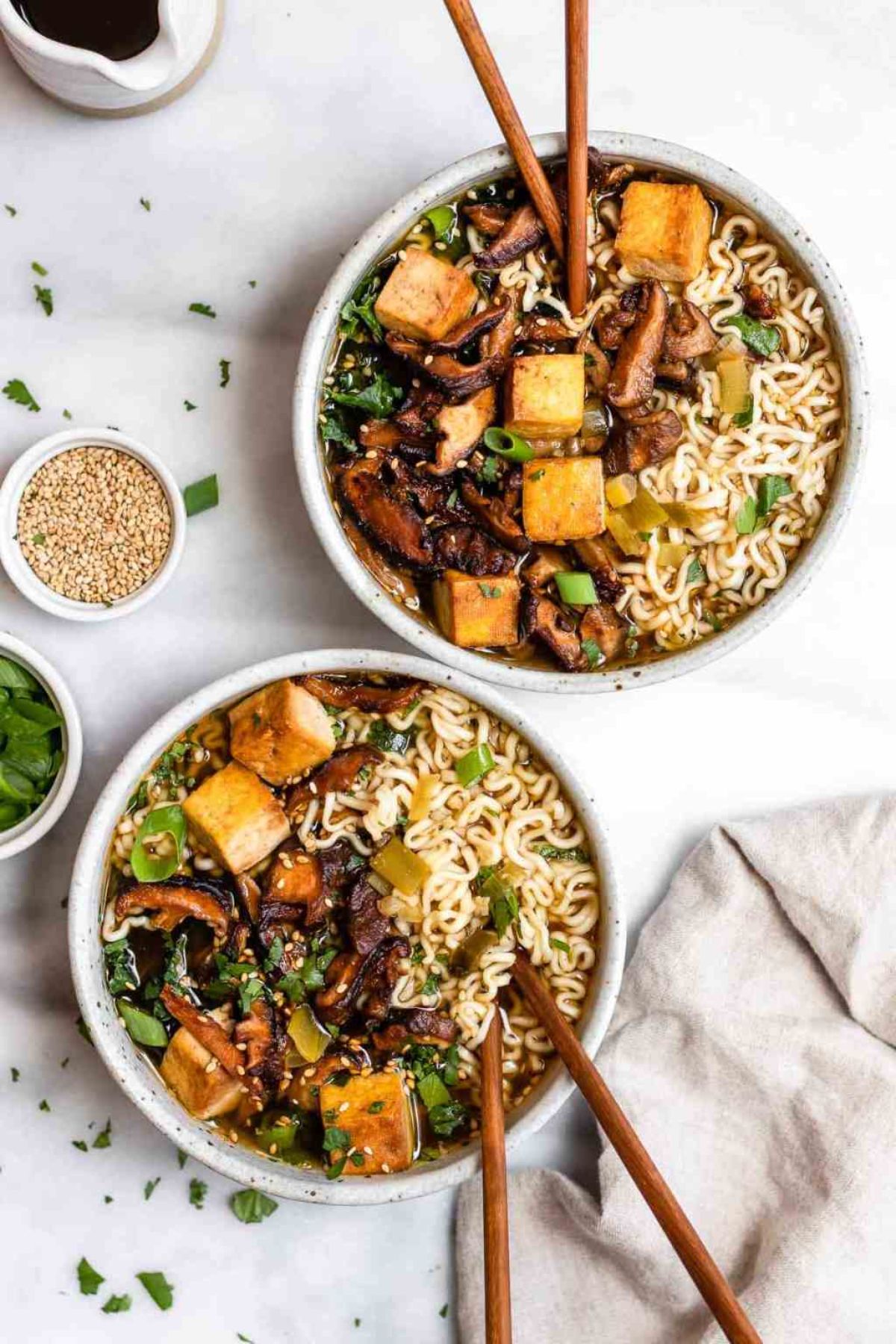 Eat With Clarity serves up a scrummy bowl full of marinated mushrooms, crispy pan-fried tofu, and garlic miso broth. A delectable bowl of vegan yumminess for your weekday teatime.
Vegan minestrone soup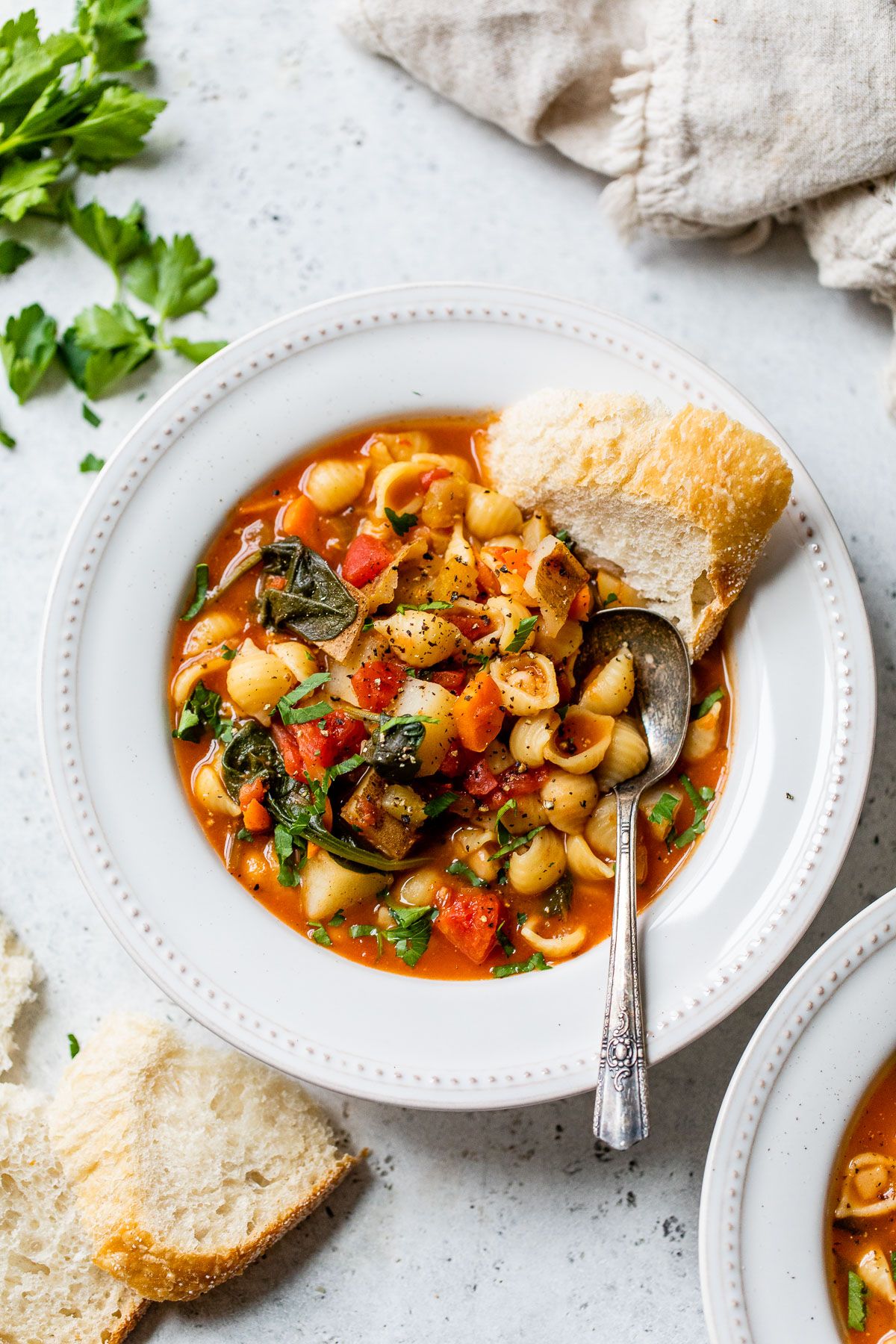 This soup is one of those meals that tastes even more delicious as leftovers the next day. Follow The Almond Eater's instructions to make it for dinner and you can pack it in a thermos for lunch the next day.
Vegan broccoli cheese soup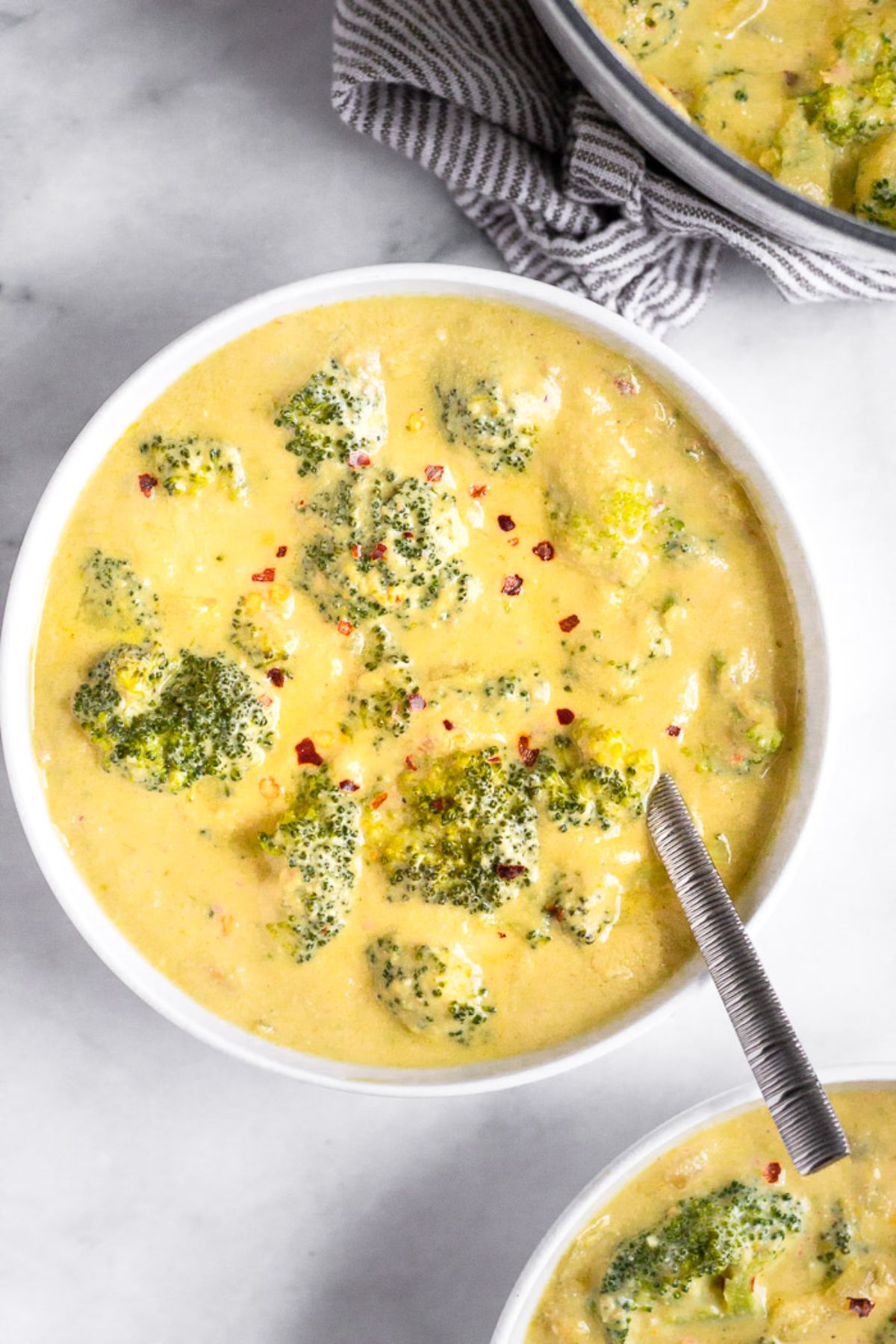 Coconut milk and cashews make this broccoli coup the creamiest meal you'll tuck into this week. Eat The Gains can help you get bowls of soup on the table for everyone in 25 minutes. And they'll leave clean bowls when they're done.
Vegan shiitake wonton soup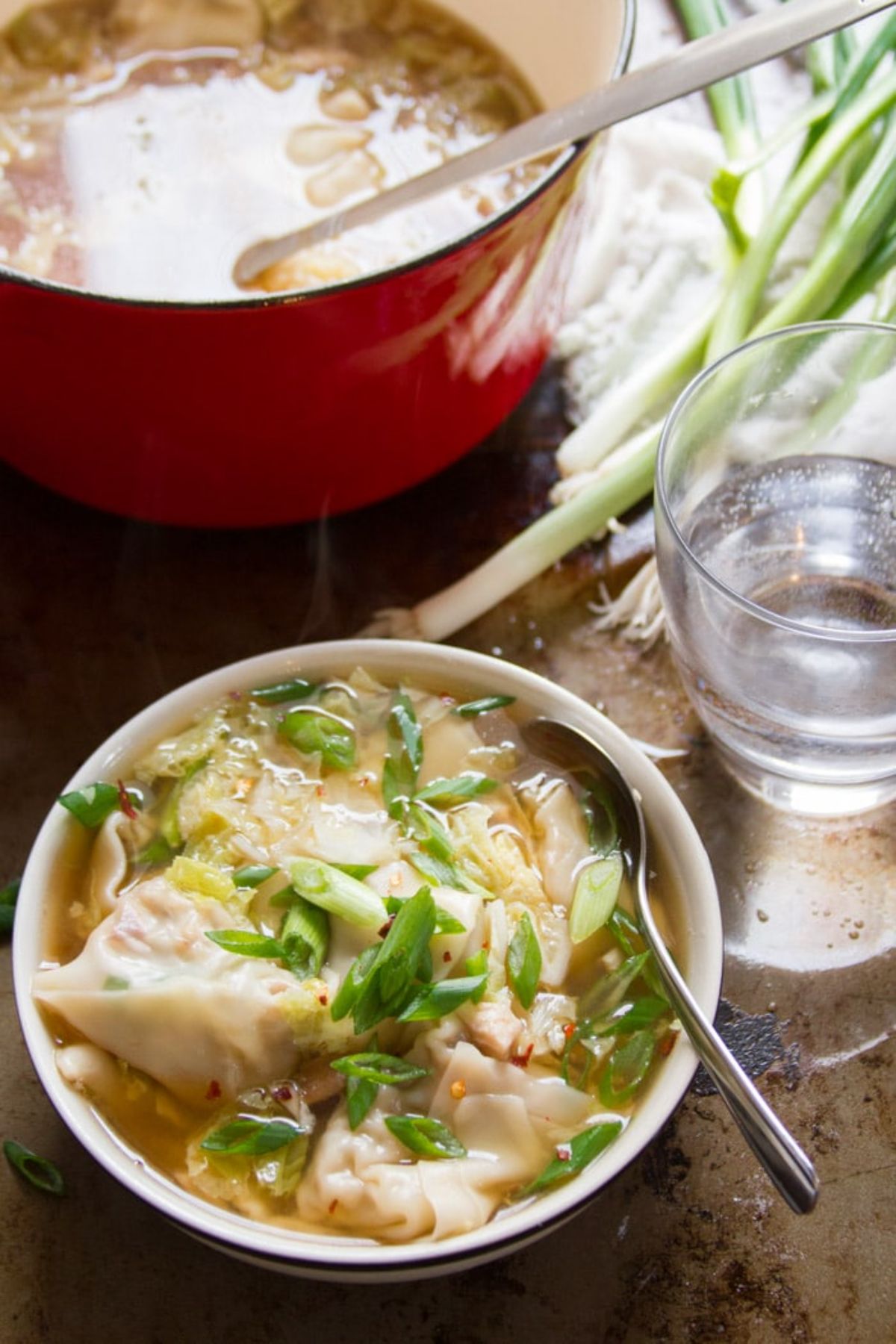 The ginger broth in this wonton soup is the secret hit of flavor that balances the freshness of the cabbage and the meatiness of the shiitake mushrooms. Connoisseurus Veg wants you to know that even badly wrapped wontons taste good!
Yield: 4
41 Cosy and Comforting Vegan Soup Recipes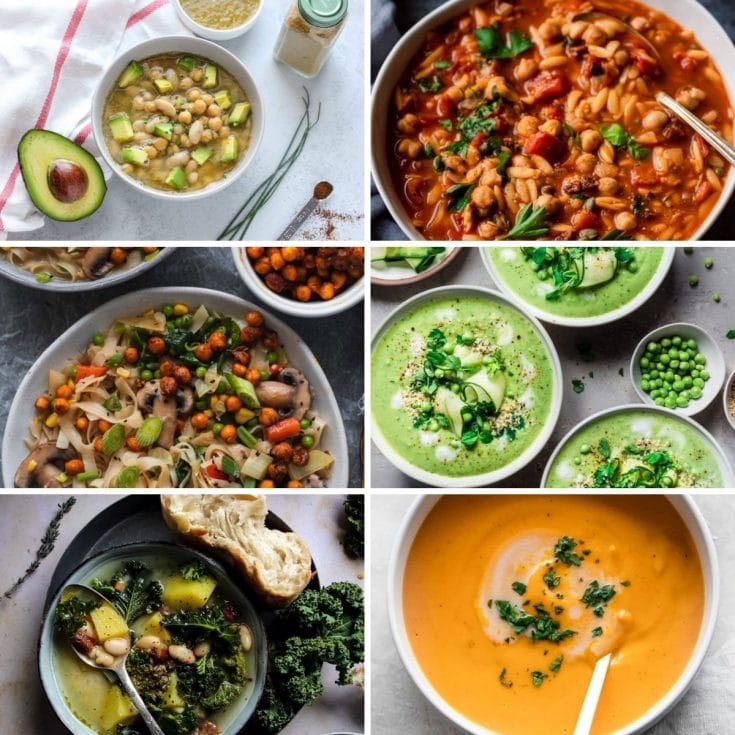 If you want to cook the best vegan soup recipes, then keep reading. You'll find the easiest and tastiest vegan soups here.
Ingredients
French onion soup
Vegan stew with dumplings
Northern-style Thai coconut soup
Vegan Moroccan stew
Vegetable barley soup
Easy pumpkin soup
Olive Garden vegan gnocchi soup
Vegan nabe
Asparagus soup
Vegan corn chowder with potatoes
Lentil tortilla soup
Lemon rosemary white bean soup
Golden coconut lentil soup
Vegan khao soi soup
French carrot lentil soup
Cuban black bean soup
Chickpea vegetable chowder
Cauliflower soup
Vegan vegetable noodle soup
Zucchini and leek soup
Vegan tom kha soup
Creamy white bean soup with kale and gremolata
Creamy vegan tomato soup
Instant Pot chickpea orzo soup
Noodle soup with roasted chickpeas
Sweet potato soup
Vegan lasagne soup
Easy vegan potato leek soup
Vegan zuppa toscana
Red lentil spinach soup
Creamy avocado gazpacho
Hungarian vegan mushroom soup
Vegan potato soup
Vegan broccoli cheese soup
Instructions
Pick your favorite recipe from this collection
Prepare the vegan soup recipe
Enjoy!