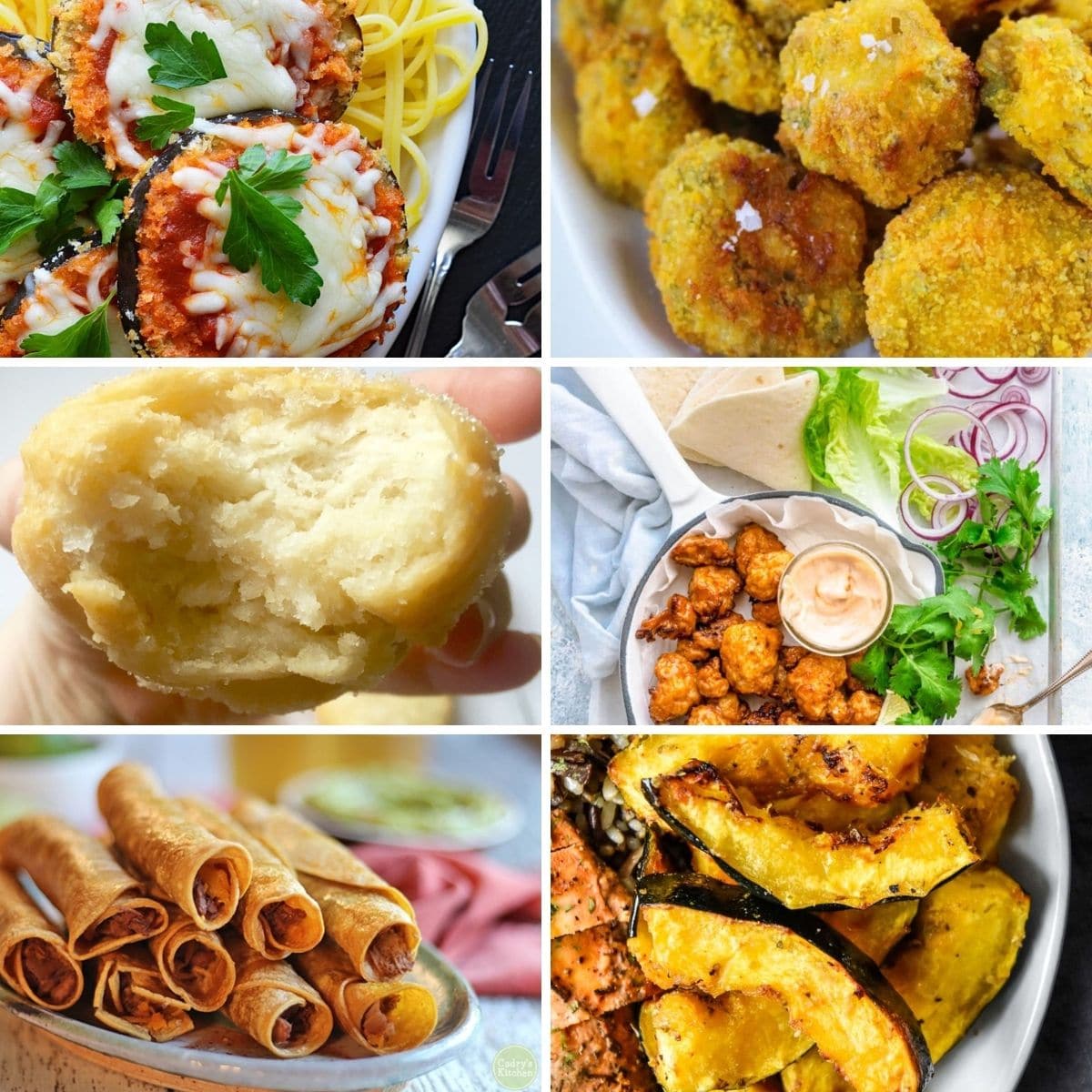 I need you to know: air fryers are not just for french fries! It's time for vegans to jump on the bandwagon with this new-kid-on-the-block kitchen appliance. There are so many ways you can use your air fryer to create quick, easy, and delicious vegan meals. Meals that will feed your family and impress your friends.
Not just for meat-eaters, the air fryer is perfect for preparing plant-based meals with less fat and in less time. Here you'll find 43 of the best vegan air fryer recipes out there on the web, from eggplant parmesan to Hasselback potatoes to your very own baked granola. There's something for everyone, so dig in!
Vegan air fryer hush puppies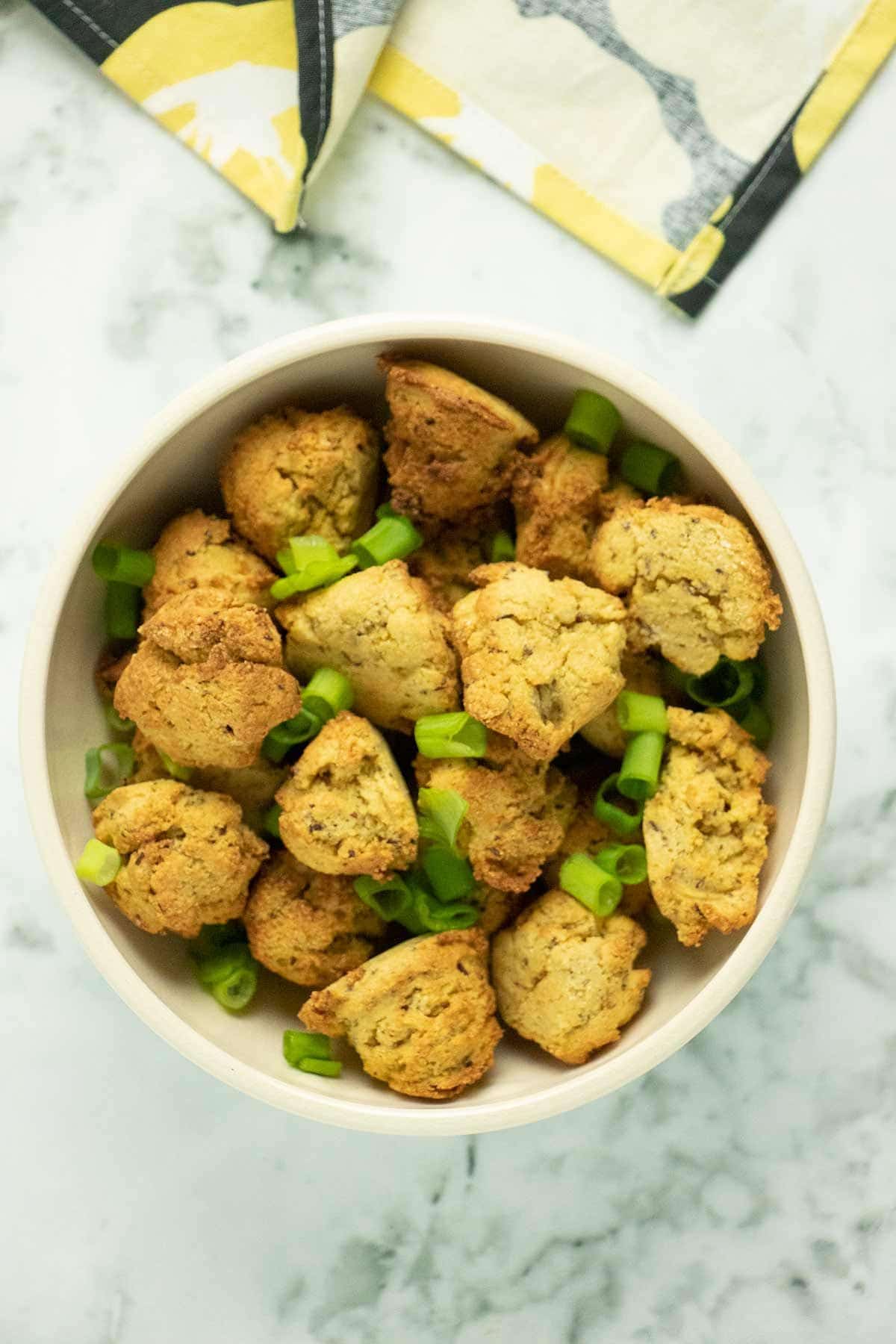 Crunchy on the outside, soft and fluffy on the inside. These vegan hush puppies from Glue & Glitter are perfect. Make your batter and scoop it into your air fryer in balls. Serve with, well anything really, they're delicious!
Rosemary roast potatoes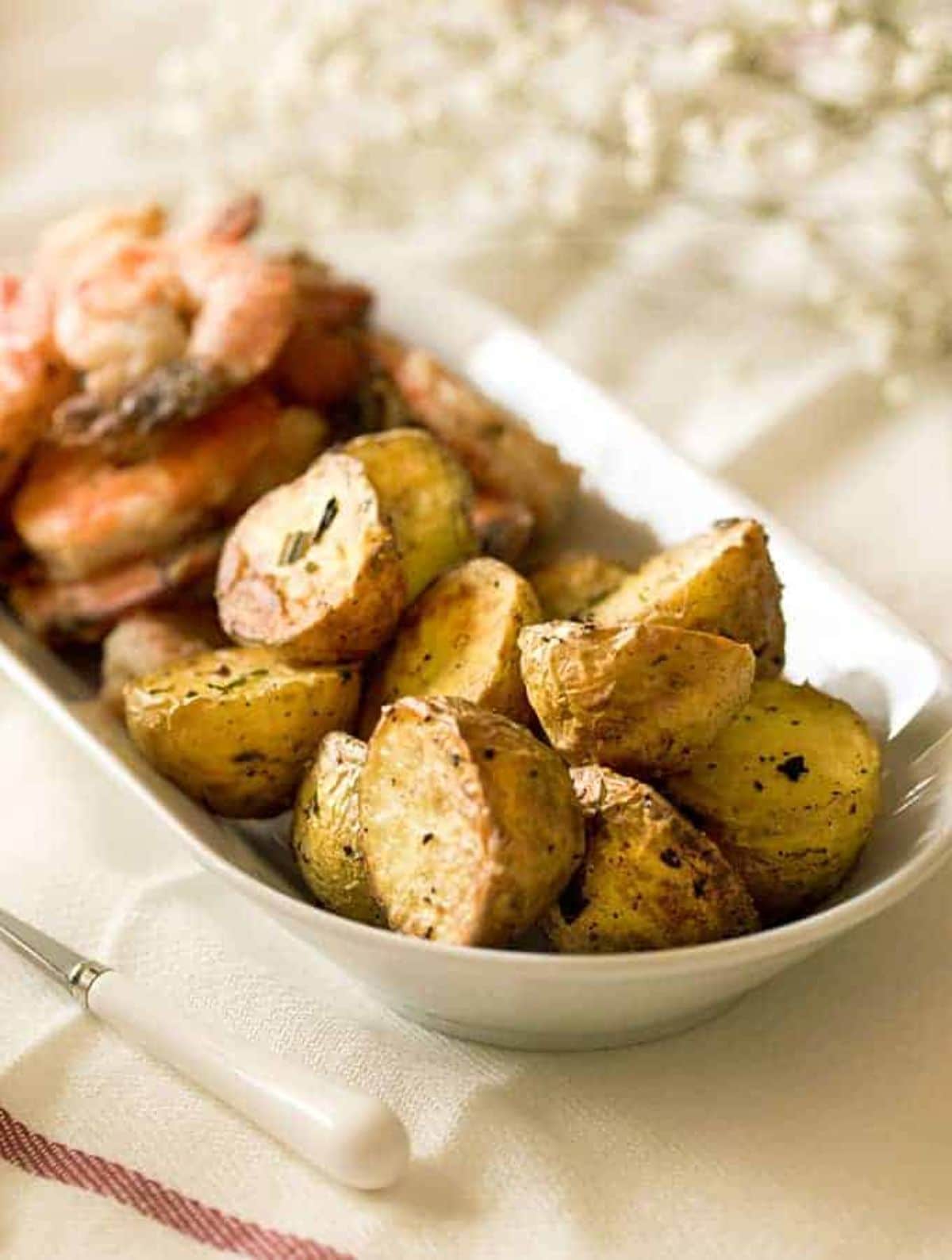 Here we have another delicious, and deceptively simple, side dish. Two Sleevers' rosemary potatoes work so well with almost any main, and you'll be tucking into them long after dinner has finished.
Air fryer beets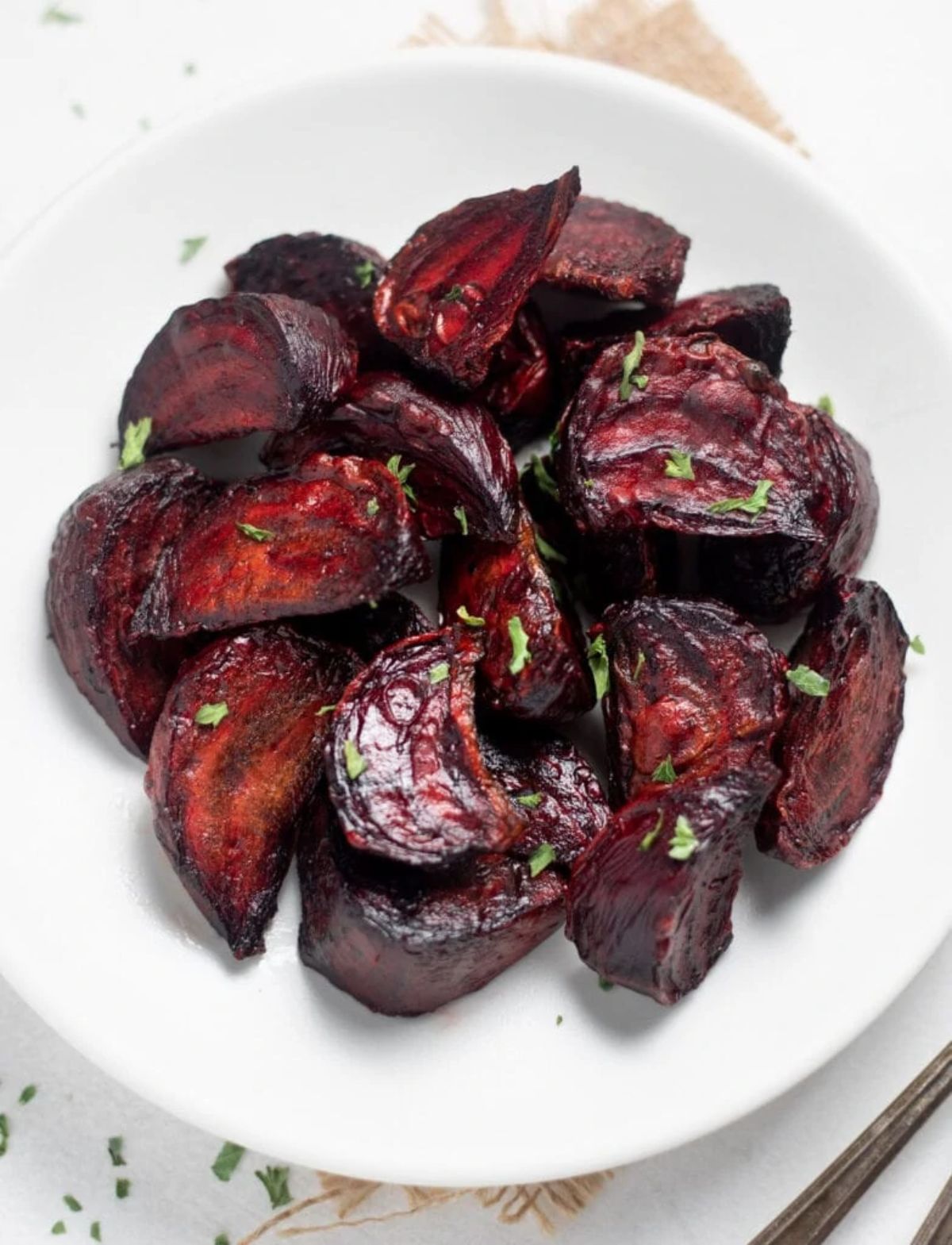 Roasted beets are one of my favorite sides. They go perfectly with salads as well as with cosier suppers. This recipe from Piping Pot Curry shows you how to speedily cook them to perfection in the air fryer.
Crispy air fryer chickpeas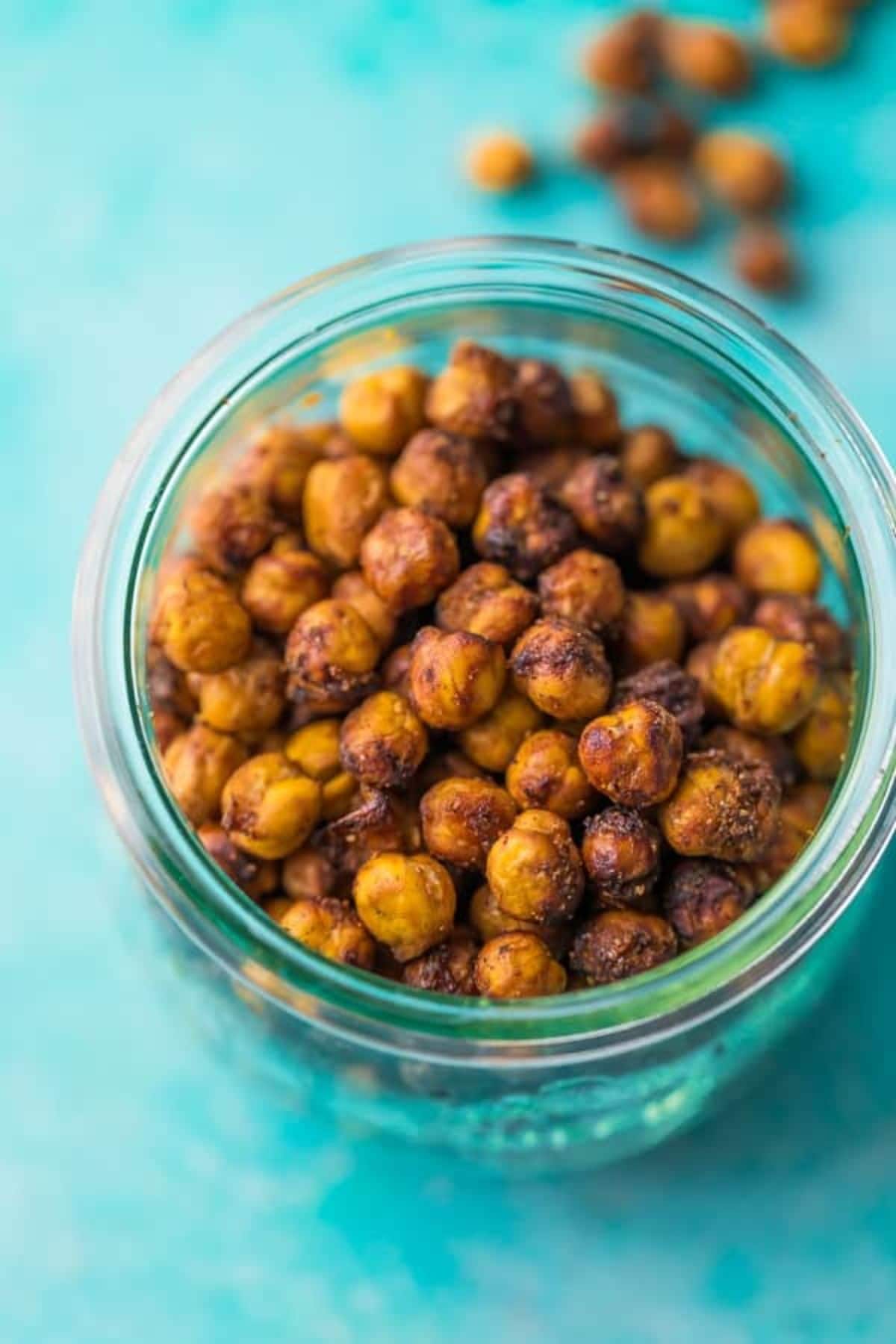 If you're trying to steer yourself away from shop-bought snacks then these little crunchy beauties will help you in your quest to fitch the fat. Ready 3x faster than oven chickpeas, these delicious snacks from Sweet peas and Saffron are your new best friend.
Vegan cheesy potato wedges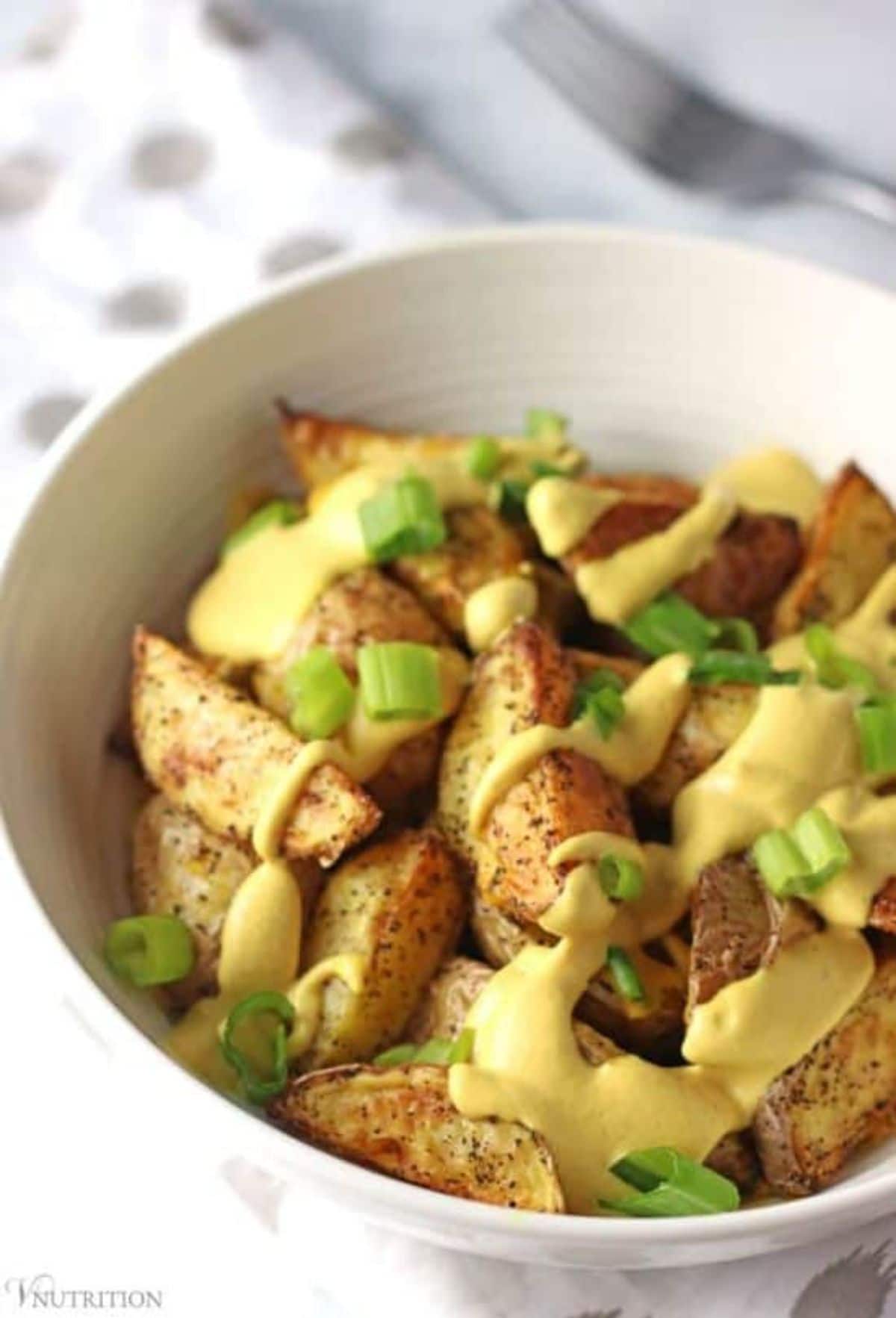 If you're struggling to find something to replace the salty more-ishness of cheese in your vegan diet you need these potato wedges from V Nutrition. Made with nutritional yeast, cashews, and paprika, the delicious sauce is just what you need on a cold evening.
Avocado "egg" rolls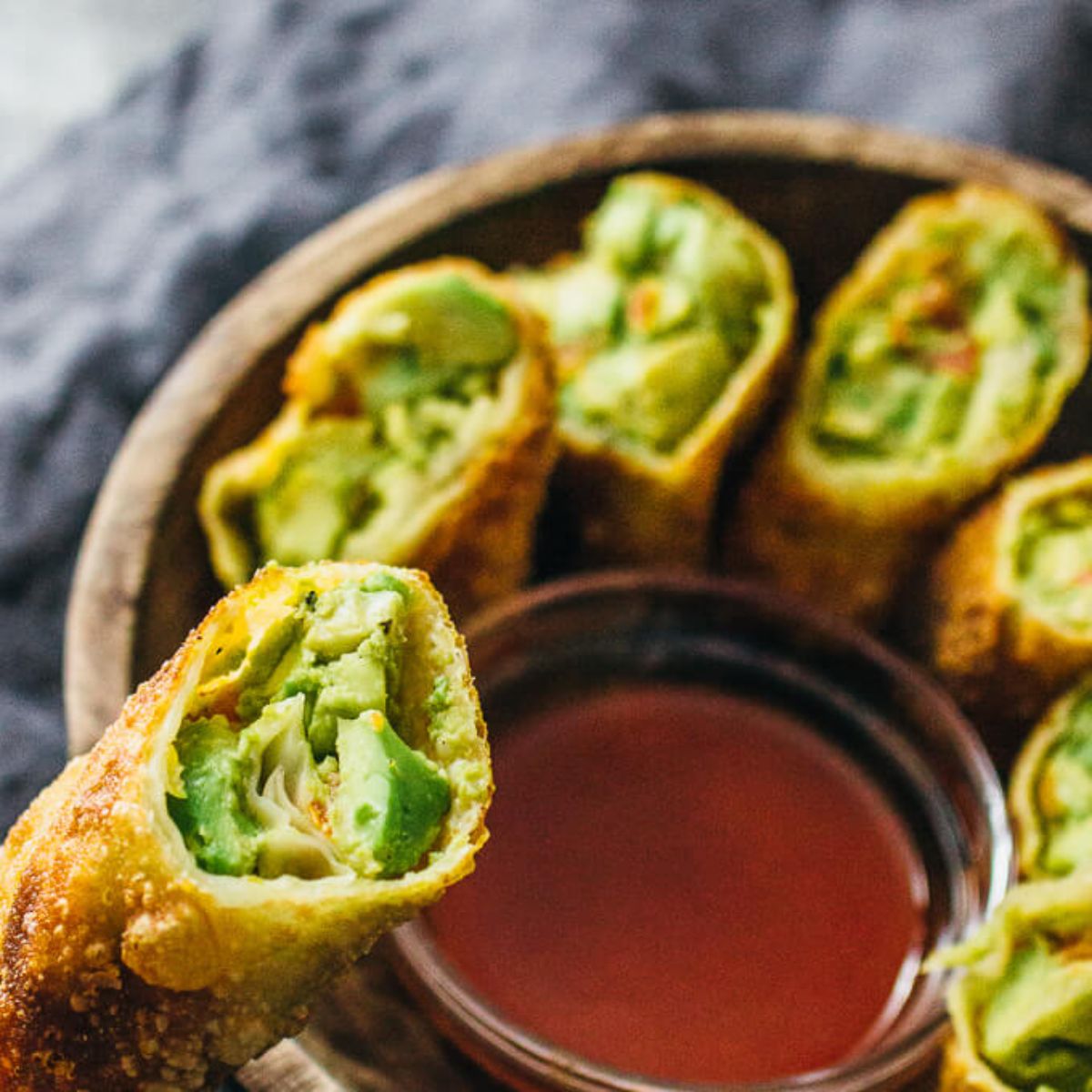 Using vegan egg roll wrappers, you can make these gorgeously crispy rolls from Savory Tooth. Filled to the brim with creamy avocado and dunked in sweet chilli sauce, they make a great appetizer for any occasion.
Crispy fried ravioli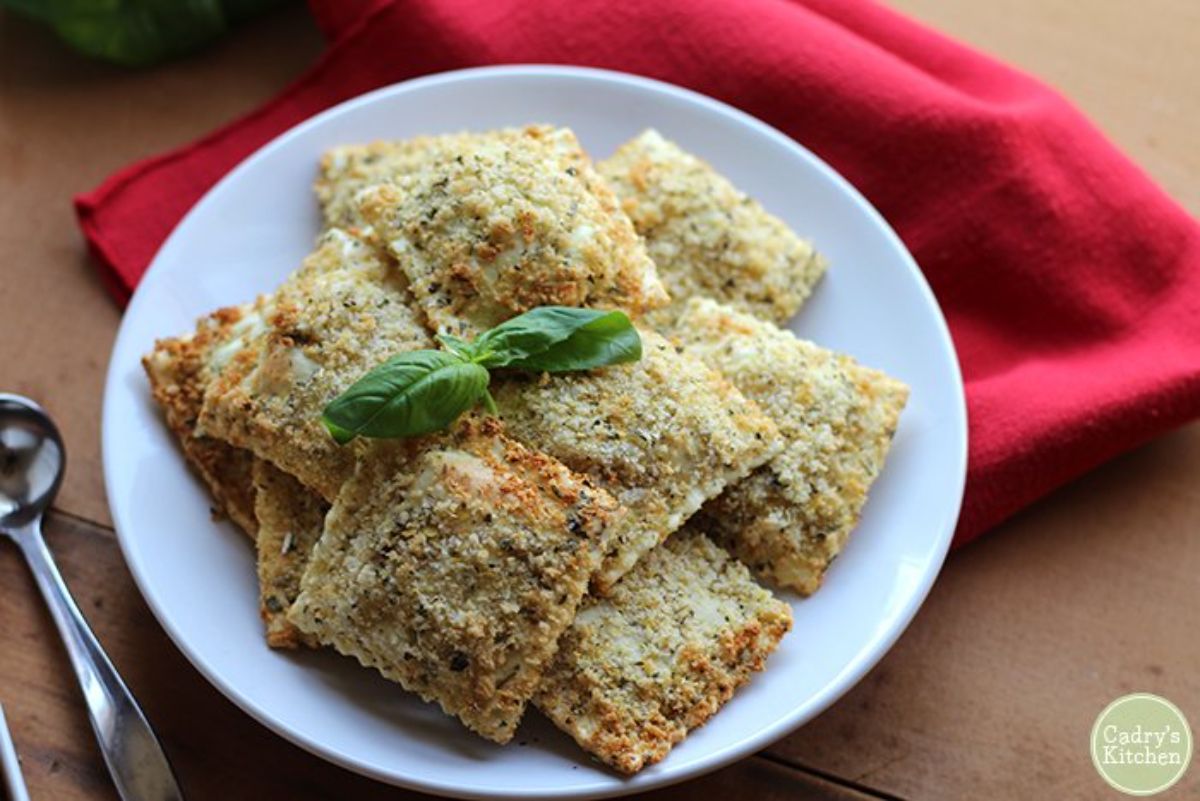 Another delicious appetizer from Cadry's Kitchen, these fried ravioli pockets are filled with fragrant herbs, garlic, and nutritional yeast to give it that "cheesy" touch. Dip or drizzle it with marinara sauce and you're away!
Vegan cheese samboosa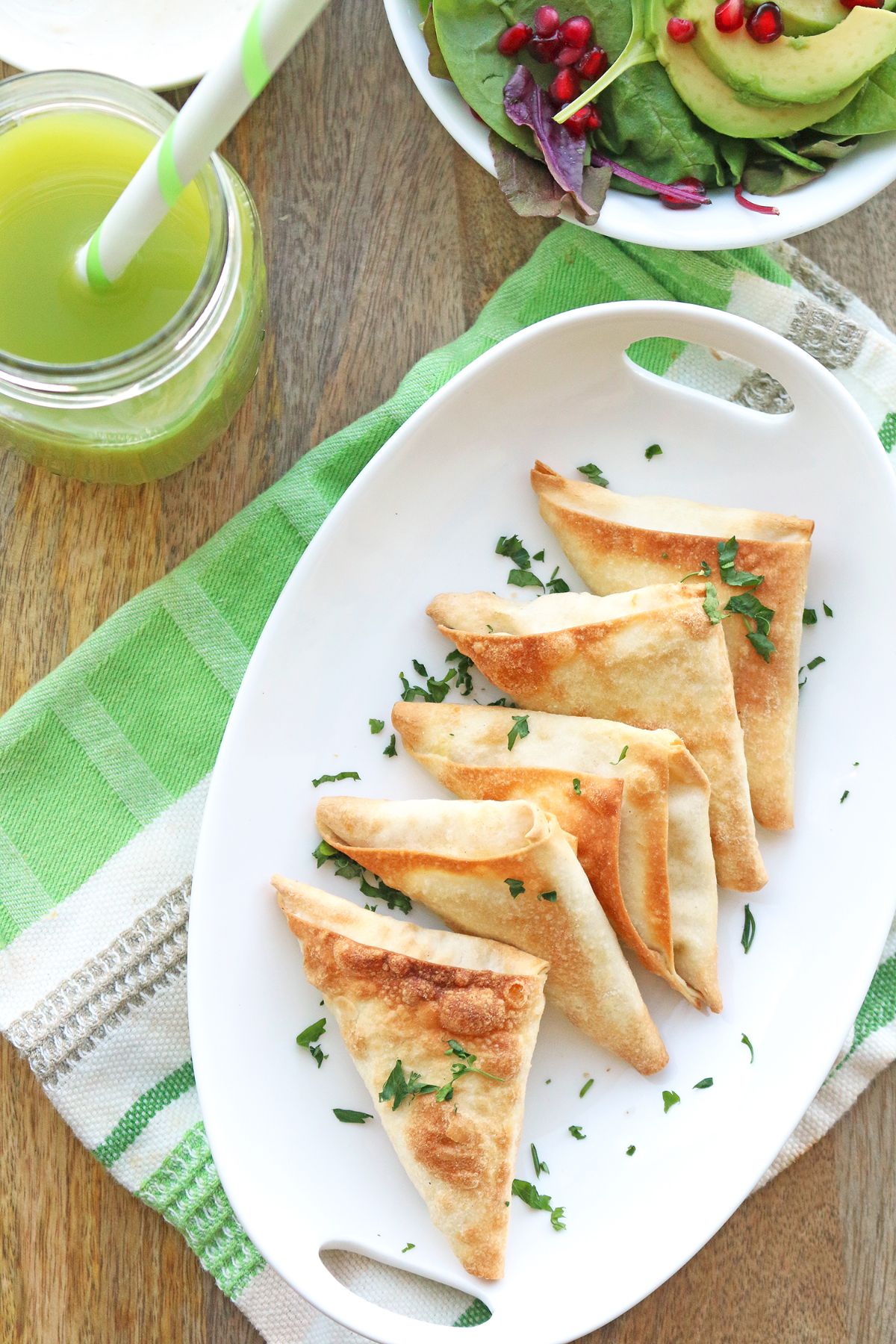 A frequent sight on tables during Ramadan, these parcels of plant-based yumminess have been given their vegan twist by One Arab Vegan. You'll love the crispy pastry and the delicious fillings.
Kale and potato nuggets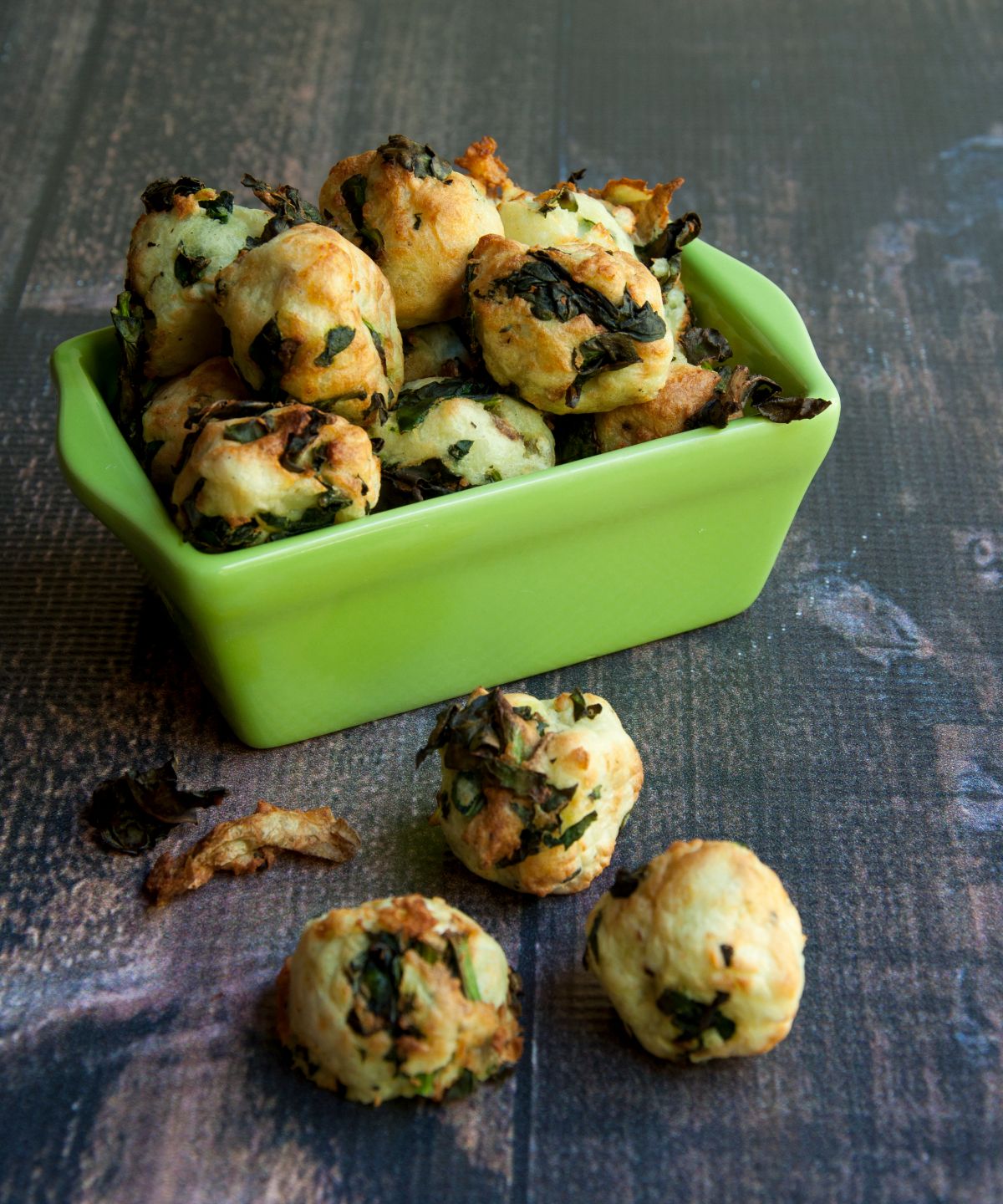 I love me some kale. Seriously, I'd put it in everything given the chance, but I hadn't tried it like JL Goes Vegan. These tasty morsels of kale and potato, flavored with minced garlic, are super-useful for using up leftover mashed potatoes!
Thai veggie bites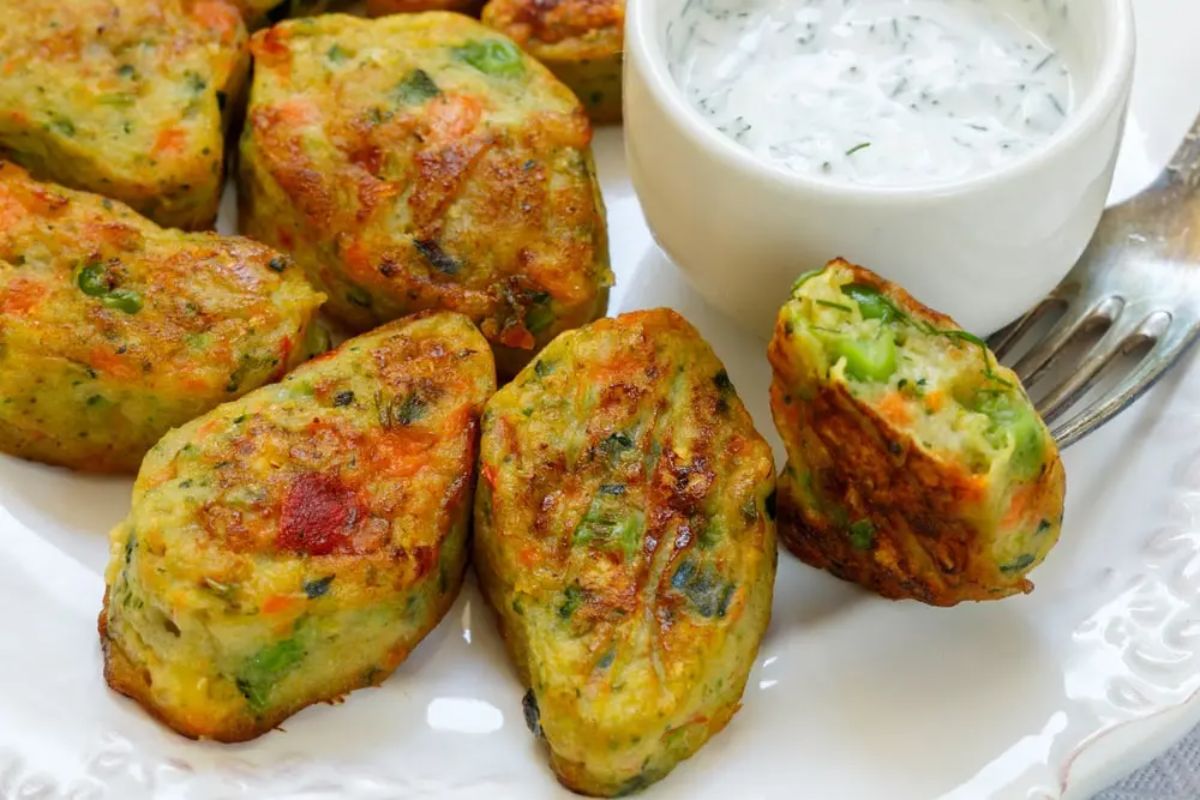 Whether you're delving into plant-based living on your Meatless Monday, or you're all in with the lifestyle, then you'll love these air fryer Thai veggie bites from Recipe This.com. They're another great way to use up your leftovers to whip up a tasty supper in no time at all.
Vegan cornbread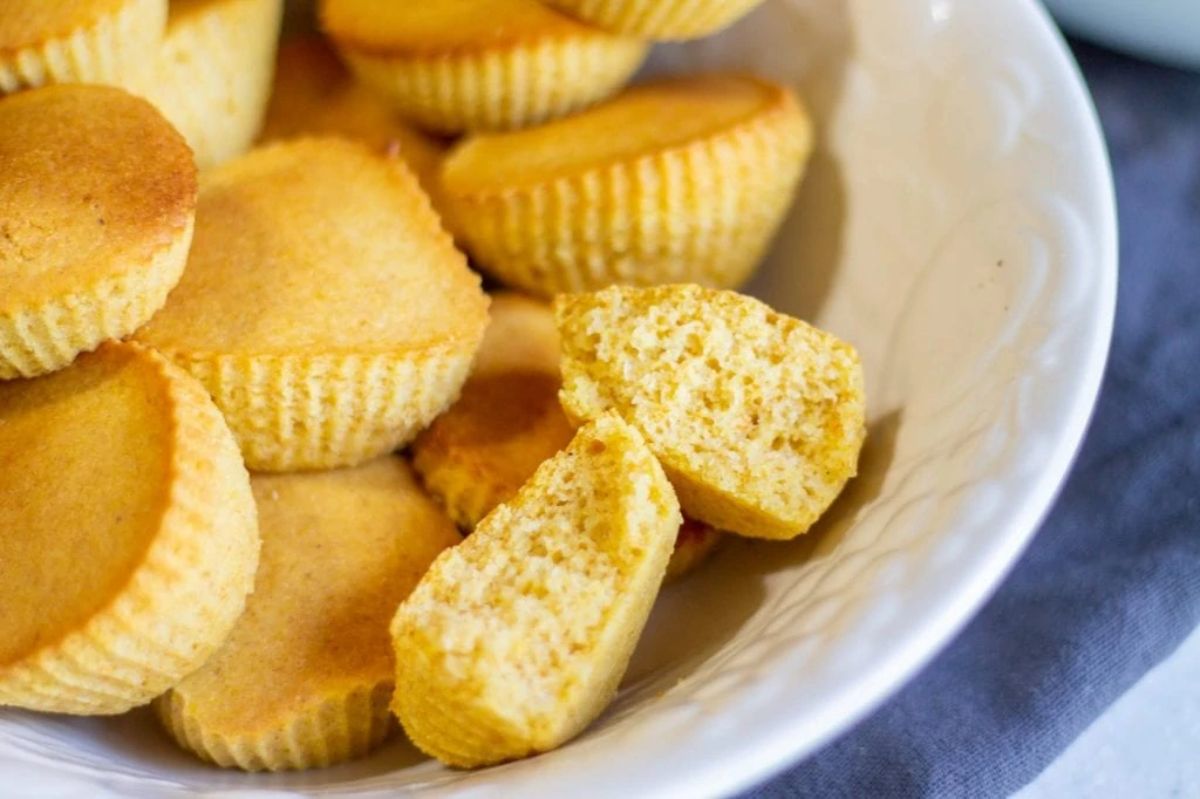 It pays to have a cornbread recipe up your sleeve that is suitable for the whole family. This plant-based recipe from Very Veganish is ready in under 15 minutes. Perfect air fryer fodder.
Zucchini corn fritters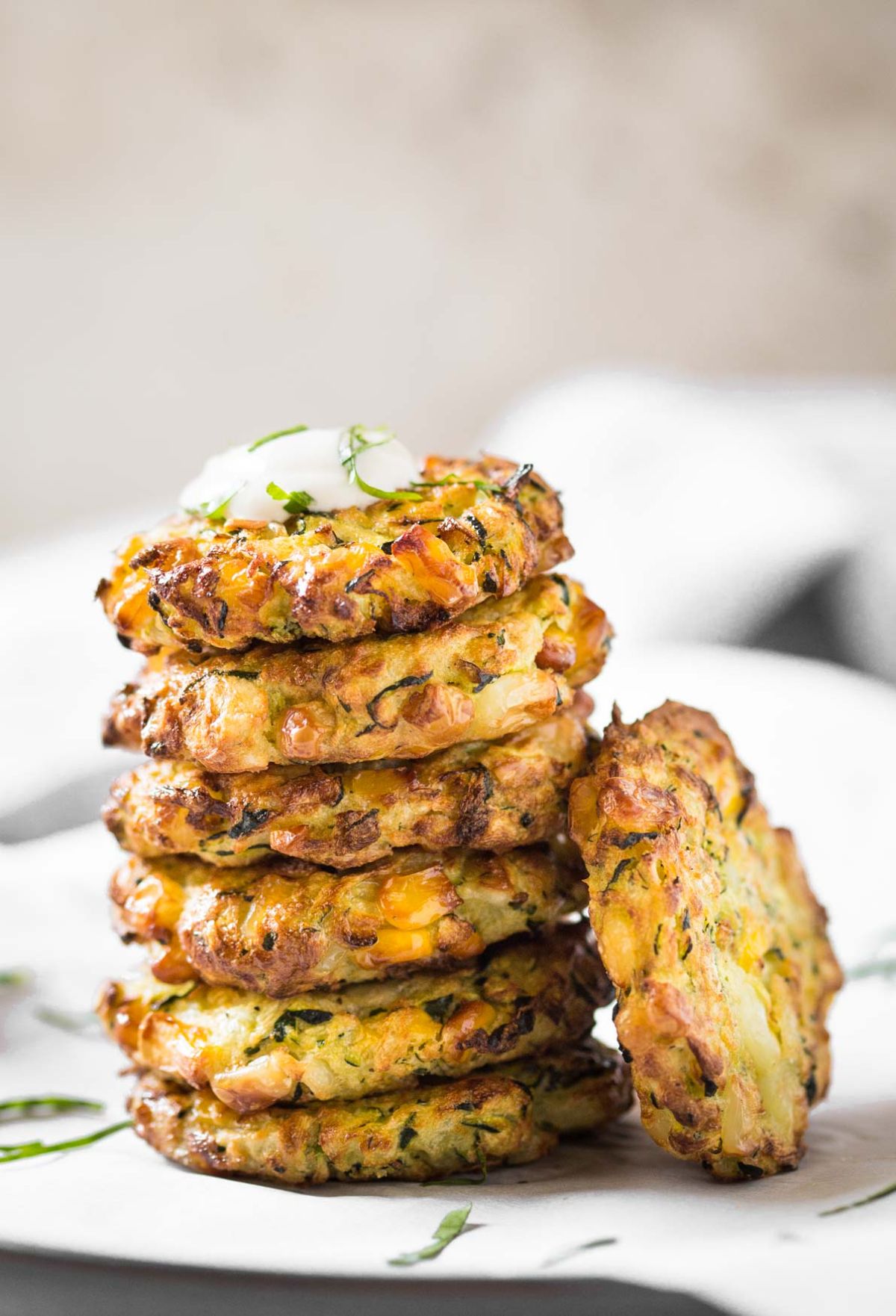 In my opinion, the best thing to do with the mountains of zucchini my garden churns out each summer is to stick them in a fritter. And with this air fryer recipe from Watch What U Eat I'll never have to worry about them burning in the pan again.
Tofu satay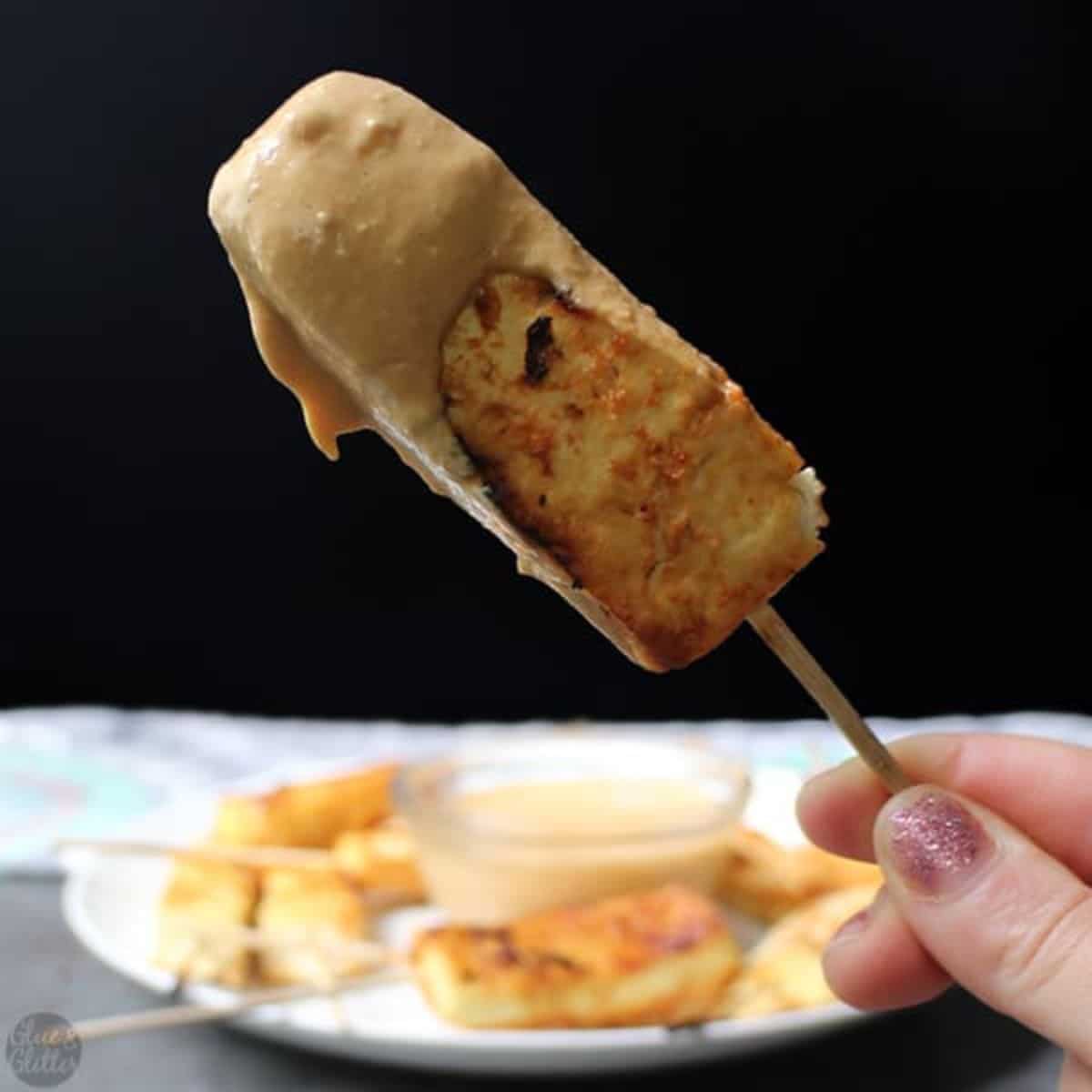 Who doesn't love a good satay? Well, now you can join the fun with this plant-based version of your favorite Thai treat. Glue & Glitter have a gorgeous peanut sauce that will have you coming back for seconds, and thirds…
Pineapple tofu skewers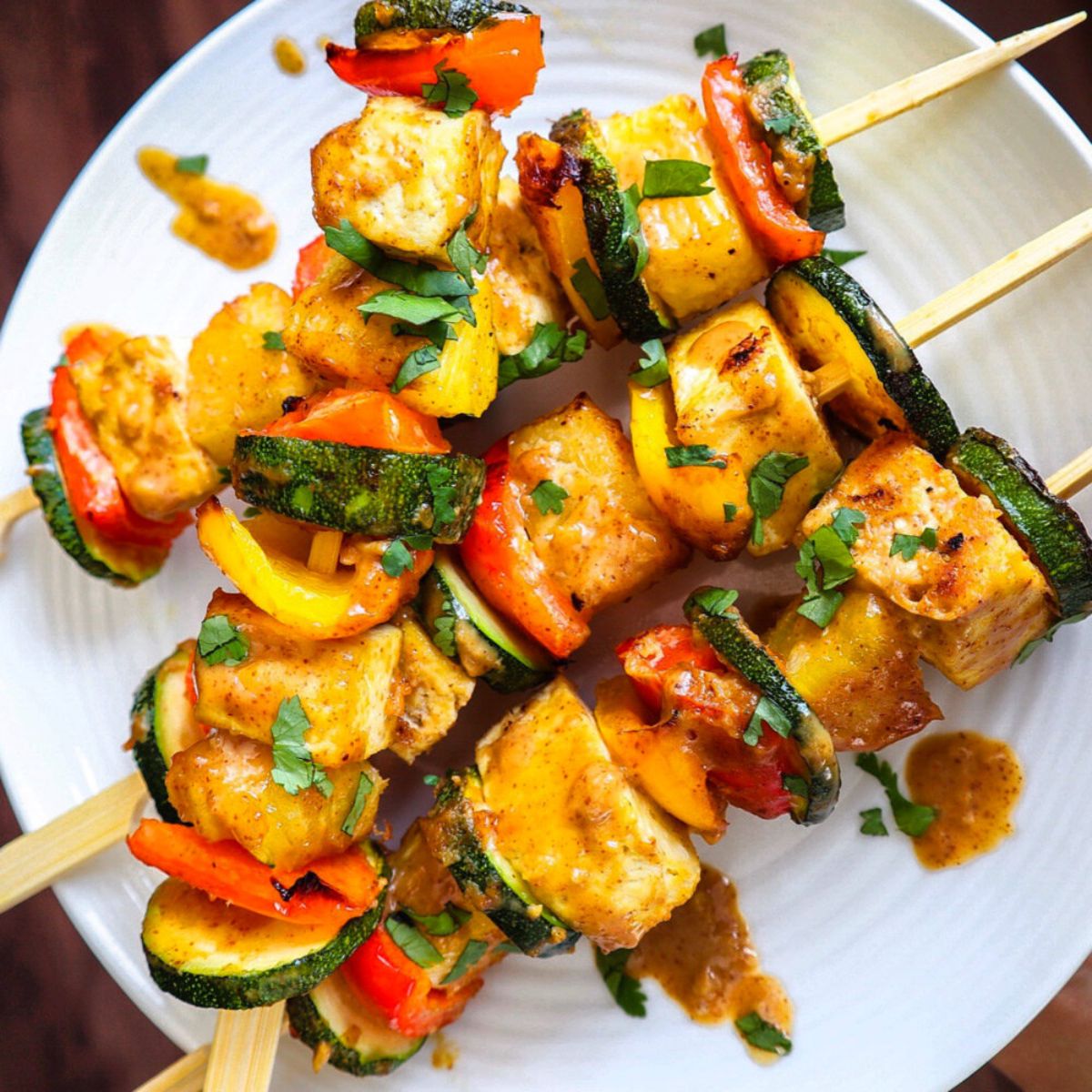 There are days when you just need something simple but tasty for supper. Those are the days when you need these tofu skewers from The Online Farmer's Market. The marinade is so full of flavor, and the air fryer makes the best tofu.
Chickpea meatballs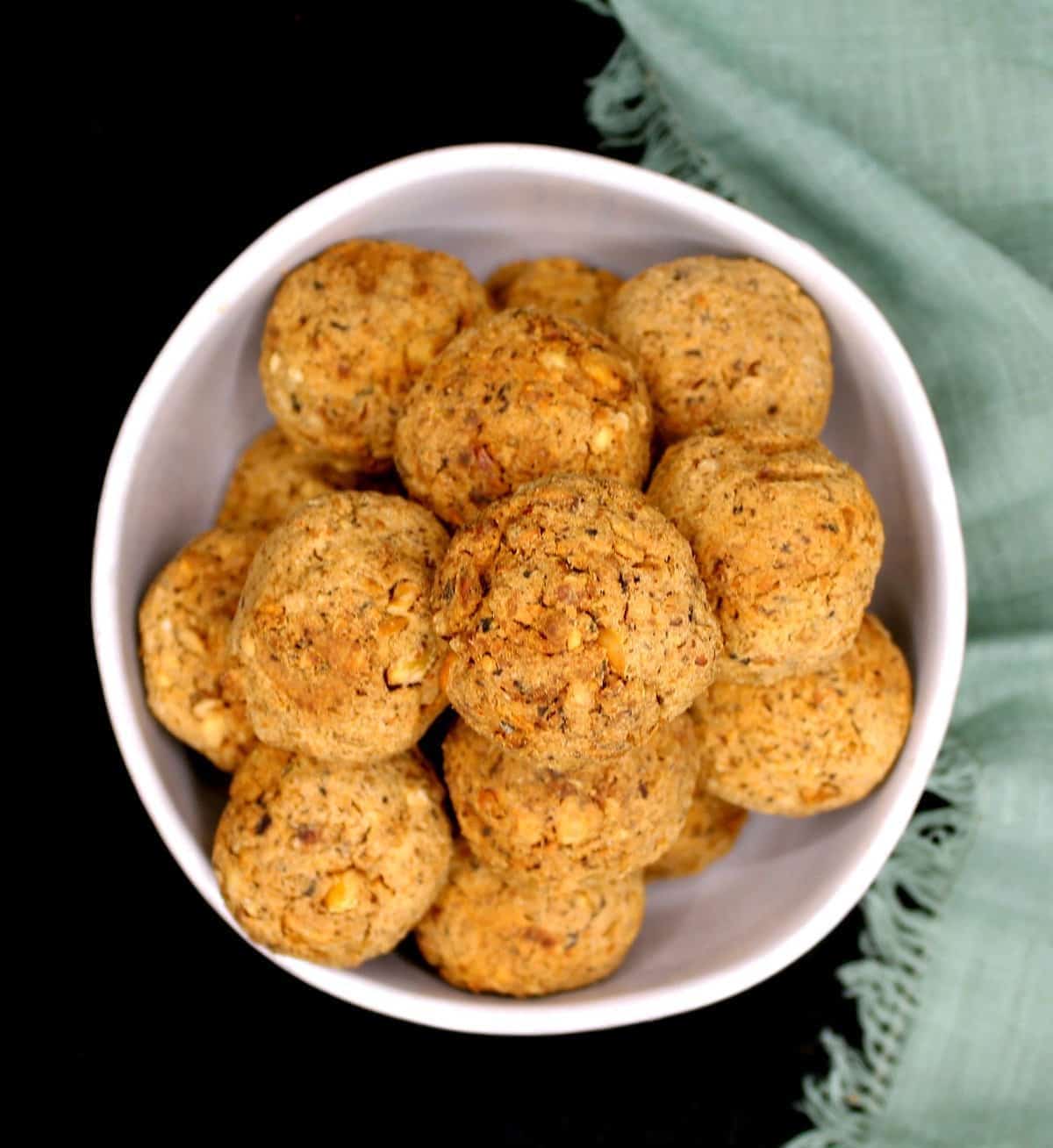 A delicious balance of walnut, mushroom and chickpeas, these vegan meatballs from Holy Cow Vegan taste great with a barbecue or a mushroom sauce. Take your pick for an inviting family supper.
Air fryer acorn squash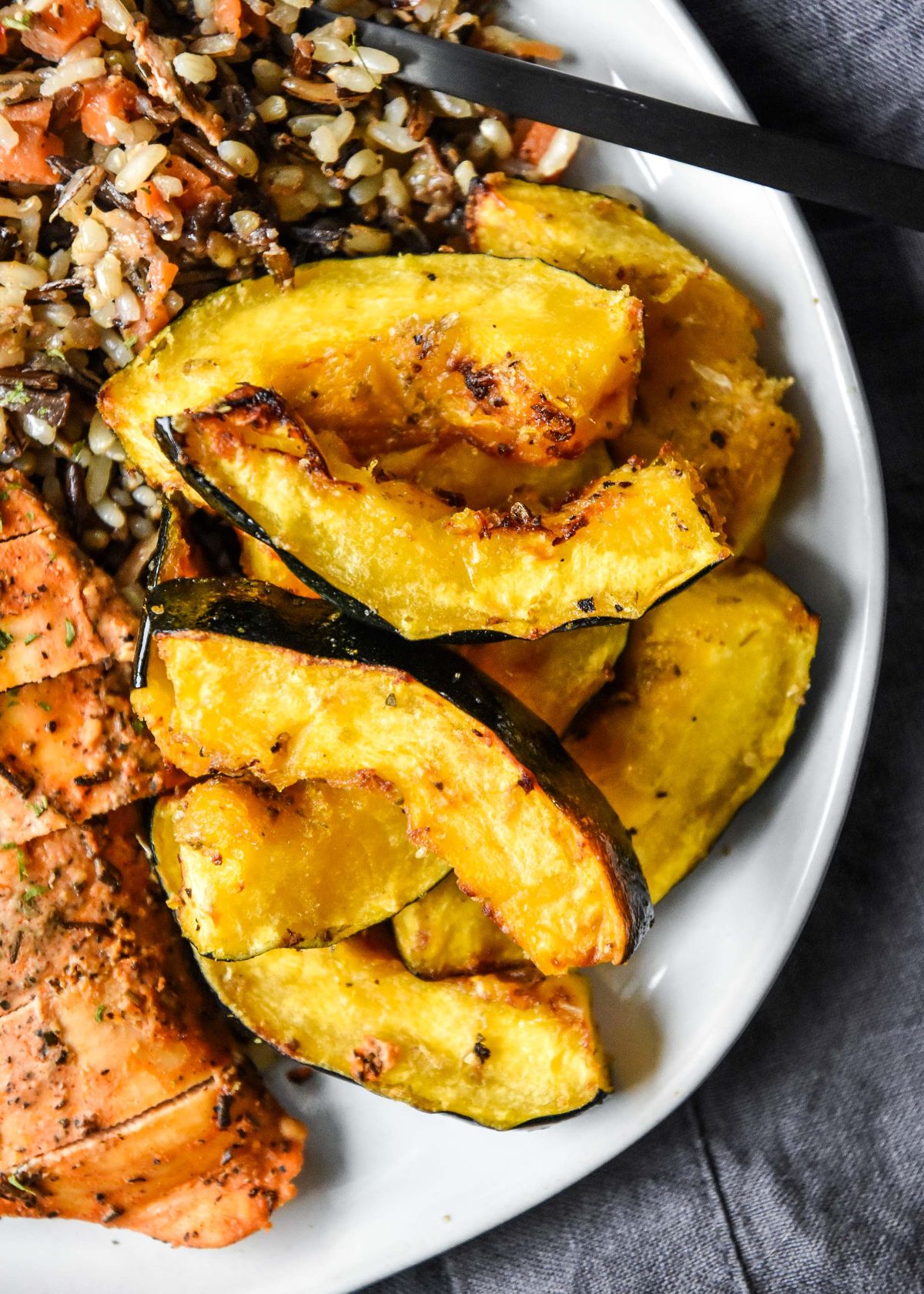 If you're looking for another side to go with your meatballs, then you'll love these two ways of cooking acorn squash from Project Meal Plan. Choose from a sweet or savory topping option.
Vegan rolled tacos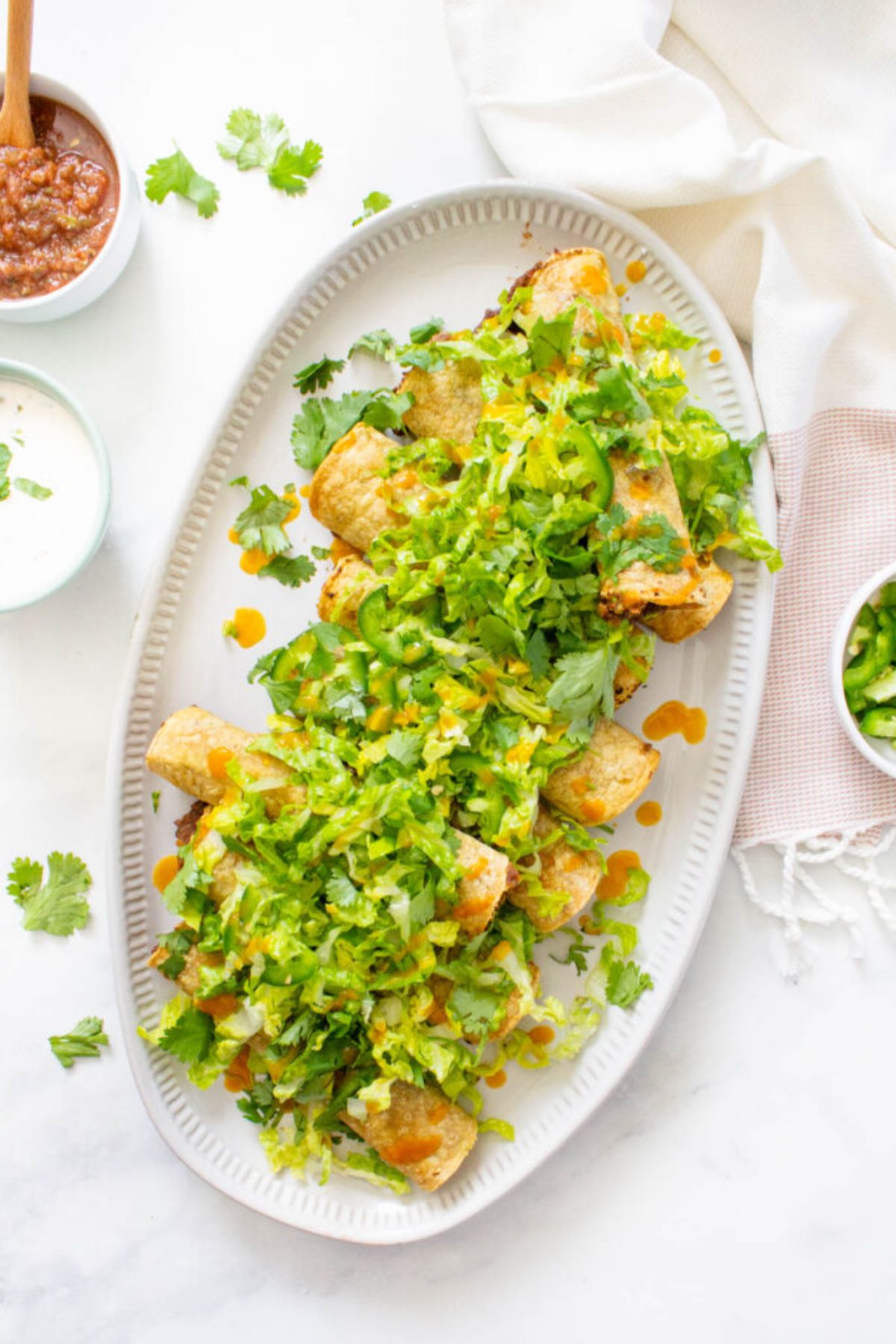 Full of protein-rich beans and avocado, these tolled tacos from This Savory Vegan will wow your tastebuds. They look pretty good on the table, too!
Vegan calamari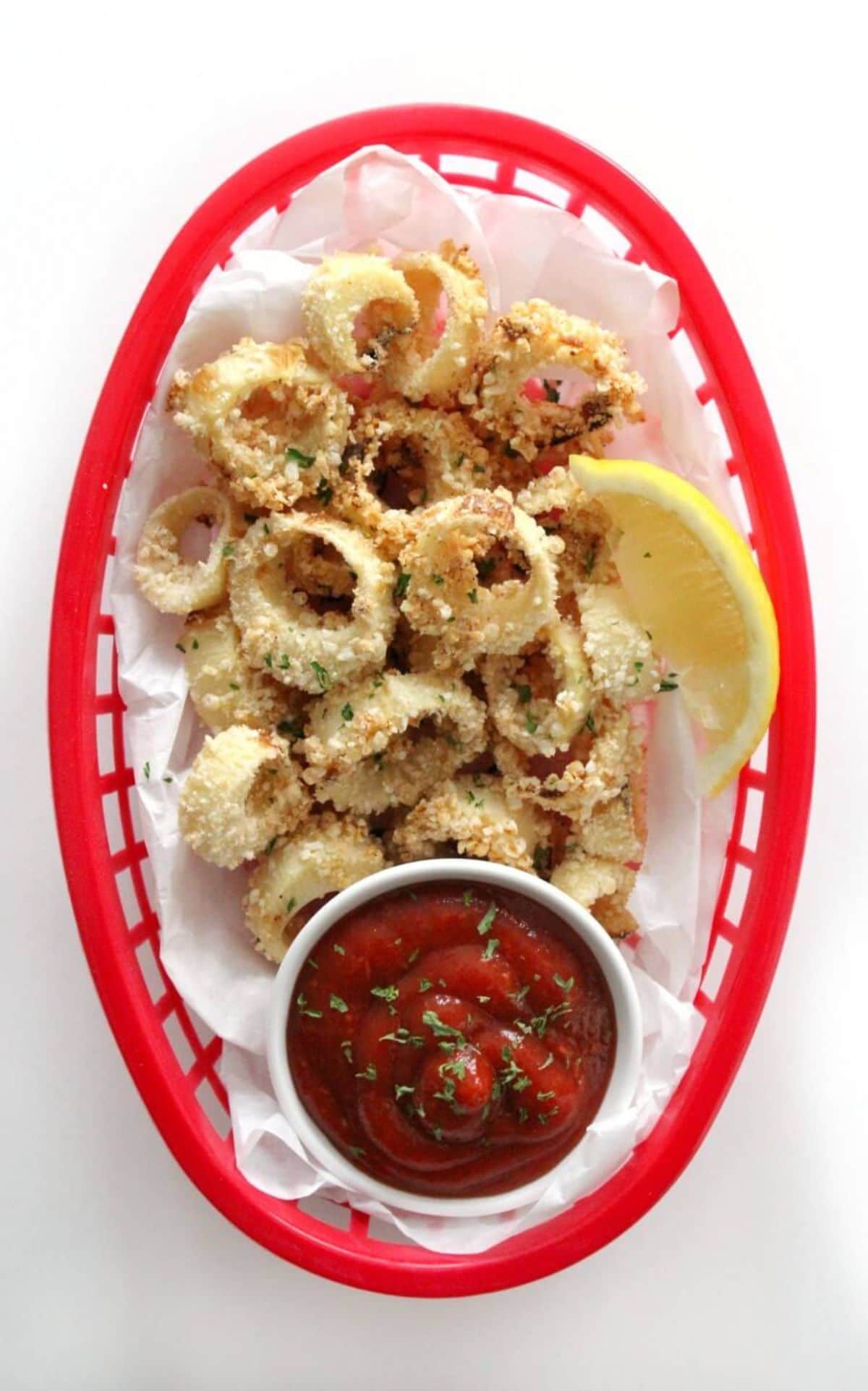 Ok, so it's not going to fool any die-hard seafood lovers, but this calamari from Strength & Sunshine is made with Hearts of Palm, and is still a pretty impressive appetizer! Pick your favorite dipping sauce and give it a try!
Savory potato patties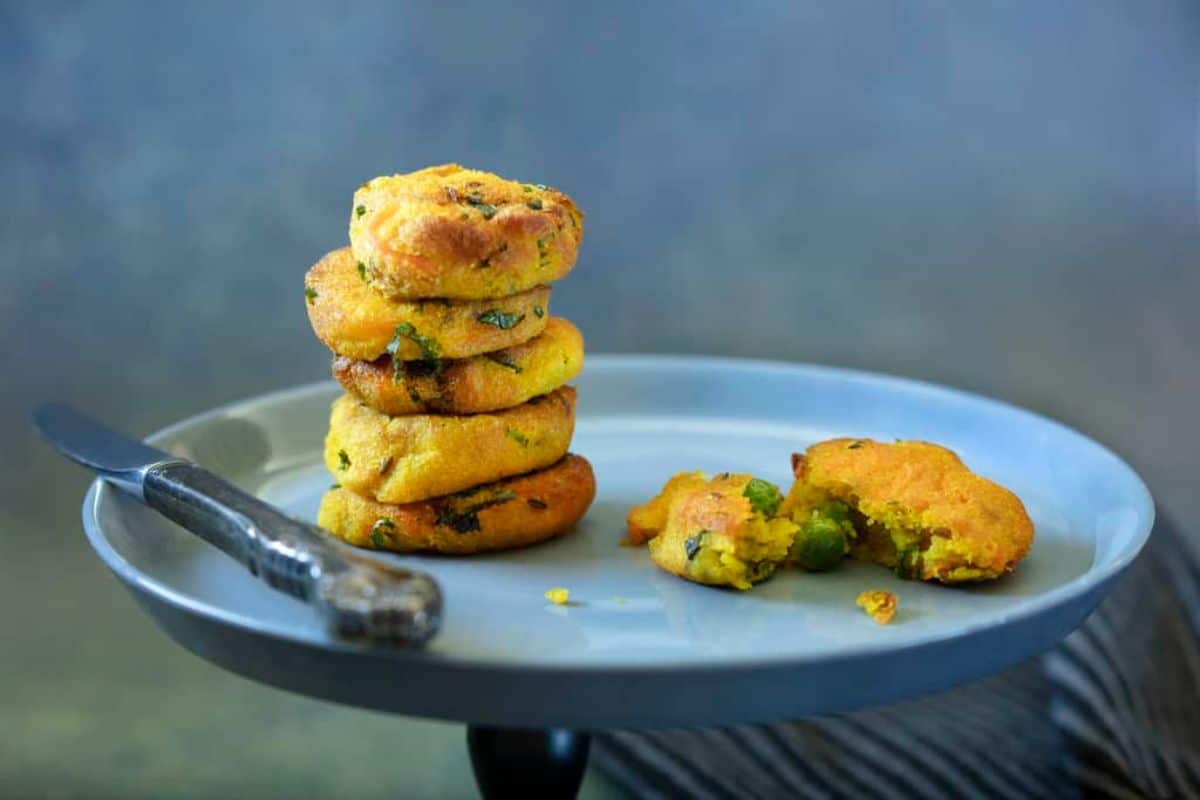 When you can make these scrummy potato patties from Two Sleevers in under 30 minutes, why would you grab anything from the freezer ever again?!
Air fryer falafel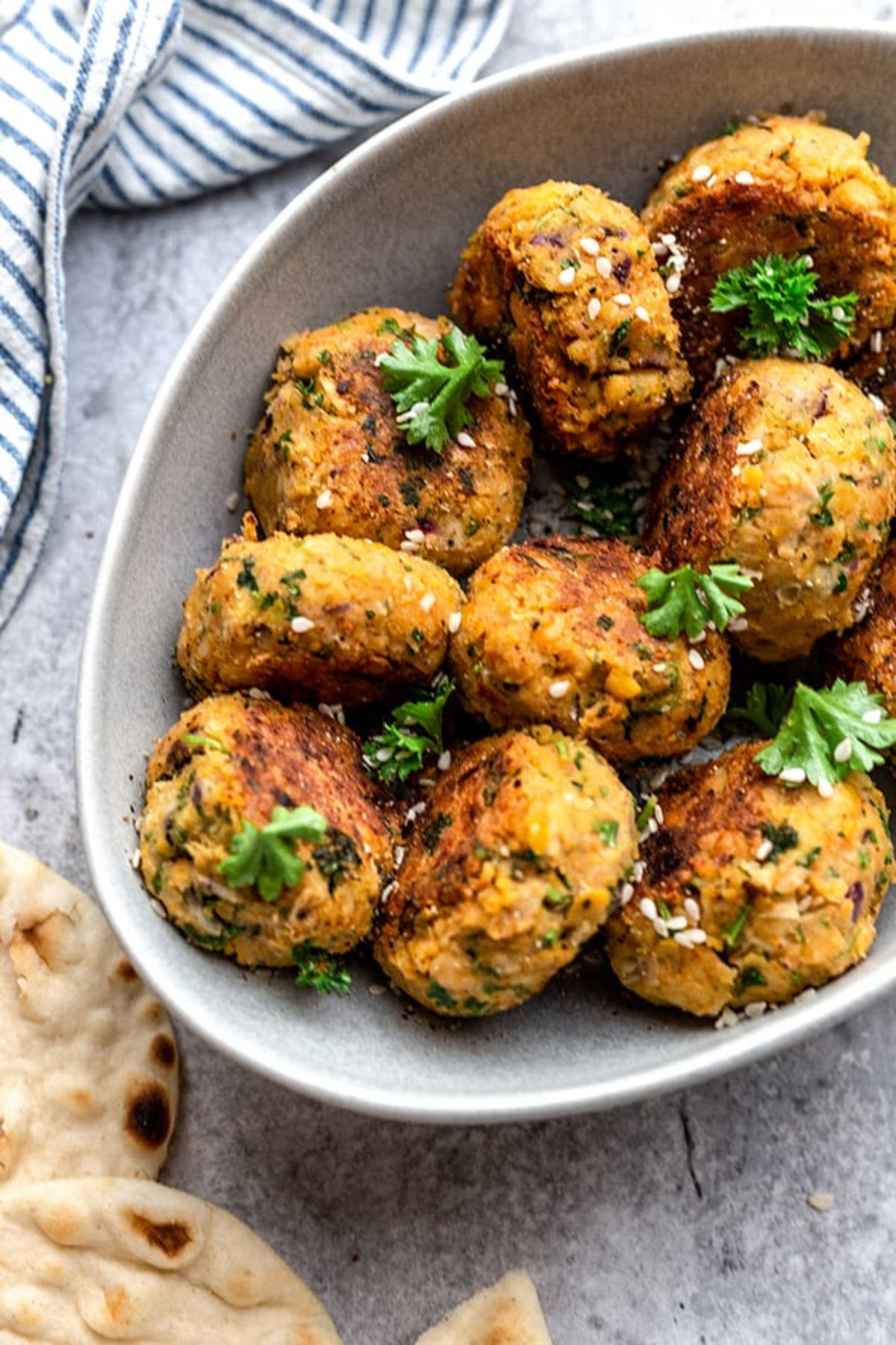 I love eating falafel, but I have to admit that I'm not a fan of making them. Too much oil and too much mess. Thankfully, Life Made Sweeter has shown me a better way. Now with my air fryer, I can make perfect falafel every day!
Vegan cabbage fritters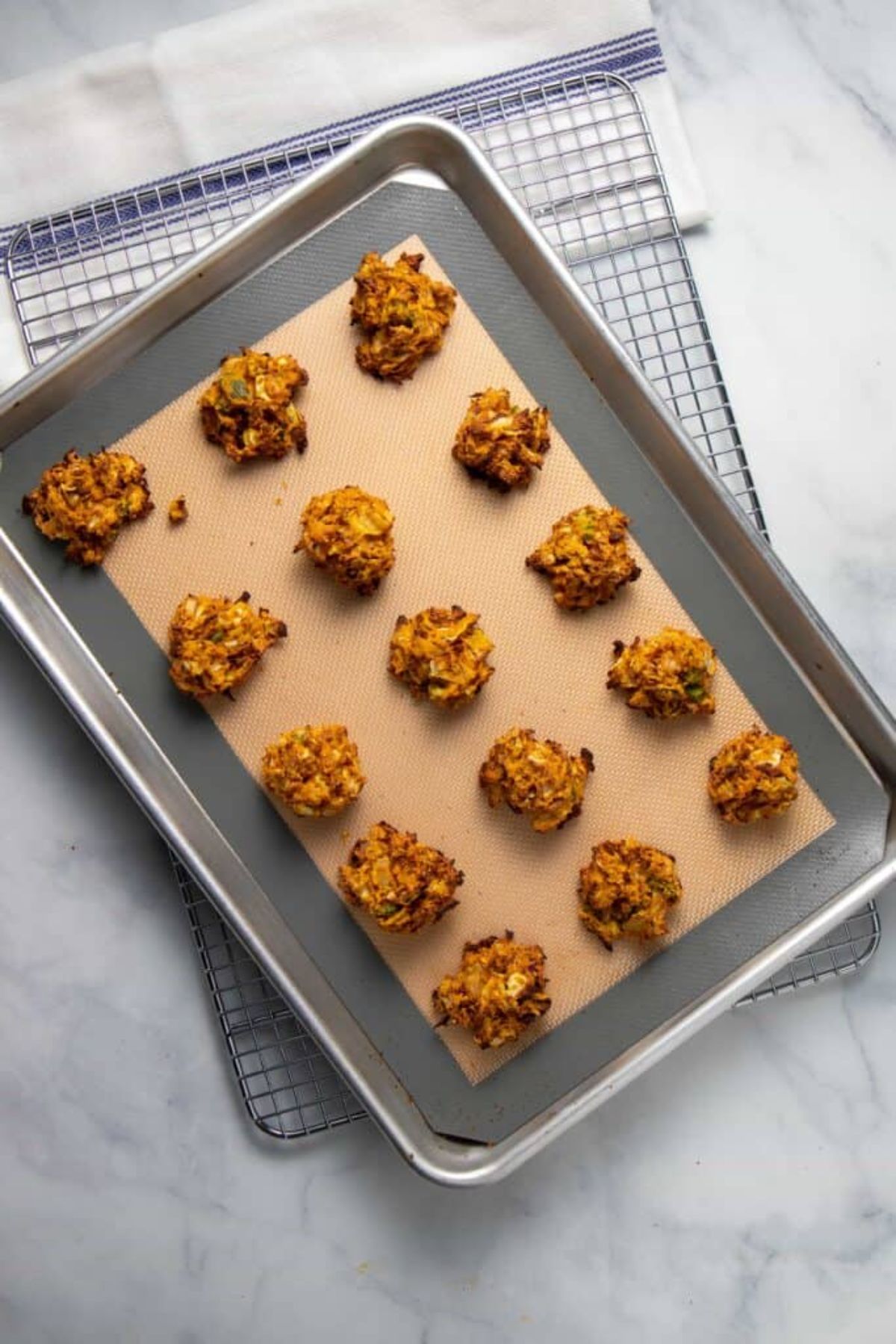 This vegan version of Indian Pakora is packed full of vibrant red onions, crispy cabbage and spicy jalapenos. Also, if your air fryer's not playing ball, Urban Farmie has instructions for pan-frying and baking too!
Cauliflower wings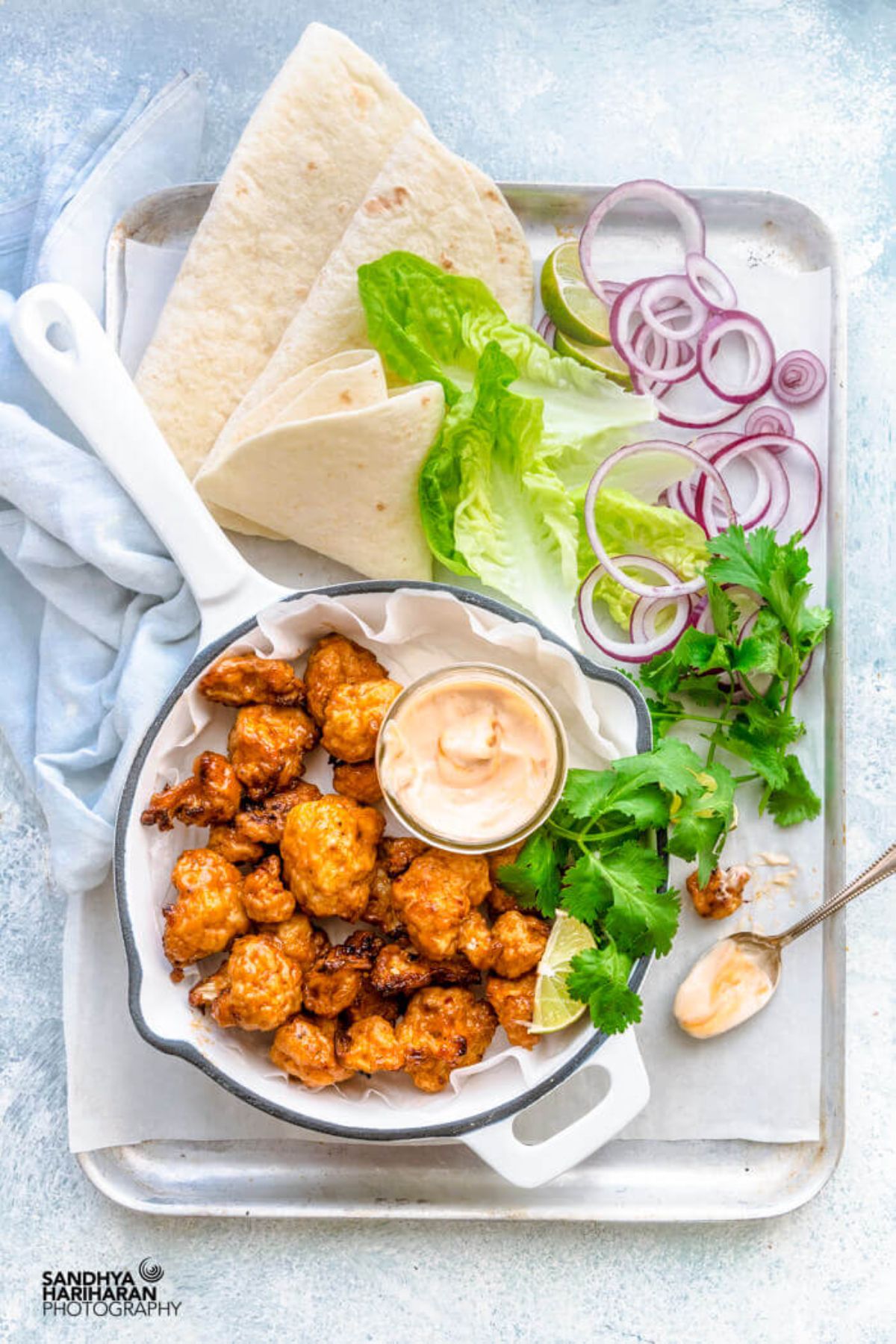 Got some friends coming over unexpectedly? Don't panic! These buffalo cauliflower wings from Sandhya's Kitchen are ready in 25 minutes, and look like you've been working on them all afternoon.
Crispy hasselback potatoes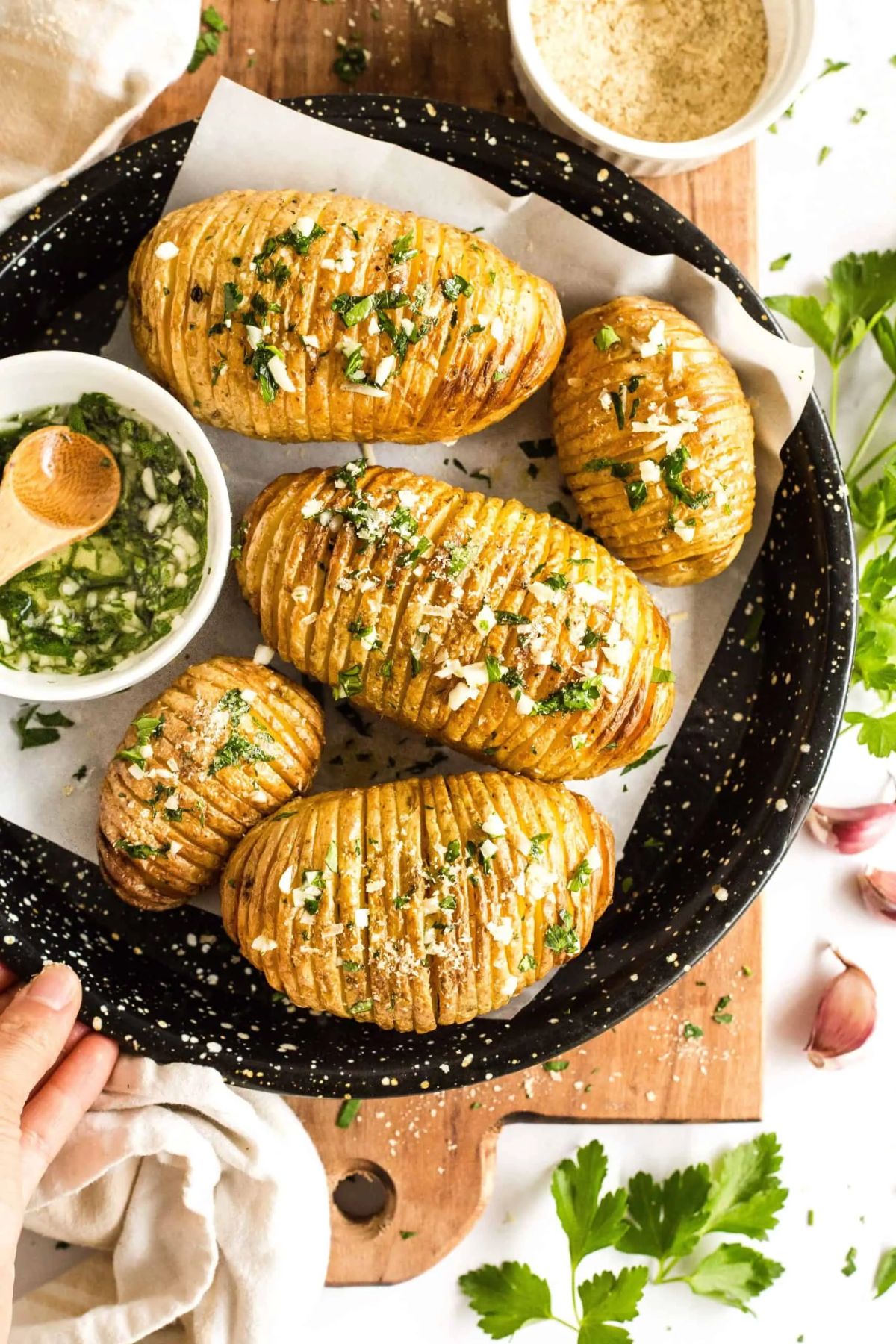 Crispy and inviting on the outside and comfortingly soft on the inside, these hasselback potatoes from Dish by Dish are perfectly balanced. Scattered with garlic and parsley, they look positively gourmet in the middle of your kitchen table!
Garlic mushrooms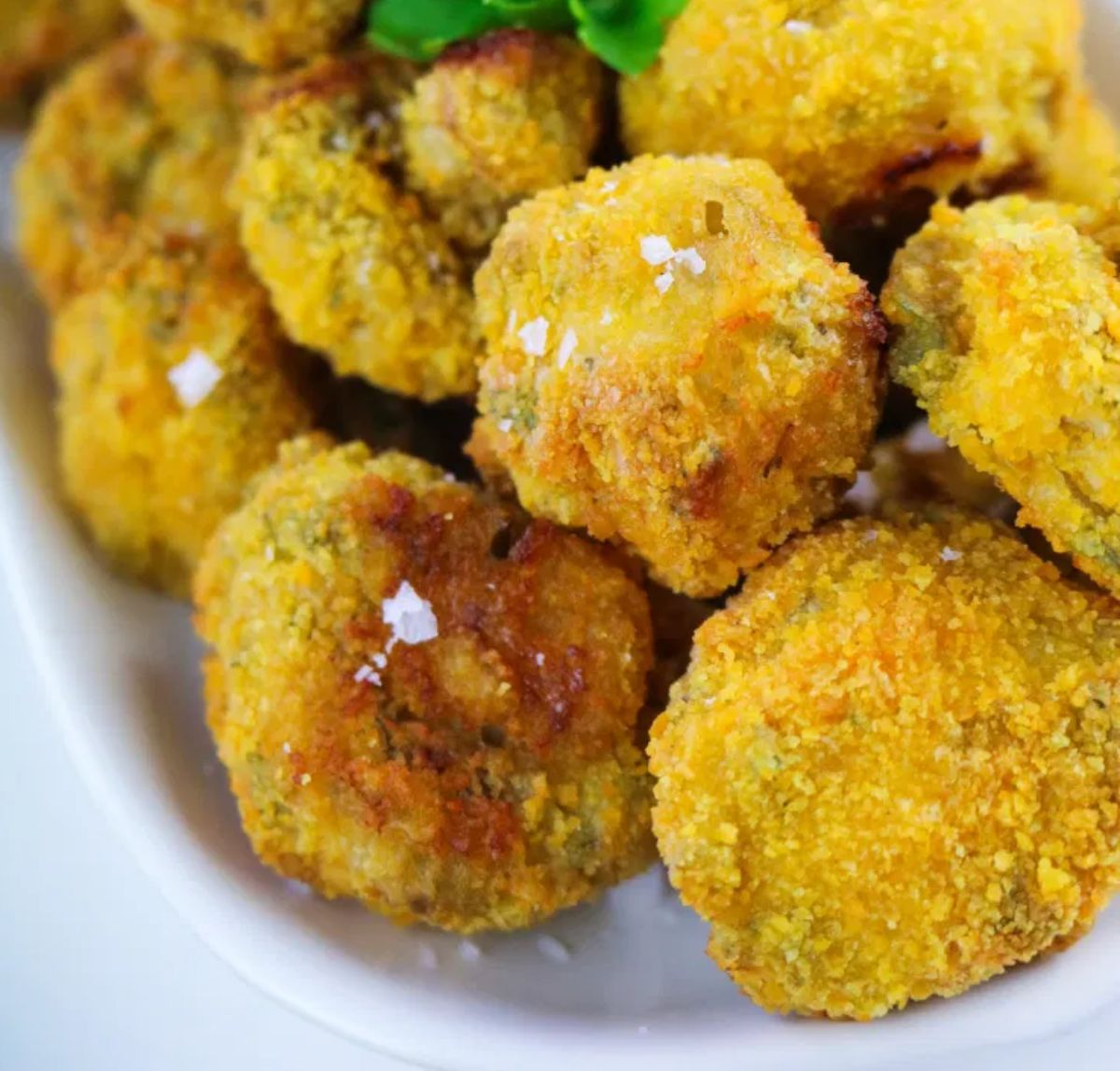 Always my go-to appetizer when we go out as a family, garlic mushrooms are a firm favorite. These air fryer versions from A Veg Taste From Atoz are so crispy and tasty that you'll be lucky if they make it to the table.
Crispy buffalo tofu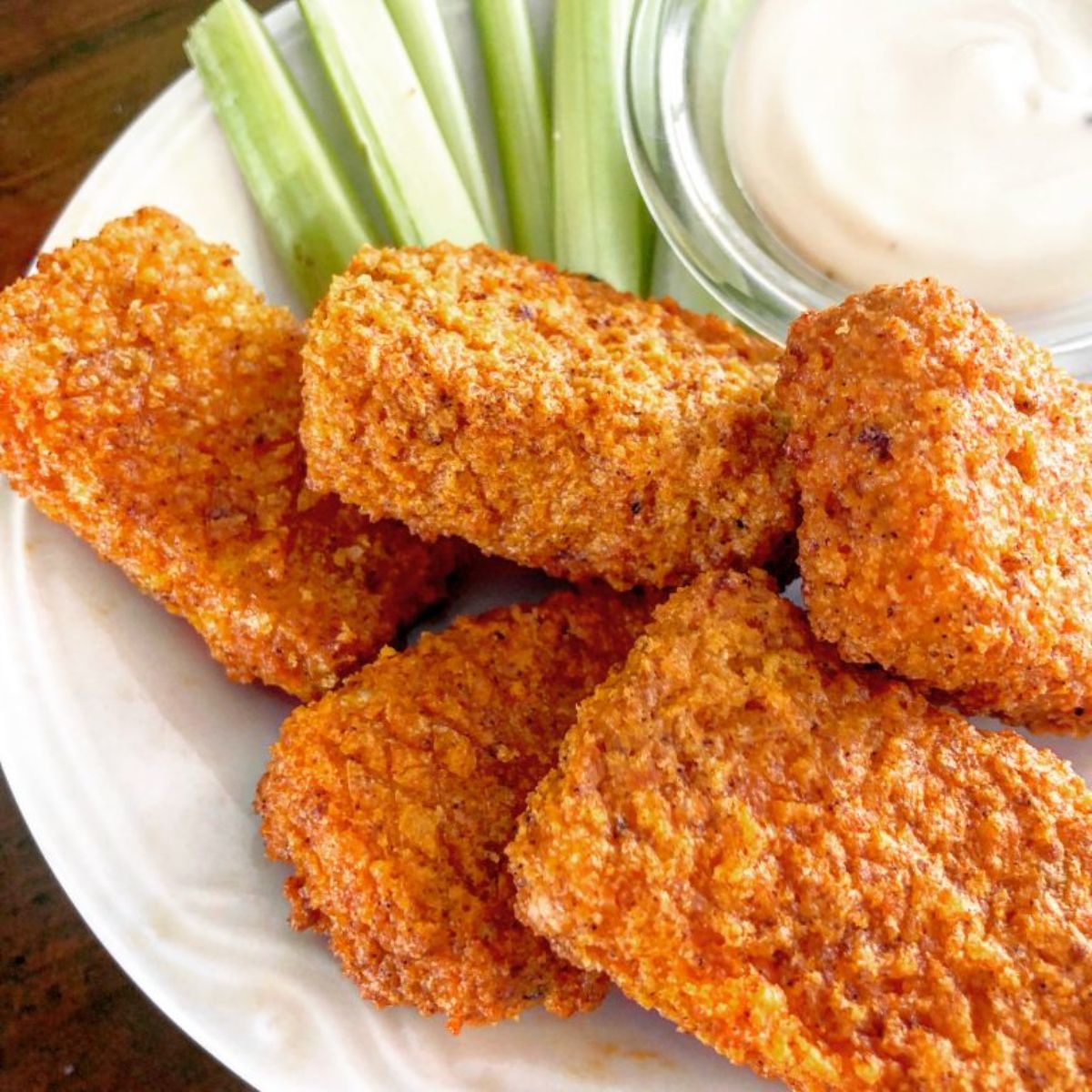 Looking for more game-day snack ideas? Or just another crunchy appetizer for a bit of a change midweek? You should try this buffalo tofu from This Wife Cooks. The great thing about the recipe? In the air fryer the tofu texture is almost exactly the same as a cheese stick!
Mashed potato balls
Use the power of the air fryer to make these fluffy potato balls from Watch Learn Eat! If you're not in a Hasselback place then these are a great alternative side for your next gathering.
Vegan air fried pickles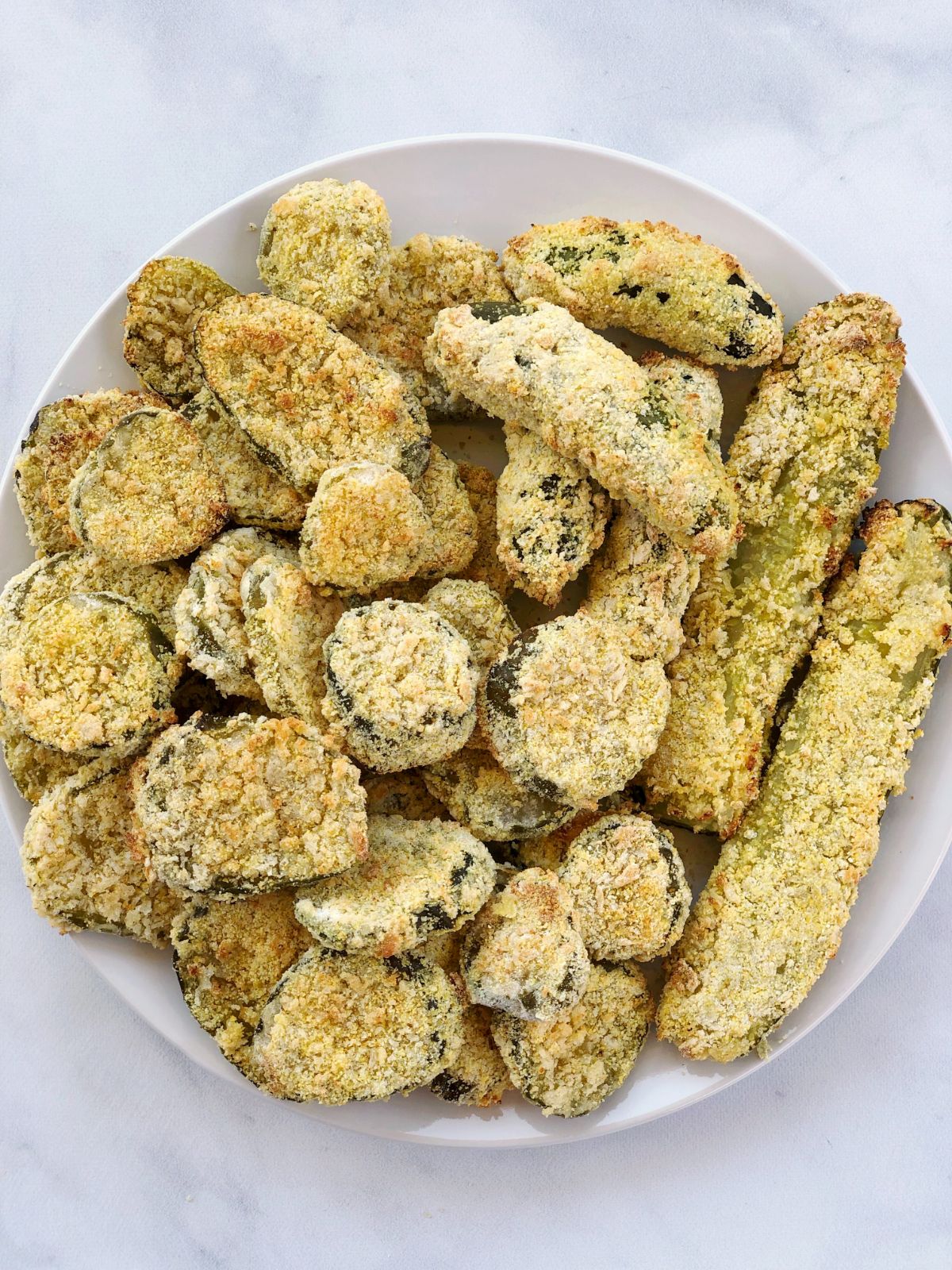 Completely vegan and ready in 10 minutes, these pickles won't disappoint. Let The Urben Life lead you through how to use your air fryer to make these gorgeous morsels!
Eggplant parmesan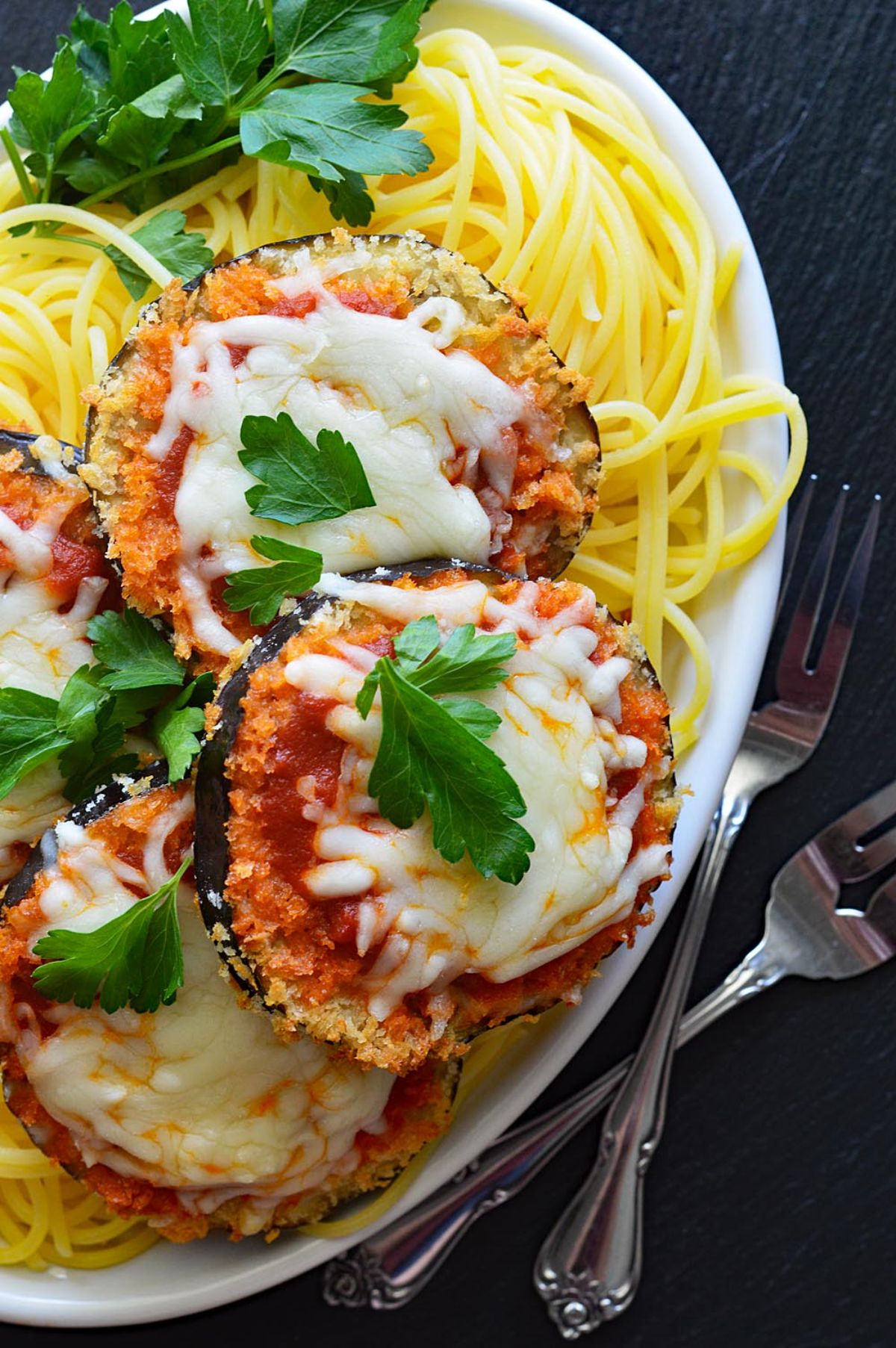 If you want something a little substantial to feed your growing brood after a long day, then this eggplant parmesan from The Veg Life is a pretty good option. Set up your dredging station, and cover your eggplant in yumminess before cranking up your air fryer.
Air fryer plantains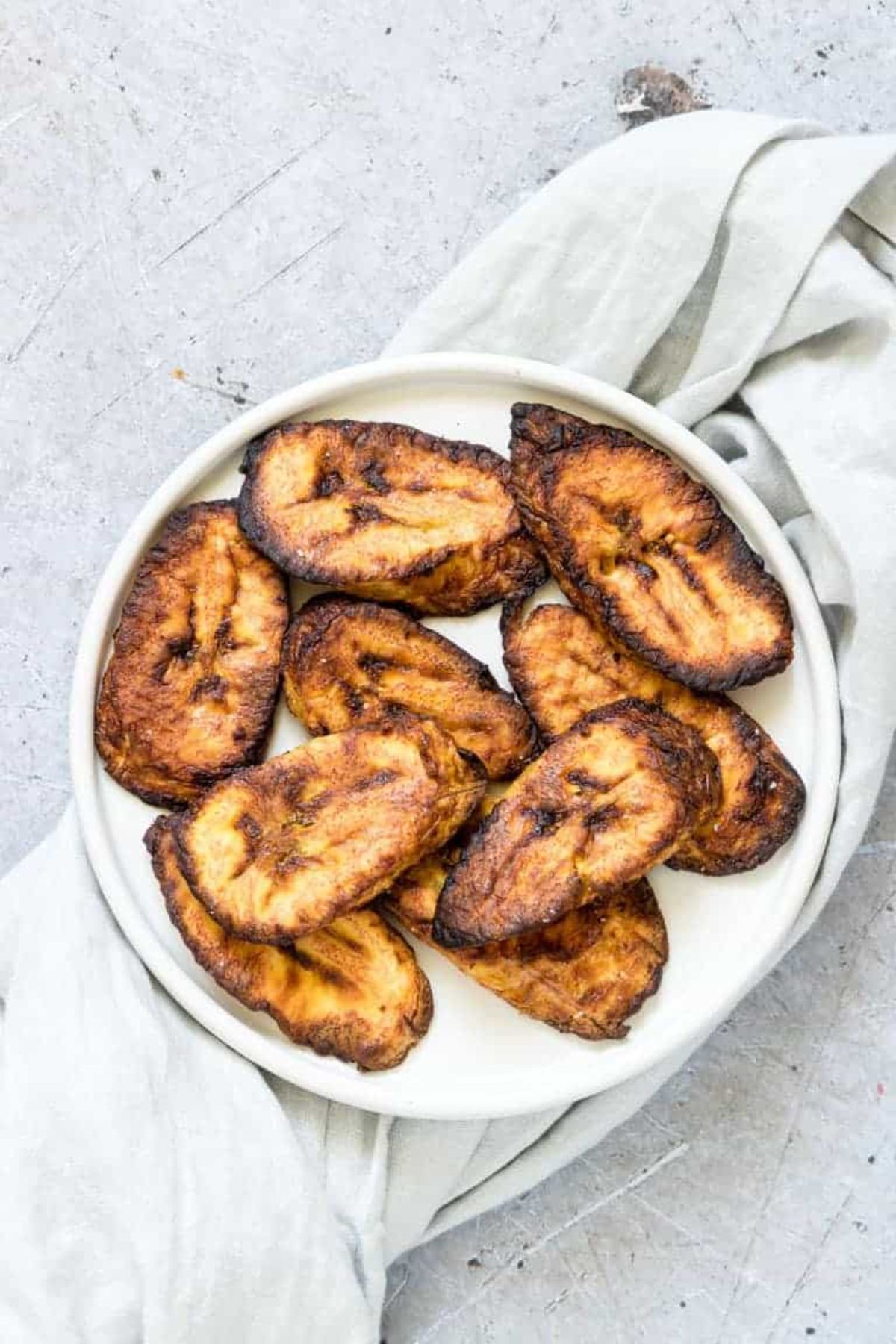 This low-calorie recipe from Recipes From a Pantry is super-versatile. You can make them for breakfast, as a snack, an appetizer, or even part of your main course. Perfect for plantain lovers out there.
Air fried brussels sprouts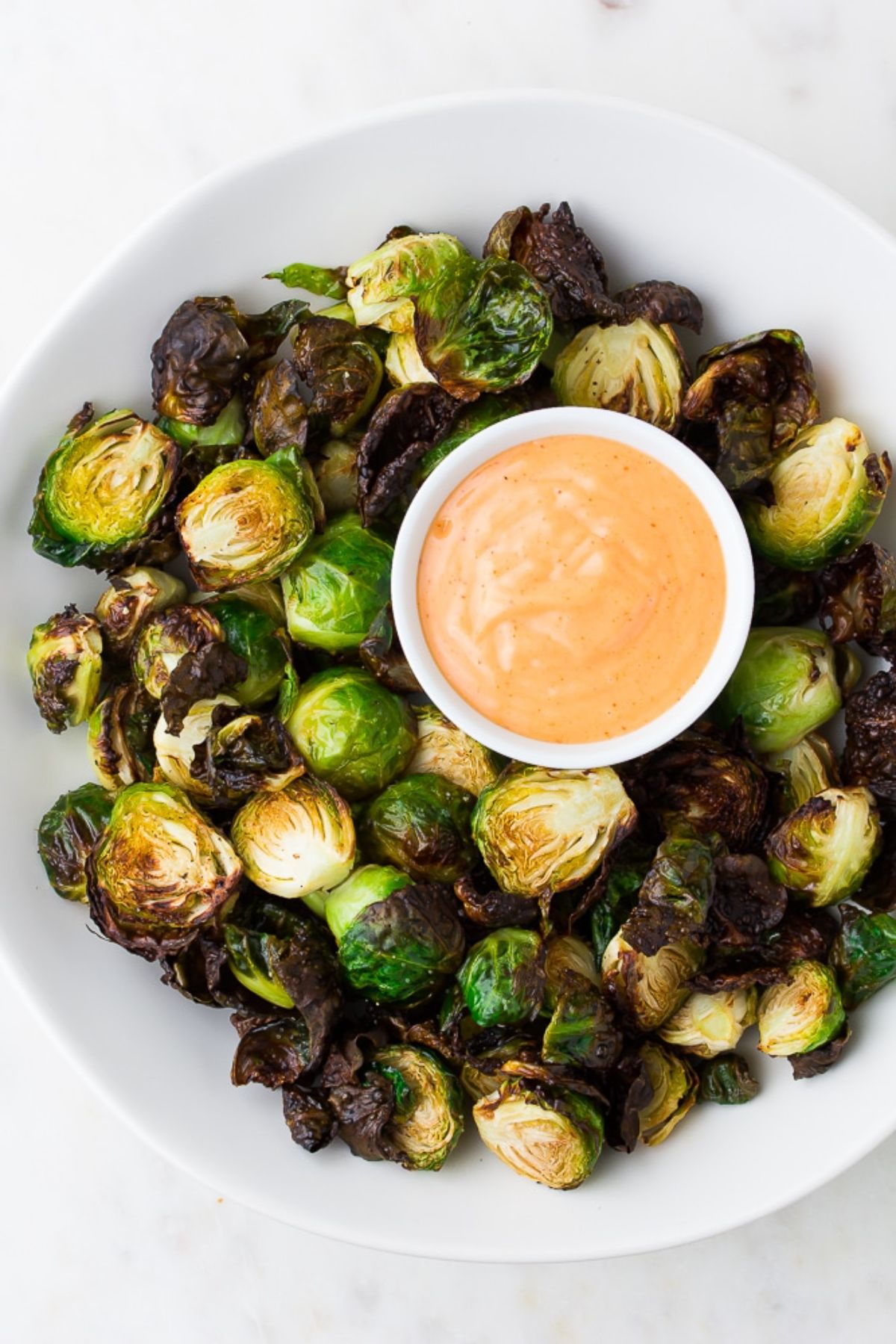 Serve these crunchy morsels with sriracha dipping sauce and you'll be far away from Christmas morning! Nora Cooks will walk you through your new favorite vegetable.
Spicy vegan fried "chicken" soy curls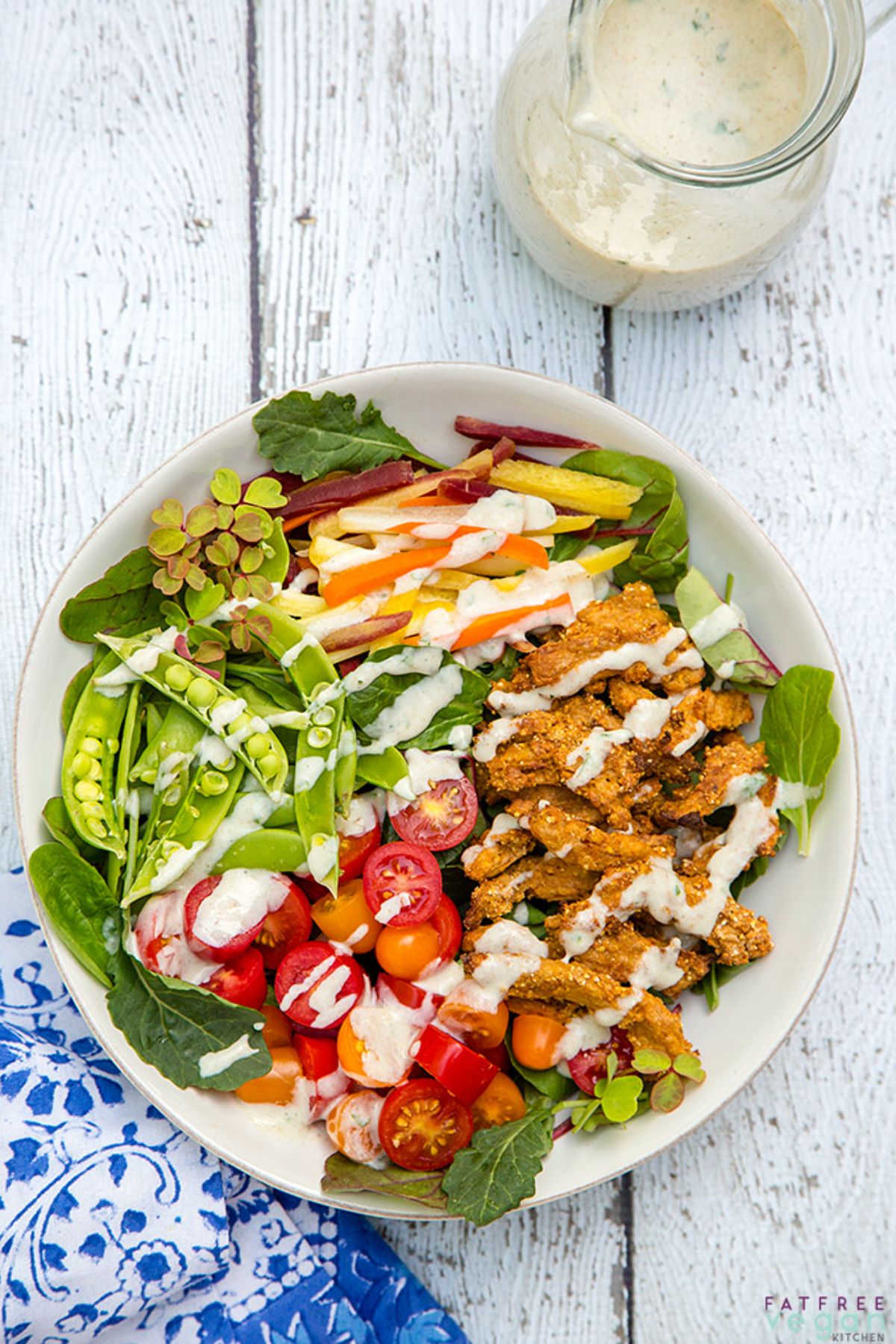 No added oil means these soy curls are almost as healthy as a fruit salad! (maybe!) They are definitely tastier though, so you'll want to check out Fatfree Vegan Kitchen's recipe.
Air fryer oyster mushrooms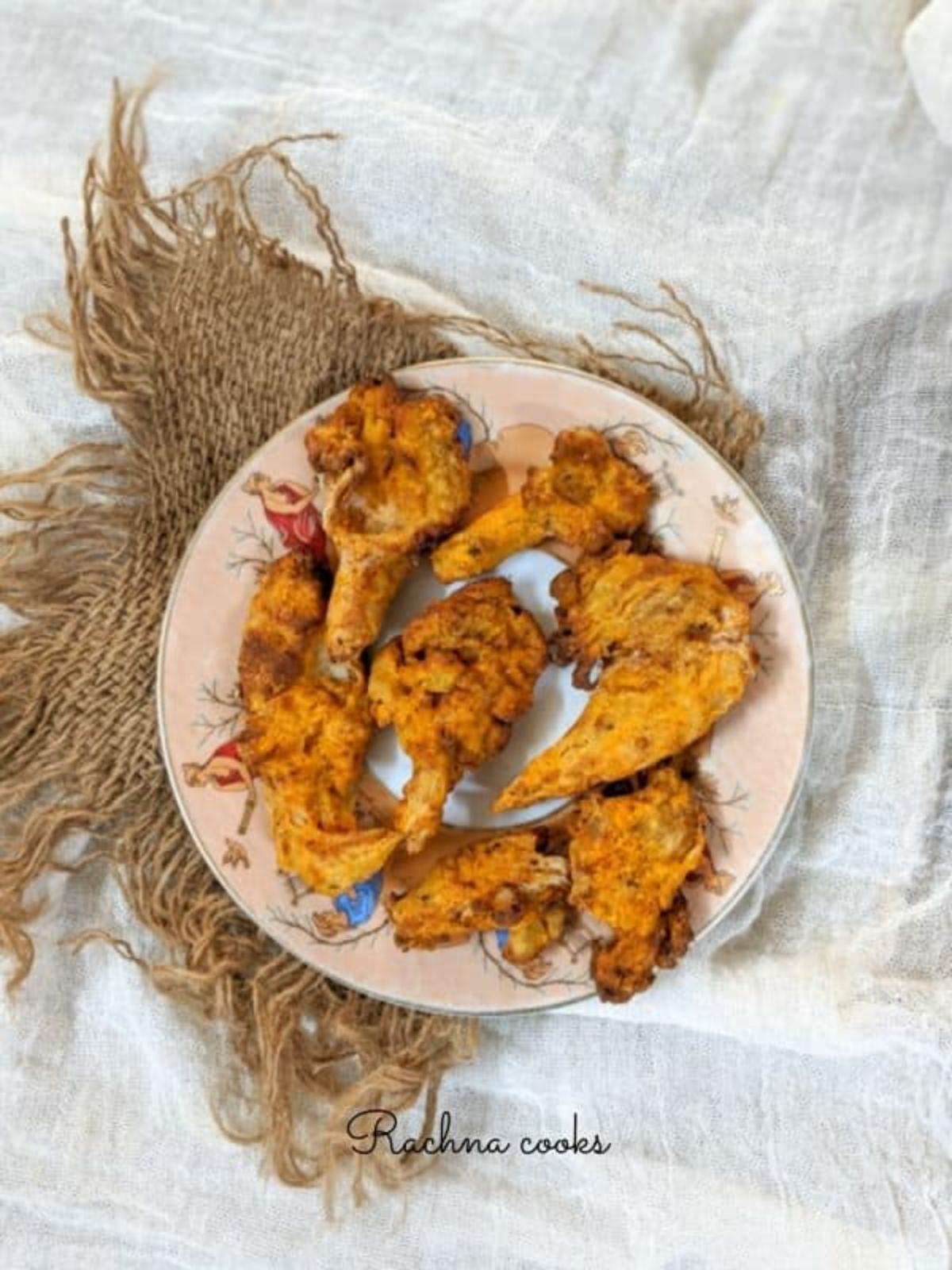 The best thing about oyster mushrooms (for me, anyway) is how they have so much bite to them. Well, that and the delicate taste. Both make these mushrooms the perfect substitute for meat when you're considering appetizers. Rachina Cooks has a light and crunchy recipe for you.
BBQ lentil meatballs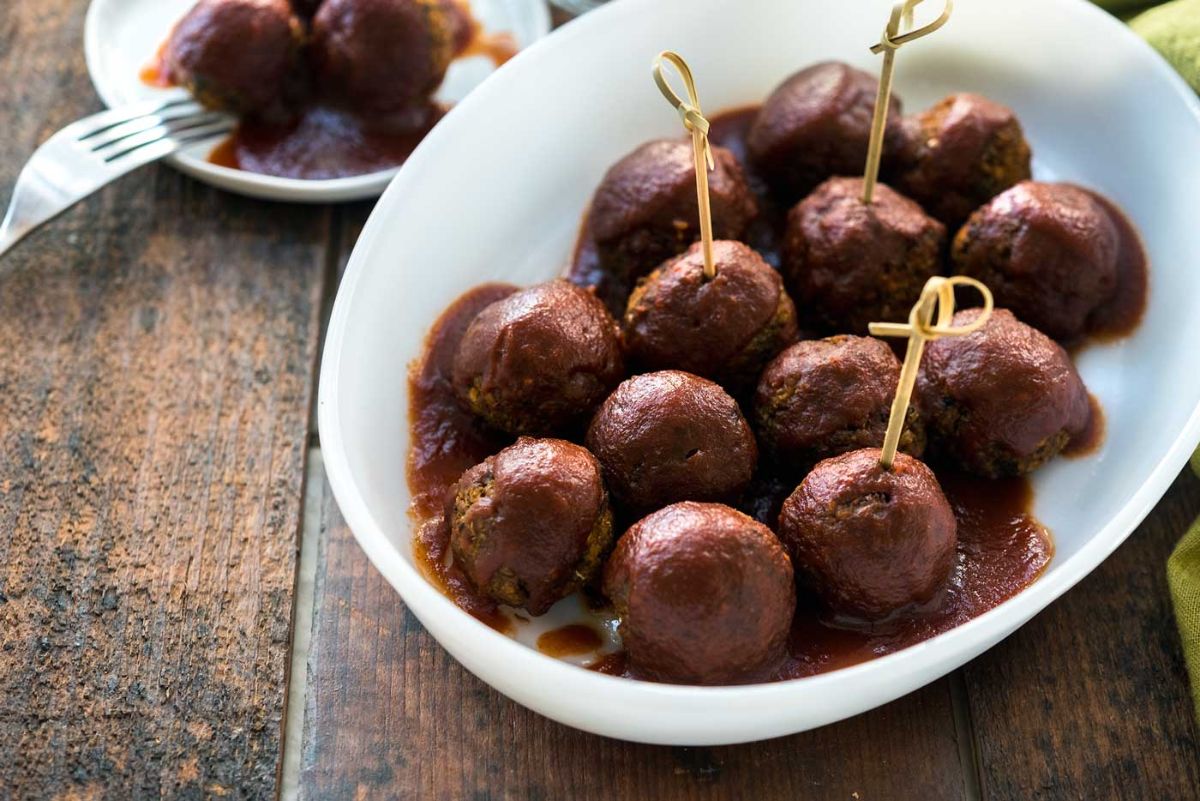 Cover these meatballs from Vegan Yack Attack in their rich BBQ sauce and you have yourself a side to be proud of at your next family gathering. And your air fryer means they're done in no time at all.
Vegan taquitos with jackfruit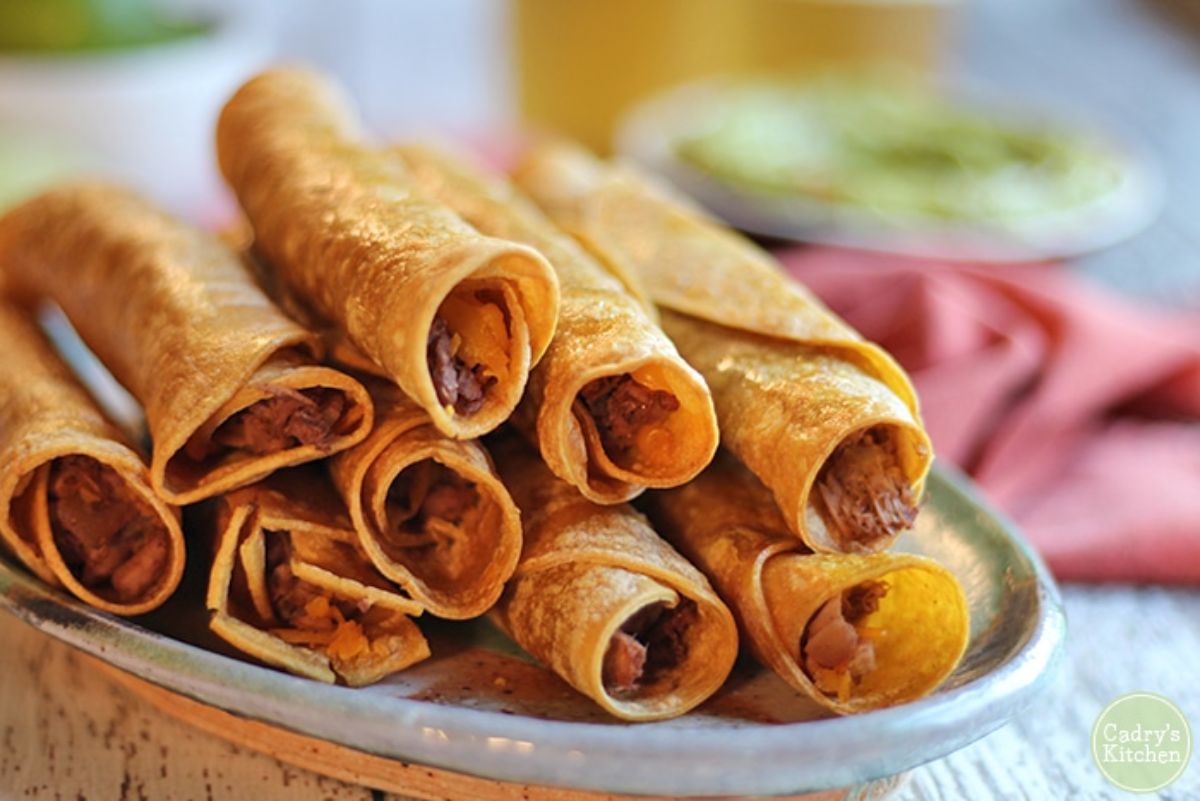 We all have different snack preferences. For some people, it's moist and moreish. For others, it's crunchy and salty. If you fall into the latter category, then you'll love these taquitos from Cadry's Kitchen. Crisp and perfect for slathering in guacamole, they're unbelievably good!
Popcorn tofu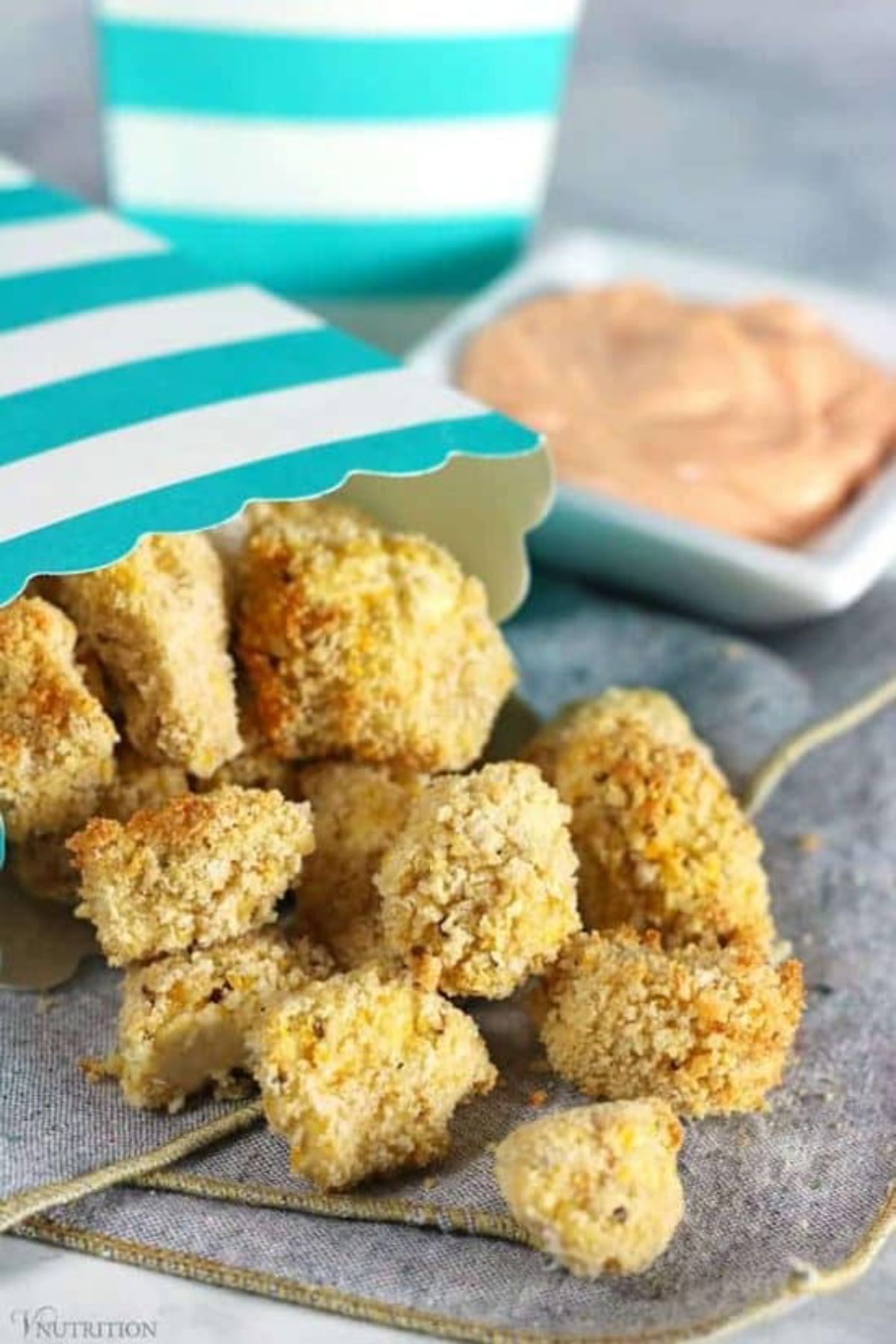 A healthier alternative to deep-fried dippers, these popcorn tofu nuggets from V Nutrition are your anti-fast food best friend. Grab a selection of sauces, and you'll have something for everyone.
Spicy sweet potato and black bean taquitos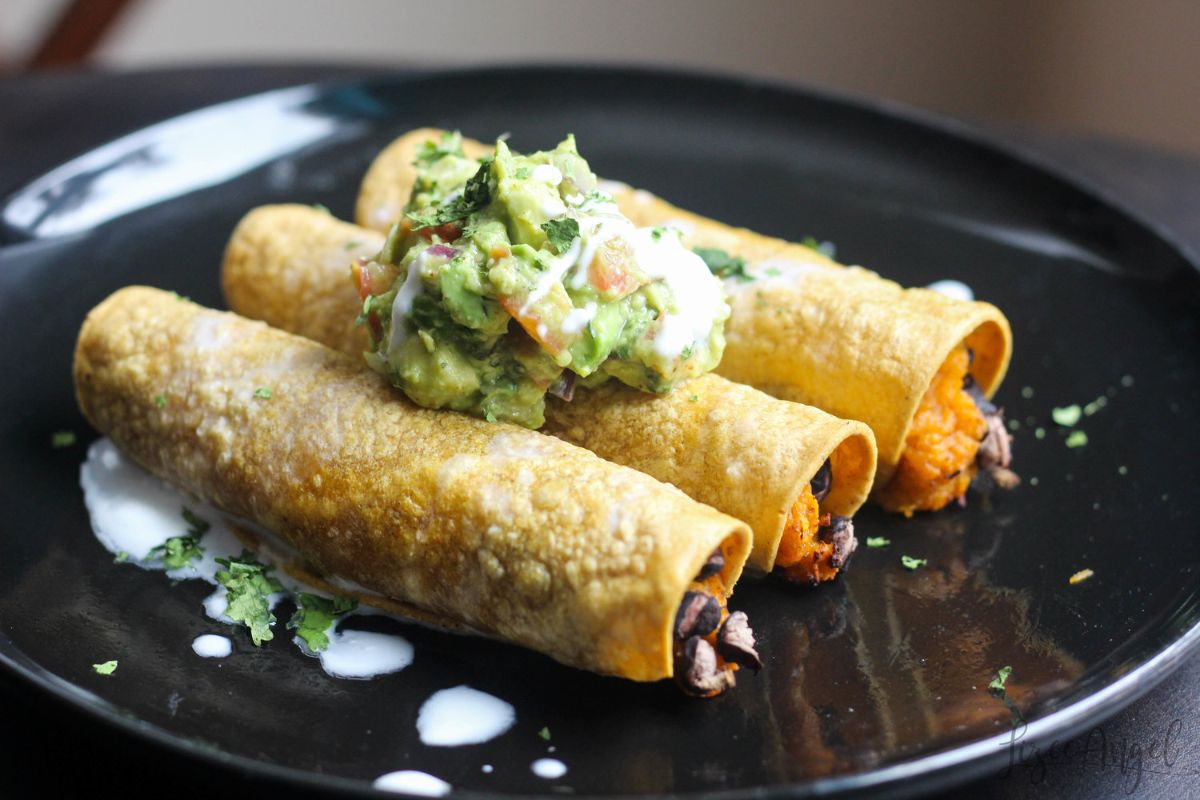 Another taquito option for your air fryer are these sweet potato and black bean creations from Lizee Angel. Not only are they full of flavor themselves, but you can also find out how to make the vegan crema to dollop on top.
Vegan empanadas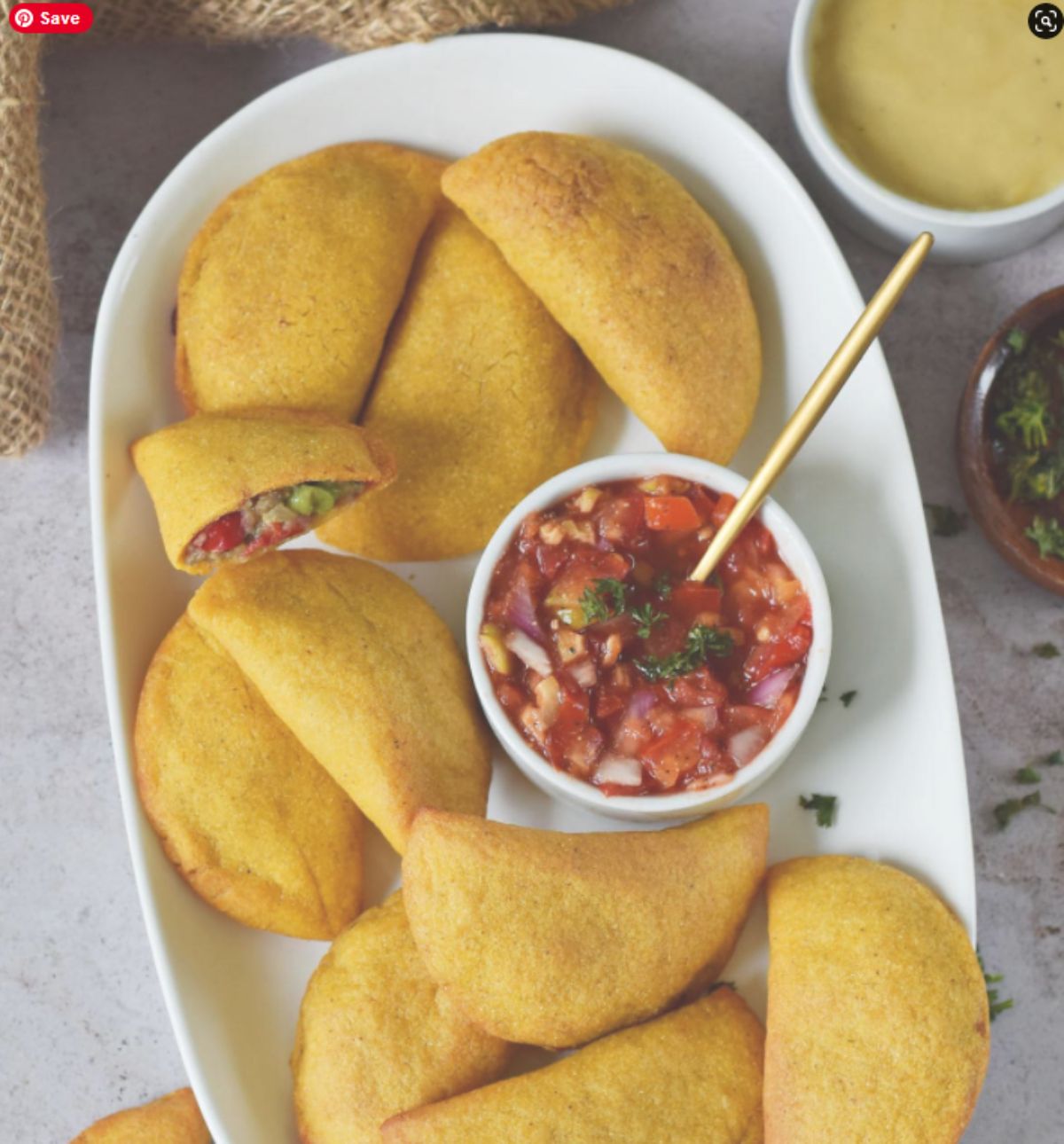 For the gluten-free vegans amongst you, these empanadas from Ela Vegan make the perfect appetizer or addition to your buffet table. Dish up these Mexican treats in super-fast time, and add your salsa on the side.
Black bean burgers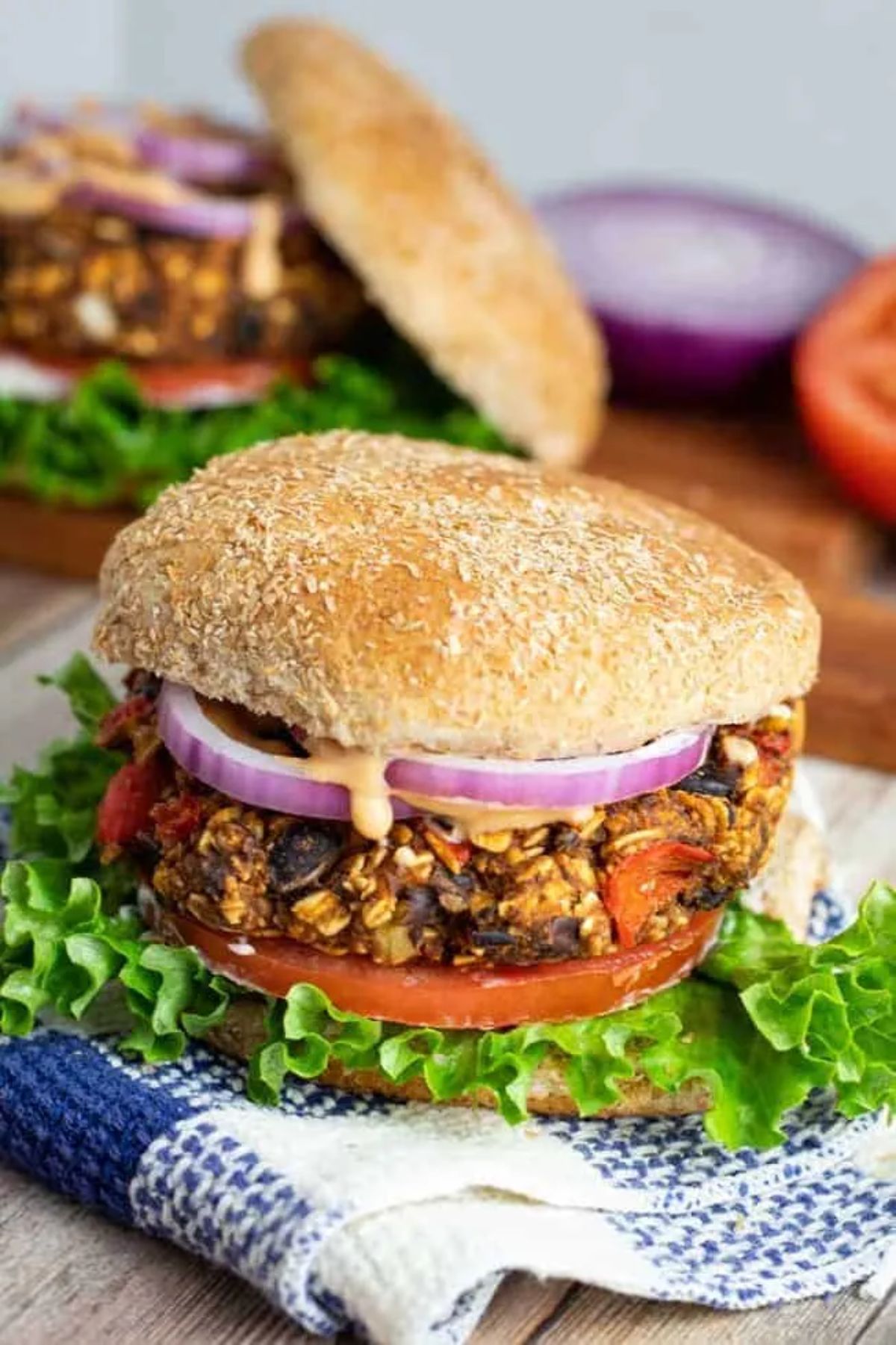 The most annoying thing about bean burger recipes that I've tried is how often they all fall apart when I'm trying to cook them on the grill. These patties from Eat Plant-Based don't! Which is epic. But you can also cook them in the air fryer and eliminate the problem altogether!
Baked granola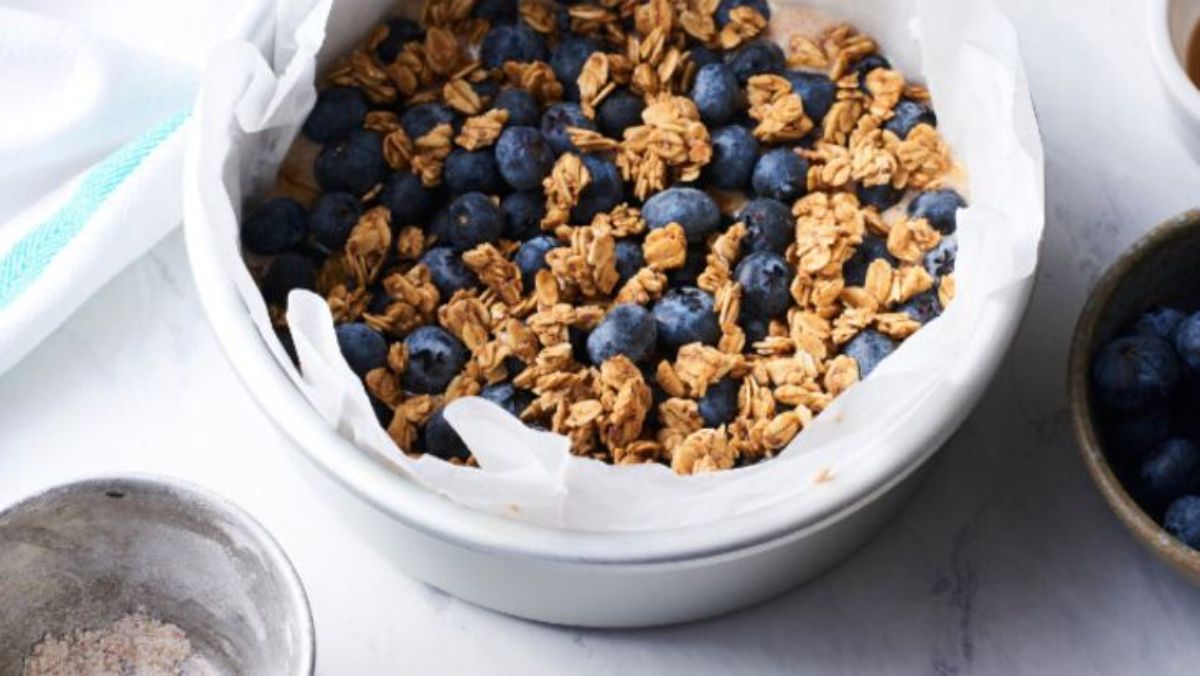 Newsflash: air fryers aren't just for your savory snacks and entrees! Spice up your breakfast with this baked granola from World of Vegan. Just add blueberries!
Chinese donuts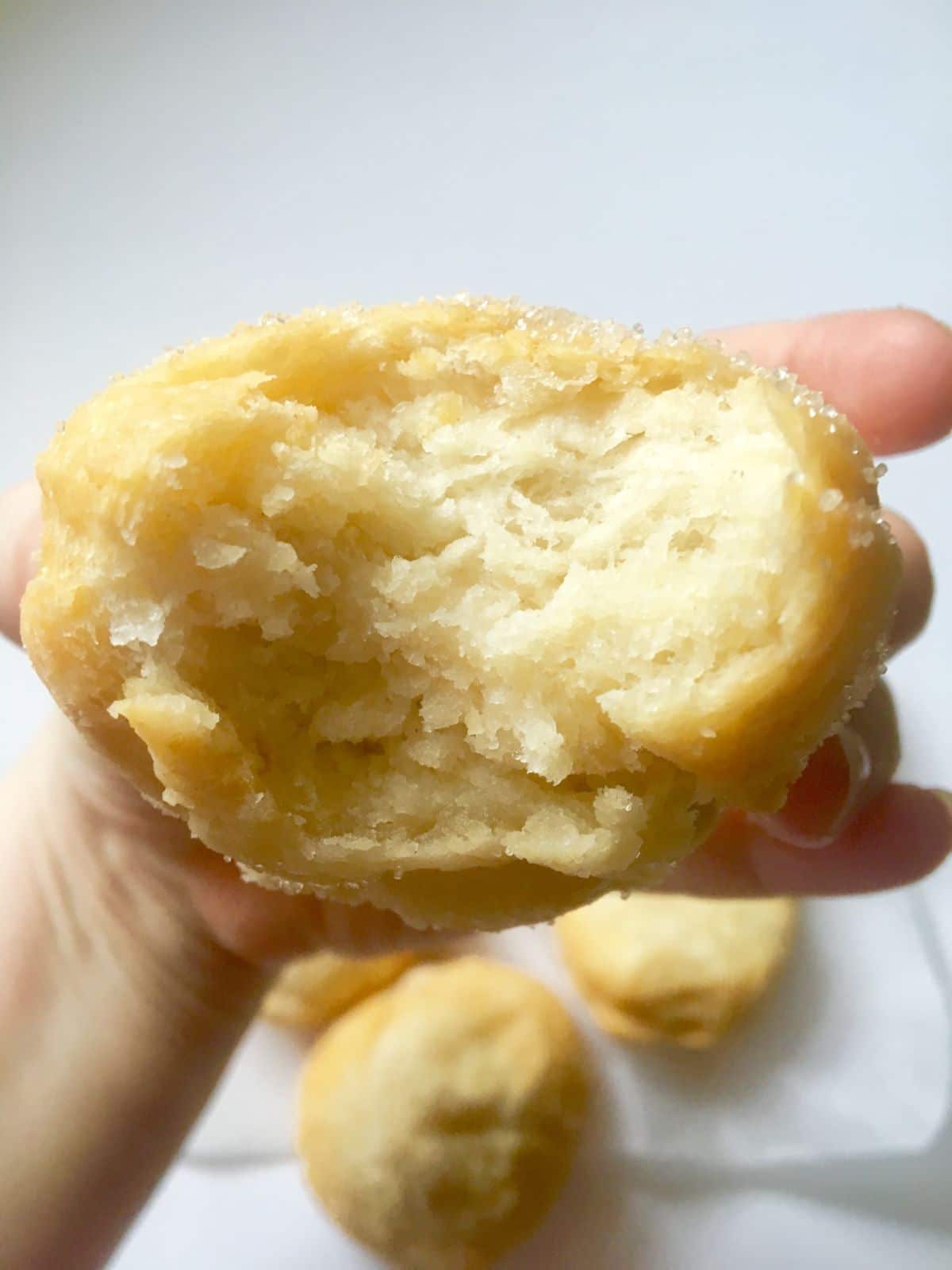 If you're recreating your favorite takeout then you can add these vegan Chinese donuts from Plant Power Couple to the end of your meal. Fluffy balls of sugar, perfectly cooked in your air fryer. You'll be the envy of all your friends!
Toasted coconut french toast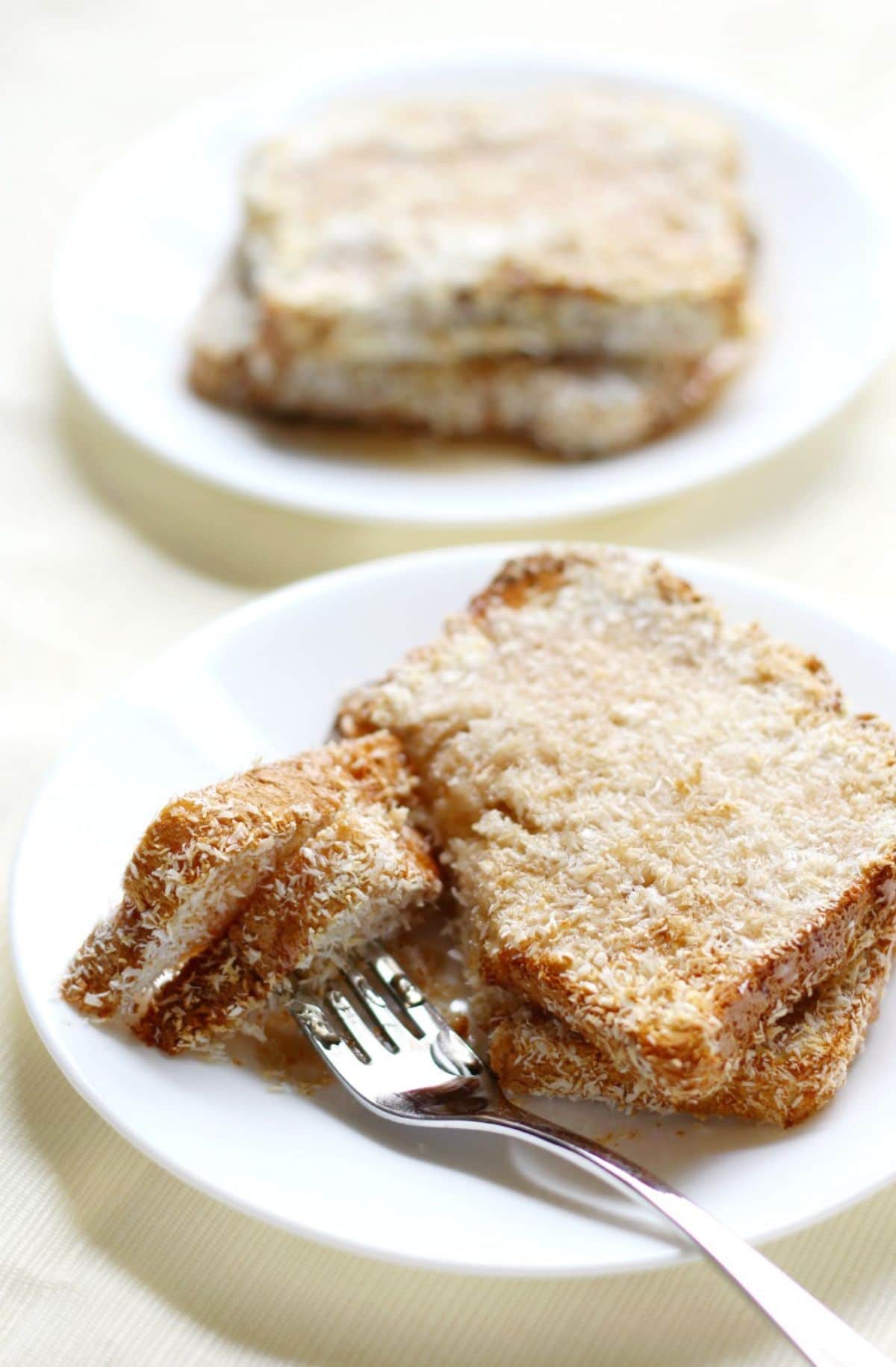 Gluten-free as well as vegan, this indulgent breakfast from Strength and Sunshine is crispy coconut perfection. You only need 4 ingredients, and it can be on the table in 4 minutes!
Churro-style donut holes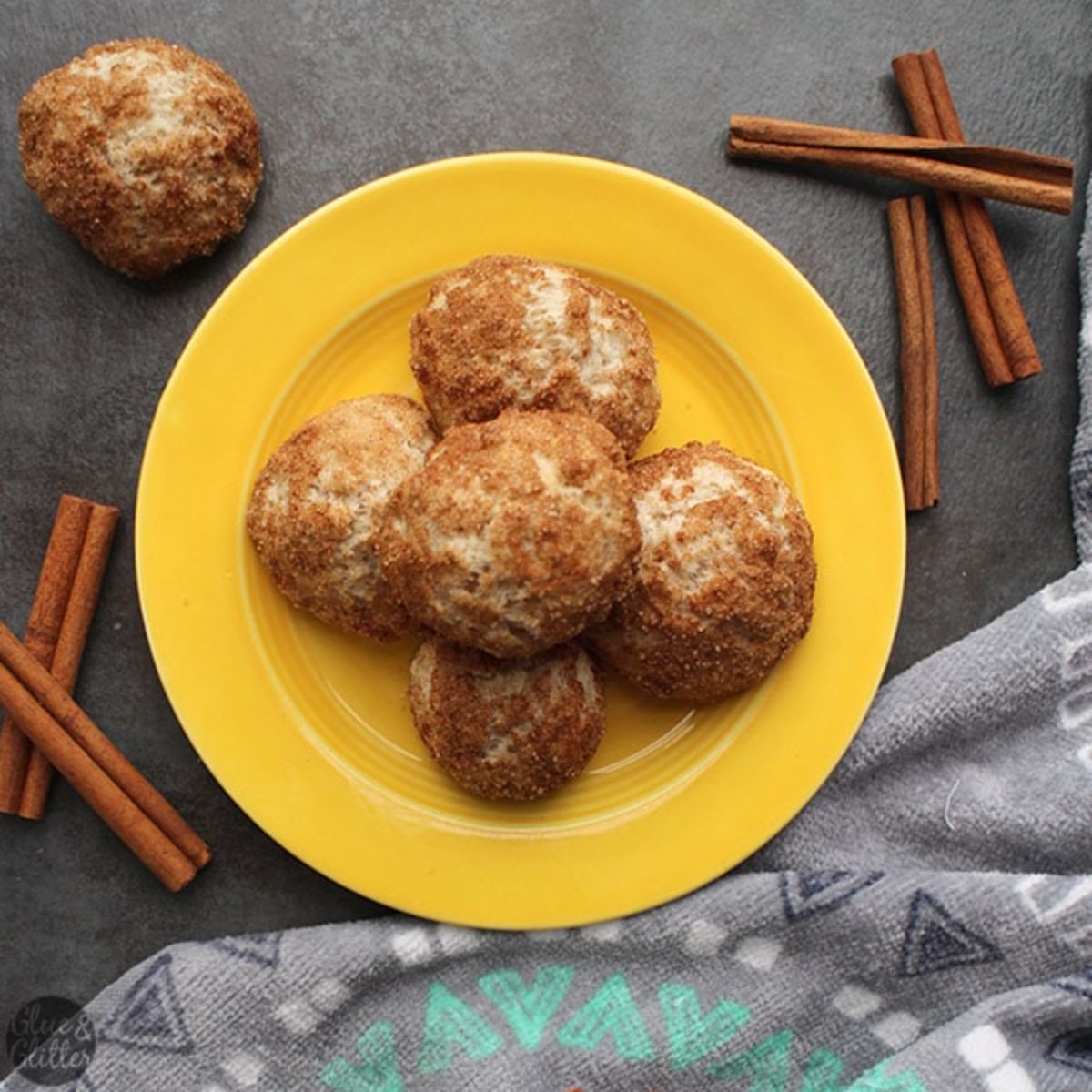 Chonut holes! These pockets of sugar and fluffiness from Glue & Glitter will keep your kids happy while you're trying to get your chores done! And they don't take hours and pints of oil.
Banana chips with black pepper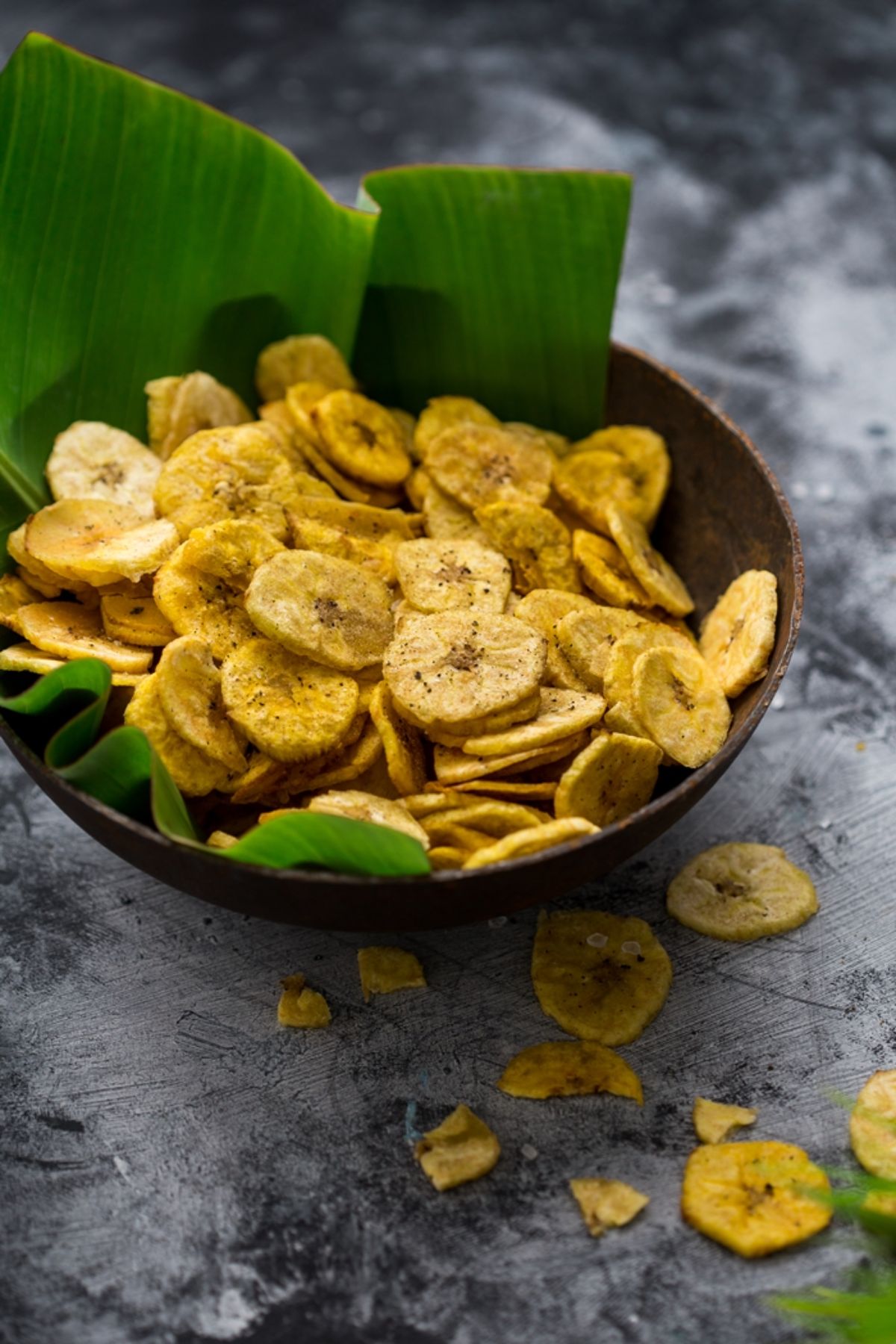 Sure, you could make normal banana chips for your mid-afternoon snack, but why would you when you can make these? Jagruti's Cooking Odyssey makes these chips with raw Keralian banana and adds a dash of black pepper to make them feel extra special. 
Yield: 4
43 Easy Vegan Air Fryer Recipes To Wow Your Friends!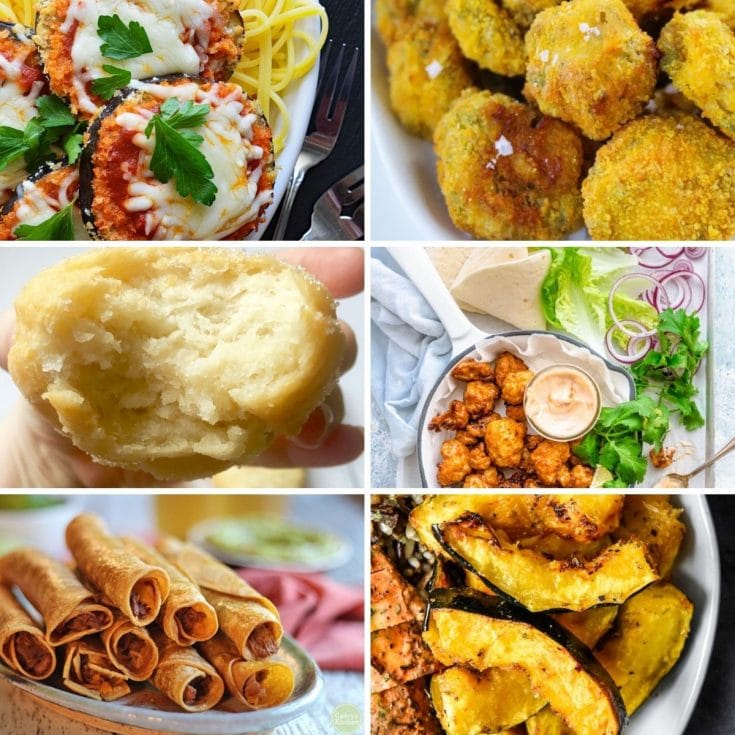 Make these delicious vegan recipes using your air fryer. Air Fryers are one of the most popular kitchen appliances today. They are easy to use and cook delicious food.
Ingredients
Vegan air fryer hush puppies
Rosemary roast potatoes
Air fryer beets
Crispy air fryer chickpeas
Vegan cheesy potato wedges
Avocado "egg" rolls
Crispy fried ravioli
Vegan cheese samboosa
Kale and potato nuggets
Thai veggie bites
Vegan cornbread
Zucchini corn fritters
Tofu satay
Pineapple tofu skewers
Chickpea meatballs
Air fryer acorn squash
Vegan rolled tacos
Vegan calamari
Savory potato patties
Air fryer falafel
Vegan cabbage fritters
Cauliflower wings
Crispy hasselback potatoes
Garlic mushrooms
Crispy buffalo tofu
Mashed potato balls
Vegan air fried pickles
Eggplant parmesan
Air fryer plantains
Air fried brussels sprouts
Spicy vegan fried "chicken" soy curls
Air fryer oyster mushrooms
BBQ lentil meatballs
Vegan taquitos with jackfruit
Popcorn tofu
Spicy sweet potato and black bean taquitos
Vegan empanadas
Black bean burgers
Baked granola
Toasted coconut french toast
Churro-style donut holes
Banana chips with black pepper
Instructions
Pick recipes from this collection of air fryer recipes
Prepare your air fryer
Make delicious meals using your air fryer