Gluten Free Blueberry Muffins recipe made with protein packed almond flour. Just 7-Ingredients, this blueberry muffin is easy to make, moist, and perfectly sweetened. It's heaven in muffin form.
(Gluten-Free, Dairy-Free, Low-Sugar)
Once upon a time, a batch of amazing blueberry muffins was made. Shortly afterwards, every single muffin was devoured! The end.
Yep, that's pretty much how the story went at my house last weekend. These muffins lasted maybe 2 hours… at most. 😉
These flourless, protein packed blueberry mammas are so moist and decadent; it is no surprise they were gobbled up in 2 minutes flat.
Let me break it down here:
Healthy.
Delicious.
Moist.
Protein-Packed.
Dairy-Free.
Gluten-Free.
Low-Sugar.
Refined Sugar-Free.
And made with just 7-Ingredients!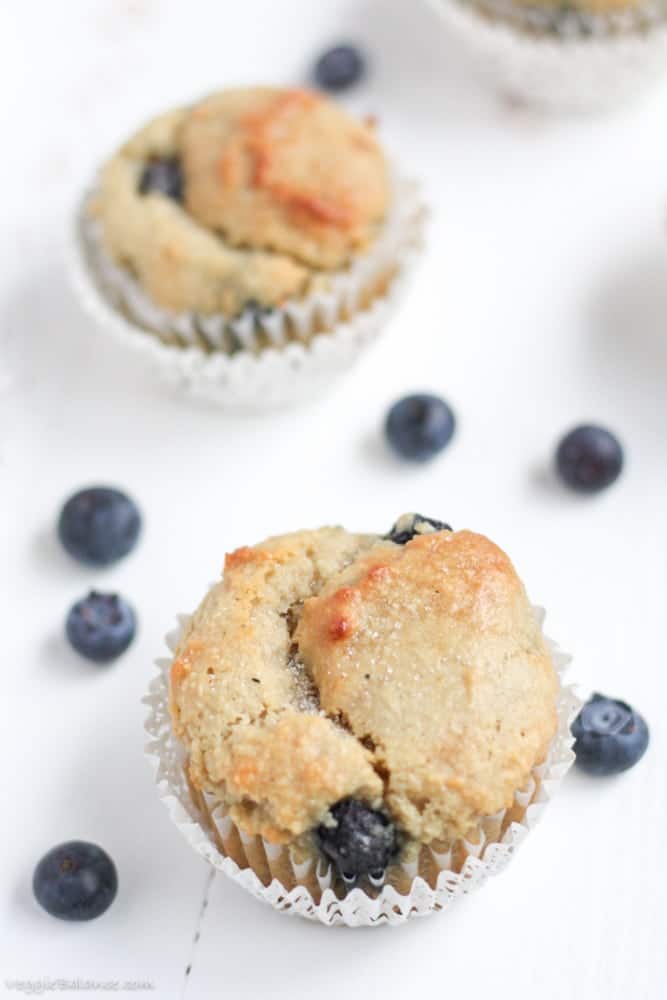 It's practically a guilt-free muffin just begging to be eaten, right?
Right.
I have a strong soft-spot for breakfast foods that practically scream decadence, but are actually healthy.
It means I can eat them all, right?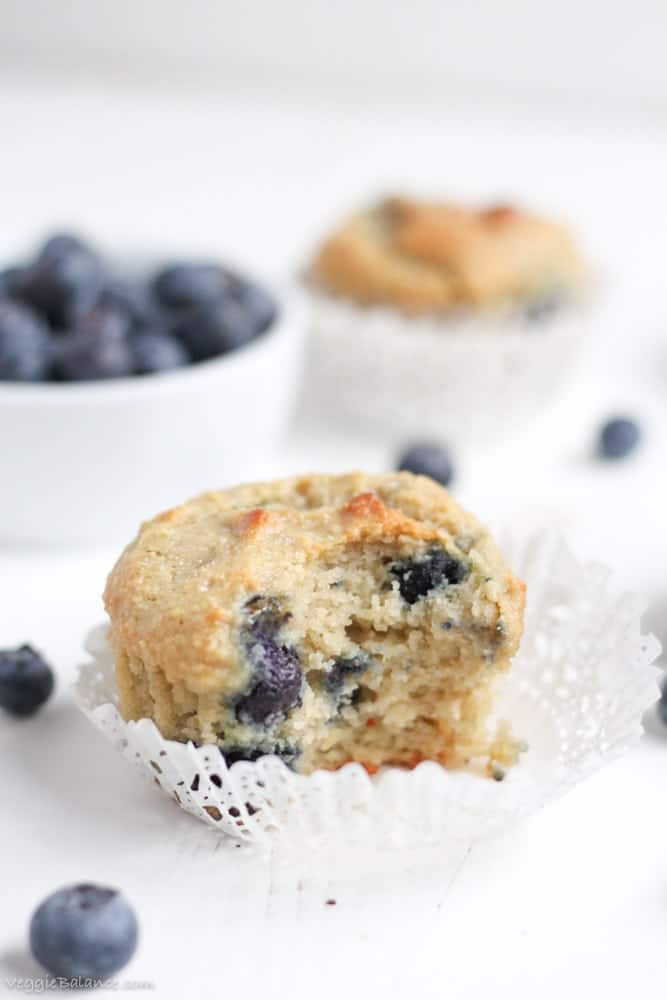 I completely understand when people balk at the price of almond flour. However, let me try and put this almond flour price into perspective.
(FYI, this is how I rationalize it.)
Almond flour is protein packed, gluten-free (mega bonus), low-carb, and packed with potassium and Vitamin E.
Essentially, almond flour is just 'chewed' up almonds.
Do you buy almonds? Well, whole almonds are also expensive. So . . . what's the difference in cost?
I prefer to take my almond flour and turn it into delicious dishes vs. chewing on some plain whole almonds. Don't get me wrong, I also do that from time to time, however, these gluten free blueberry muffins definitely taste better than plain almonds.
Side Note: If you still are balking at the price of almond flour try these healthy blueberry muffins WITHOUT almond flour. YUM.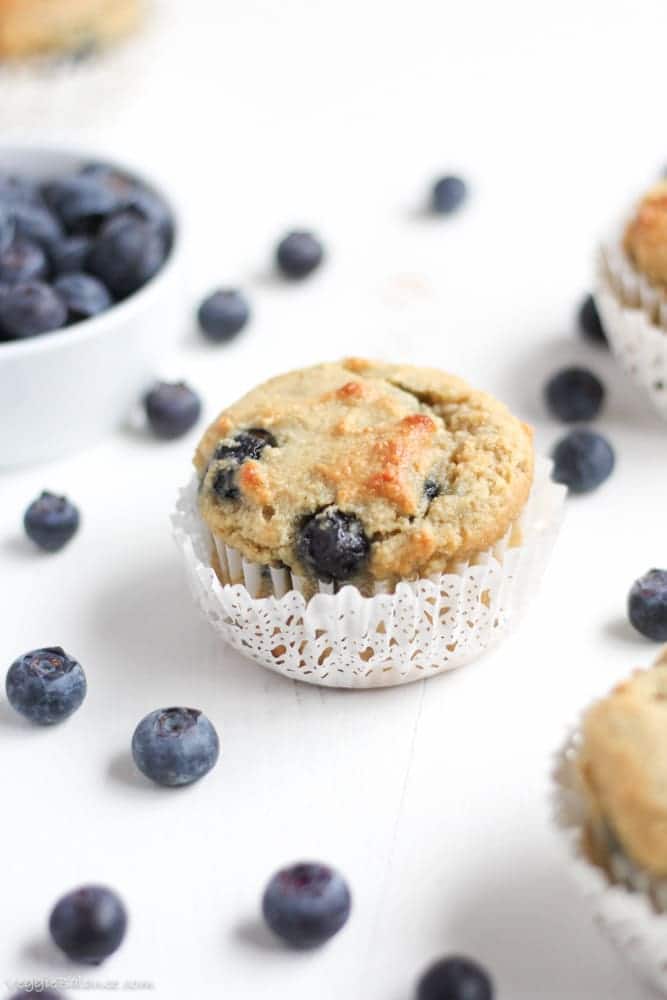 While almond flour is delicious and I absolutely love it, it is important to be aware of how many almonds we are actually eating while devouring these muffins.
Almond flour is essentially ground up almonds and, as always, everything in moderation is how we roll.
Should we eat all 6 muffins in one sitting? No, probably not.
But I wouldn't judge you if you did; my self-control was far from perfect the first time I made these.
I got myself in check after the umpteenth batch, though. Hope you have more self-control than I did. 😉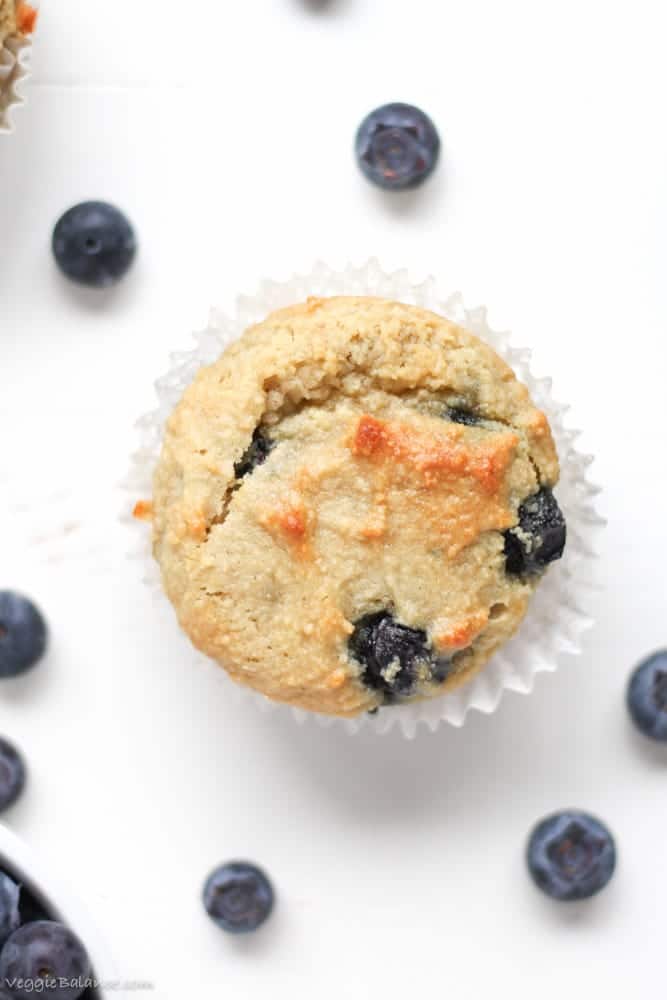 Since we are settling into the winter season don't forget to use those frozen blueberries! Check out our video below to help with HOW to prep those frozen blueberries to get fluffy golden brown blueberry muffins!