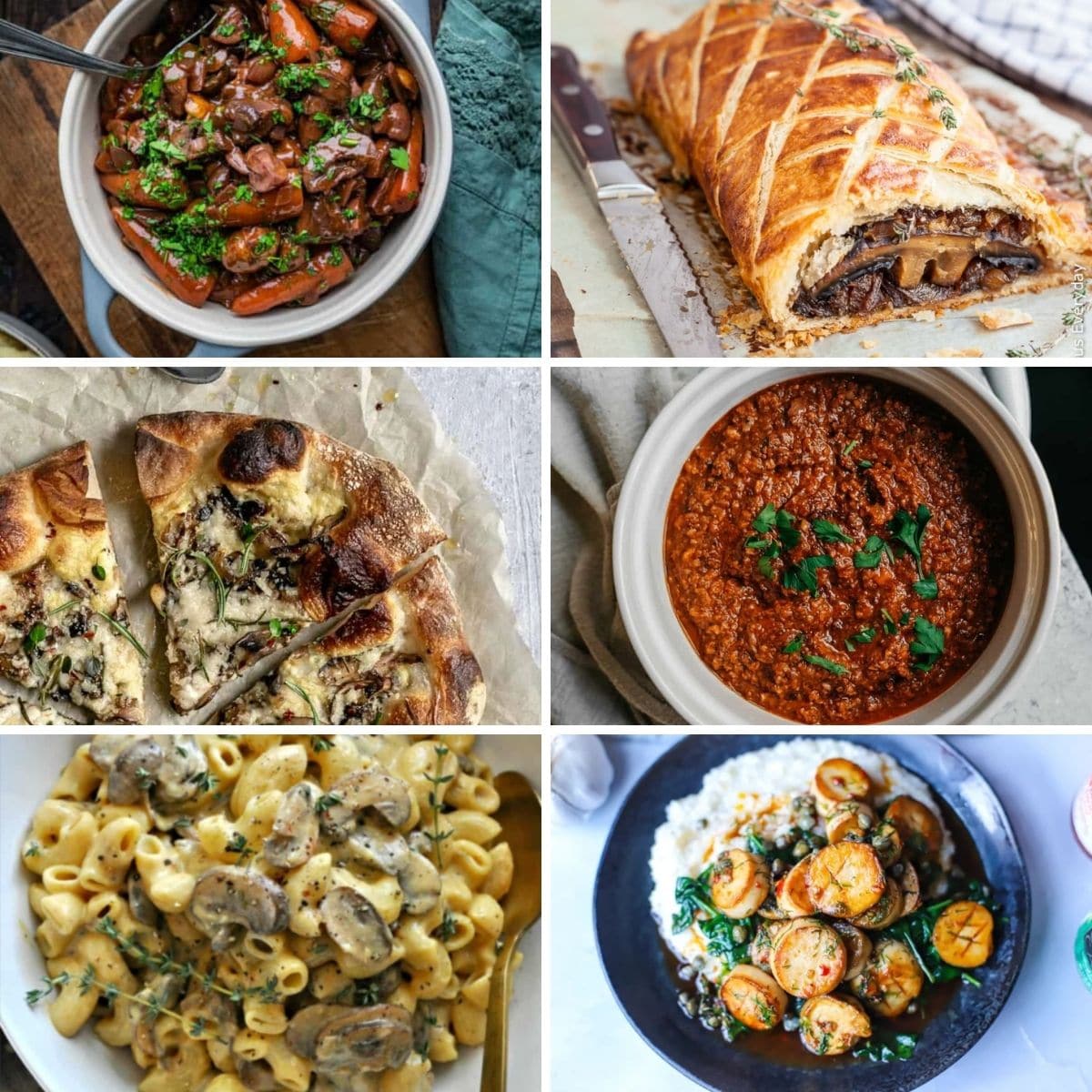 Mushrooms are a life-saver for vegan dinner ideas. Perfect substitutes for meat, they are an easy way to add textures to your dishes.
Pull together vegan mushroom recipes to wow even your fussiest friends with this list of the best from around the web.
Vegan stuffed mushrooms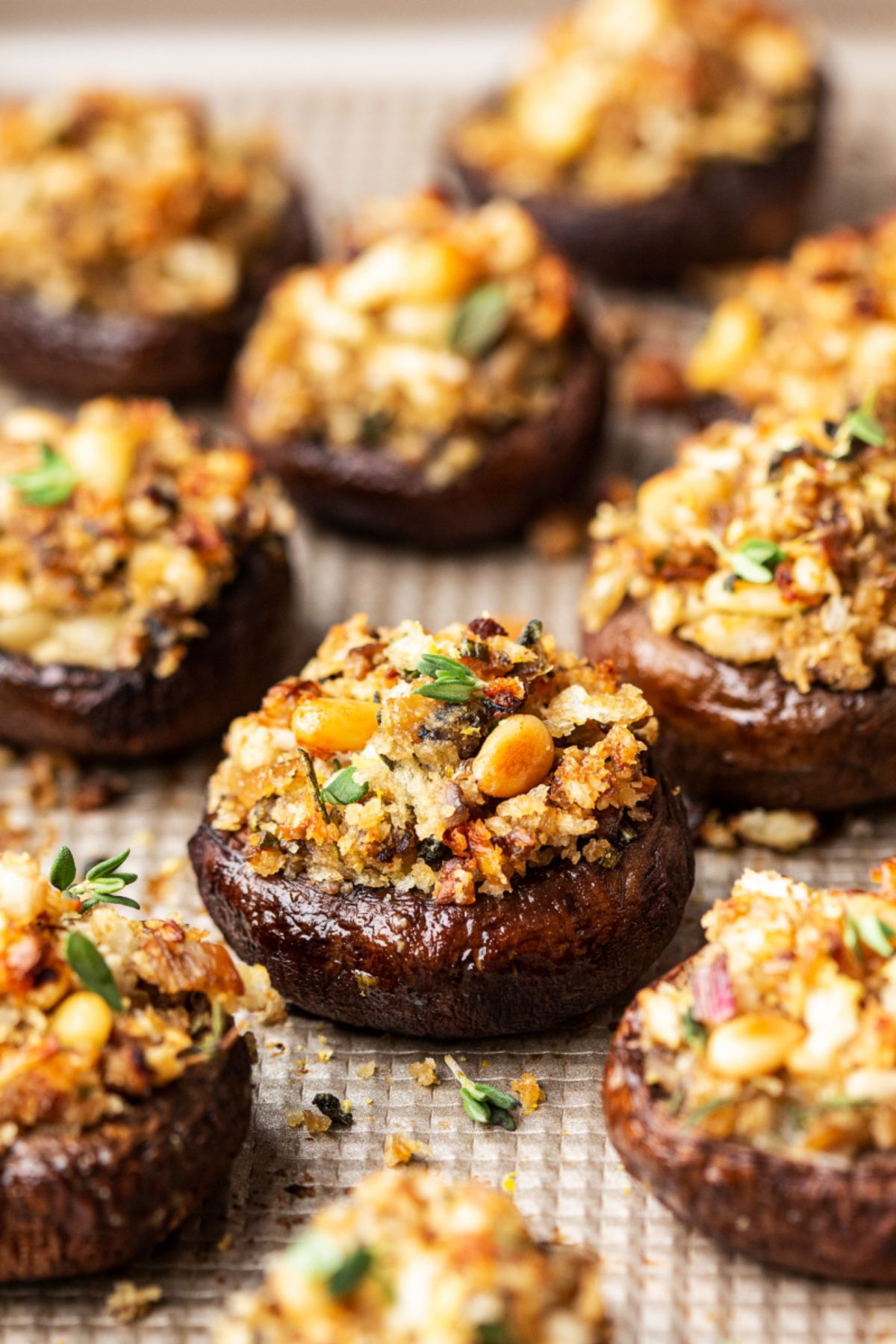 Let's start things off with a plump and juicy appetizer. These stuffed mushrooms from Lazy Cat Kitchen will get your appetite off to a jump start with their miso infused taste.
Mushroom bourguignon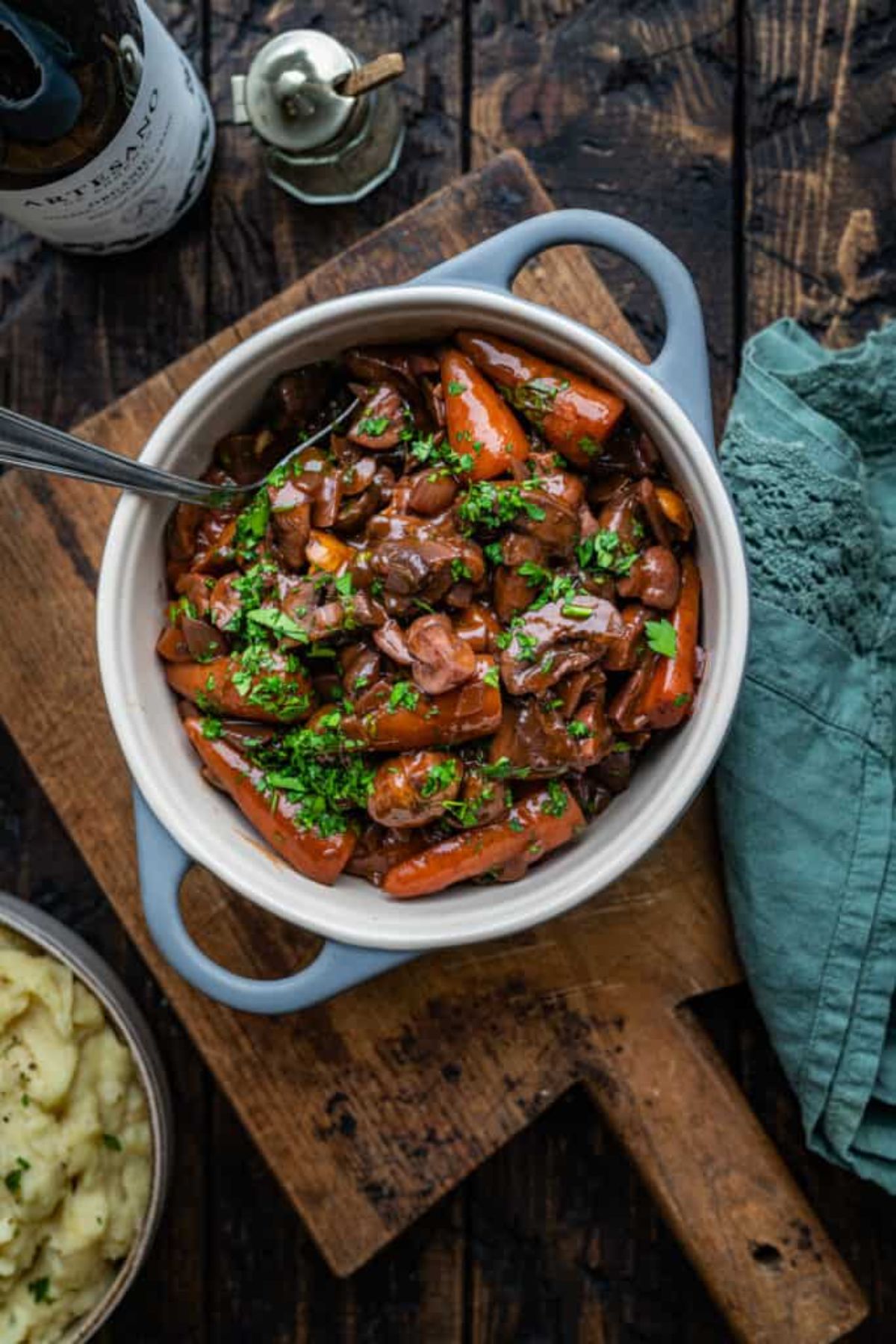 You don't have to leave the delicious flavors of this French classic to the meat-eaters. Supergolden Bakes has put together a vegan version that pairs perfectly with Malbec.
Vegan mushroom meatballs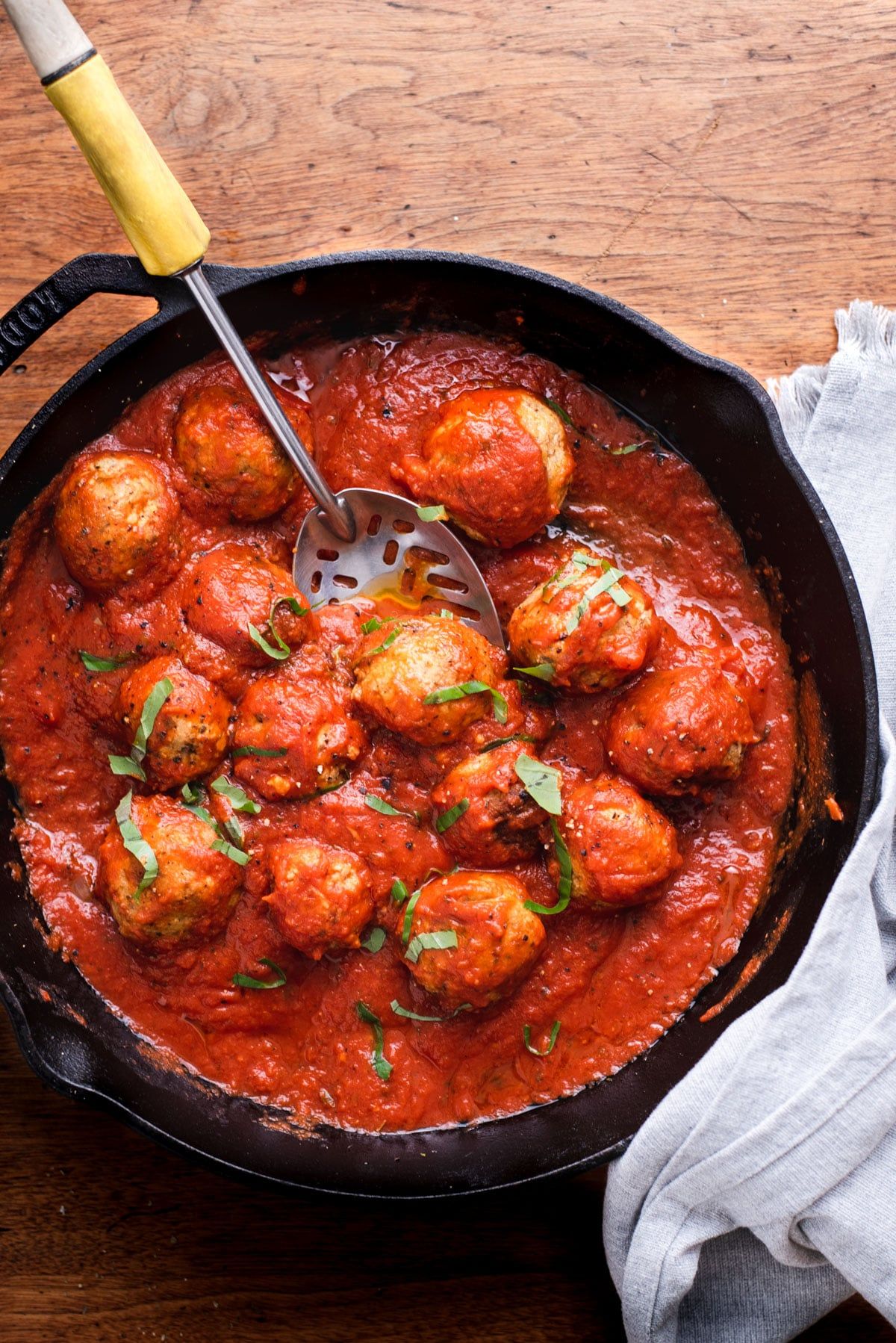 If you're a batch cooking fan then you'll love these mushroom and lentil meatballs from Cozy Peach Kitchen. They're easy to cook and freeze well for next week's supper too.
Vegan mushroom wellington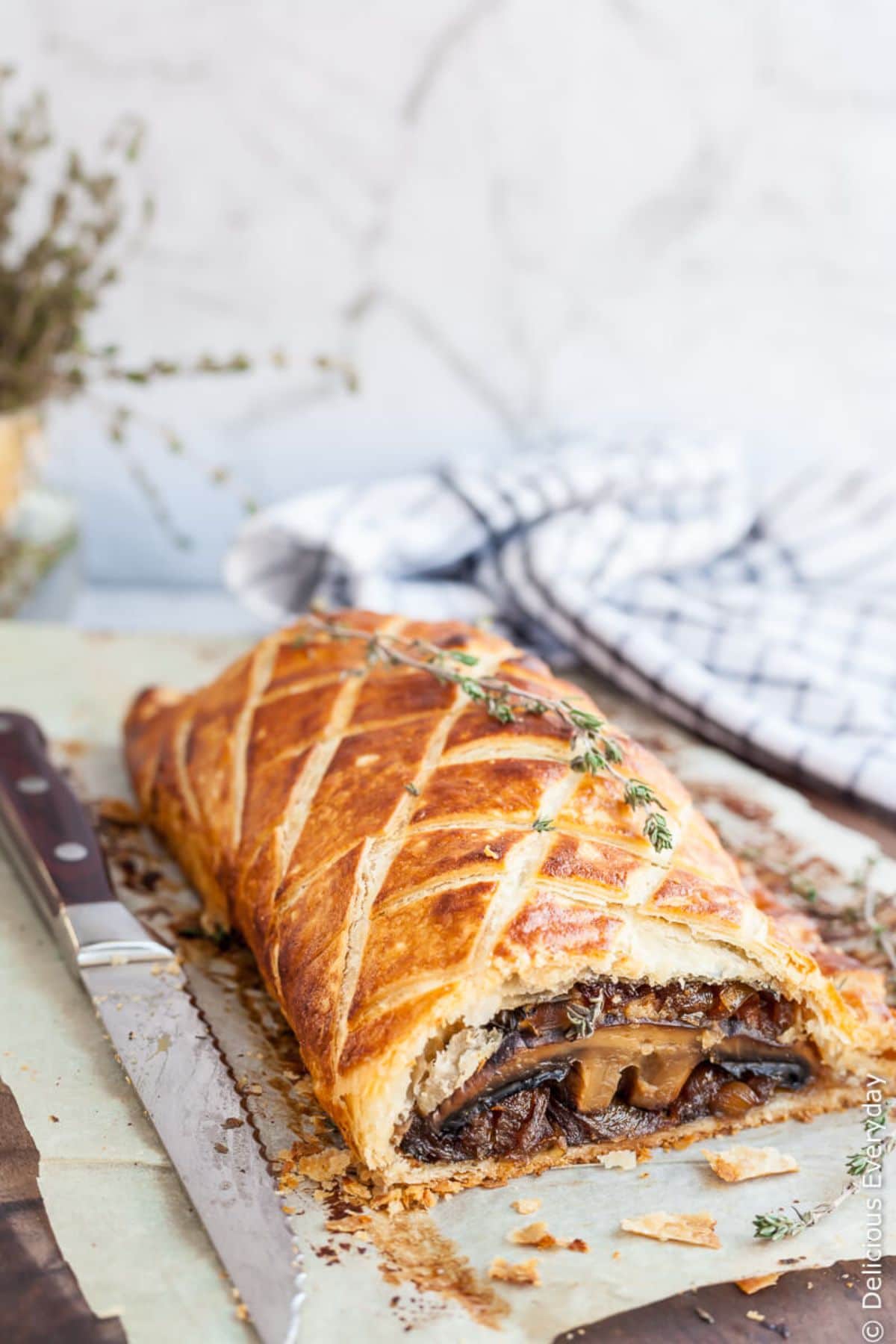 This vegan twist on an English classic is quite the show stopper for your holiday table. Delicious Everyday's recipe uses mushrooms as a replacement for beef.
Vegan caramelized mushroom pizza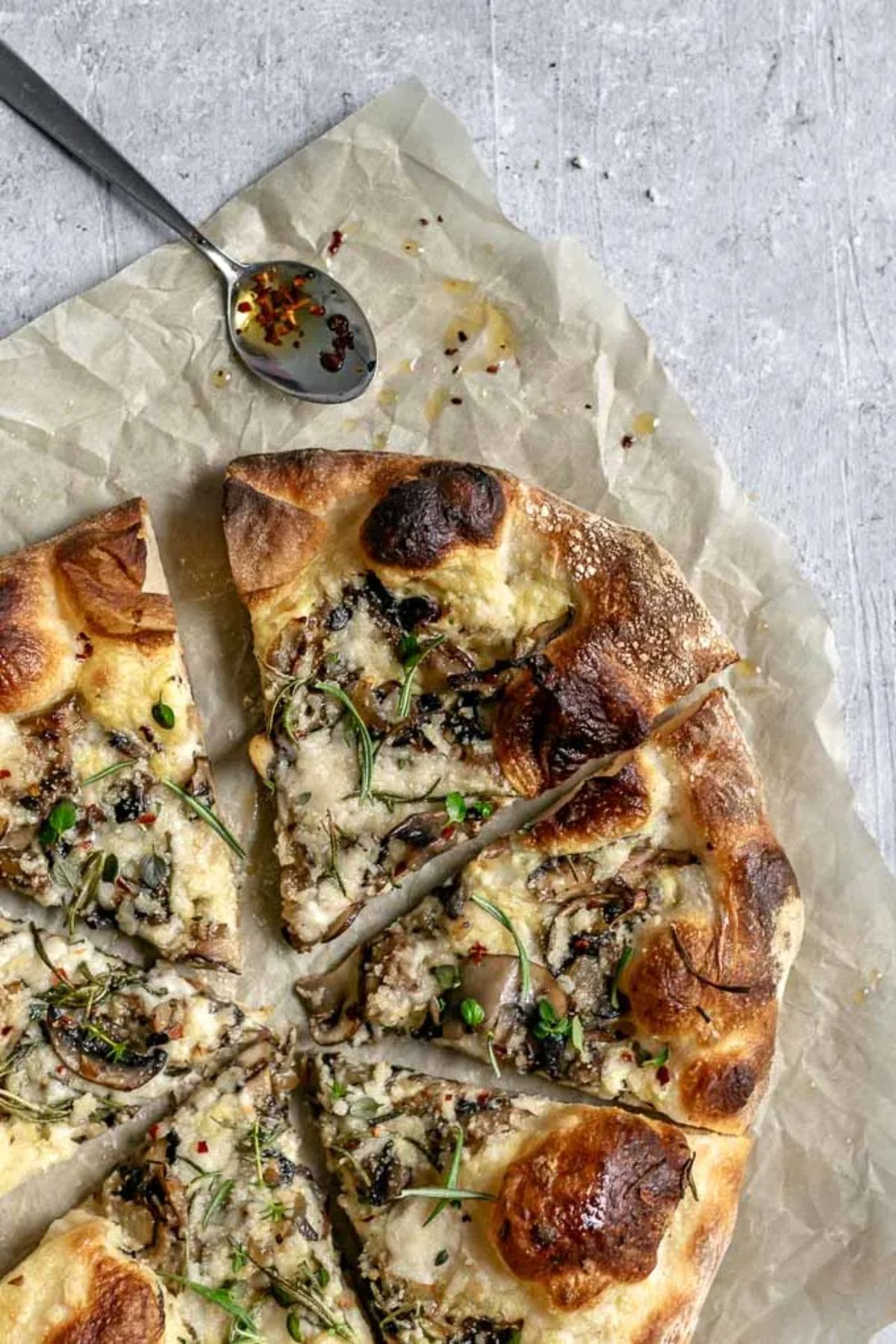 Combining sweet caramelized mushrooms with a vegan white sauce topping, this pizza from The Curious Chickpea is something a bit different for a Friday night supper.
Air fryer sesame shiitake mushrooms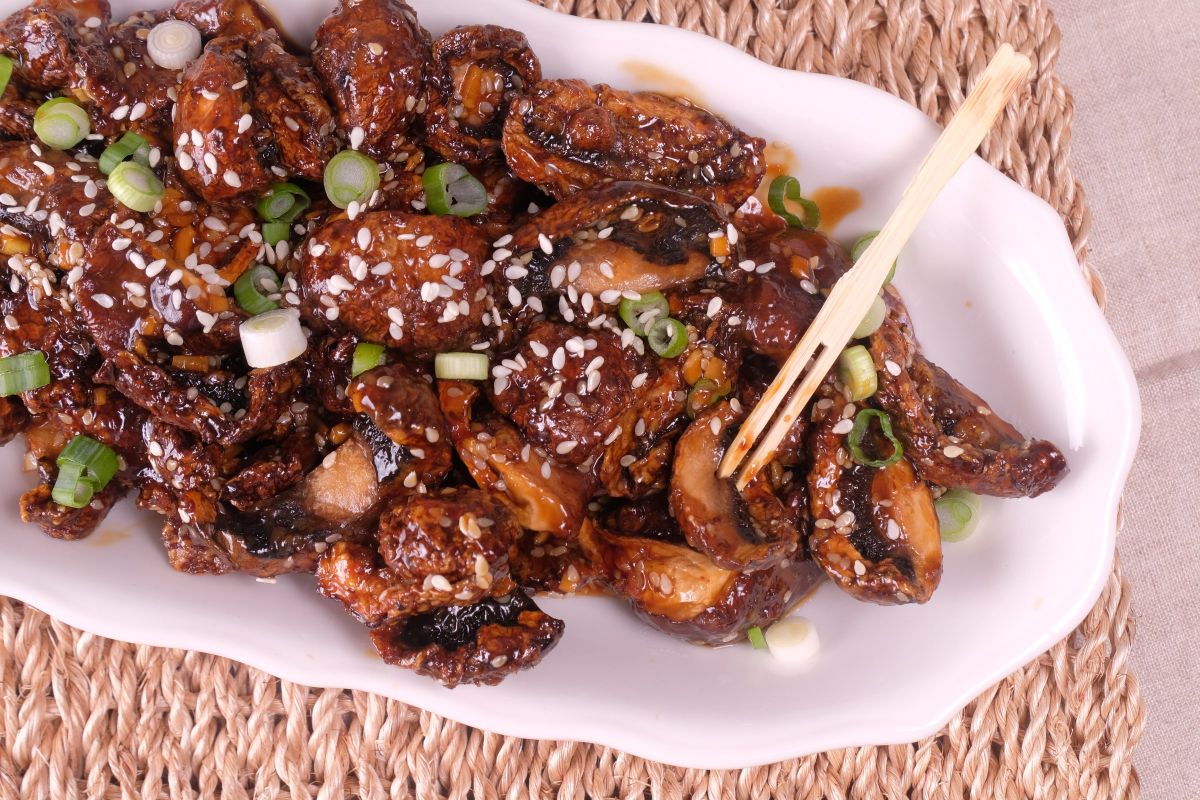 You know I love opportunities to use my air fryer, and these mushrooms from Meatless Makeovers bring an Asian flavor to my midweek meals.
Mushroom stroganoff mac and cheese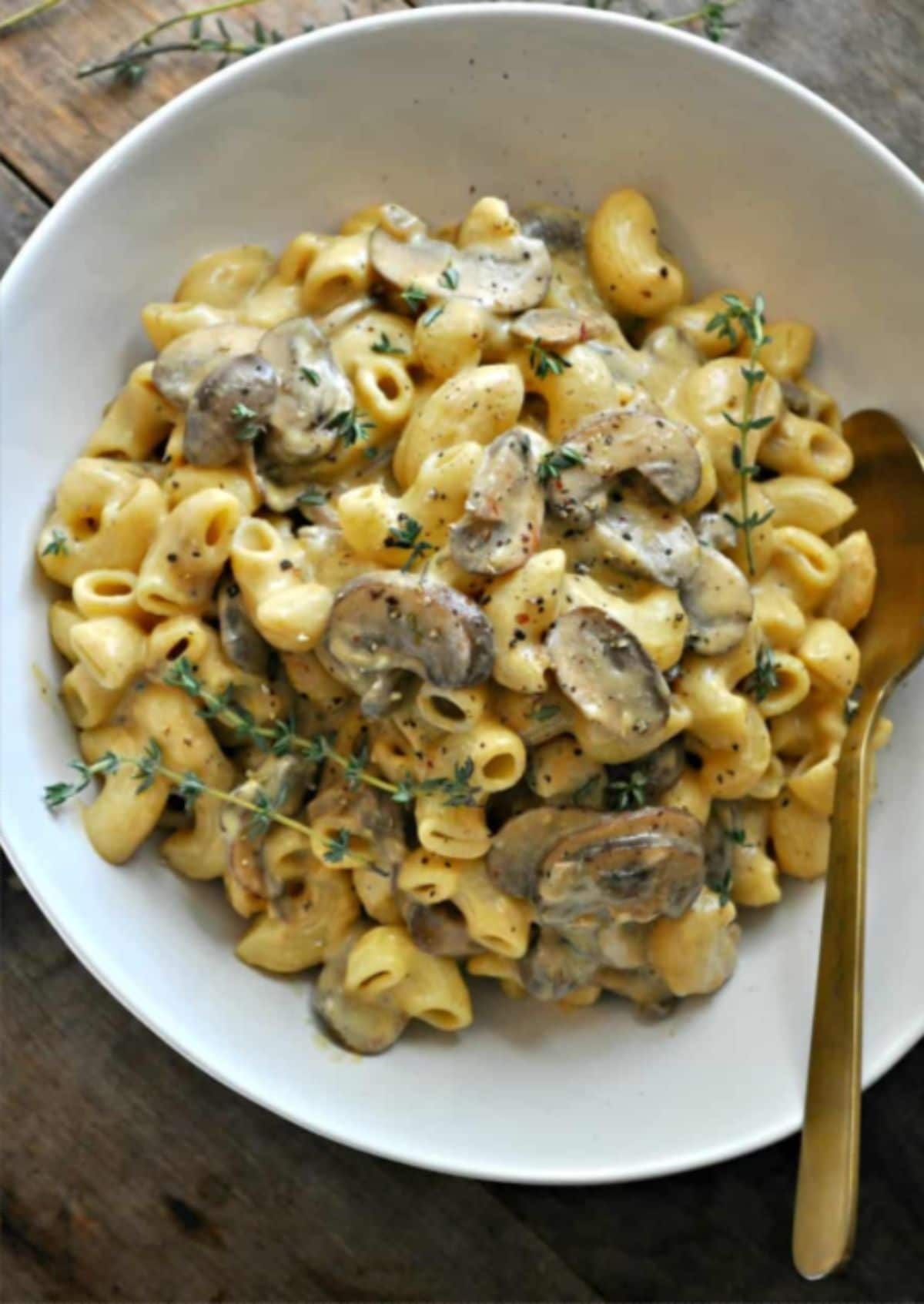 Ok, so it sounds weird at first glance. But this vegan mac and cheese from Rabbit and Wolves is so delicious with its creamy sauce and rich mushroom flavor. Go on; try it!
King oyster mushroom scallops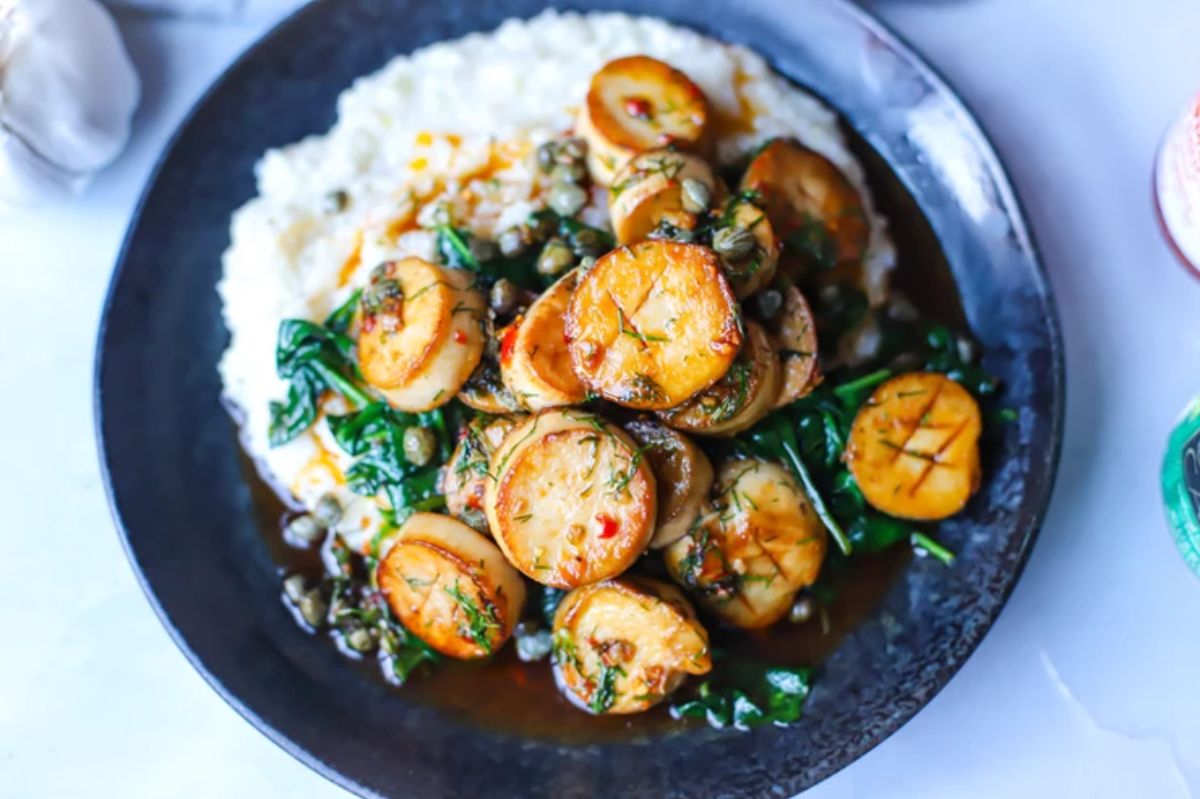 When you're vegan it's not always about finding the perfect dupe for a meat-based meal. But sometimes you really want to join in with a meal, but still want to keep plant-based. You need these fake scallops from Let's Be Vegan. They're just as good as the real thing.
Vegan chickpea mushroom and spinach curry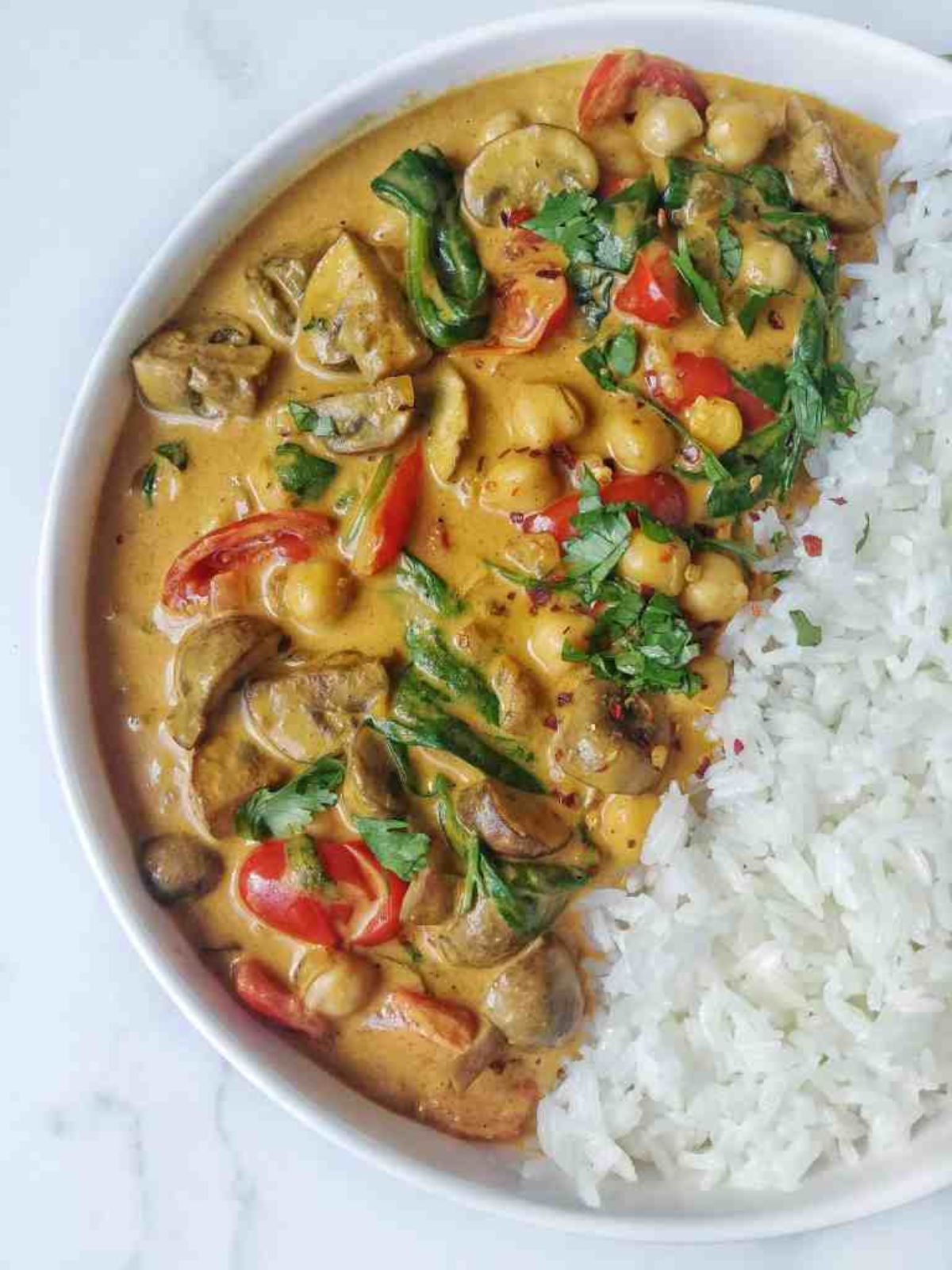 This mild curry from Munchmeals by Janet is the perfect family-friendly vegan supper. Warming and cozy, you'll be itching to tuck in.
"Meat" sauce for vegan spaghetti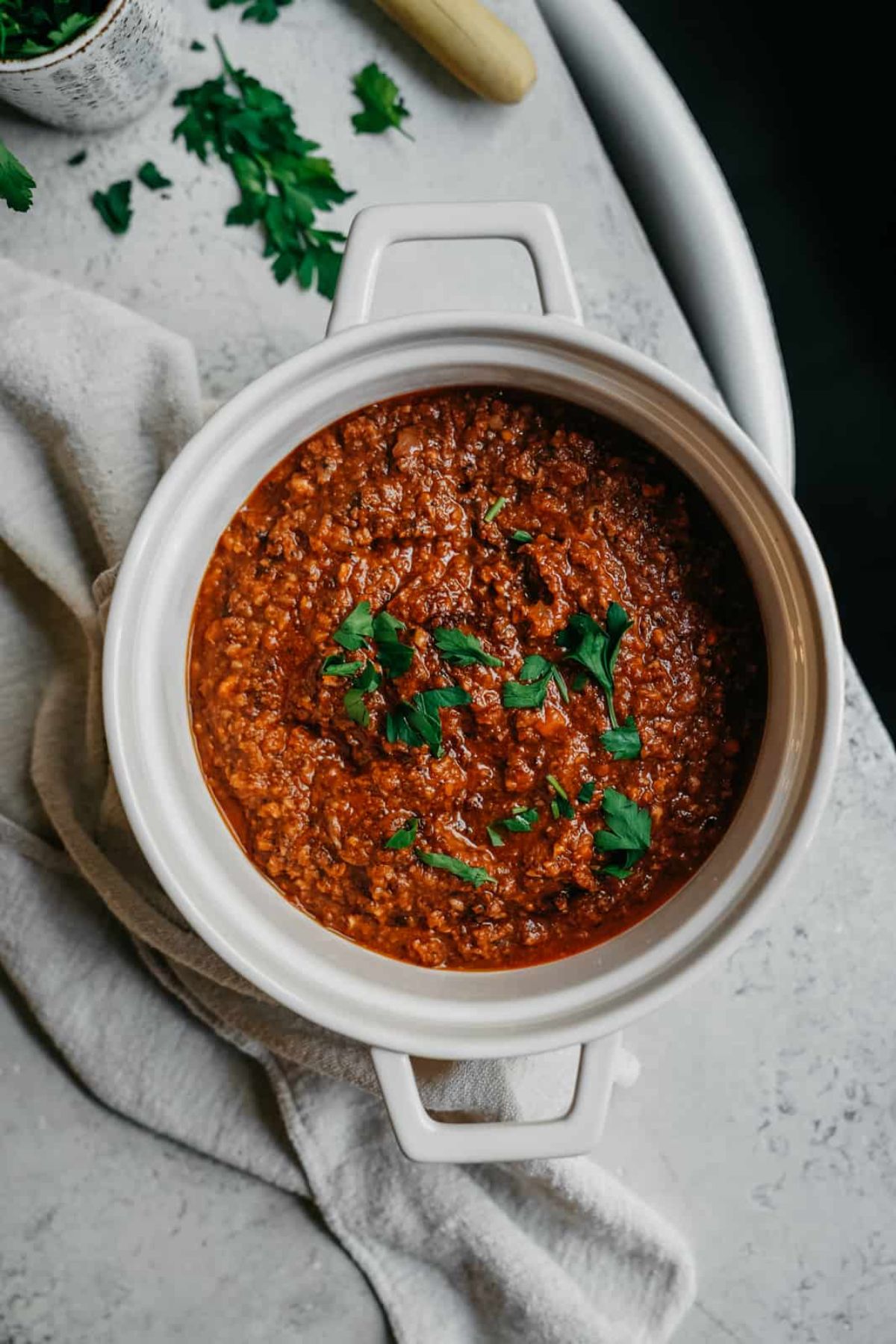 The consistency of your favorite bolognese sauce without the meat – everyone's a winner! Food by Maria shows you how to make this easy and comforting dish.
Crispy roasted gnocchi with garlic mushrooms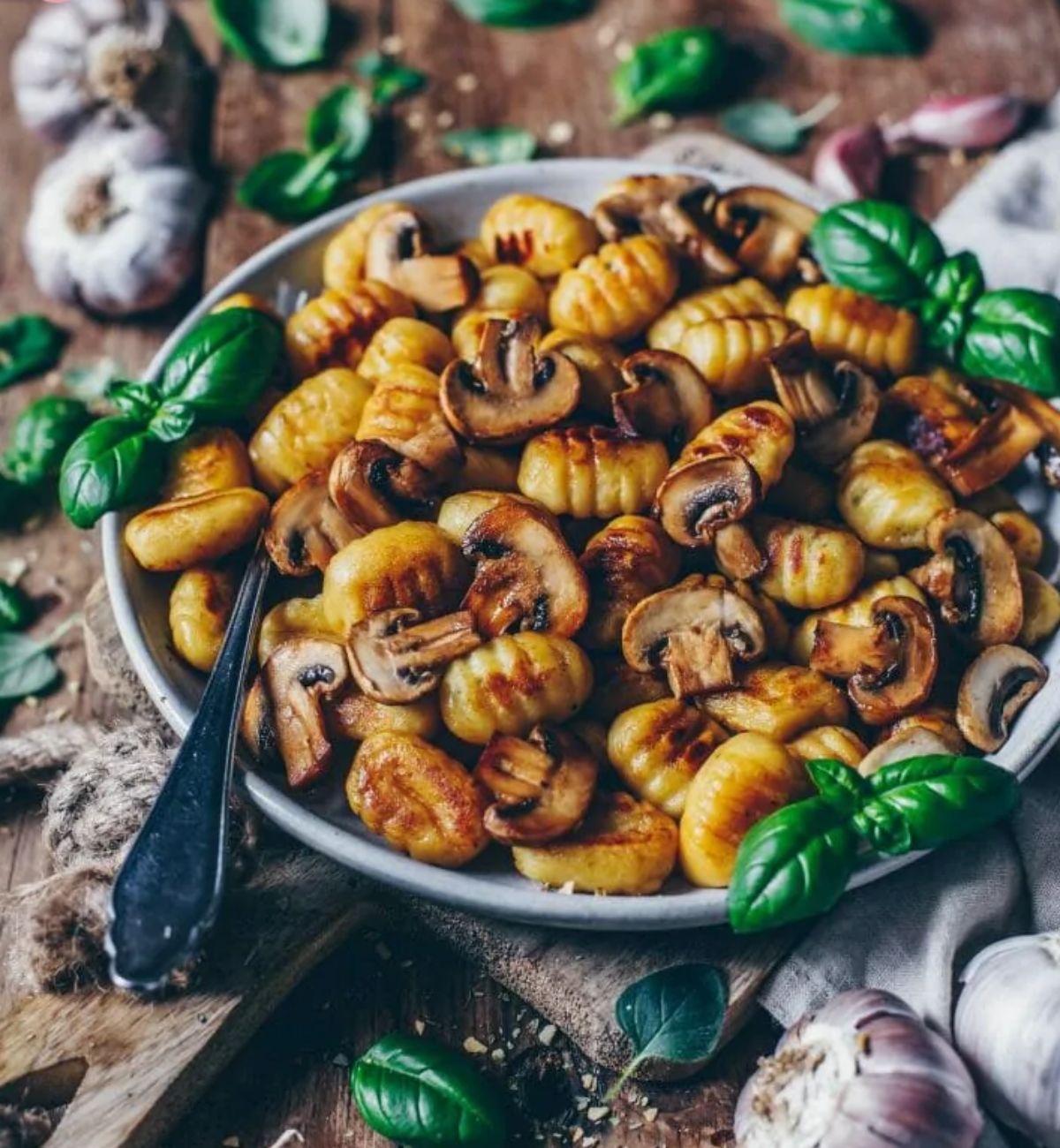 Gnocchi is my favorite pasta. The little fluffy parcels of tastiness blow my mind. These gluten-free dumplings from Bianca Zapatka mesh perfectly with the garlicky mushrooms.
Vegan oyster mushroom nachos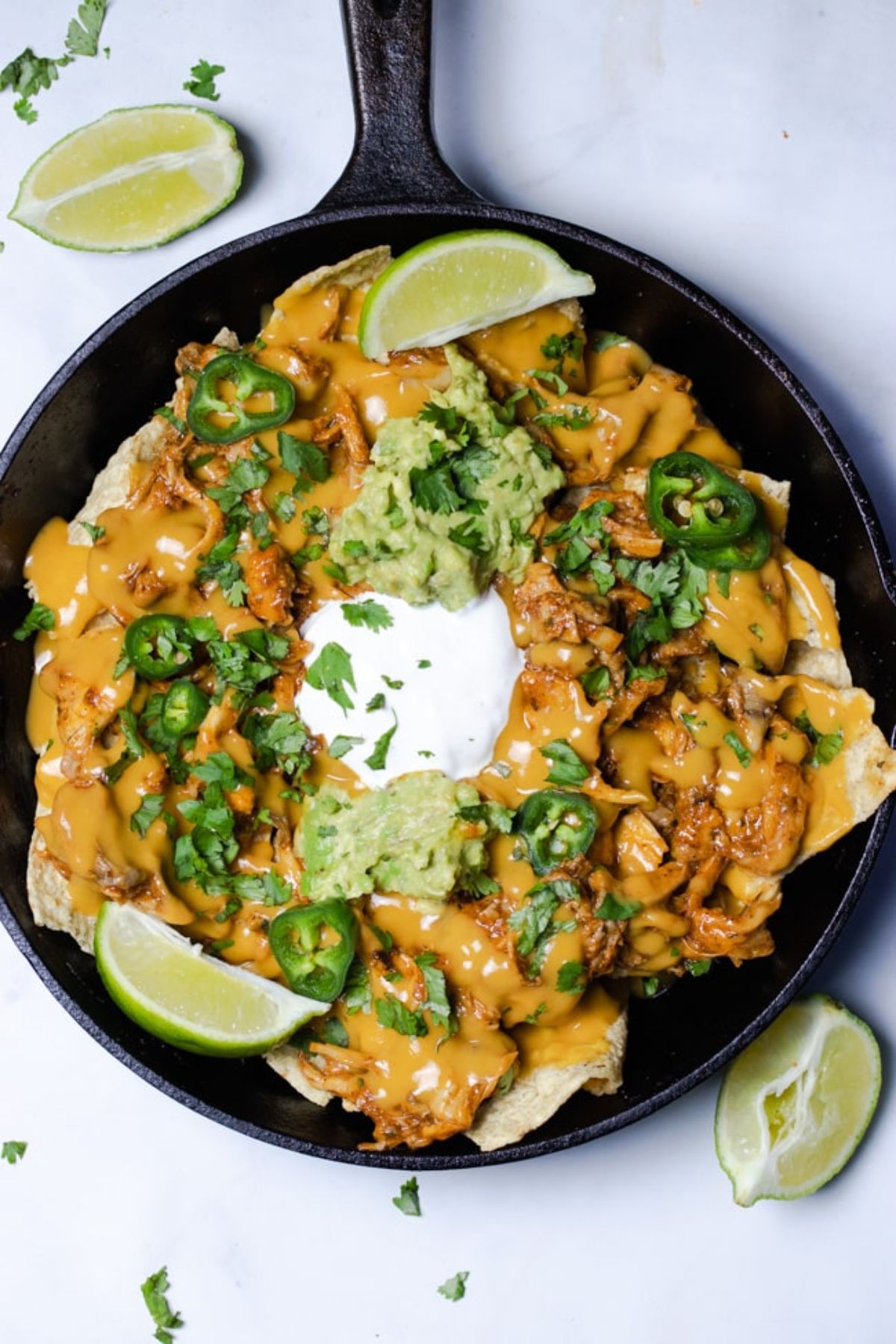 Vegan fajitas from Vegan With Curves will bring the house down at your next gathering. Place them on the coffee table with a collection of your favorite dips and accompaniments to the delight of your friends.
Vegan mushroom gravy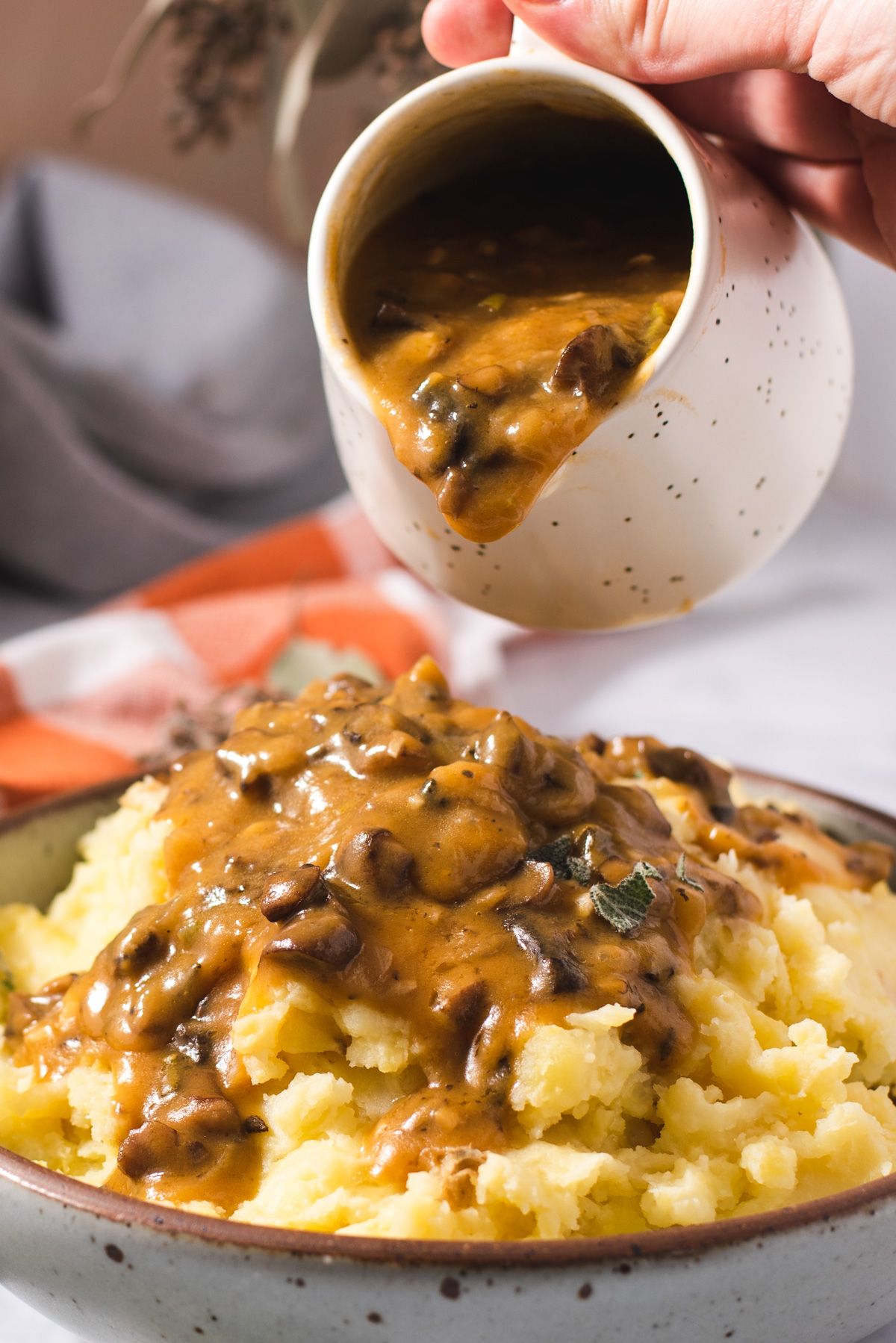 Made in only 15 minutes you can serve up this vegan mushroom gravy from Cozy Peach Kitchen in super-quick time. It's deliciously creamy and perfectly seasoned.
Vegan creamy coconut mushroom lentils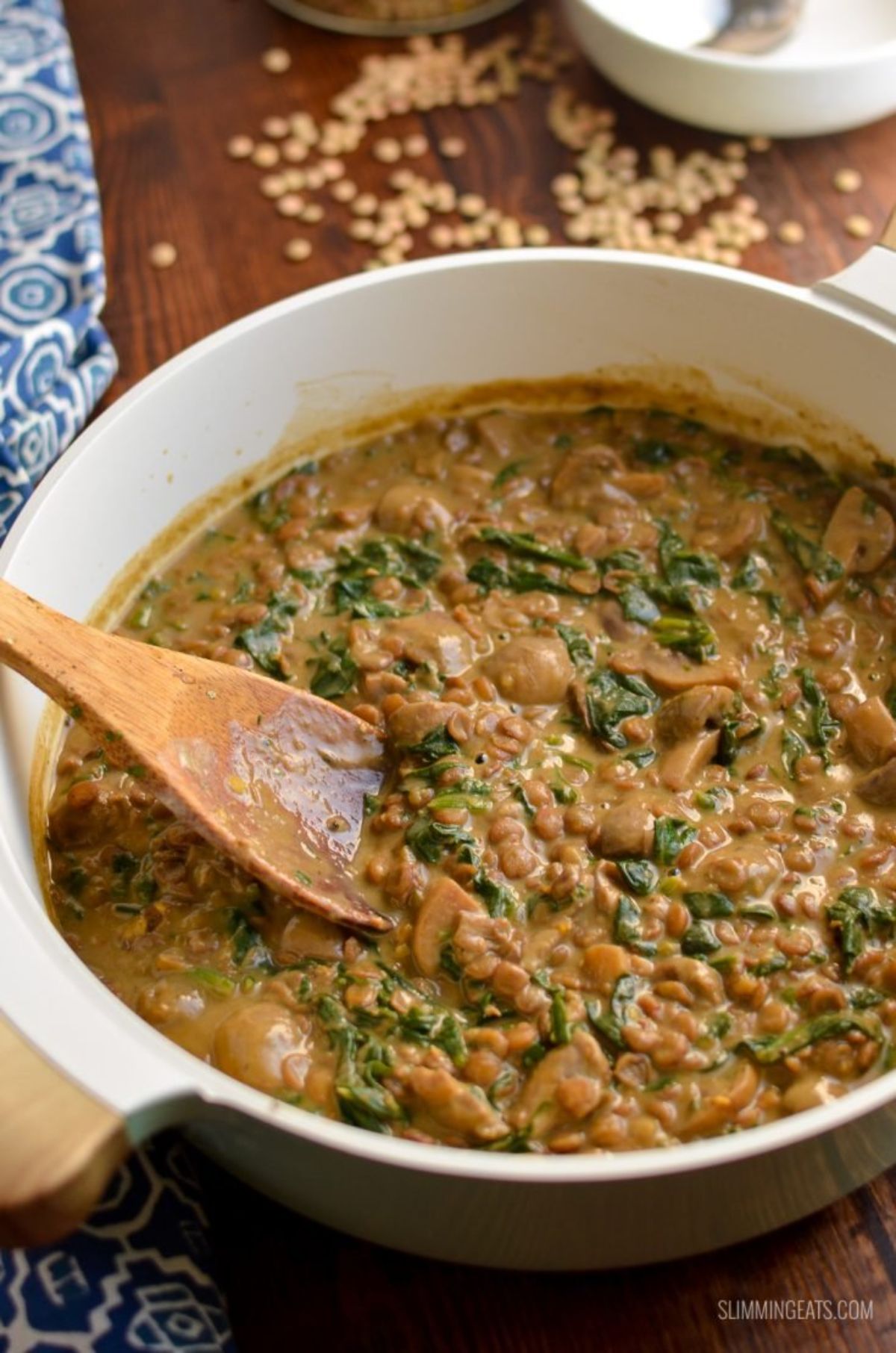 Make your meat-free Monday extra special with this vegan mushroom lentil dish from Slimming Eats. Inspired by dahl, with the addition of porcini mushrooms, the layers of flavor are mouthwatering.
Easy vegan mushroom bacon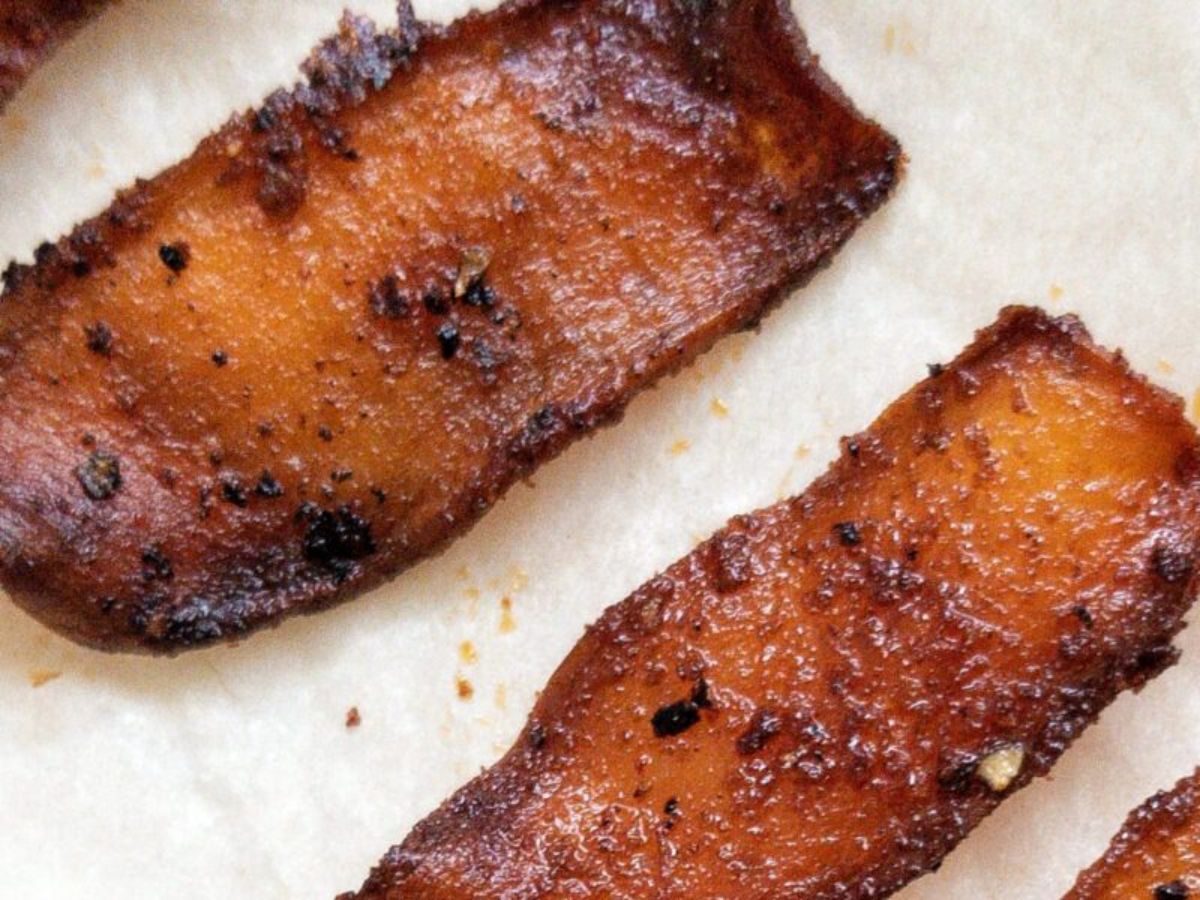 Looking for a passable alternative to fill your bacon sandwich? Try these slices of vegan bacon from Plantbased and Broke. Crispy, peppery and perfect for your floury bap.
Warm mushroom salad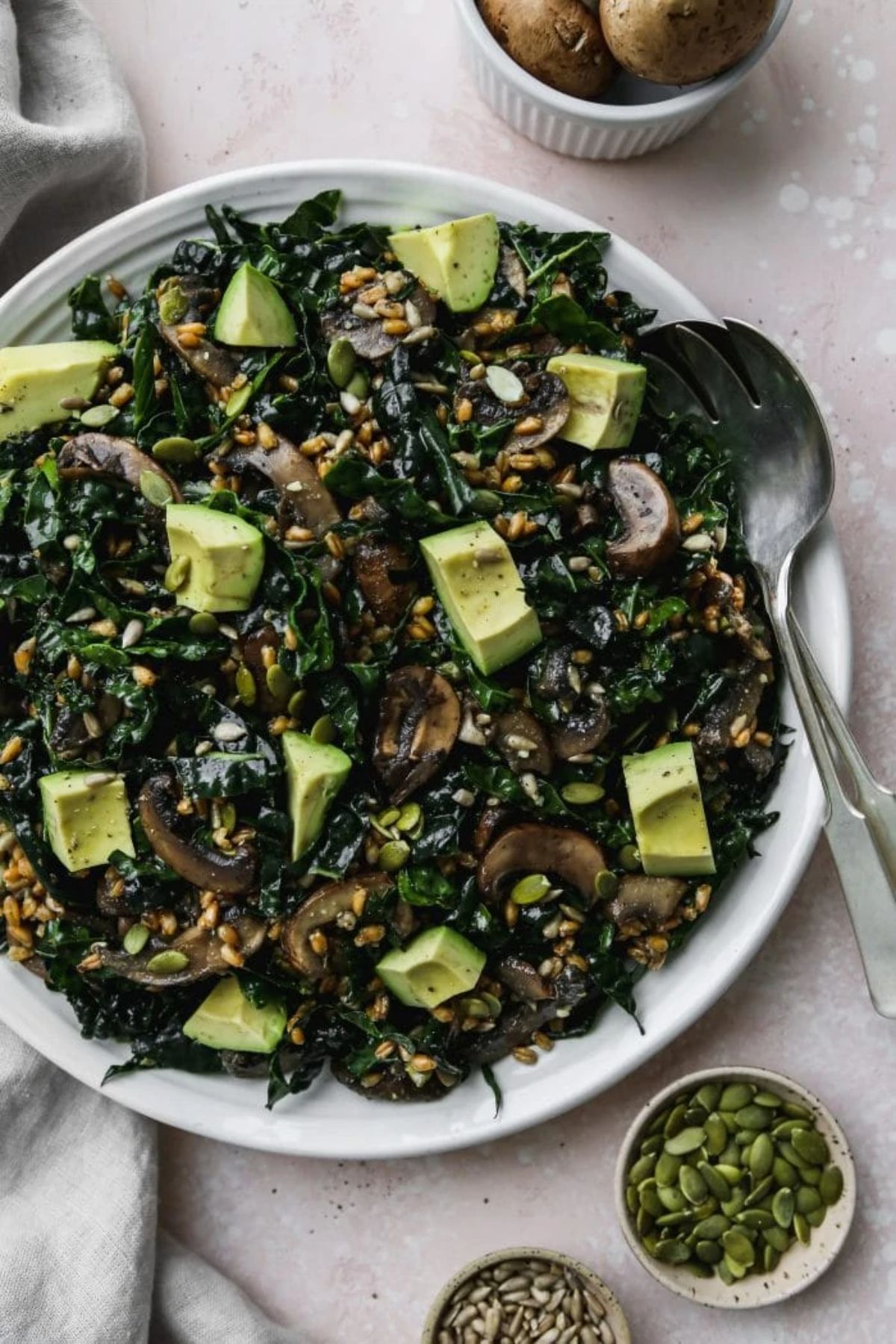 Salads aren't just for summer. This warm kale and mushroom salad from Walder Wellness ups your veggie intake without sacrificing flavor.
Vegan mushroom pate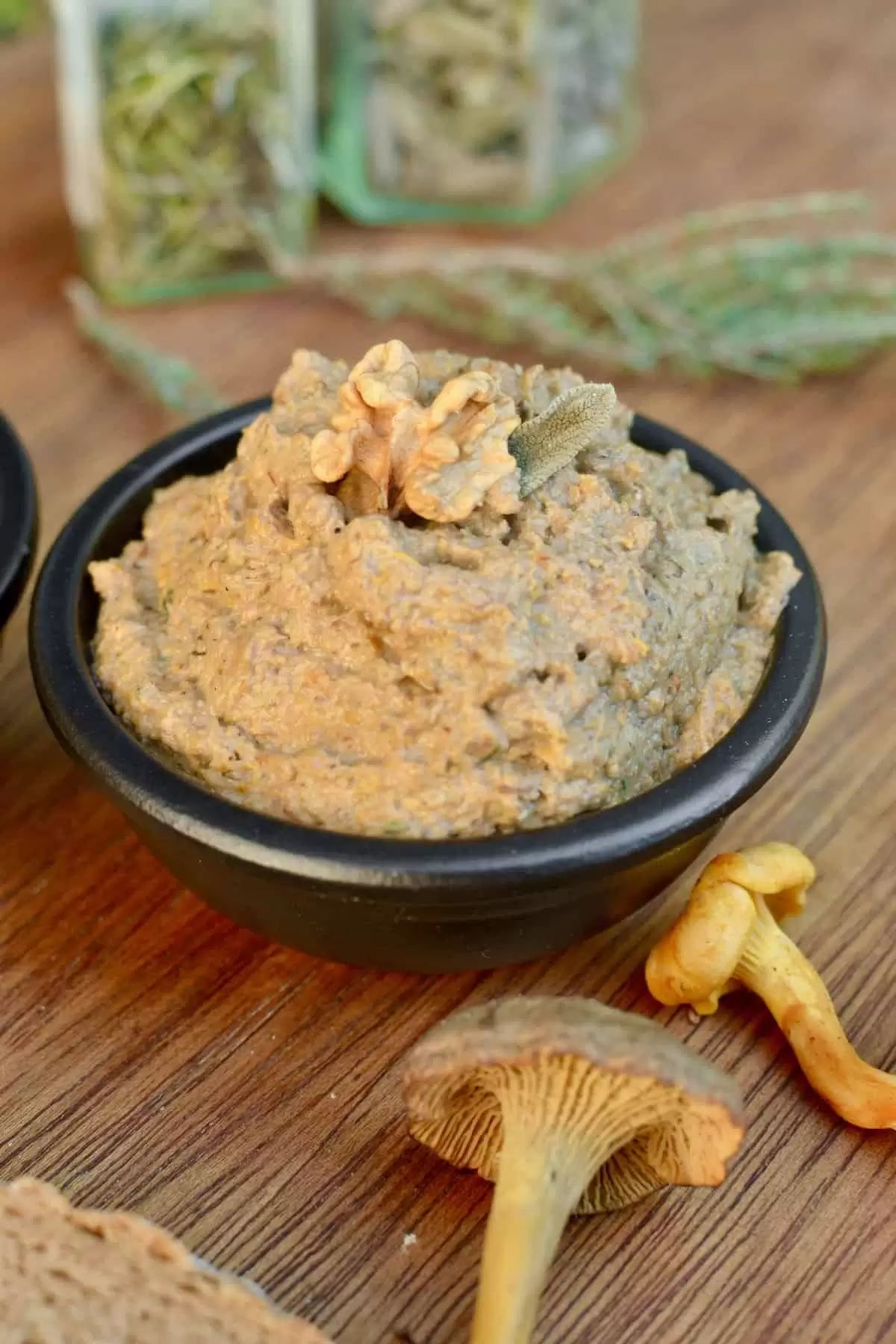 Just home from work and need a quick fix from the fridge? Make this mushroom pate from Vegan on Board in advance and you can pile it on your toast while you're decompressing from the day.
Vegan cream of mushroom soup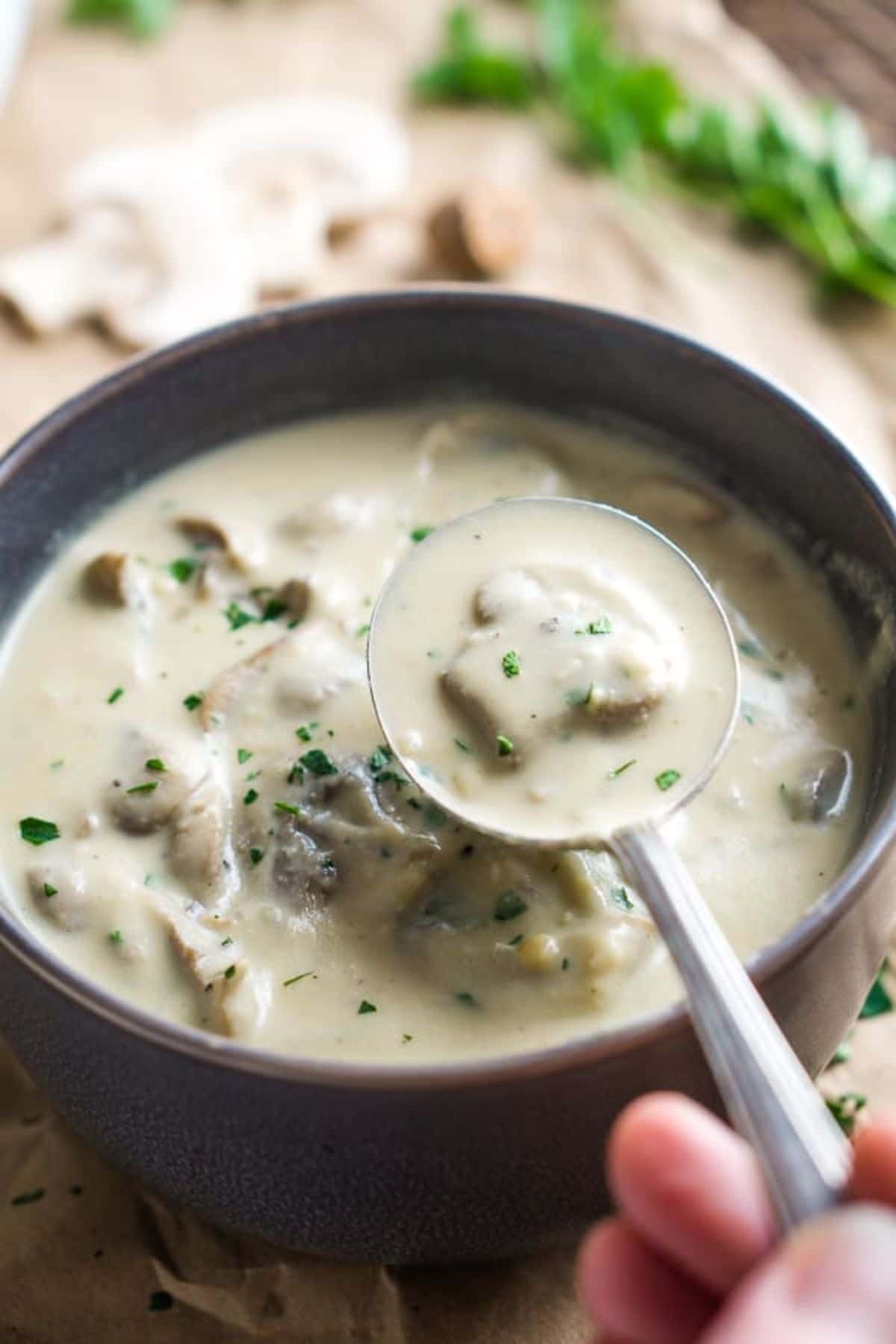 The days of tinned, gloopy mushroom soup are behind you. Take the time to discover this vegan cream of mushroom soup from The Kitchen Girl and you'll never look back.
King oyster scallop cioppino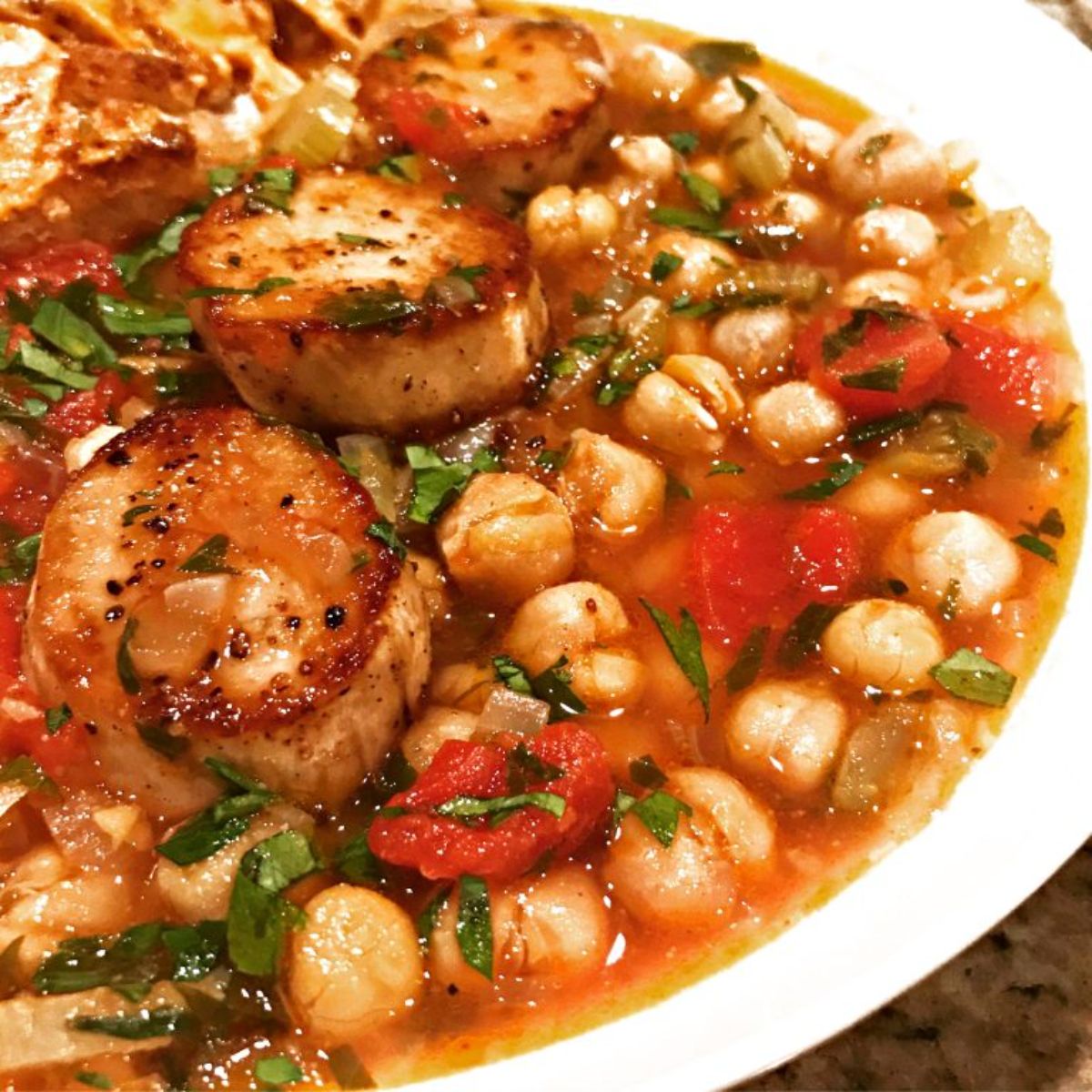 This Italian-American stew is traditionally made with fish, but it works well with King Oyster mushrooms in This Wife Cooks' version.
Vegan ramen noodles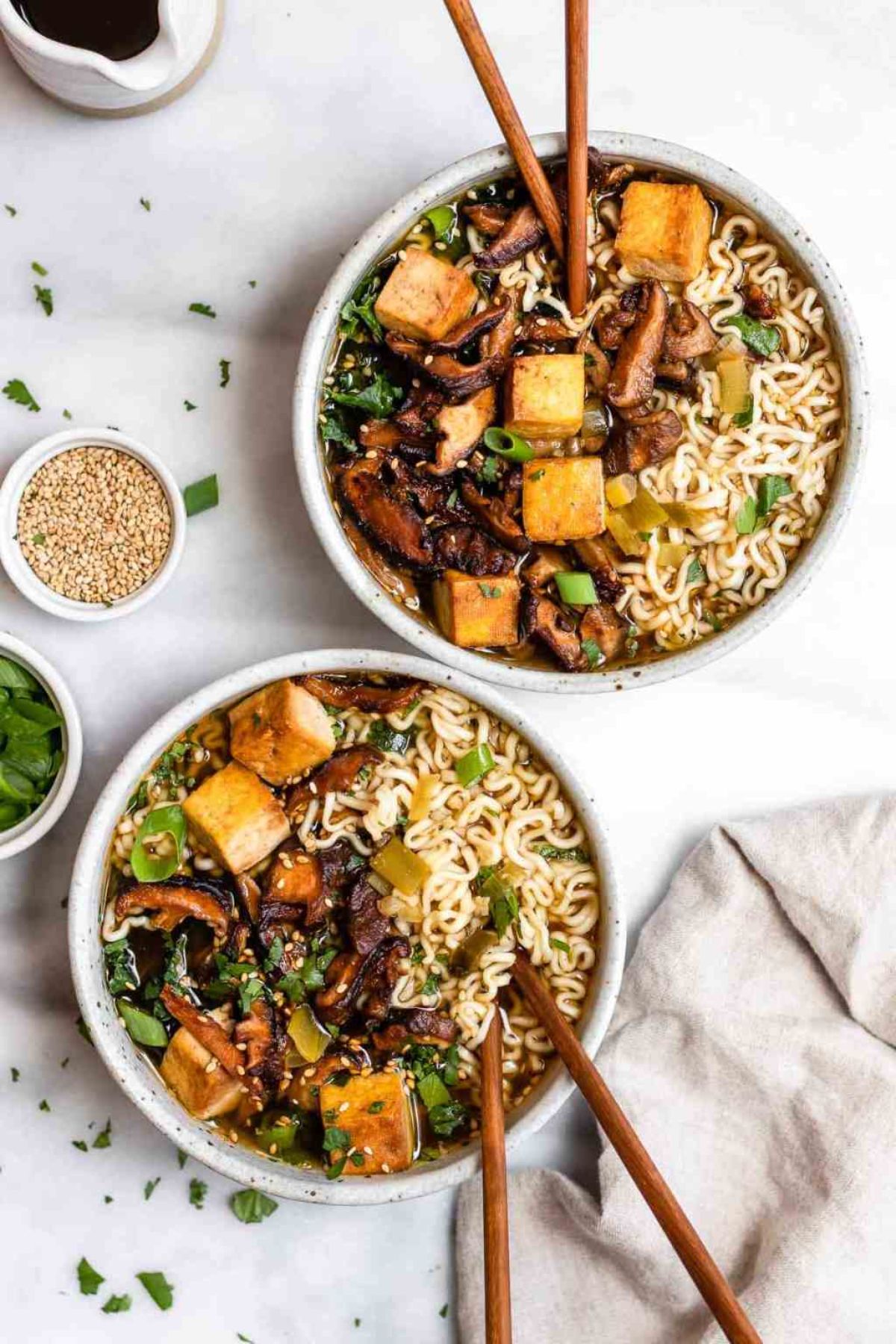 Just like Wagamamas makes! These vegan ramen noodles with marinated mushrooms from Eat With Clarity have a deep, smoky miso flavor that you'll love.
King oyster mushroom pulled pork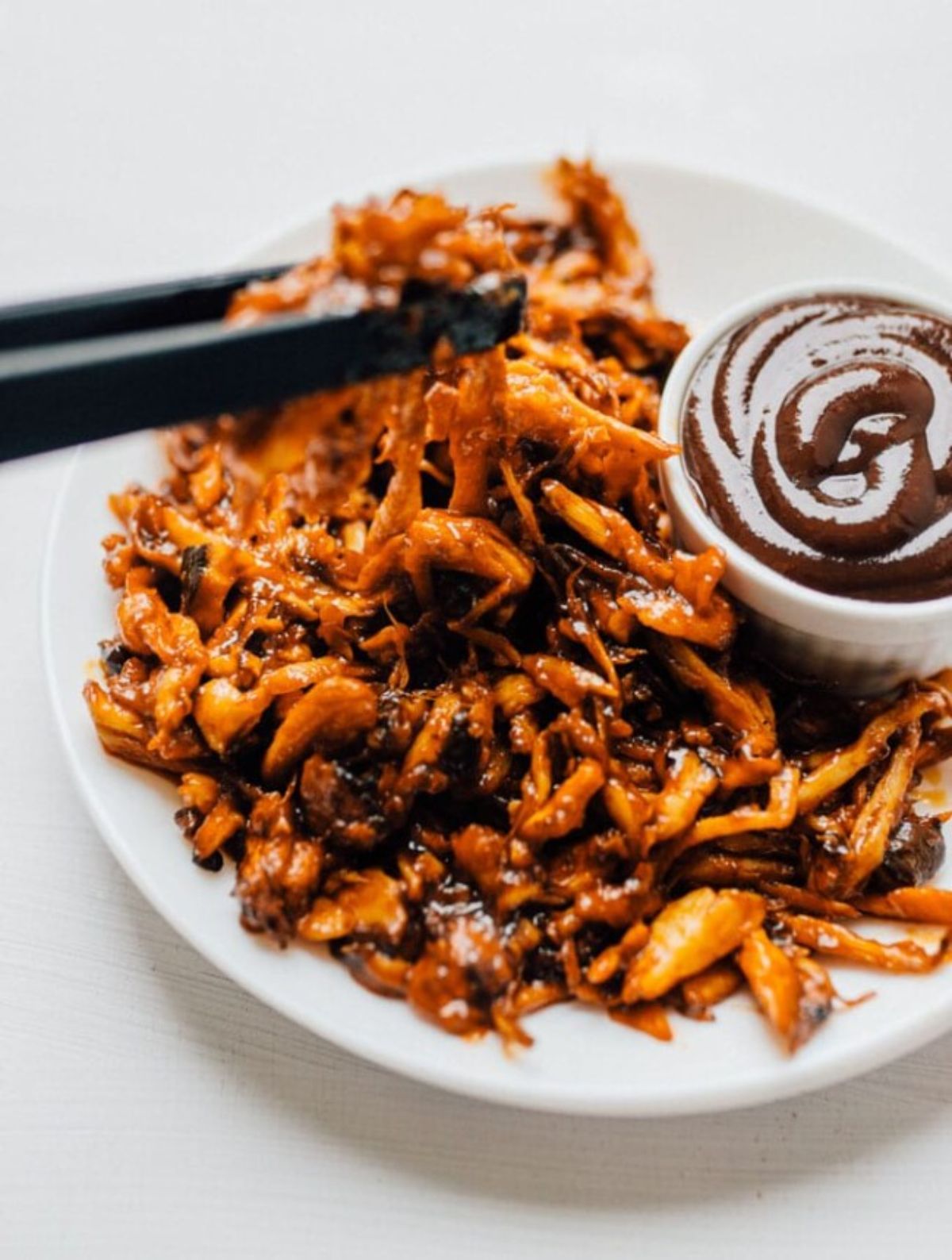 Missing out on the pulled pork bun everyone else is enjoying? This recipe from Live Eat Learn takes the great King Oyster mushroom and some delicious sauce to recreate a vegan version.
Creamy lemon and mushroom pasta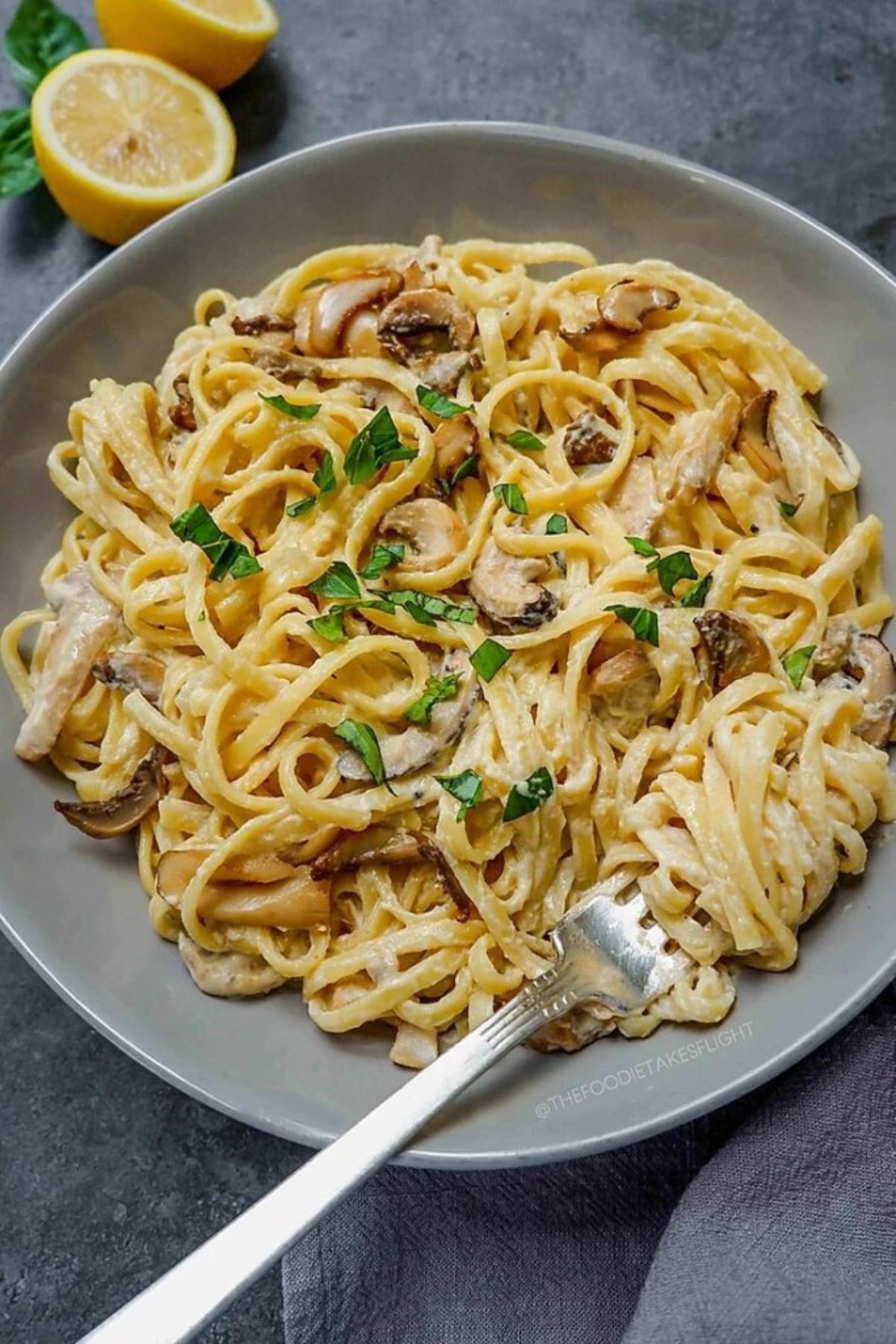 A creamy pasta sauce that's also vegan? Yes, please! The lemon in this recipe from The Foodie Takes Flight brings a lightness to the comforting dish.
Healthy mushroom and lentil vegan meatballs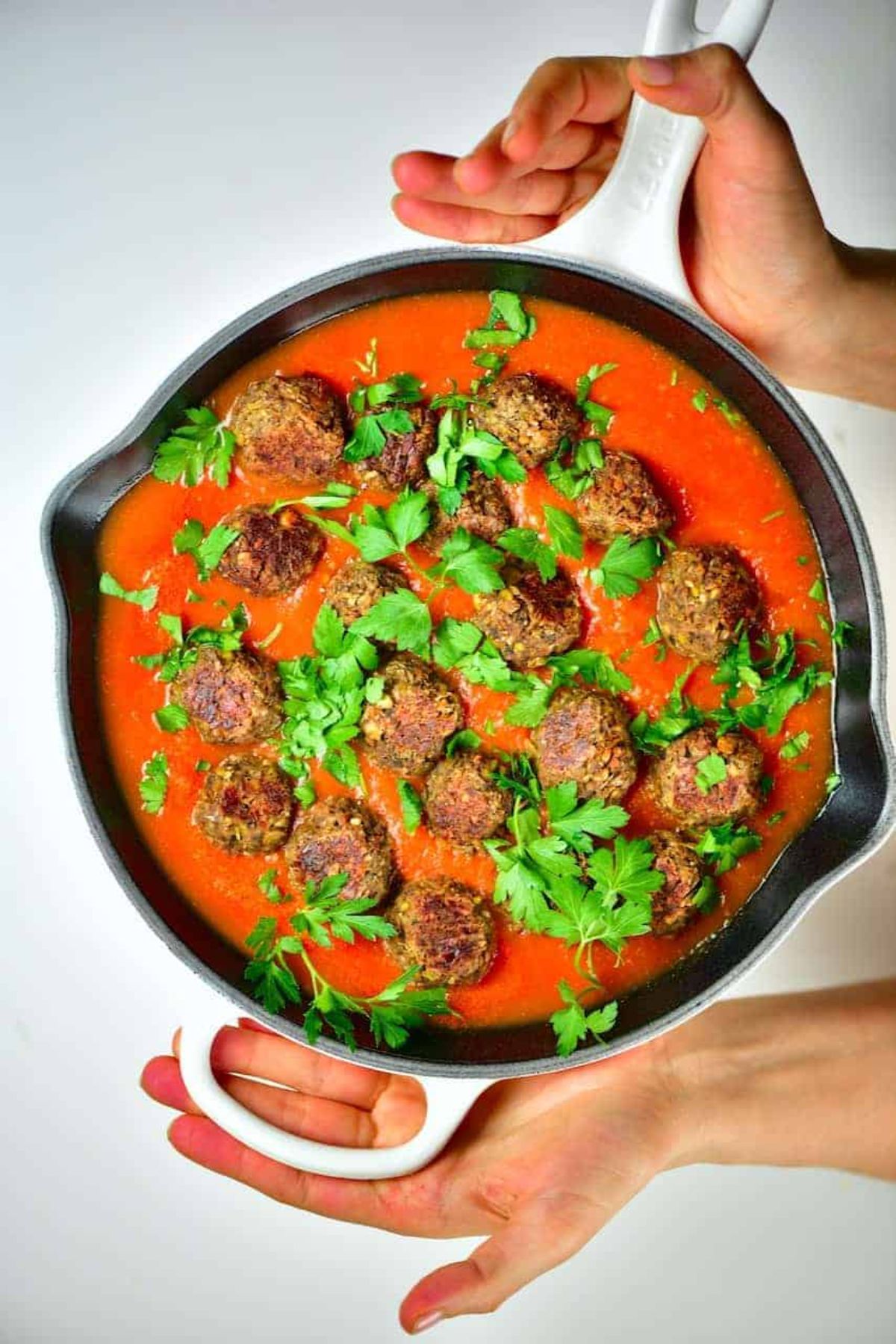 Another take on the lentil and mushroom meatball comes from Alpha Foodie. Gluten-free, dairy-free and really easy to make, you can cover them in your favorite sauce for supper.
One-pot vegan dumplings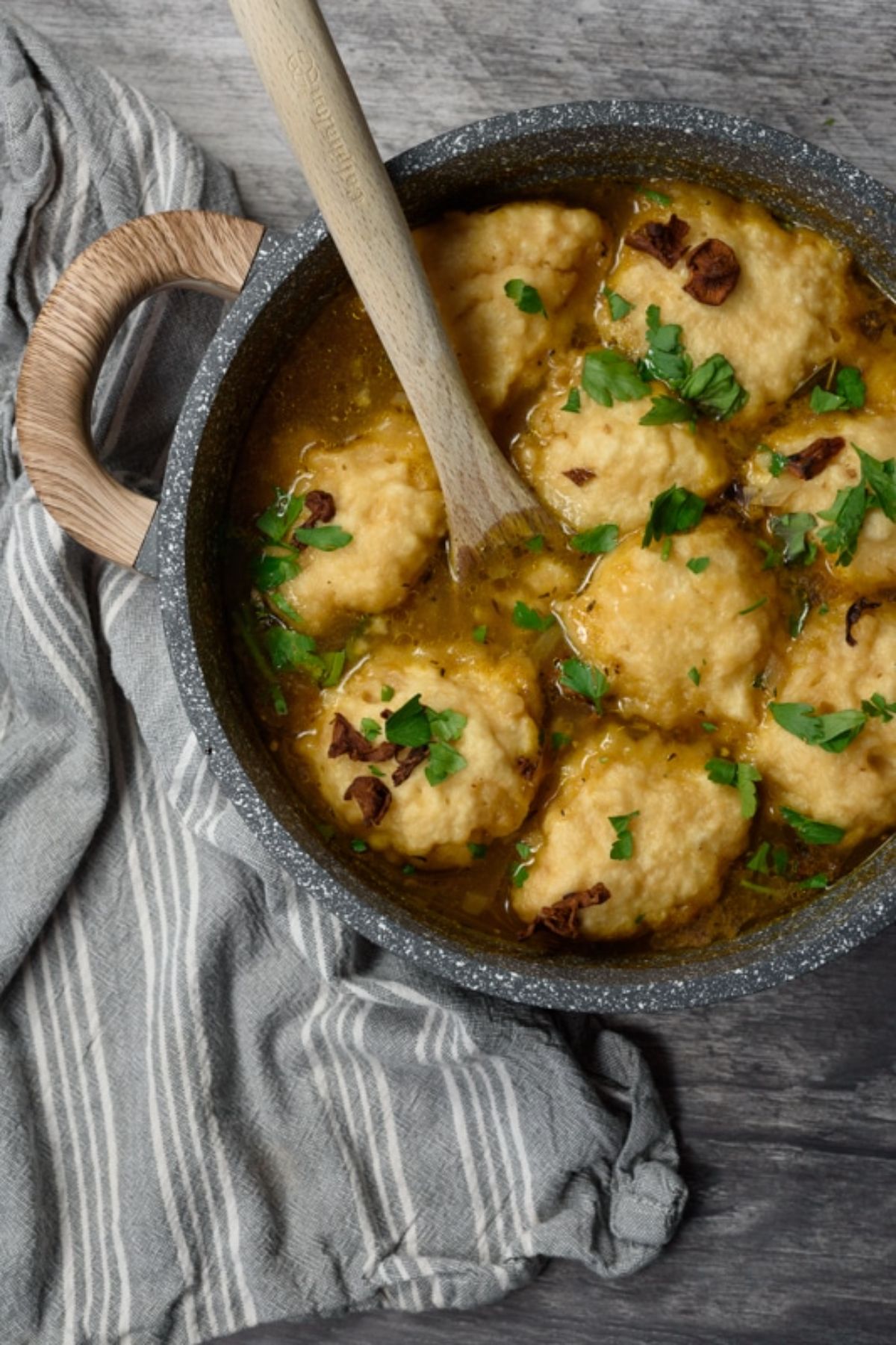 Colder weather means dumplings, and busy evenings mean one-pot meals. So this mushroom and dumpling soup from Delicious Everyday is the perfect delicious combination.
Vegan spinach and mushroom crepes with almond cheese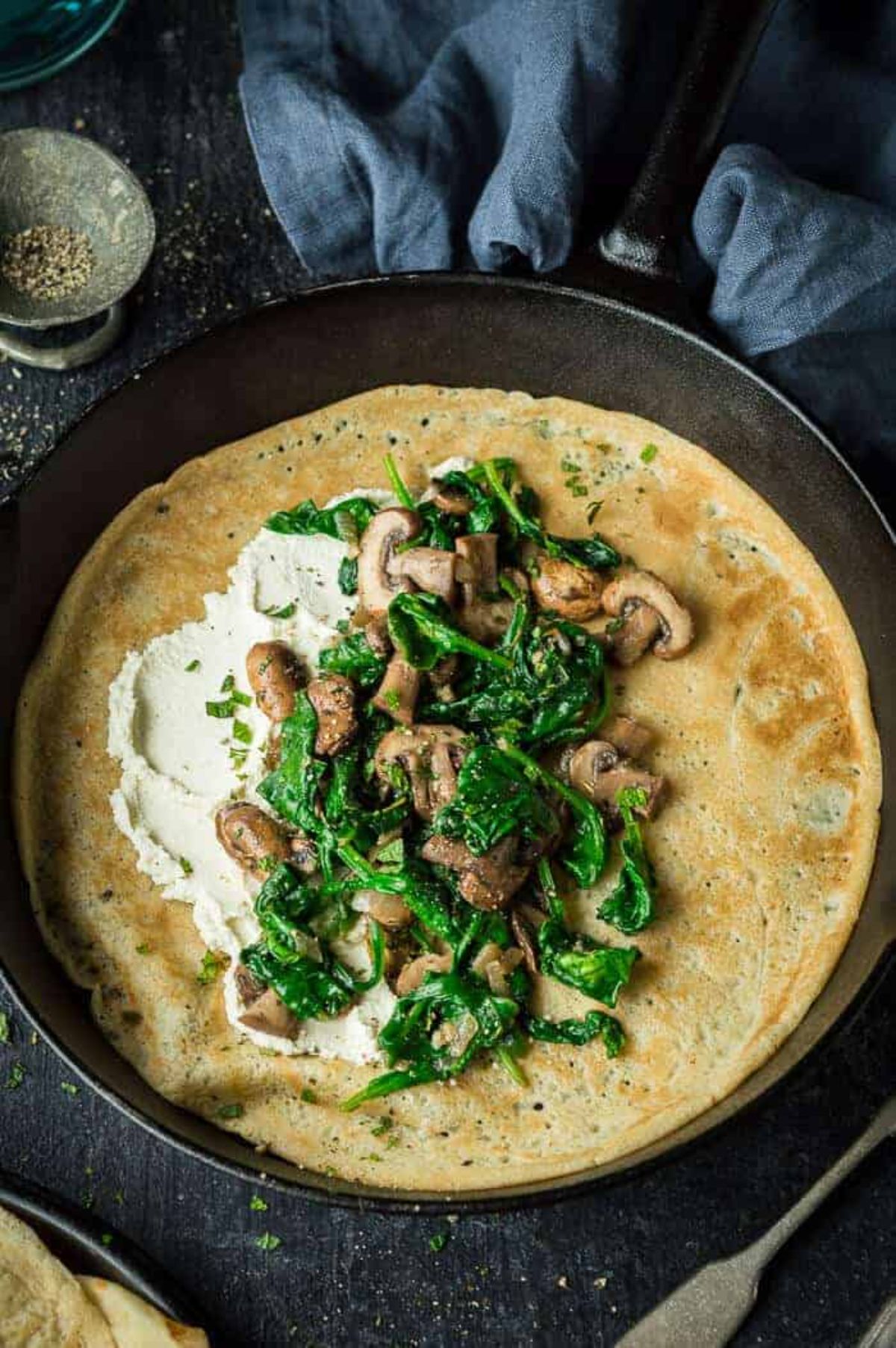 For a quick lunch option, crepes are always a good bet. This vegan recipe from Domestic Gothess uses almond cheese to bring the savory taste, with nutritious spinach adding color.
Vegan mushroom tocino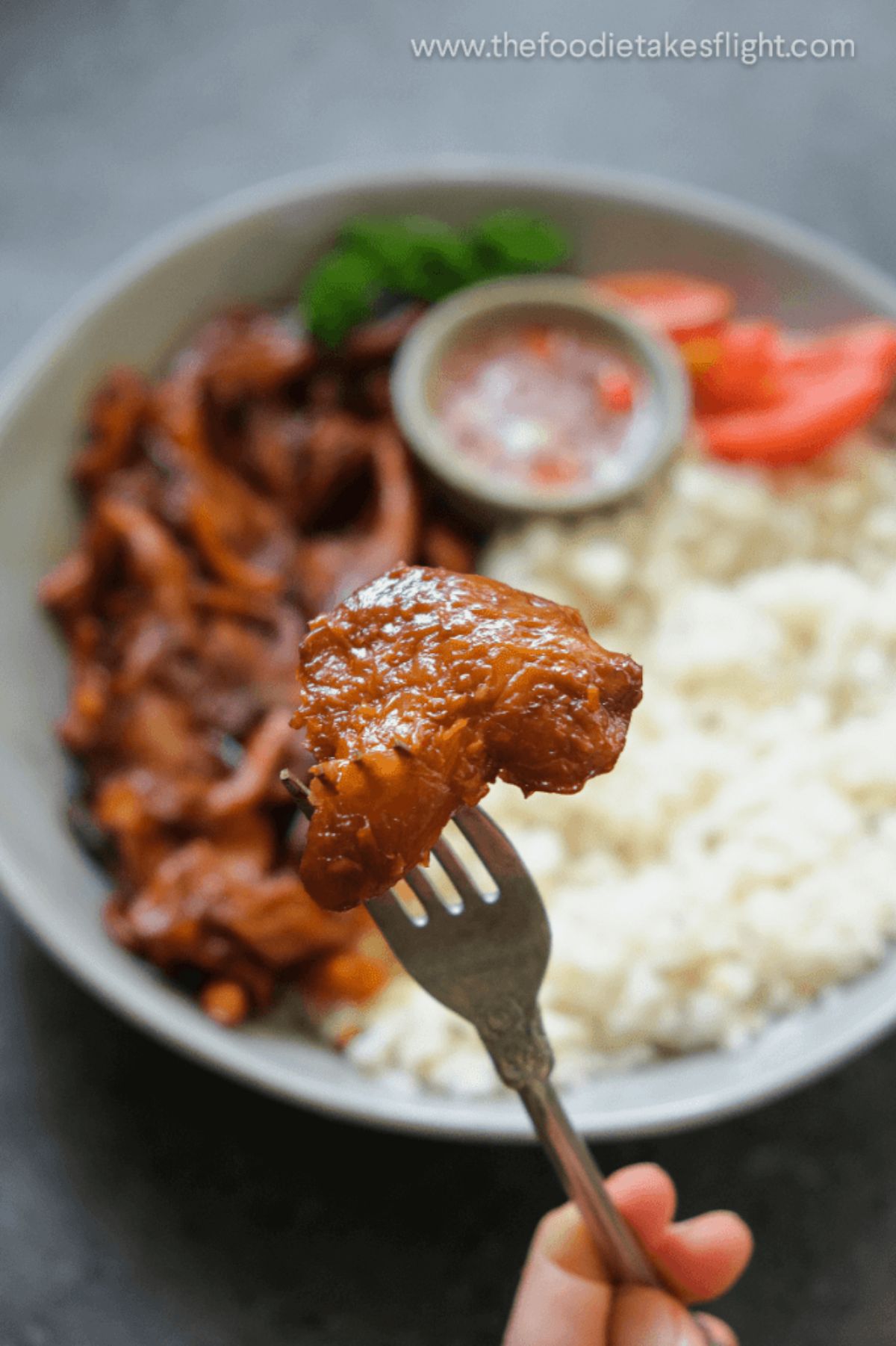 Tocino is technically Filipino cured meat, but The Foodie Takes Flight has used mushrooms to create a tender and flavorful vegan option. Pair it with your favorite rice and it will light up your tastebuds.
Vegan mushroom French dip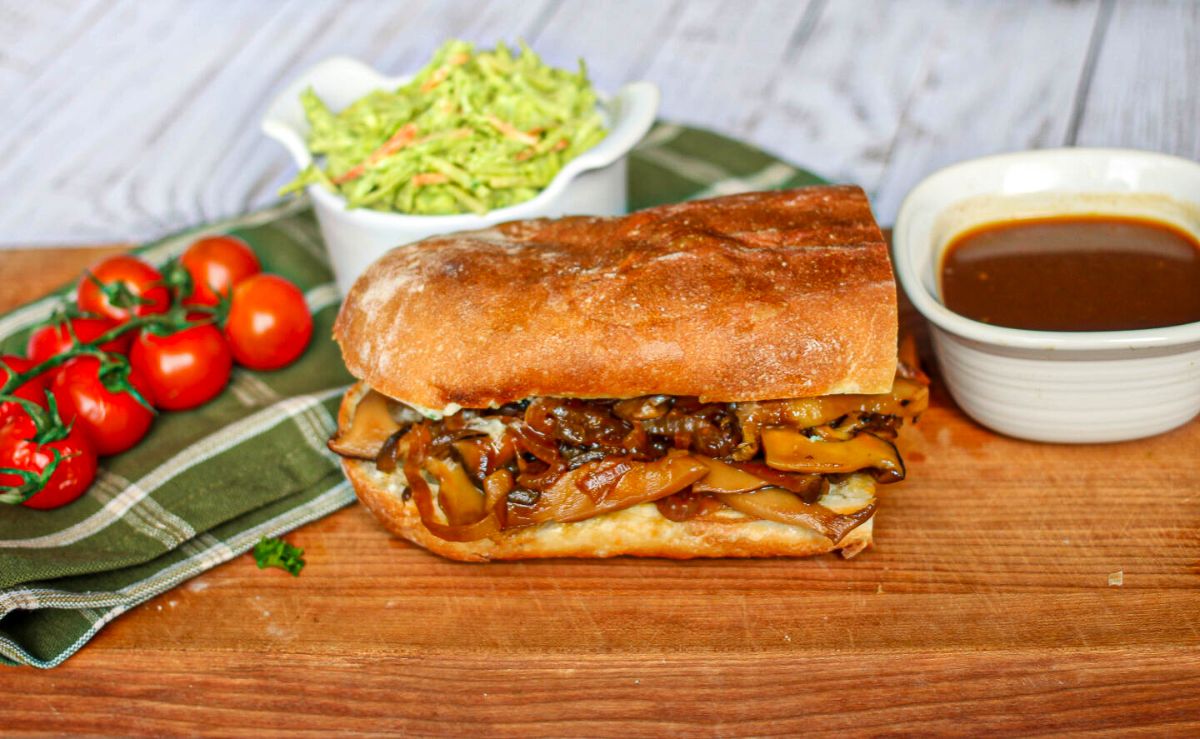 We all need a sandwich every now and again, and this French dip from Susan Cooks Vegan combines sumptuous mushrooms with a delicious garlicky dip. A satisfying lunch for anyone.
Chickpea, leek and mushroom pie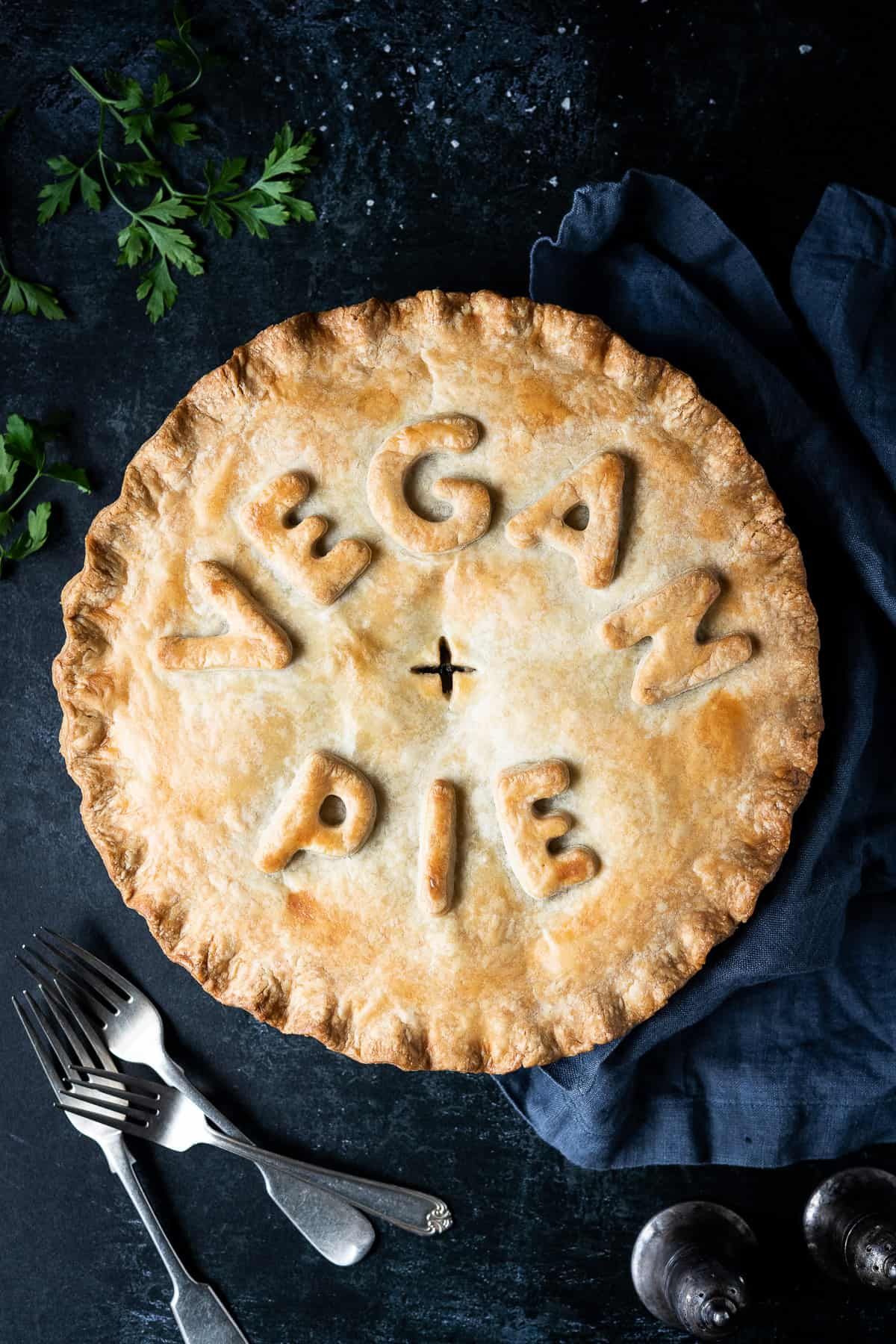 A vegan twist on the chicken and leek pie of your childhood, this chickpea and mushroom version is the best comfort food on a cold evening. Domestic Gothess serves up an eggless and dairy-free delight.
Vegan mushroom wings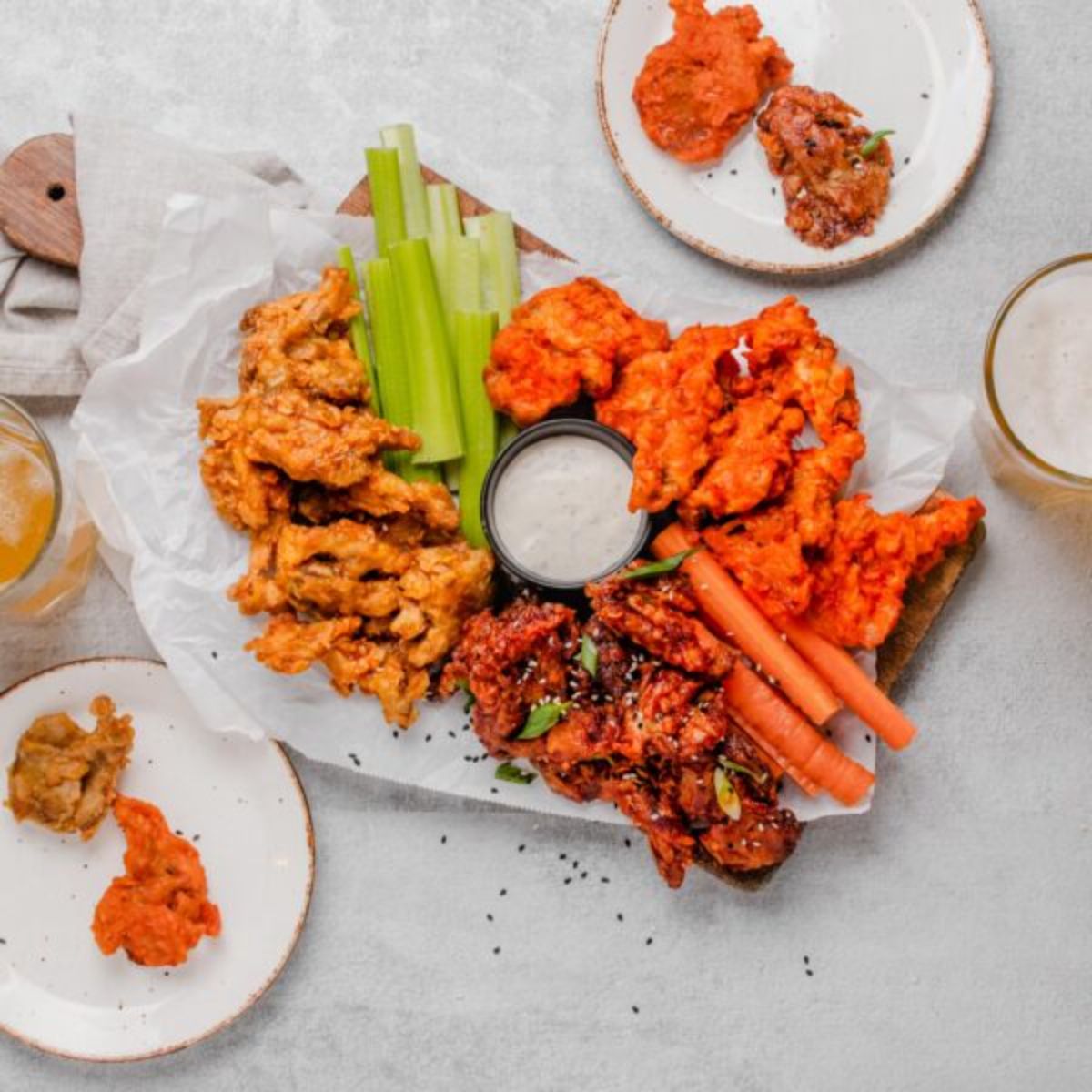 Chicken wings are the easiest game night snack food. And Two Market Girls have a great vegan twist so you don't have t miss out. They use oyster mushrooms and offer 3 different yummy sauces to choose from.
Fried chanterelle mushrooms and potatoes
With just 5 ingredients you can whip up this easy and delicious vegan mushroom recipe from Lavender & Macarons. It's fast food that keeps you on the healthy path, whilst tasting amazing!
Vegan stuffed mushrooms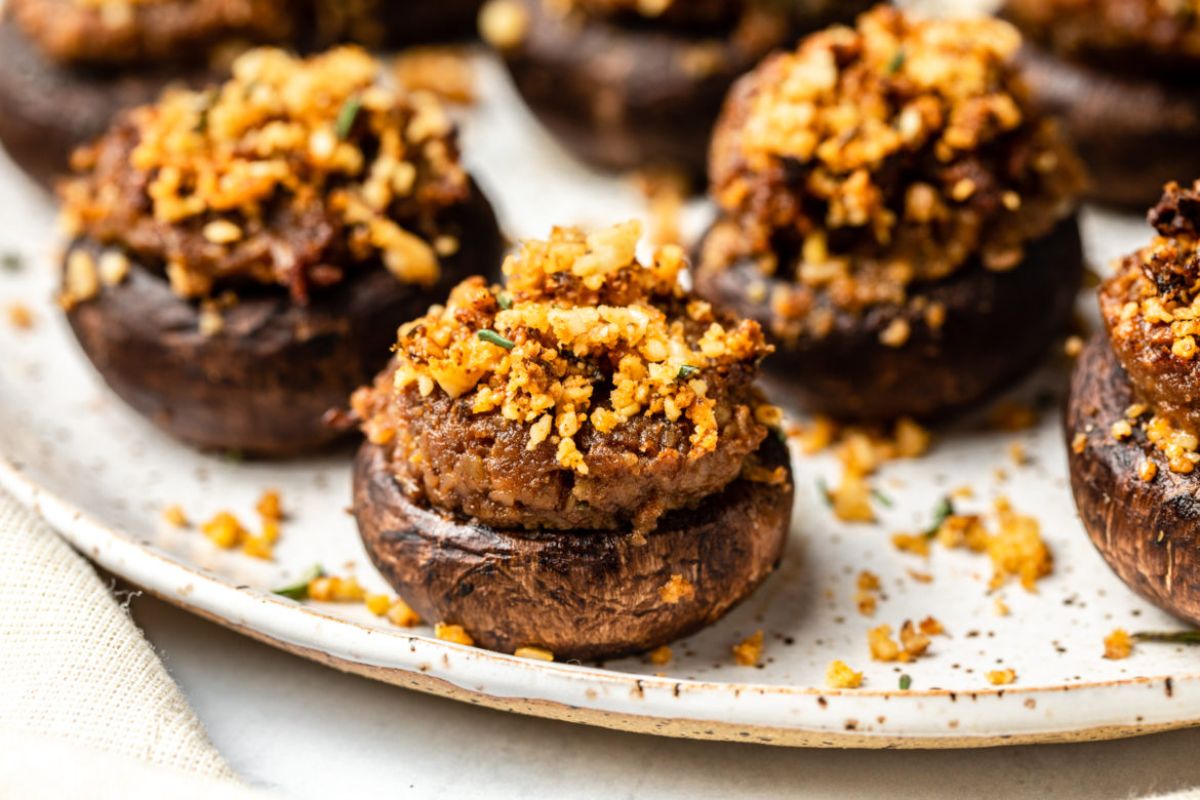 Our second version of stuffed mushrooms comes from From My Bowl, and they're so tasty. They combine toasted nuts and warming spices to make a showstopping appetizer.
Quick Teriyaki mushrooms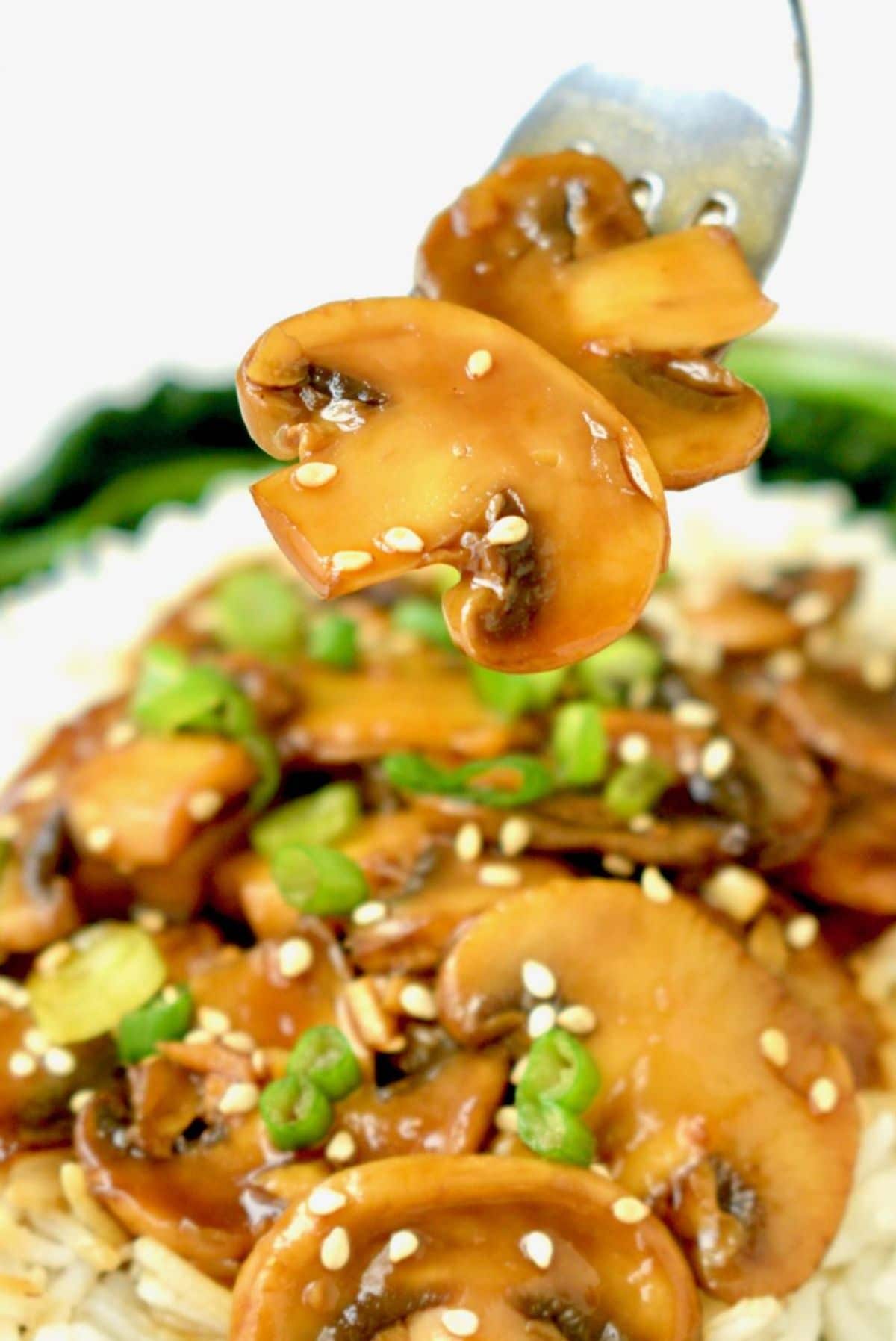 Ready in 15 minutes and based around pantry staples, these vegan Asian mushrooms from Vegan on Board are so good for a Thursday night when you're late home from work. They'll give you a salty sweet hit and go perfectly with rice.
Easy creamy vegan mushroom pasta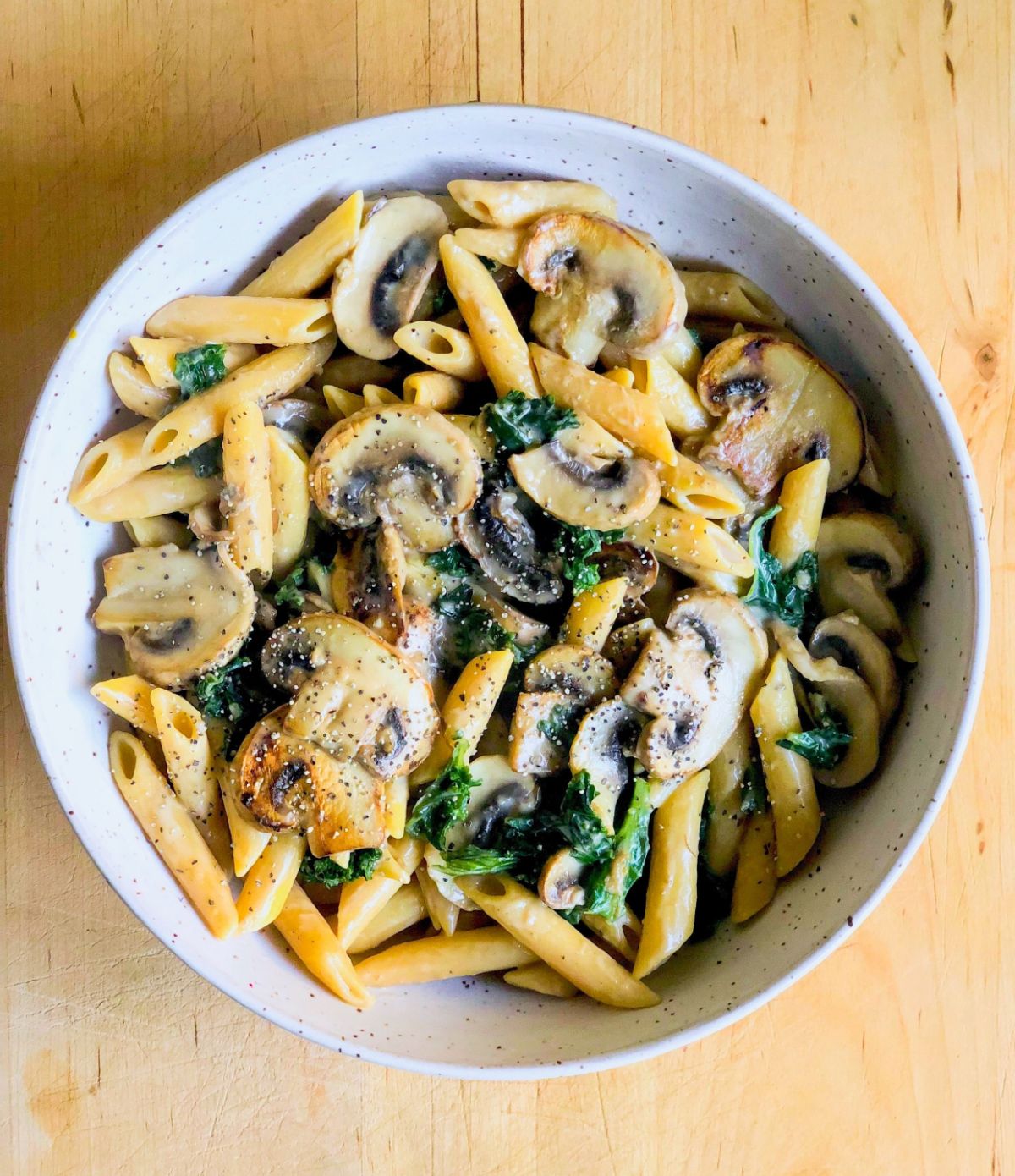 If you need a grain-free and vegan supper idea, then you should try this creamy mushroom pasta from Copina Co. It's wholesome comfort food with only a few simple ingredients.
Ginger soy roasted mushrooms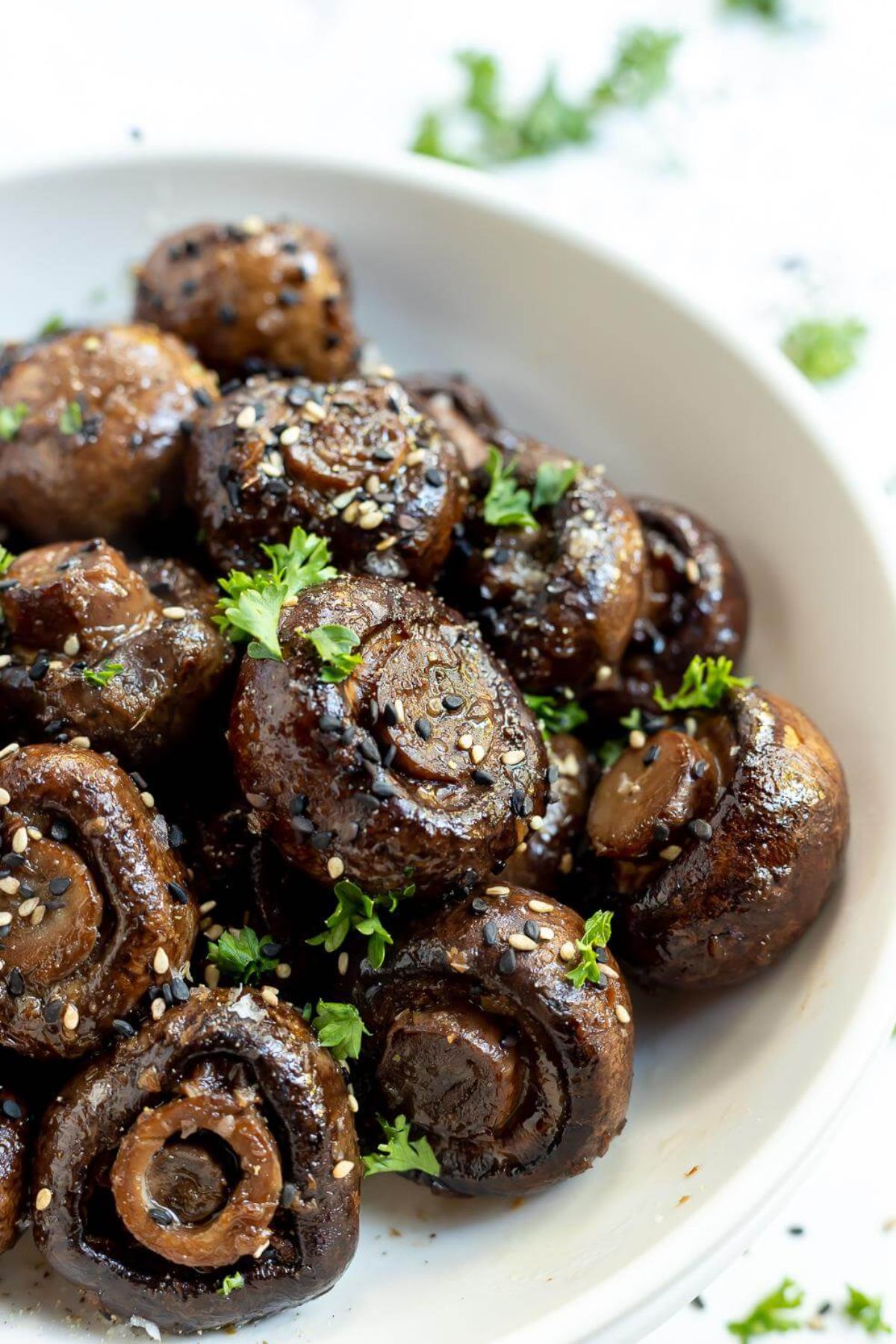 These tasty morsels of ginger and soy are a great side dish to compliment your vegan supper. Or you could make them the main event by adding some grains. Wonky Wonderful uses Asian-inspired ingredients to whip up this wonder.
Keto mushroom walnut loaf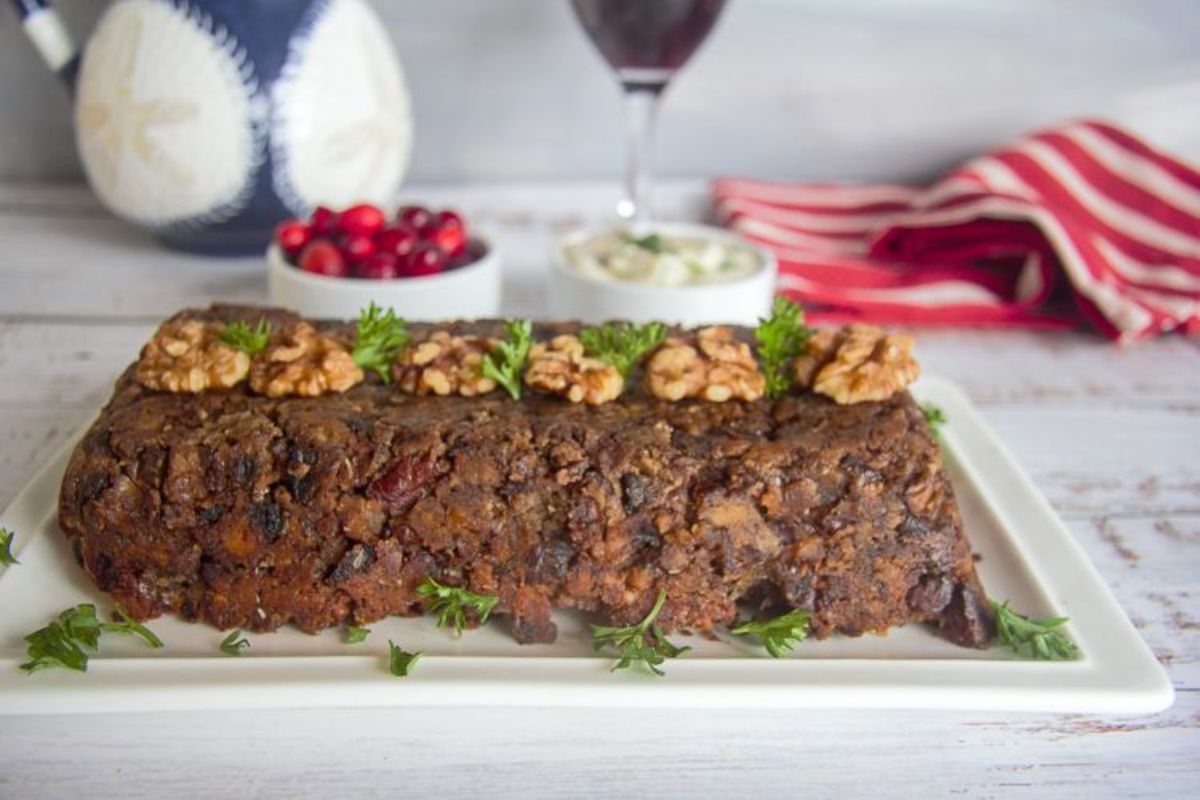 This classic vegetarian dish doesn't have to be boring or dry. Keto Vegetarian Recipes makes it interesting again with this vegan version. You'll be proud to serve it up on your holiday table.
Mushroom gravy and potato skillet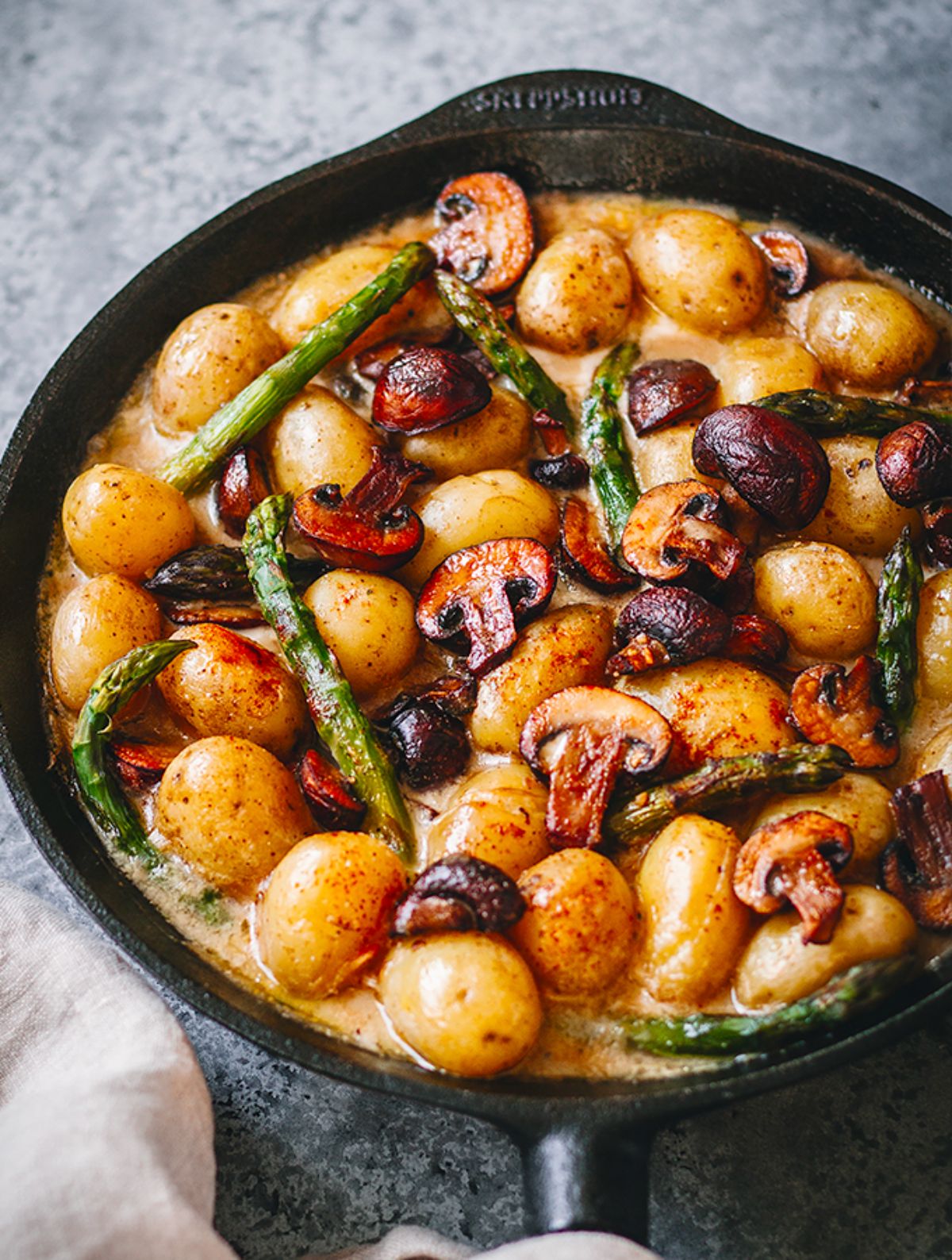 As Miss Marzipan says, this vegan dish is big on flavor and light on effort! Even better, it's all cooked together which makes it nice and easy to get to the table.
Mushroom burrito bowl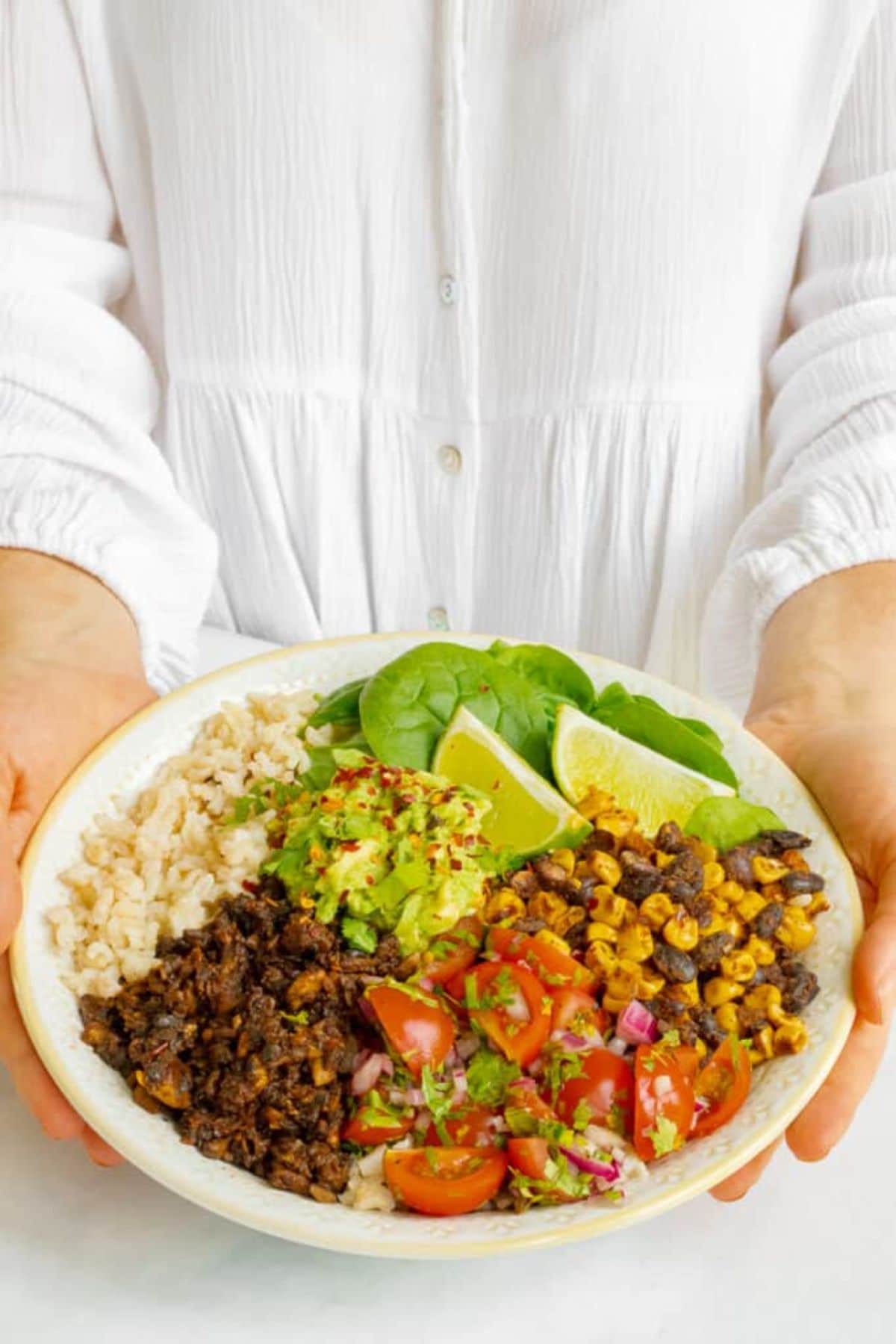 You can have vibrant Mexican food and stick to your vegan diet! This burrito bowl from Georgie Eats contains so many plant-based nutritious ingredients that you're eyes will be as satisfied as your belly!
Creamy vegan mushroom stroganoff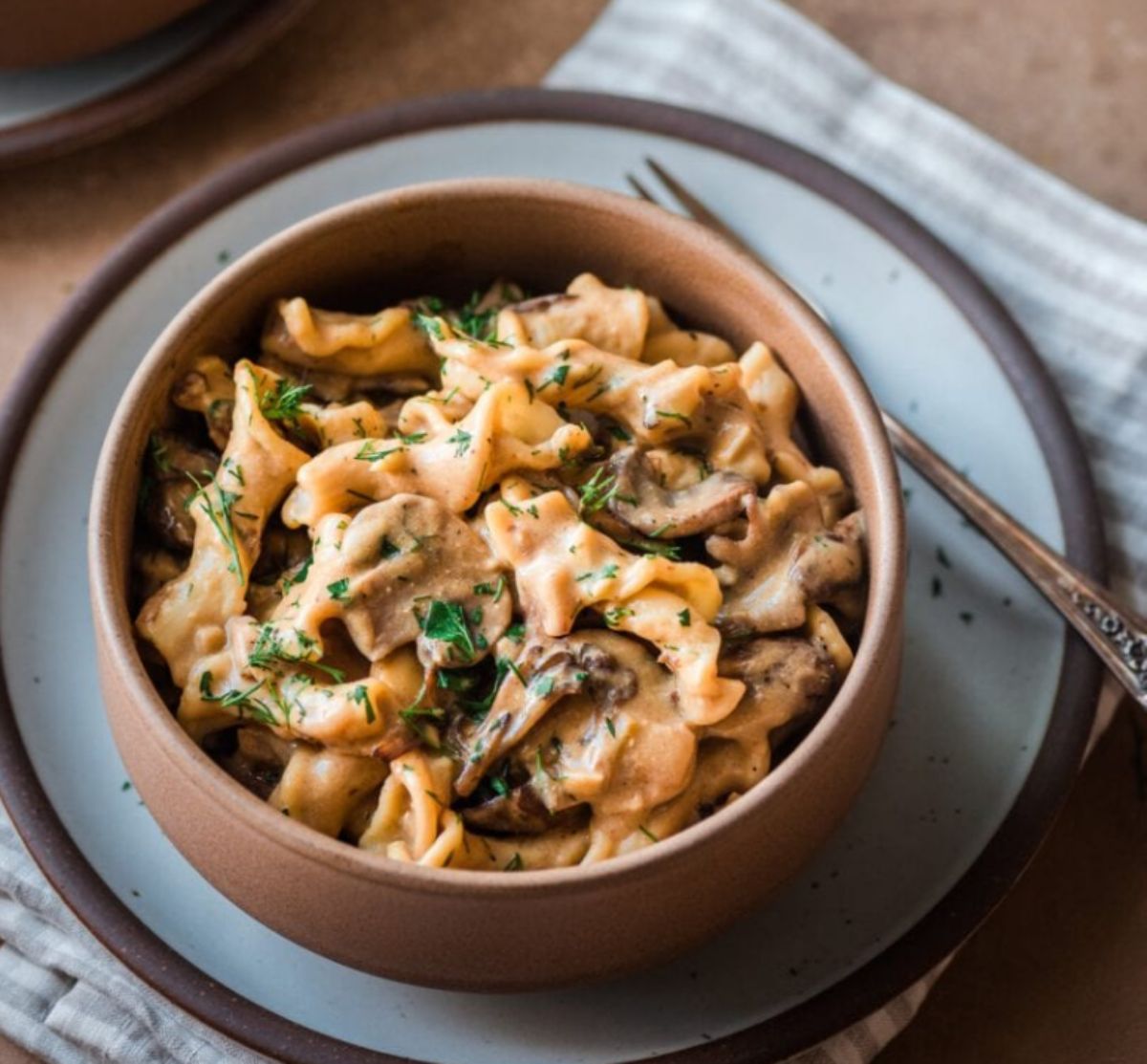 Often, as a vegan, it's the umami flavor of meat that you miss. Mushrooms are super helpful in delivering this to your meals. Take Rainbow Plant Life's Stroganoff recipe. It's full of umami flavor and will make a great Fall supper.
Mushroom "carnitas"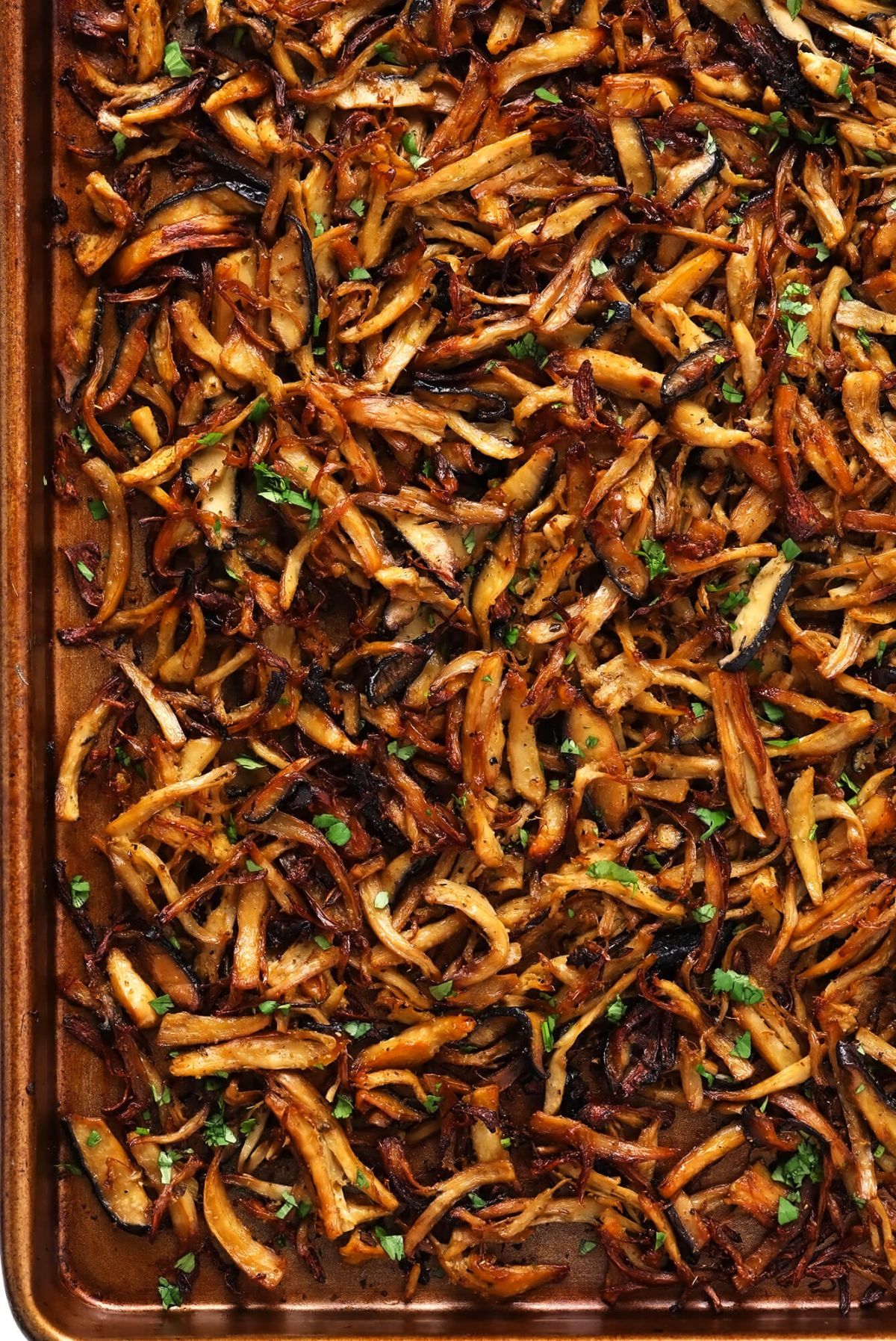 Carnitas are usually shredded meat in a delicious Mexican marinade. Gimme Some Oven has taken this classic and turned it vegan with shredded mushrooms that are just as tasty to add to your burritos and tacos.
Vegan hotpot with lentils and mushrooms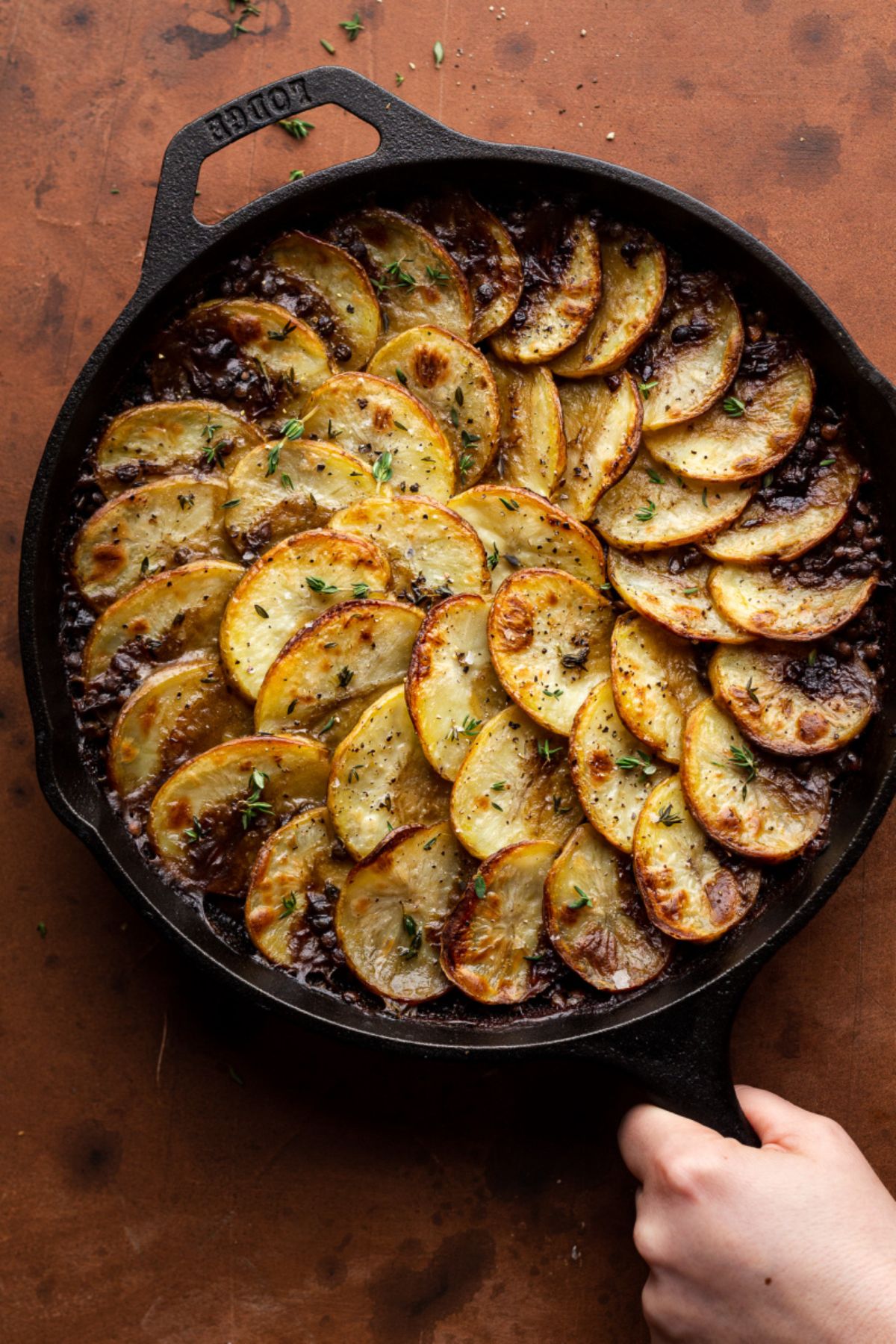 Weekends deserve meals that you can spend longer crafting and longer enjoying. If you're looking for something homely to share with your family on a Sunday, then try this vegan hotpot from Lazy Cat Kitchen.
Vegan aubergine lentil and mushroom pot pie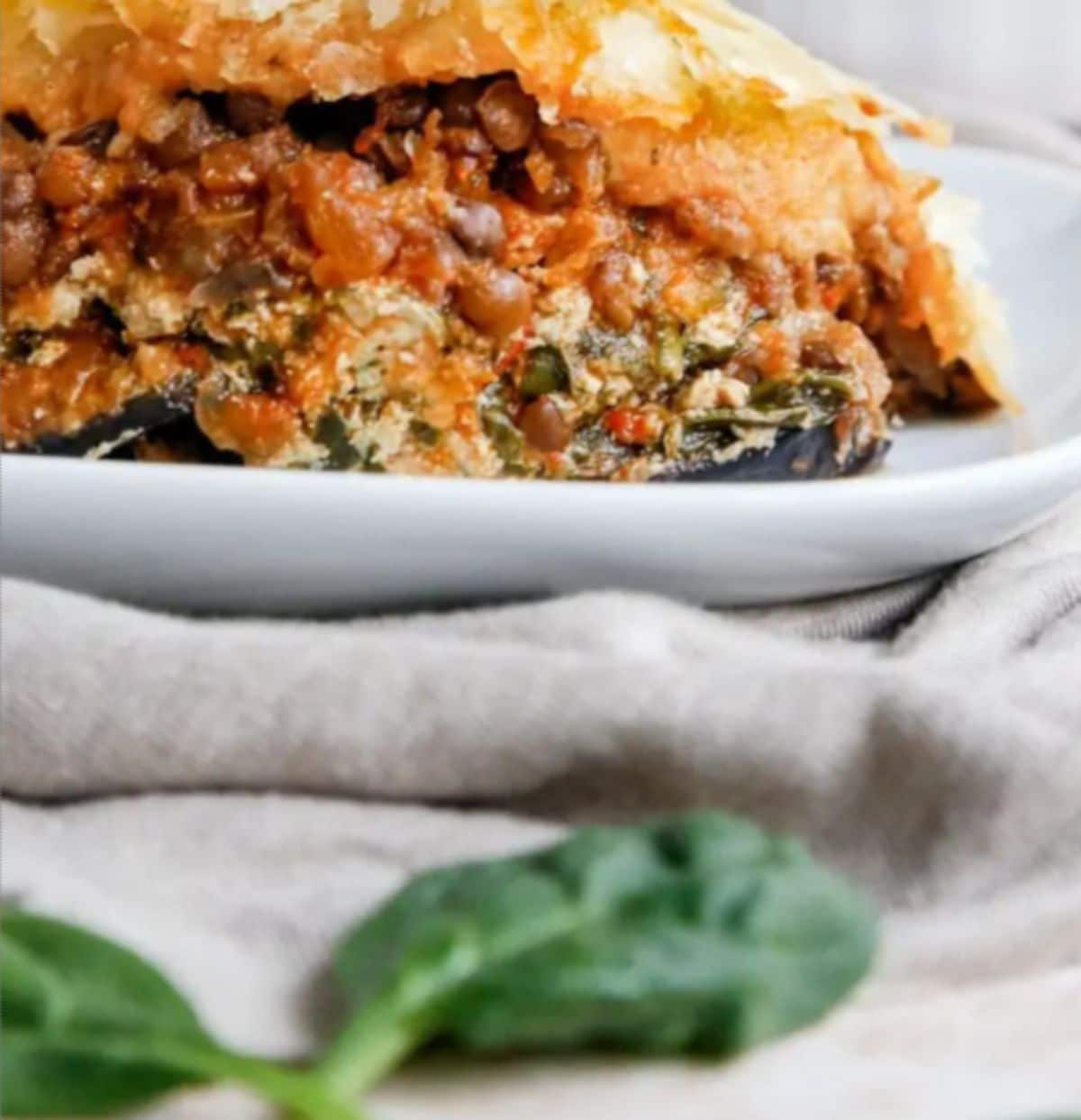 Another option for wholesome family meals is this vegan pot pie from Cooking with Parita. It's chock-full of plant-based nutrition with flakey vegan puff pastry.
Vegan mushroom quesadilla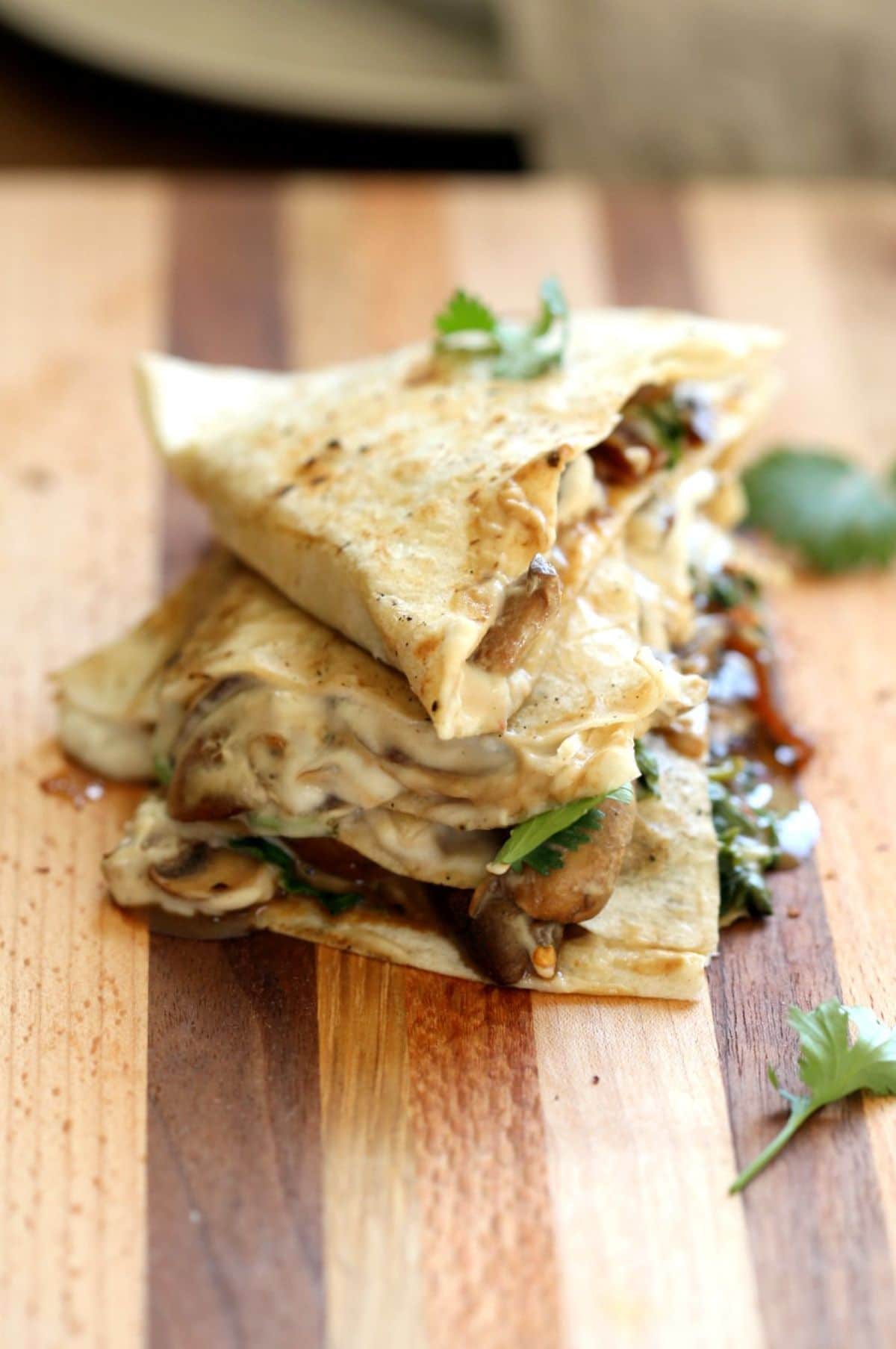 And let's finish off the list with these fun and filling vegan quesadillas from Vegan Richa. They pair caramelized mushrooms with a gooey cashew mozzarella. They're a great easy lunch to dig into.
Yield: 5
42 Vegan Mushroom Recipes To Make The Most Of Your Funghi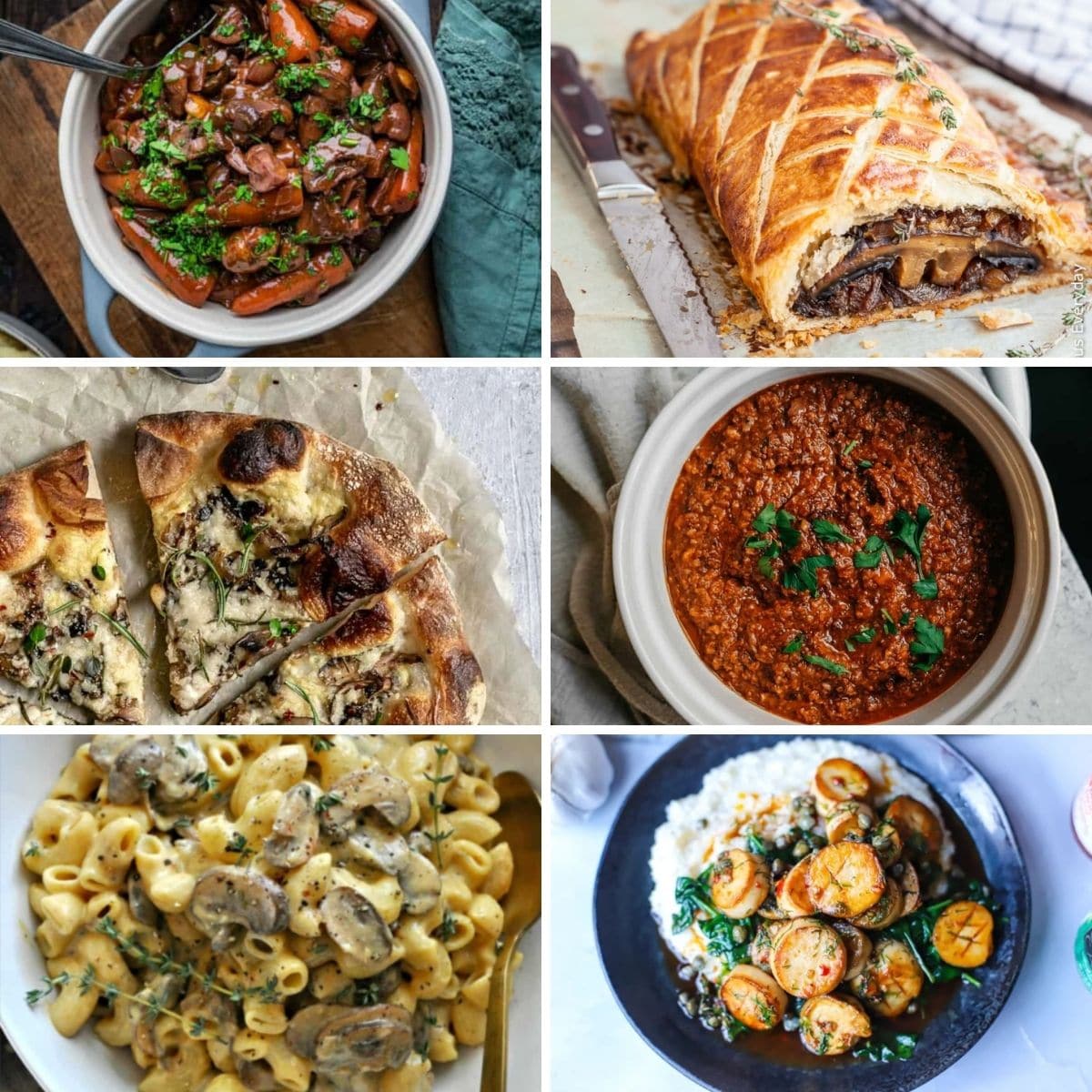 Enjoy the best vegan mushroom recipes and cook fantastic meals from mushrooms.
Ingredients
Vegan stuffed mushrooms
Mushroom bourguignon
Vegan mushroom meatballs
Vegan mushroom wellington
Vegan caramelized mushroom pizza
Air fryer sesame shiitake mushrooms
Mushroom stroganoff mac and cheese
King oyster mushroom scallops
Vegan chickpea mushroom and spinach curry
Crispy roasted gnocchi with garlic mushrooms
Vegan oyster mushroom nachos
Vegan mushroom gravy
Vegan creamy coconut mushroom lentils
Easy vegan mushroom bacon
Warm mushroom salad
Vegan mushroom pate
Vegan cream of mushroom soup
King oyster scallop cioppino
Vegan ramen noodles
King oyster mushroom pulled pork
Creamy lemon and mushroom pasta
One-pot vegan dumplings
Vegan spinach and mushroom crepes with almond cheese
Vegan mushroom tocino
Vegan mushroom French dip
Vegan mushroom wings
Instructions
Browse our recipe list.
After each recipe in description, you'll find the link to the recipe
Print or save the recipe
Cook and enjoy!