This Asian Cucumber Salad is an easy crisp cucumber salad tossed in a zesty sesame dressing. It is an absolute must-make for the next cookout.
(Gluten-Free, Dairy-Free, Vegan, Plant-Based, Low-Carb)
It's finally here. Summertime and restrictions are beginning to be lifted in many places. So whether you are beginning to see other people or are taking things slow either way.. it means COOKOUTS! *happy dance*
So whatever phase your country may be in currently I think we can all agree on this. Asian Cucumber Salad is exactly what we need in our lives. We need some summer in a bowl.
I love cucumber salads. It's not uncommon for us to make a salad ahead of the week and nom on it throughout the week. With the vinegar they slowly get a little bit more pickled as the days go on, which secretly I love.
If you are looking for a few other divine cucumber salads to make this summer try: Strawberry Cucumber Salad with Balsamic Dressing OR our Classic Cucumber Salad.
I personally generally go for the strawberry cucumber salad or Dill Cucumber Dip. However, this Asian Cucumber Salad however is a really nice change and is just as easy to make.
All you need are a few simple ingredients that you see below. Simple enough right?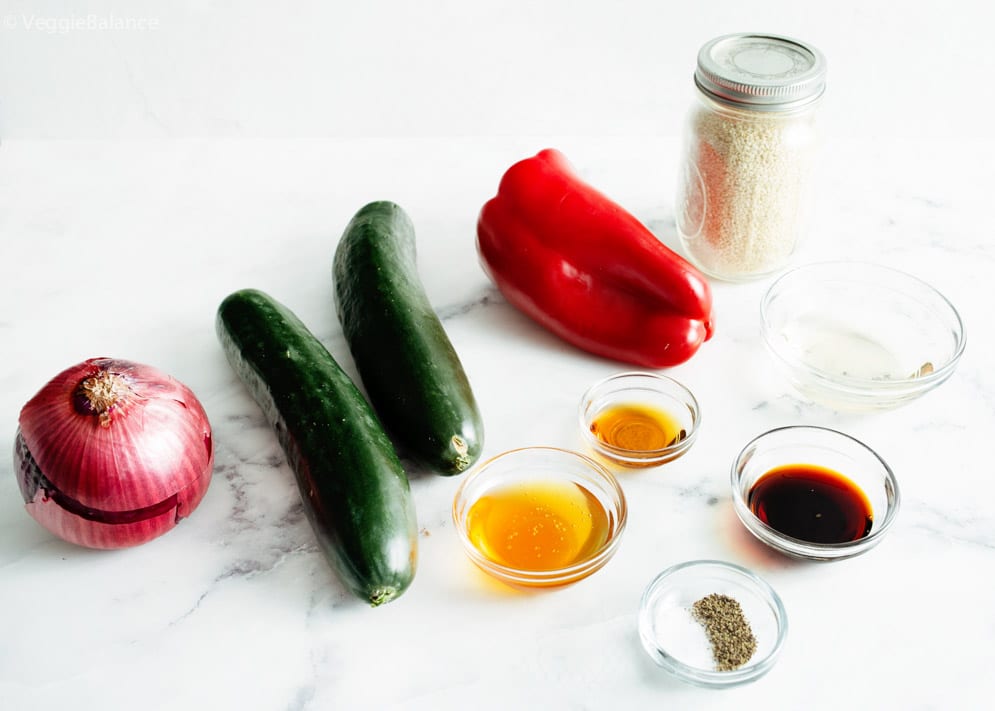 How to Make an Asian Cucumber Salad
The star of this dish is, you guessed it, cucumbers. Now you really can use any variety of cucumber you'd like for this dish.
It is worth a mention that you standard rather larger cucumbers (the ones with larger seeds) have a bit waxier skin to them so I would advise to at least partially peel them. More on that below.
How should you peel a cucumber for a cucumber salad?
I thought that this might be worth mentioning. My husband is rather picky when it comes to cucumber salads.. he's already not a huge fan of them to begin with so when I make it for him I peel all the skins off. I simply give it to the worms and no harm is done.
BUT – if you don't have a picky husband/family and really want to brighten the salad up even more you can partially peel the cucumber like we did in our basic cucumber salad or leave the skins on entirely.
Then simply chop the veggies up and throw in a bowl. Really that simple.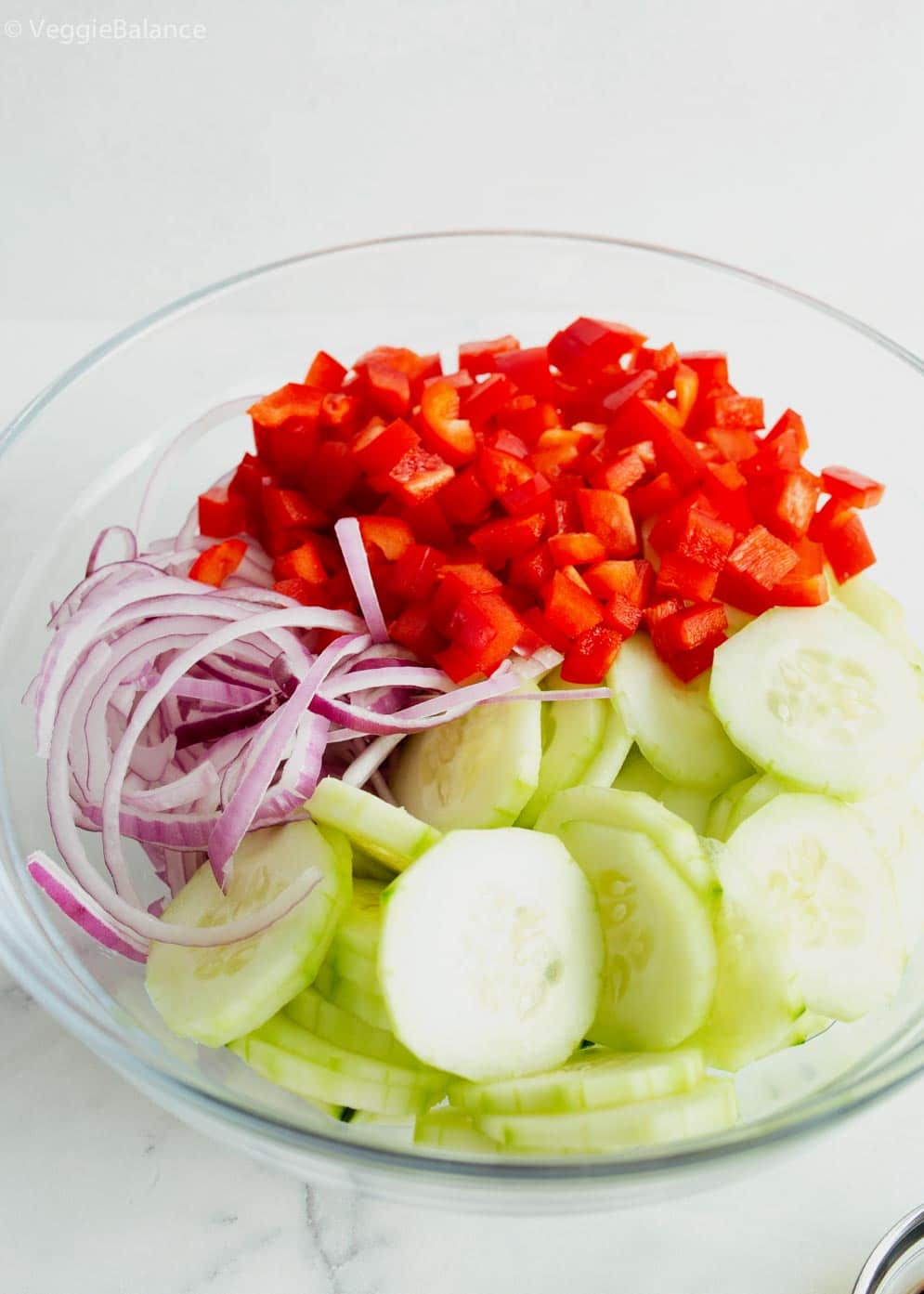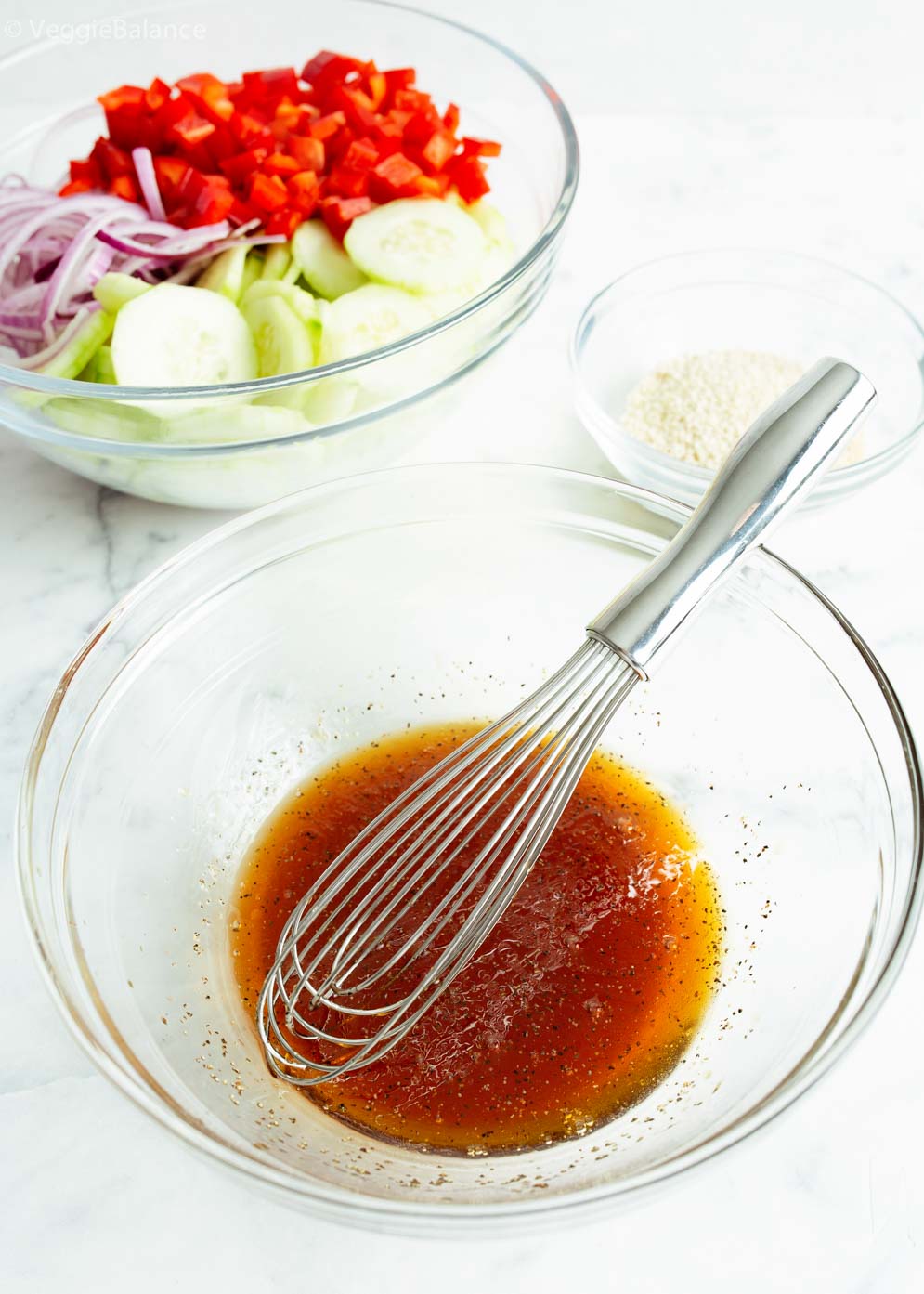 How to Make a Asian Cucumber Salad Dressing
You really don't need anything super special for this dressing. If you generally make stir fry, lo mein or fried rice you most likely have the ingredients on hand.
You'll need: rice vinegar, soy sauce, agave nectar, sesame oil, salt and pepper.
Agave Nectar Substitute Option: I know this is a controversial topic for some if you are vegan so if this is something you avoid feel free to ignore. However, if you are looking for an alternative for agave nectar you can substitute honey instead. We personally
Then simply whisk it together in a small bowl and pour over the chopped veggies.