Healthy Beef Crockpot Chili is entirely gluten free. You'll never guess what secret ingredient is in our all-time favorite Beef Crockpot Chili! All made in the slow cooker for that perfect pot of sweet and smoky chili. (Gluten Free, Dairy Free)
Healthy Beef Crockpot Chili is the way to my heart. I recently realized that there are only two chili recipes on Veggie Balance, What?!? Only two chili recipes over the course of three years!?! There is something seriously wrong with that.
To get through these killer Michigan winters, Crockpot Chili is my lifeblood. I make it at least 2-3 times a month and I neverrrrrr get sick of it.
So when I realized I hadn't shared with you my absolutely best crockpot chili (that also happens to be my go-to recipe for the past year), for a quick second there I thought I'd lost my marbles.
Marbles are all here (I think) or at least we've found them all, and it's time to share this warm, hearty, and unbelievable easy chili recipe!
Yes, it's time to share because it's that time of year again. If you ever read any of my old January posts, you'll find there is a familiar theme in them. I am complaining about this horrendous Michigan weather.
Why do I live here? One more winter to go before we move down south . . . I can do this.
Or at least that is what I tell myself as the cloudy days of darkness, cold, freezing rain, and snow begin to take a toll on me.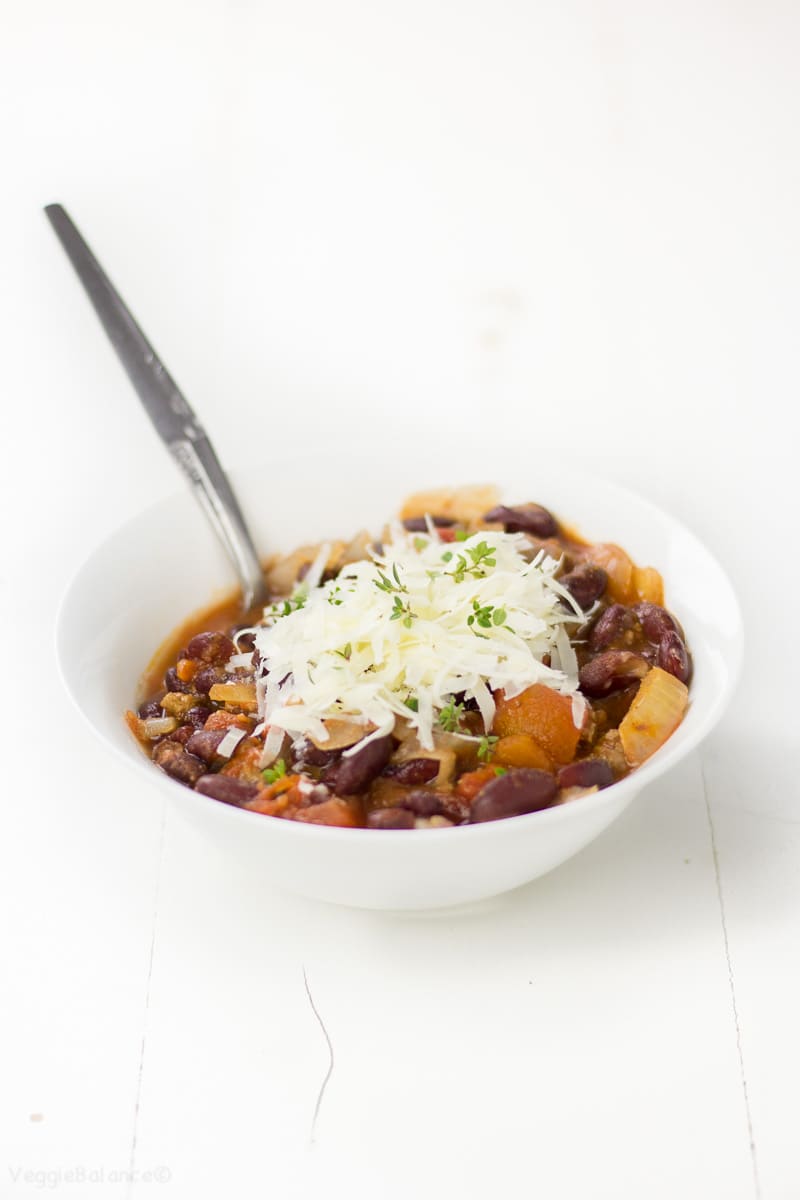 Reasons Why this Gluten-Free Crockpot Chili is Amazing!!
Warm, Comforting chili that keeps your full foreverrrr.
Top with cheese, more cheese and gluten-free crackers.
Packed with protein and all natural ingredients. WINNER!
This is the time of year when warm comfort foods, chocolate desserts, and countless cups of tea become almost a lifeline to survival. The worst part? We aren't even close to it being over with; we have three more months to go . . . Get me out of this state!
Or hand me a bowl of the best sweet and smoky crockpot chili. I'll drown my sorrows of Vitamin D deficiency in a warm bowl of chili topped with extra cheese and sour cream.
So while I may think I've lost my marbles these past couple weeks, the problem might simply be the lack of Vitamin D and constant lack of sun. It is brutal living here for these long winters.
Meanwhile, I'll make a batch of this crockpot chili and survive the next three months with this chili, Netflix, and my favorite fleece lined leggings.