Vegetarian Quinoa Mexican Dinner for those one-pan quick weeknight meals that the entire family will enjoy! Healthy quinoa dinner packed with veggies the entire family will eat? Yes please!
(Gluten-Free, Vegetarian, Dairy-Free & Vegan friendly)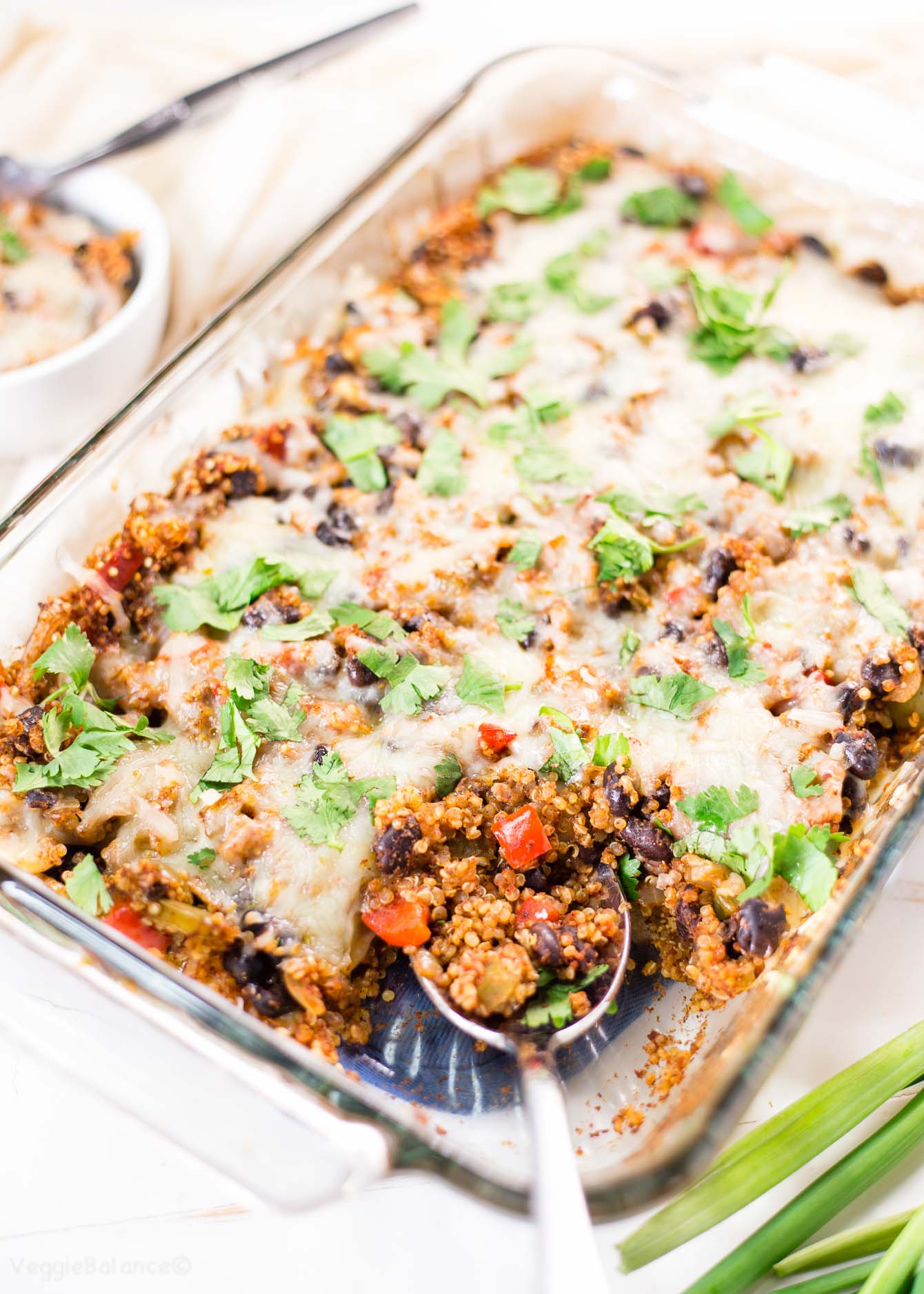 We are doing a throwback here. Circa 2014 this Vegetarian Quinoa Mexican Dinner recipe originally came to VeggieBalance. Wow. Where has the time gone …seriously?!
This year, I've decided we are going to bring back some original recipes back to the forefront and give some of them new life. It is insane to look back and see how much VB has grown the past 4 years!
This is crazy. I've been contributing to this website for 4 years. With 370+ recipes and millions of more followers, I'm so thankful for all of you.
Last year we had our popular One Pan Quinoa Enchilada.
It's throwback time. 😉
Say hello to our super easy Quinoa Mexican Dinner. With a few minor tweaks to make it even EASIER to make. All in one pan and thrown in the oven. That is how we roll.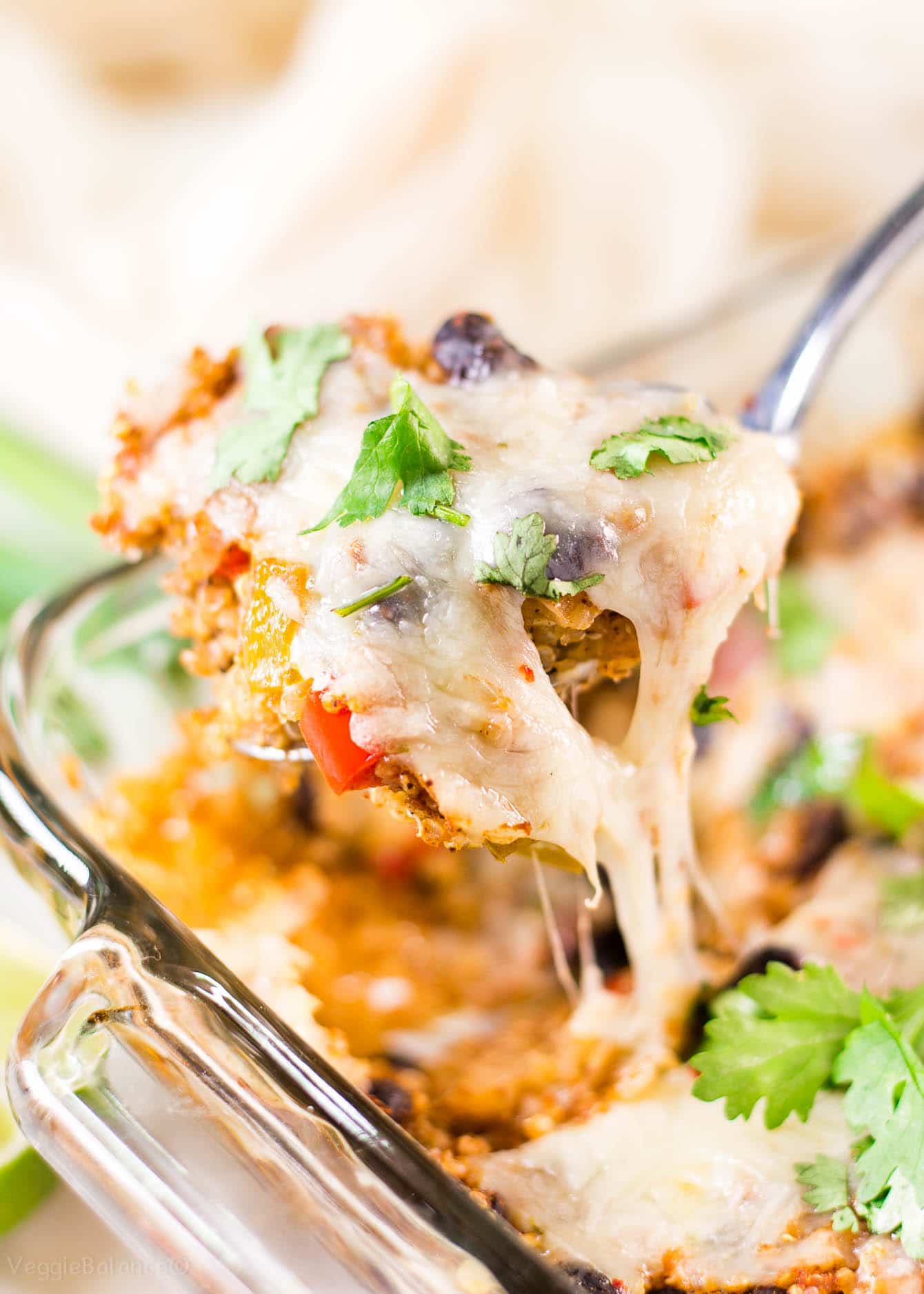 Easy, quick and healthy dinners is what we need. We've had a few interesting weeks during the holidays.
The quick synopsis: We had a very comfy condo we've been renting through airbnb since selling our house. Well, the condo association passed by-laws that we had to rent for 12 months to be allowed. We found this out 3 days before Christmas. On the day after Christmas, we found a new apartment to rent short-time and moved 4 days later. WHEW!
I should mention it was also -5 degrees F this entire time. Why do I still live in the place where the air hurts my face?
Was NOT expecting that but we are settled into our new place for now.
So when I say I need quick and healthy dinners I REALLY MEAN IT.
In reality, I feel like everyone has times in their lives that go like this, when nothing goes as planned and you've just got to roll with it.
Rolling with it does not mean you have to stop eating healthy.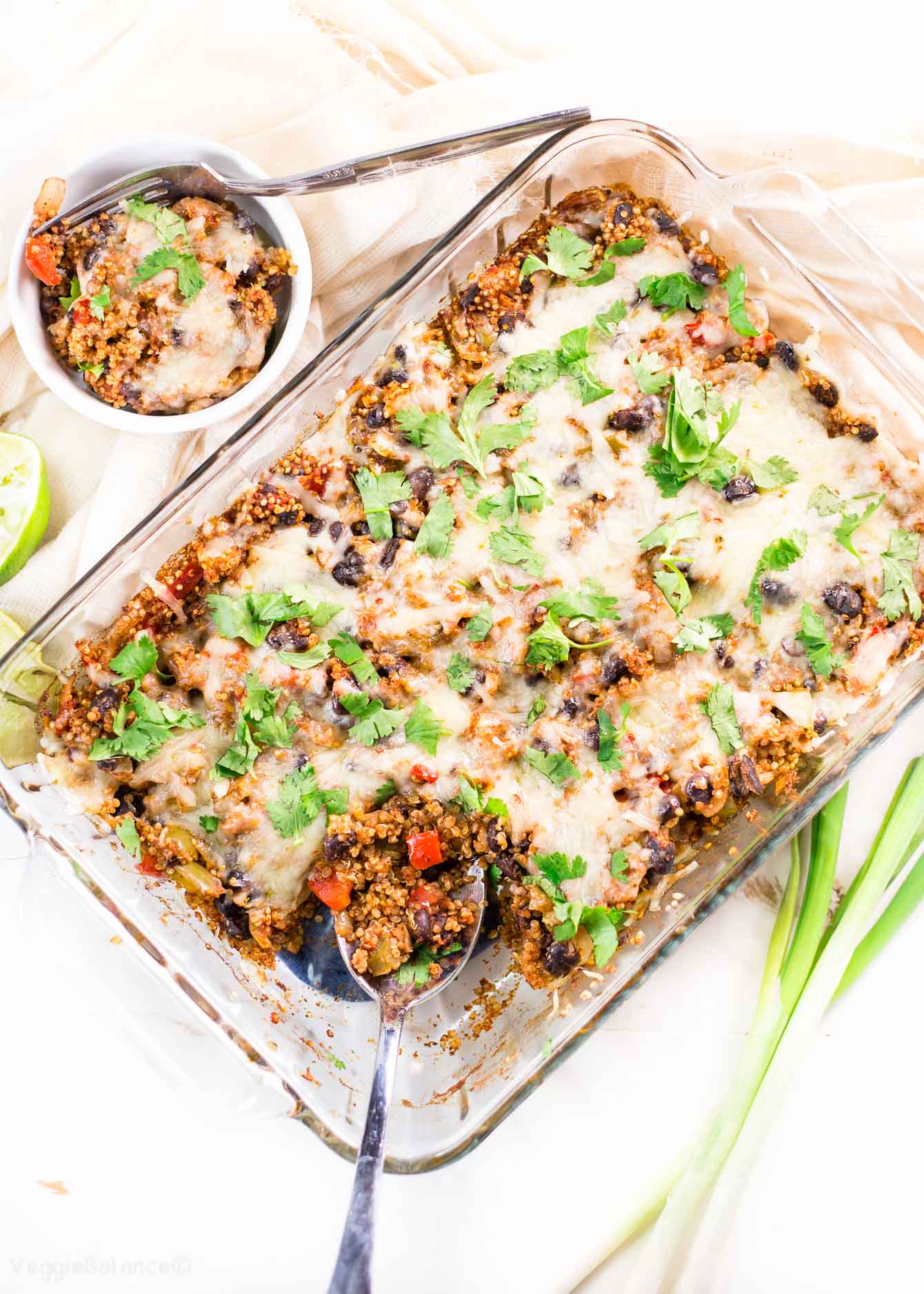 Well … healthy eating supplemented with some treats. I may have baked double chocolate chip cookies for myself. These cookies never fail me during bumps in the road.
My mother has been making this Vegetarian Quinoa Mexican dinner for years now. Ever since I posted the original recipe in 2014. If that isn't motherly love, I don't know what is. However, let's just say VB has come a long way and looking at older posts is cringe-worthy. 😉
So here we have it with a facelift and a few tweaks to make this recipe even easier for you to make for those crazy hectic weeknight dinners.
And this Vegetarian Quinoa Mexican dinner made in ONE PAN. Less mess, less hassle, easy peasy dinner packed with veggies and Mexican flavor.
SOLD.
Check out just how easy this is to make!