Homemade Garlic Bread is a simply delicious addition to your Italian dinner night with a gluten-free twist. Better than any frozen garlic bread out there and all you need are 5 ingredients.
(Gluten Free, Dairy Free and Vegan Friendly)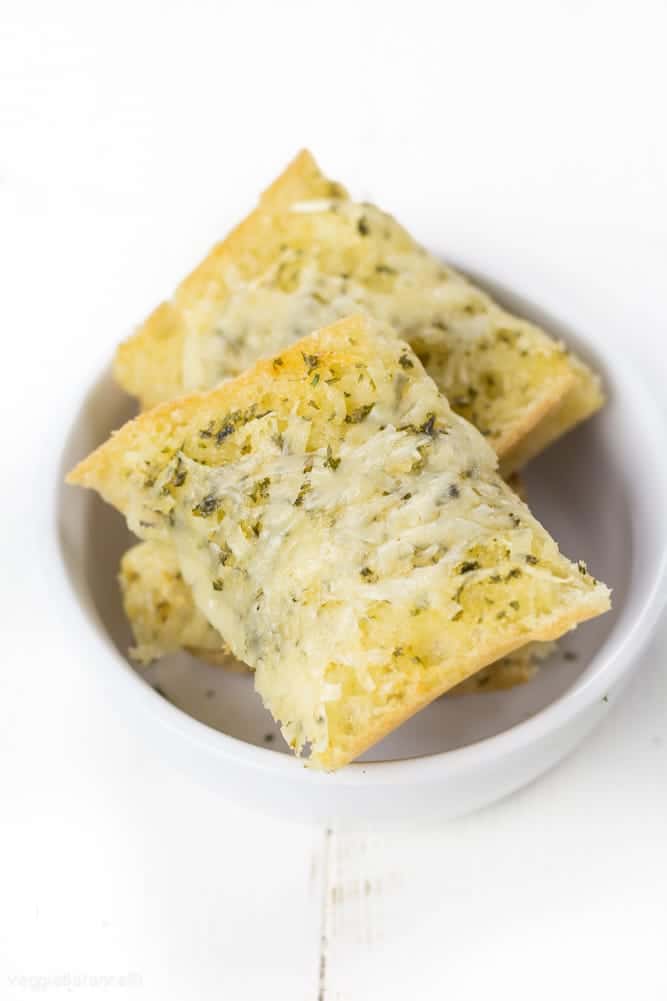 Homemade garlic bread was a family favorite of ours growing up. Imagine this: A large bowl of Caesar salad, warm plate of spaghetti and a hefty slice of garlic bread.
It still is my sister's favorite meal and what was requested every birthday dinner – I don't see that changing anytime soon.
We don't have to settle for frozen garlic bread, my friends. And honestly I'm not sure I've FOUND a gluten-free garlic bread from a store. There is no need to cut corners anyways and buy when this garlicky, buttery homemade garlic bread is so easy to make.
Homemade Garlic Bread: Why? Why NOT!
It's the best everrrrrrrr … but really it is.
Adapt – Don't need gluten-free bread? Use normal french bread. Need Dairy-Free? Use dairy-free butter swaps. Have it your way, people!
Season to your taste buds – Culinary customization is your right! If you like extra garlic (that would be me) add more to your garlic butter mix.
"More garlic the better" is my family's mantra.
I personally love gluten-free french bread. It is the easiest to find in local stores around me AND there is zero cardboard taste.
For the amount of delicious garlic butter smothered on this bread I'd think even if you could only find 'cardboard' gluten-free bread you might be none-the-wiser anyways.
Unrelated-but-related side note: I wish I knew someone from the UK who could send me shipments of their bread. The UK produces delicious, pillowy and FRESH gluten-free bread.
Don't get me wrong, the one I discovered here definitely is delicious … but when I was in the UK I was fearful that gluten-free bread wasn't actually gluten-free because it tastes so much like traditional bread I grew up with.
How to enjoy the Best. Homemade. Garlic Bread. Ever.
Eat the entire loaf of garlic bread for dinner … minus the spaghetti and salad (let's be real, it happens!)
Dip it – Dipping this fresh-out-of-the-oven garlic bread into a rich marinara sauce. Yessss.
Slice and place INTO your bowl of spaghetti – Soak up those leftover oh-so-saucy sauces from our homemade spaghetti sauce recipe for a clean bowl.
Even though I had this for dinner a couple nights ago … now I'm craving some Italian tonight!
No judgment? That's what I thought. 😉
Once you whip up this homemade garlic bread with a quickness you'll understand … garlic, bread, butter and cheese. Mmmmm …  they go together. Like rama lama lama ka dinga da dinga dong.