Strawberry Blueberry Scones, Vegan Low-Fat and Low Calorie compared to the traditional scone without sacrificing the flavor.
(Gluten-Free, Healthy)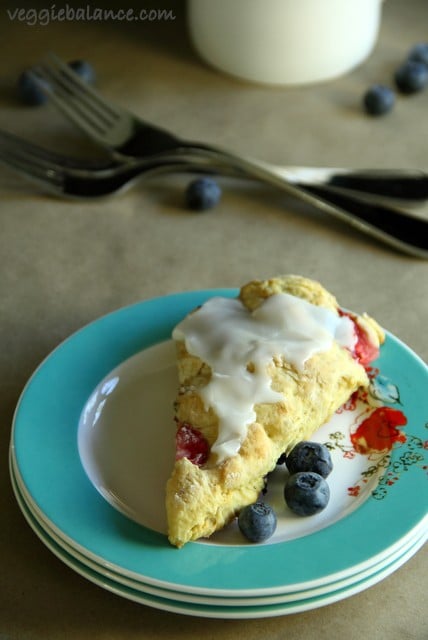 Kicking in this holiday weekend I present to you Strawberry Blueberry Scones! They are my version to celebrate the red, white and blue weekend!
To make matters even better? While this holiday weekend is going to be most likely filled with lots of yummy but unhealthy food, you can indulge a little with a breakfast scone and not feel guilty!
Did I hear you right you ask? Yes! I took the conventional scone that rakes in around 400 calories not to mention loaded with unhealthy fat into a veganized, low-calorie, and lower-fat option! Cutting the calories in half along with the fat as well!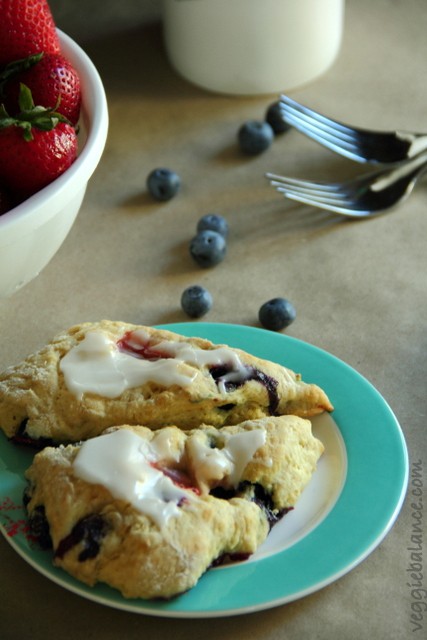 Good scones are a guilty pleasure of mine. I hate the dry ones but the moist decadent ones? There is just something so delicious about them, especially with a cup of tea.
However, I've avoided them like the plague once I realized what they really contained not to mention the awful nutritional facts on them. Here, I am able to indulge a little and at the same time not break the bank.
400 calories for a tiny scone? Dude, that's like a 45 minute run to burn that off. I like scones, but they aren't worth 45 minutes of  running. Now, currently I've been craving a frozen yogurt with ALL the works, like brownie bites, chocolate syrup, cookie dough bites. Yes…. a run would be worth that currently. A girls got her weaknesses right?
Honestly though, I have come to realize my 'caving' or 'treat myself' moments have been contained more and more through this journey. As much as I talk that I would devour a frozen yogurt, or a brownie, or any divine dessert in a heartbeat.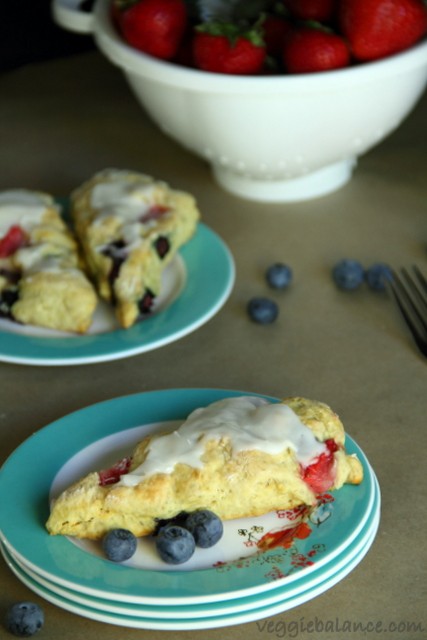 These scones, are totally worth it though, moist decadent and just melts in your mouth.To the left is what the scones would have been had it been made by the original recipe.
To the right you see the calories for mine. I was very happy how they turned out. Bon Appétit! Everyone have a great holiday weekend and be safe!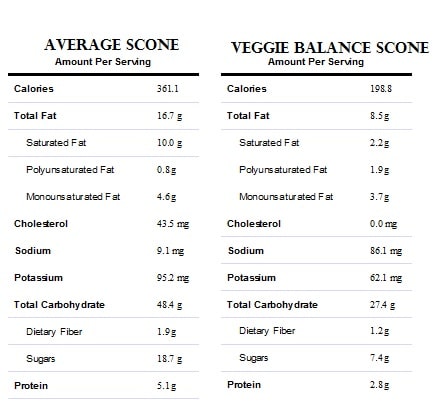 I think how many times I've said 'No' to such desserts and traded them for a bowl of raspberries. I have more awareness of what I'm putting in my body and in result I almost have a buffer that pauses time and really makes me decide whether it's worth it.
It's a moment that I just realized how far I've really come in that avenue. Proud moment. Still, that frozen yogurt has been calling my name for the past month.
Of course, it has to be because a frozen yogurt shop opened up right down the street from me. Think it's going to be my treat for the weekend.