Seven Layer Bean Dip recipe made with just 7 simple ingredients. Naturally Gluten-Free, Made Healthier and Vegetarian – the perfect dish to make for the game.
Disclaimer: This shop has been compensated by Collective Bias, Inc. and its advertiser. As always all opinions are mine alone and I would not share with you if I don't use it myself. #YesYouCAN #CollectiveBias
This post is sponsored by Rosarita Refried Beans. You can learn more about these sponsored posts here.
Seven Layer Bean Dip. I mean, it's literally seven layers of delicious Mexican ingredients scooped on top of a corn tortilla chip.
Yes. Just yes.
Here we go again, right?
My deep profound love for Mexican dishes is back. I mean, it's never really been GONE, just not so much Mexican dishes every week like the beginning of last year. It happens.
Sometimes you just got to have your favorite type of cuisine every day, all day. Right? (Yes, this is where you tell me it's OK and there is nothing wrong with me.)
I digress.
Rosarita Refried Beans are by far our favorite refried beans and that is a pretty bold statement coming from this Hispanic family.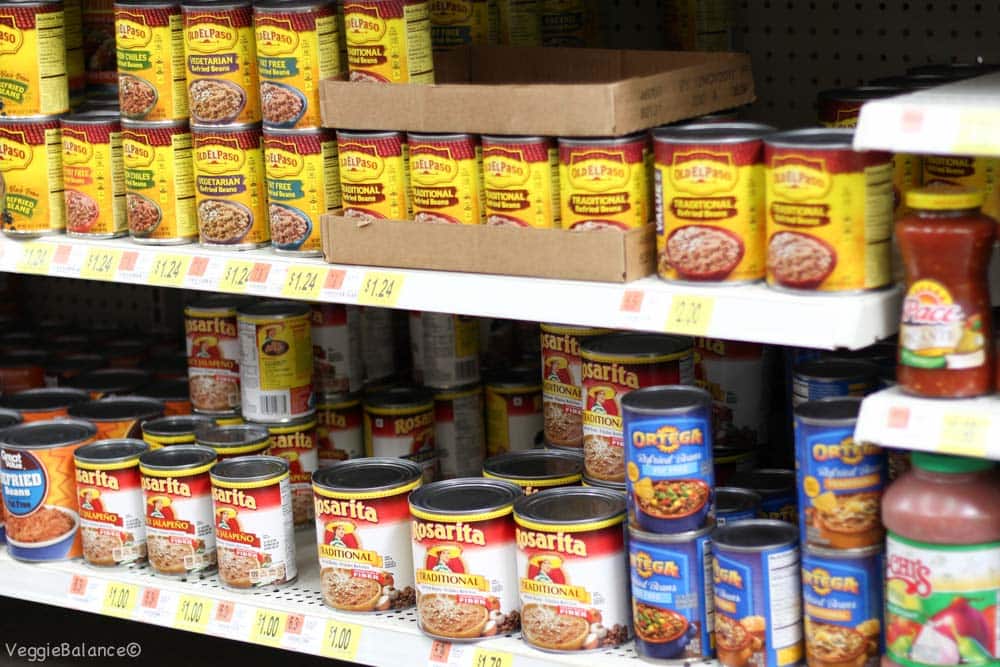 I've tried making my own refried beans before and they most definitely need some work. Practically inedible and needed a huge dollop of salsa and sour cream to choke them down. We've been purchasing canned refried beans ever since the homemade refried beans fail.
They are also confirmed gluten-free! #score
Along with my deep love for Mexican dishes taking center stage again, we're going back to simple dishes. The easier and less work, the better. Especially as we get ready for the Big Game and guests coming over!
I love being in the kitchen (I know that's weird), but I also love having everything finished before people arrive. This seven layer bean dip does just that!
Easy Peasy Dip. Yessssss.
At times, has it become a full-out meal in our household even before the game?
Yes. Most definitely, yes.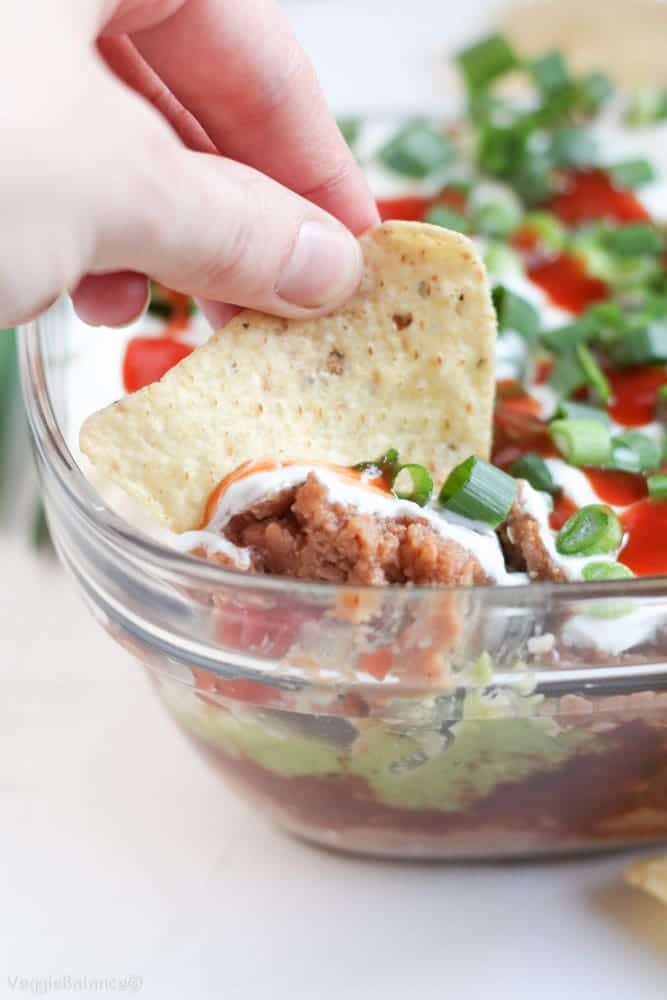 All you need are:
Refried Beans
Your Favorite Salsa
Guacamole
Tomatoes
Sour Cream or Greek Yogurt
Cheese
Onion
And my very favorite taco sauce.
Easy, Naturally Gluten-Free, and the perfect dish to serve to gluten-free and non-gluten-free eaters alike. It's perfect for the crowd!
If you don't have fresh tomatoes on hand, I've got a solution for you. Take a can of diced tomatoes, run them under water in the colander for 10-15 seconds, and voila! No need to make another trip to the store. Even with the grocery store literally 2 minutes from my house, there is nothing worse than going back to the store.
Especially during the winter. Hermit mode is in full swing. Must stay inside under blankets as much as possible.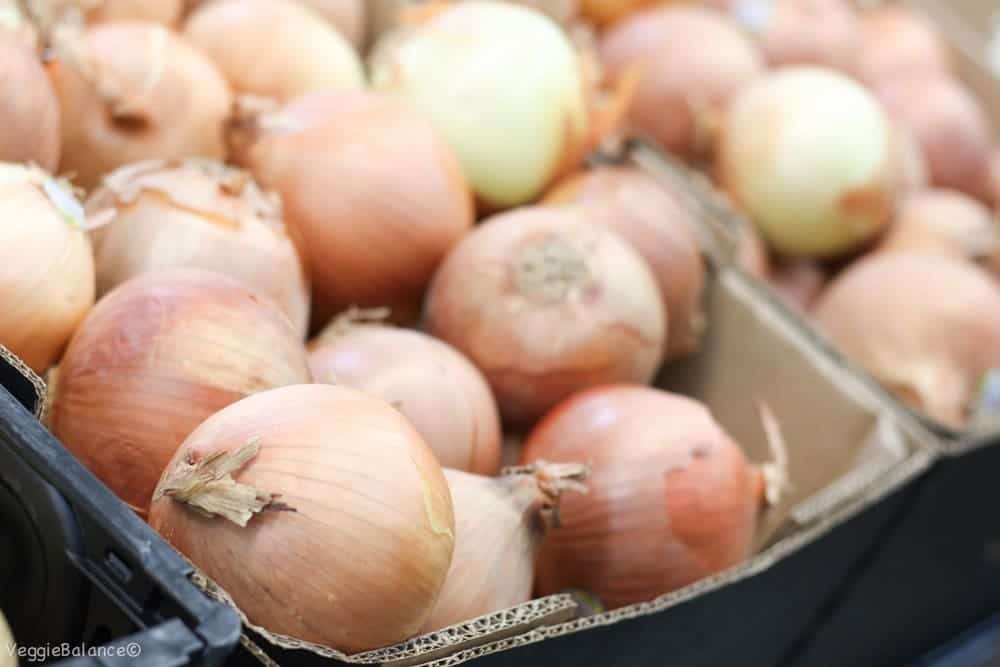 At the rate I've been going through guacamole, it seems impossible to keep having fresh avocados on hand throughout the week without them going bad on me all at once.
That was until I found out you can place avocados in the fridge!
Umm, where has this tidbit of wisdom been my entire life?
For those who (like me) have been living under a rock and never heard of this before, this is BIG news. Let the avocados ripen as you desire or to just barely ripened, throw them in the fridge as-is, skin and all, and they will be good in there for 5-7 days or more.
It's amazing how well this works, allowing me to keep my guacamole addiction in full swing.
Another tip: I was raised cutting avocados a certain way until I found a much easier way to slice them. This way of slicing allows you to save the side with the pit in it, to be eaten the next day. One more way to keep avocados in your daily routine.
Check out the easy video below:
One thing more that I will be the first to admit:  I suck when it comes to making perfect layers in food dishes. Food Blogger Fail? Yeah, I think so. Maybe someday I'll perfect it.
But for now, I'm more concerned with taste rather than appearance. I prefer to use thin layers in my dip in order to maximize the ratio of ultimate dip flavor to tortilla chip.
Spicy.
Creamy.
Flavorful.
Authentic.
Tasty.
Layered.
And oh-so-Satisfying.
Let's get our dip on. 😉
Need a little help on how to make this easy Seven Layer Bean Dip? Check out VeggieBalance YouTube channel and watch the quick video showing just how easy it really is! I'd love to see you over there.