Chicken Meatball Vegetable Soup brings a little meat into the dinner picture for Veggie Balance, because life is all about balance. You're sure to love this hearty healthy meal! (Gluten-free)
This post isn't just about a really good recipe that I made on a whim. Really, this is really good recipe.
You might however notice a first in the veggie balance world. We have meat! Good old fashion meat, clean meat might I add. I like many people who've chosen a non-meat lifestyle and one point had to make a choice.
Honestly, a painful choice for me.
My journey into this healthy lifestyle, is just that, it's a journey. When, I started VB I knew one thing that was important above all else, our food industry is messed up and we need to take a whole food approach to our diets, if it's vegetarian or vegan, great, or any other 'diet' out there that is geared towards whole food eating, awesome, do it.
It has been two years since my revamp on my life and for once I feel actually alive.
It's been a journey though. I have learned to listen to my body. So, through this journey and as I've increased my mileage as a runner (never thought those words would come from my mouth … writing?)
I've realized I've needed more carbs/protein to compensate. This issue among all else has been the carbohydrates. More specifically, breads, pastas, well flours pretty much. I can eat vegetable carbs all day long with not a single issue (awesomesauce).
So, I can keep eating flours/refined carbs on a daily basis and feel blah or I can listen to my body and take another step in this journey of mine. Well, that's what I did.
I came down to the realization that I do not thrive on just vegetables and minimal fruits when burning such massive calories in running. I tried to substitute the calories lost with refined carbs and that's when I noticed my downhill spiral in wellness.
Seriously, it's been a struggle. With the massive amounts of research I've done I've come to a conclusion. I am only going to eat clean, free-range, antibiotic free meat.
I've found a family farm about 2 hours from my house who does just that. Talked to them, went and visited and that is where my journey with meat began.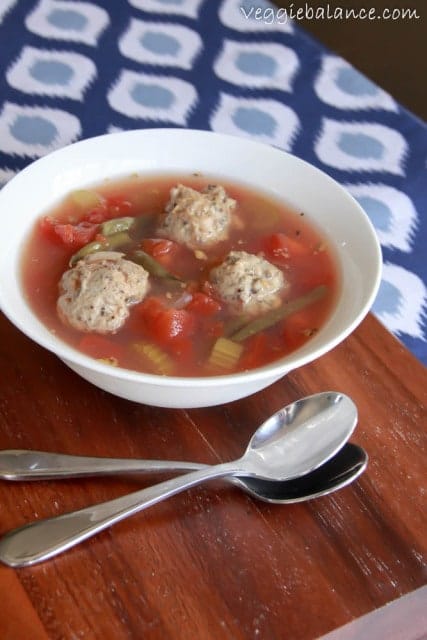 If you haven't stepped out of your grocery store meat aisle and purchased clean meat from a local farm. Do it. Speaking from being a meat hater my entire life, I am just amazed by the flavor and consistency this meat contains.
Why can't the grocery store meat taste the same? Well, in my massive amounts of research I understand why now, but that information will be for another time.
So I bring you crockpot gluten-free chicken meatballs swimming in a delicious vegetable soup. It is the bees knees and one of those meals that made once and I wouldn't change a darn thing.
Well, maybe one thing, the meatballs were a little large to fit on the spoon (oops). The meatballs, even if they were gargantuan in size were oh so perfectly moist and flavorful by themselves.
Adding them into the soup sends the flavor of the soup and meatballs combined into the next world. It is the perfect hearty soup to warm up with.
So, there you have it. Another first in the VB world,  I guarantee it won't be the last, this is all about growing right? I realize I might lose some people for this decision but in all seriousness this journey is for me and above all I need to stay true to me.
I feel alive, and yes, I might have some wellness flare ups and roadblocks but life is to short to let it knock you down.
I am way better off where I am at now then were I was 2 years ago.
I've never felt more alive, that feeling of running over that half marathon finish line the other week is short to be explained as just pure elation.
Actually ran my last race this week (it's getting to cold in Michigan for enjoyable races) and counted 9 races down this year alone.
That my friends, is me living my life and I'm thanking God for giving me the opportunity, and the ability to do so.