Easy Chocolate Fudge recipe is Foolproof  and will have you saying "Oh, Fudge" in a good way, without the gluten! (Gluten-Free, Dairy-Free and Vegan friendly)
To say my year has been complete might be an understatement.
I've discussed my lack of fudge capabilities in the past. Exhibit A) Fails of 2016. Exhibit B) 'Fake' Peanut Butter Fudge, because really I cannot make a fudge for the life of me.
I believe it's a gene passed down from my mother… I still remember back growing up how she would attempt a fudge recipe each year and they NEVER turned out right.
Most of the time they were gritty, too soft and wouldn't hold together, all the possible problems that could happen with fudge… it happened with my mother.
She was kind enough to pass this gene down to me.
But the exciting news is – I've FINALLY broken the curse.
That's right, we've got easy FOOLPROOF chocolate fudge recipe here on VB now. Oh my word, 2017 is finally complete.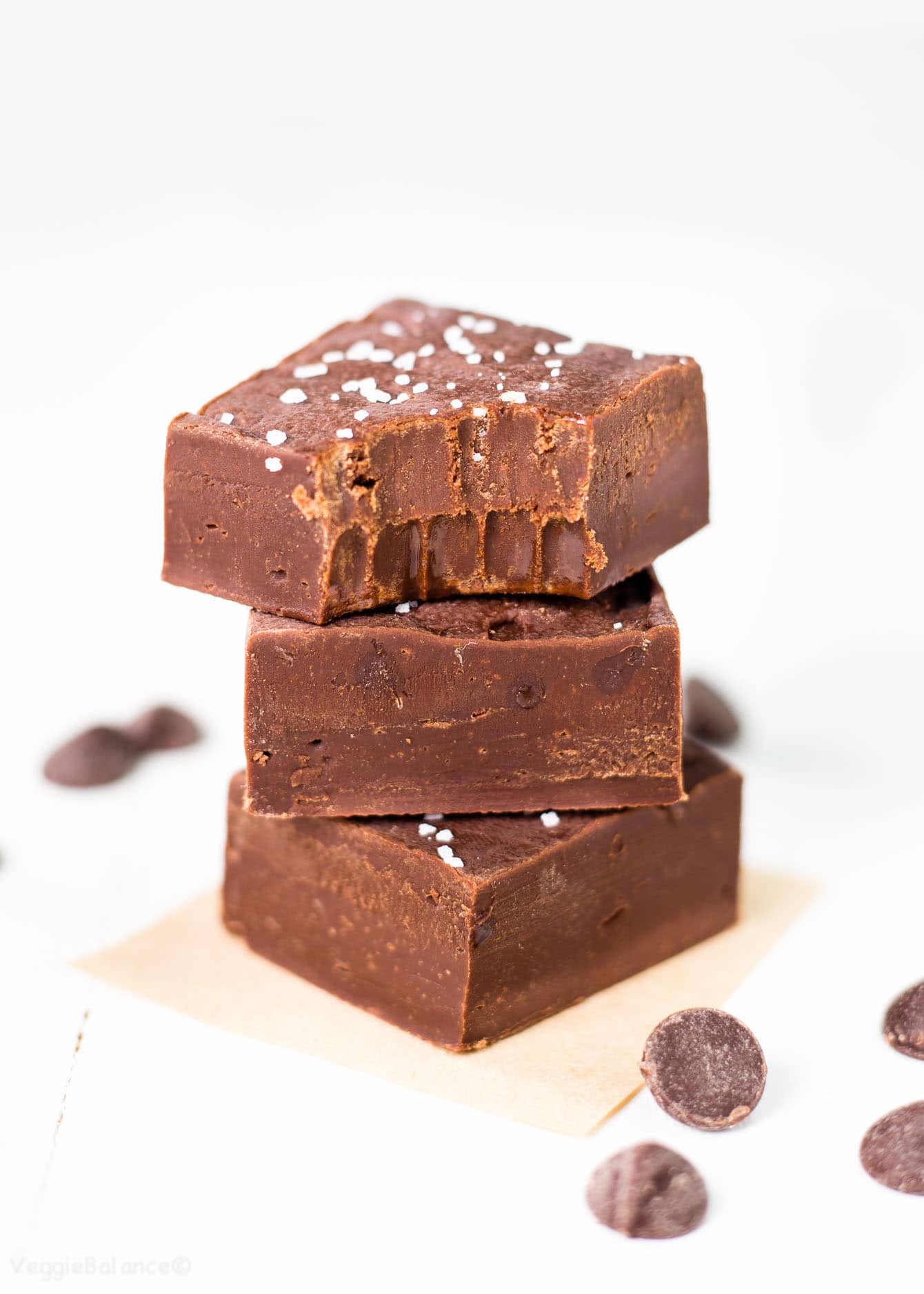 Really, if I can make this, anyone can. Believe in yourself and believe in awesome fudge.
Even if you have inherited the fudge fail gene. We've got you covered this holiday season.
I've always avoided condensed milk. It's to be honest, it kinddd of grossed me out. Until one day I came across an organic sweetened condensed milk.
I was intrigued. So I bought it.
TIP: For dairy-free there is now Condensed Coconut Milk! You are welcome dairy-free peeps.
It's been sitting in my cabinet for a couple months now and one day I was like what the heck, why not just keep twisting the knife in my 'I fail at making fudge' wound. What do I got to lose?
We will be moving soon again and I've got to make SOMETHING with it before we move.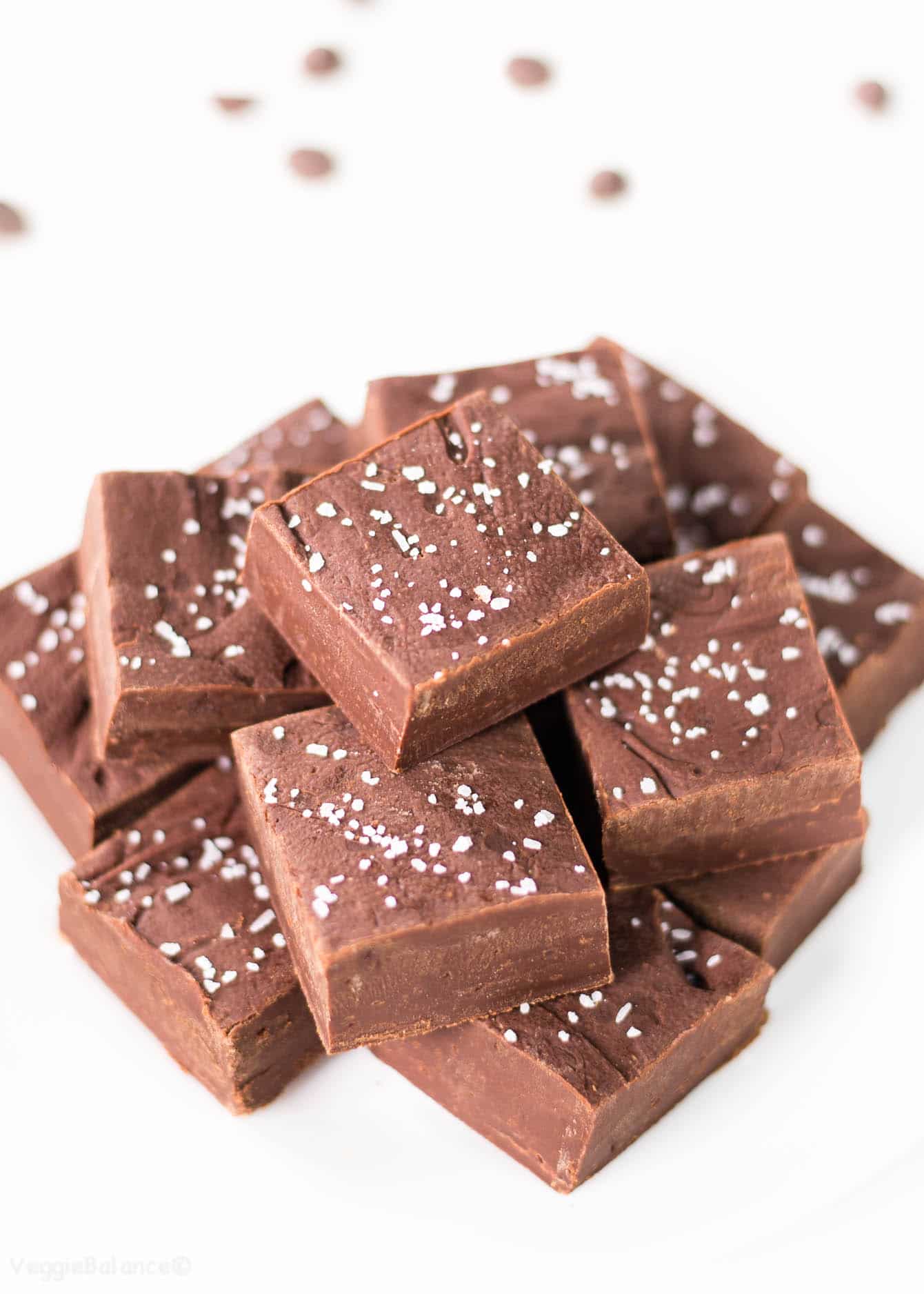 Diving into the old grandma recipe book I uncovered during our first move. . .
Foolproof Chocolate Fudge? Please live up to your name and be easy.
Live up to its name it did. It is amazing.
Chewy.  Perfect Crust Crunch. Chocolate Explosion in my mouth. Heaven.
I personally liked the sea salt addition. You can adorn with whatever you'd like! Add nuts or even a peanut butter swirl. The sky's the limit.
I'll sit over here with my easy Foolproof Chocolate Fudge adorned with a sprinkle of sea salt and prepare myself for this holiday season. My year is complete now that 28 years later I've finally accomplished and made chocolate fudge that is perfect to give away!
Adding it to our edible holiday gift ideas list. It's going up in the hall of fame.
Easy Chocolate Fudge recipe
Gluten-Free, Dairy-Free friendly, Vegan friendly
Easy Chocolate Fudge recipe is Foolproof and will have you saying "Oh, Fudge" in a good way, without the gluten! (Gluten-Free, Dairy-Free and Vegan friendly)
Yield: 36 bars
Prep Time: 15min
Cook Time: min
Total Time: 15min
Ingredients:
Directions:
Prepare a 9x9 square pan by lining it with plastic wrap. I prefer to leave overhang of plastic to easily allow myself to pull the fudge out of the pan when set.
In a double boiler (bowl over simmering water). Combine sweetened condensed milk, chocolate chips, butter and vanilla.
Stir until the chocolate is fully melted and mixture is fully combined.
Pour chocolate fudge into the pan and spread.  (add toppings at this point: nuts, salt, etc. if desired)
Chill in the refrigerator until fudge is firm.
Cut into squares and enjoy!
Nutrition Information:
Serving Size: 1 fudge bar, Calories: 127, Total Fat: 7.1g, Saturated Fat: 4.5g, Cholesterol: 4.5mg, Sodium: 10mg, Potassium: .3g, Total Carb: 16.5g, Dietary Fiber: .4g, Sugars: 14.7g, Protein: .6g
Recipe, images, and text ©