Skinny chocolate chip cookies recipe that are healthy, vegan friendly, super low-sugar, low-fat and delectably moist. (Healthy, Gluten Free & Vegan)
There is a moment in life when you just have to give in and have a little fun. These skinny chocolate chip cookies are that moment my friends.
We've all been there. You've had a great week fueling your body with fruits and veggies, then that craving hits and you want something sweet. Something sweet and of course with CHOCOLATE.
My Skinny Chocolate Chip Cookie Mission Included
Create a cookie with no oil, no butter, and low in sugar.
Replacing the oil with applesauce not only helps the fat content of these but at the same time creates a fluffy and moist cookie.
My sister in-law and my coworker both gave these a thumbs up. They were even approved by little kiddos! I say kids are the ultimate taste testers.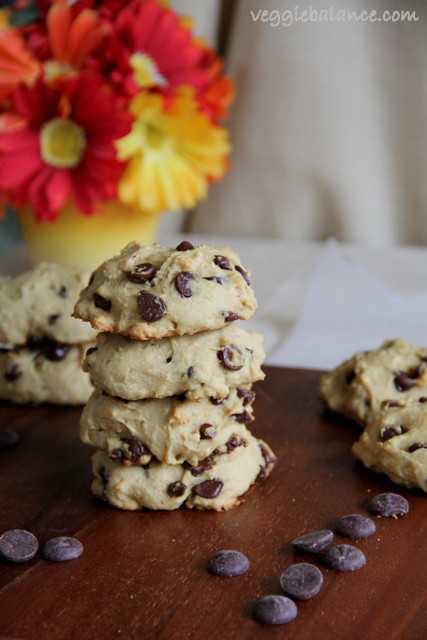 I finished my very first 25k (15.5 miles) this weekend! Proud doesn't even begin to describe it. At the beginning of my journey into this lifestyle I was NOT a runner. I hated running and everything that went along with it.
That slowly changed as I started fueling my body with better food, finding my food allergies, and in result having more energy.
So about this race. It was a beautiful sunny day running along a path next to a riverbank. I almost ended up running 6 miles all the way through just because I felt so amazing. (Never done that before) Mile 10 is when it started going downhill for me and every joint started voicing it's opinion. Around mile 13 is when I really felt like I hit a wall.. It wasn't pretty. Those remaining 2.5 miles felt forever away. I ended up walking a little bit but still finished under my goal of 3 hours and 30 minutes, but barely. Official time 3 hours and 27 minutes.
I'm proud and currently the way my body feels don't know what I was thinking. I do know, I earned myself this cookie. I love healthier cookies! Bon Appétit!