All-natural greek pasta salad full of natural goodness and a homemade dressing.
It's officially summertime here in Michigan! I think we skipped spring and went straight to summer, not that I'm complaining. I plan on spending a lovely day outside enjoying the sun while planting my garden.
I'm going to hold off on the frost sensitive veggies for now like tomatoes and bell peppers. Last year I planted them around this time and we had one more night of frost. They were toast.
But I'm going to plant some lettuce, spinach, kale, oregano, potatoes, onions and my second batch of garlic. Yum!  My chives have already come up and are kicking butt. I ended up using them in this delicious Greek pasta salad. Oh fresh herbs you truly complete me.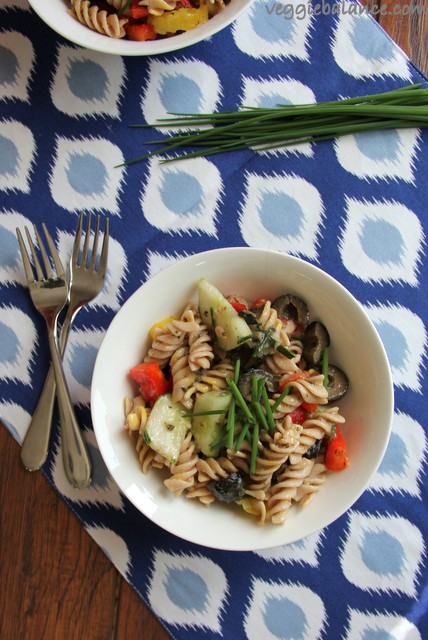 I ended up making this salad for our dinner the night before our 25k race. Since the race was in another city and we stayed in a hotel over night, I didn't feel like trying to figure our way around town to find a place to eat.
When traveling I find good wholesome food is a little tricky to find when you don't know your way around.I think the most beautiful thing about a pasta salad is you can tailor it to your tastes and put in your favorite veggies.
In reality, no matter what veggies you put in it, it's going to be delicious. There is seriously nothing better than all the flavors melding into a bowl full of heaven. Not to mention its refreshing taste is a must for the hot days we've been having!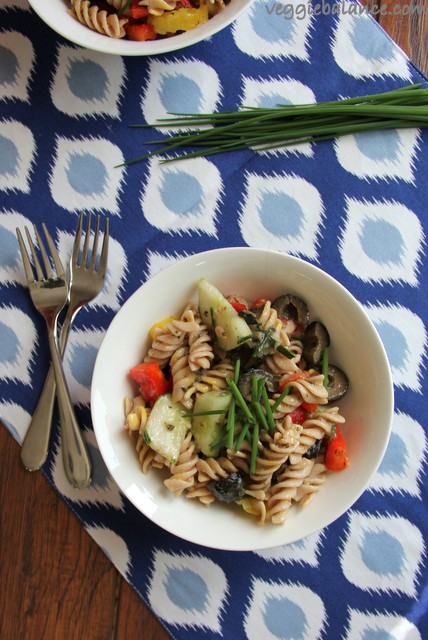 We both ate a hefty amount the night before the race, but still had about 2 cups of it left to take home. After that race and burning that many calories the pasta salad didn't have a chance to survive past the day.
I found myself eating the entire container all by myself. I was going to just have a couple bites, which turned into the entire bowl. Oops.
That's when I panicked and realized I might not have enough to use for photos to share it with you guys! But luckily my mother watched after our house while we were gone and I left her some to snack on in case.
She even said it was amazing and wanted the recipe. Success! Luckily, I had JUST enough left to shoot a couple photos and as you see below, my husband happily demolished the remaining bowl. Candid photo time! hehe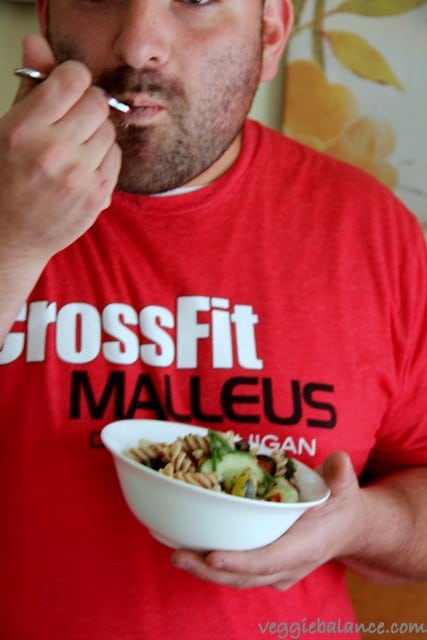 I also wanted to say how much I appreciate everyone stopping by! It means so much to me seeing my recipes on pinterest and so on! You guys rock! 🙂 Bon Appétit!