Vegetarian Stuffed Zucchini Boats made using natural ingredients like our plant-based vegetarian meat replacement and homemade vegan ricotta cheese. These stuffed zucchini boats are the Italian deliciousness you've been craving.
(Gluten-Free, Low-Carb, Plant-based, Vegan, Vegetarian )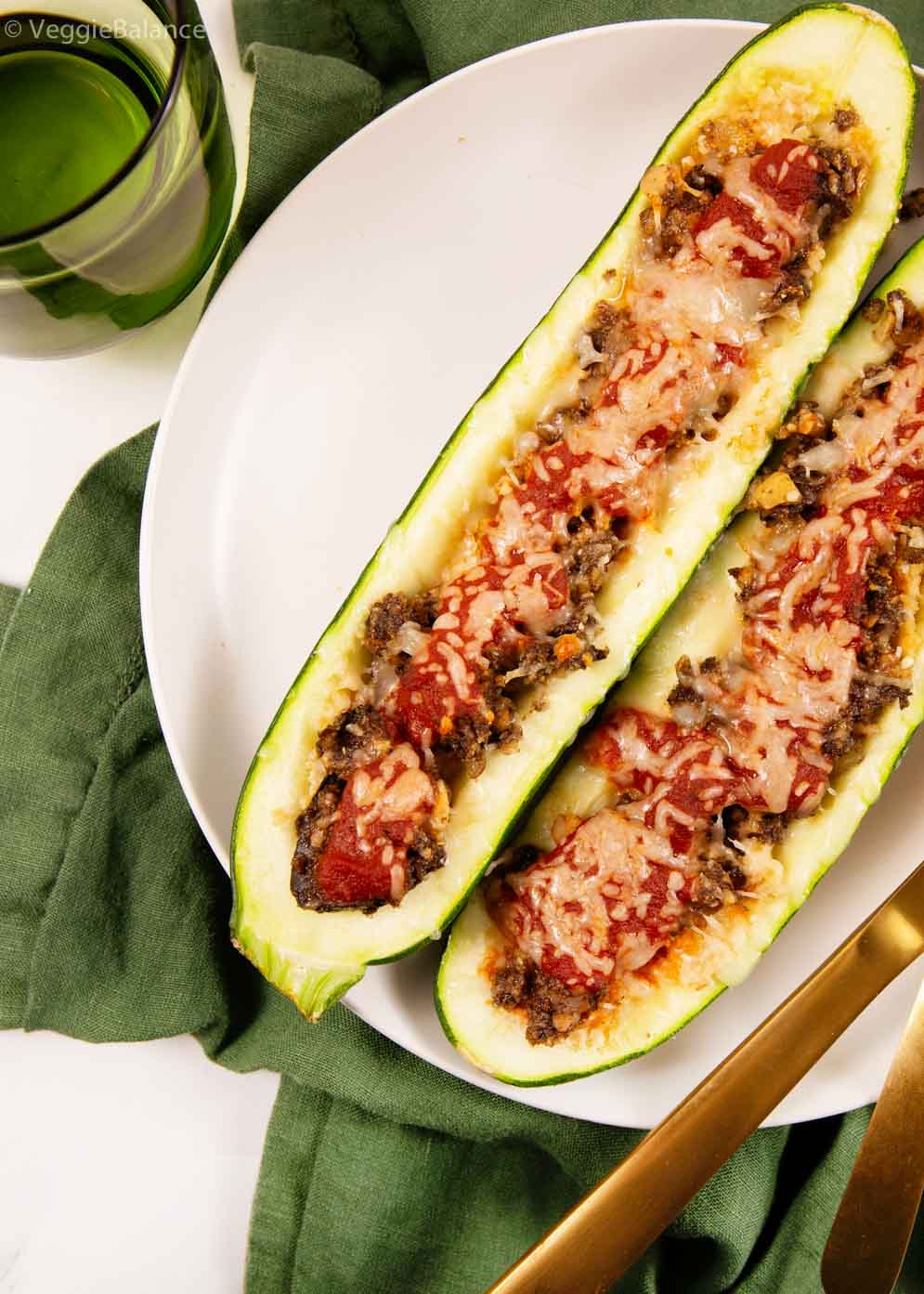 These vegetarian stuffed zucchini boats are going to be a winner for dinner tonight. Zucchini season is going to be here before we know it (wishful thinking?) but luckily zucchini is still available in the grocery stores this time of year so these zucchini boats can be made year-round!
Then when you have zucchini growing out of your years in the back garden. You know what you'll make with them. These fantastic plant-based Italian stuffed Zucchini Boats are made with all-natural ingredients. There is nothing processed in these including our vegetarian meat base. It's the same base that we use for our vegetarian meatless meatballs so if you've tried those or our vegetarian tacos you'll know this base is the jam.
How do you make stuffed zucchini's vegetarian? 🌱
You use those epic meatless meat base that requires just two ingredients pulsed together: Cashews and Mushrooms.
Yep it is really THAT simple to make. You will need a food processor or a blender to pulse it all together. I ended up creating this meat substitute after realizing how many meat substitutes had high amounts of soy in them. For the people with soy allergies or simple don't react well to it this recipe is for us!
Then all you have to do is simply season it how you see fit! In this case we add some Italian seasoning and garlic.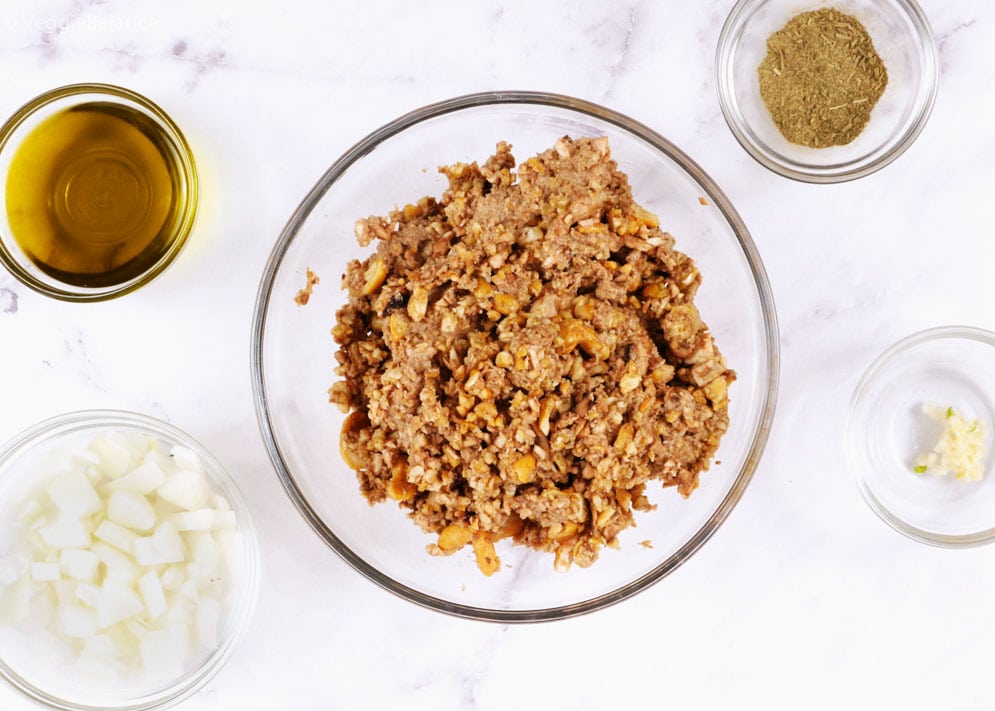 Now it is important that after you pulse together the meat base that you cook it in a skillet to soften the onions and cashews. While that is cooking you can move onto the vegan ricotta cheese.
Vegan Substitute for Ricotta Cheese – All you need to know about it.
We've been making this vegan cheese base for a while now and it's because it is amazing. It's in our Vegan Cheese Dip and our Vegan Taco Dip.
These days fortunately for us there are quite a few dairy-free cheese product alternatives available. The thing is we like to be able to choose what ingredients go into our meals and making vegan ricotta cheese is actually so simple that we prefer to make it. So if you'd like to use a dairy-free alternative go for it as it will work fine. But if you want or can't find it in your grocery stores..
This is what you'll need: cashews, fresh lemon juice, nutritional yeast, sea salt and water.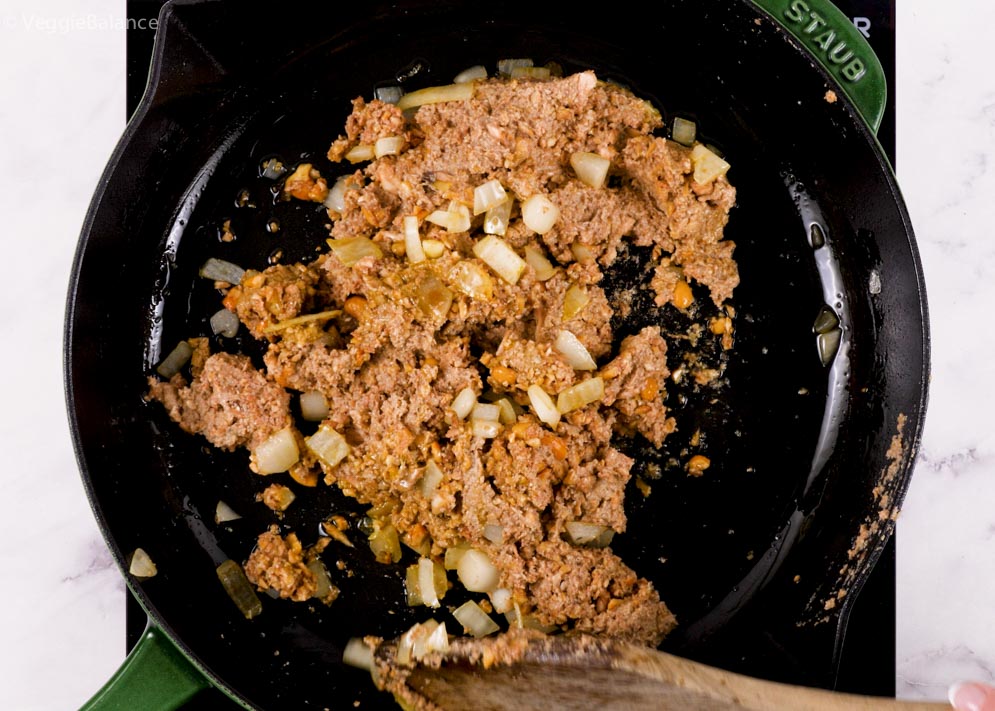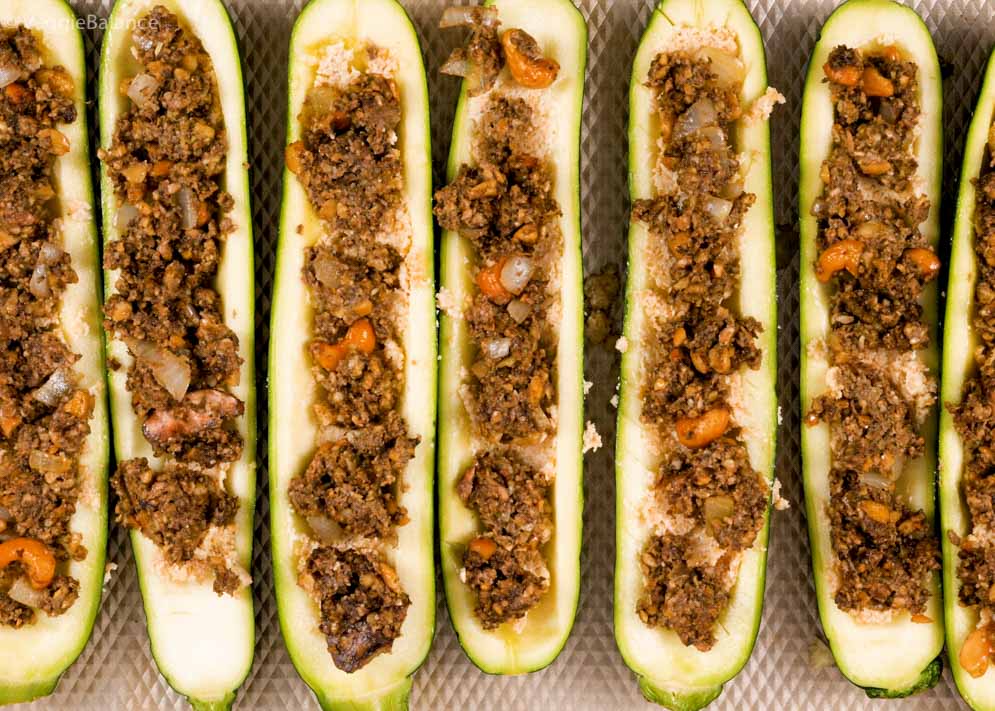 How do you put together the stuffed zucchini boats?
So once you've got your meatless base created, your vegan ricotta now comes the time to put it all together.
Carve out the center of the zucchini (see video in recipe card below for tips how to do this) and then layer your ricotta, meat replacement and spoon a hefty amount of marinara sauce on top.  We like a TON of marinara sauce.. what about you?
NOTE: We are really focused on limiting food waste going into the landfill so either use the leftover carved out zucchini and hide it in other recipes like our Broccoli Tater Tots, or make zucchini fritters like these broccoli fritter, create a compost pile in your back garden or look into getting a indoor composting bin.
Then you can top with vegan shredded mozzarella if you'd like! Odd that sometimes our grocery store does not stock it and so we've eaten these without it before and it's nice. You could always top with our Vegan Parmesan Cheese though as well if you want to stick entirely plant-based!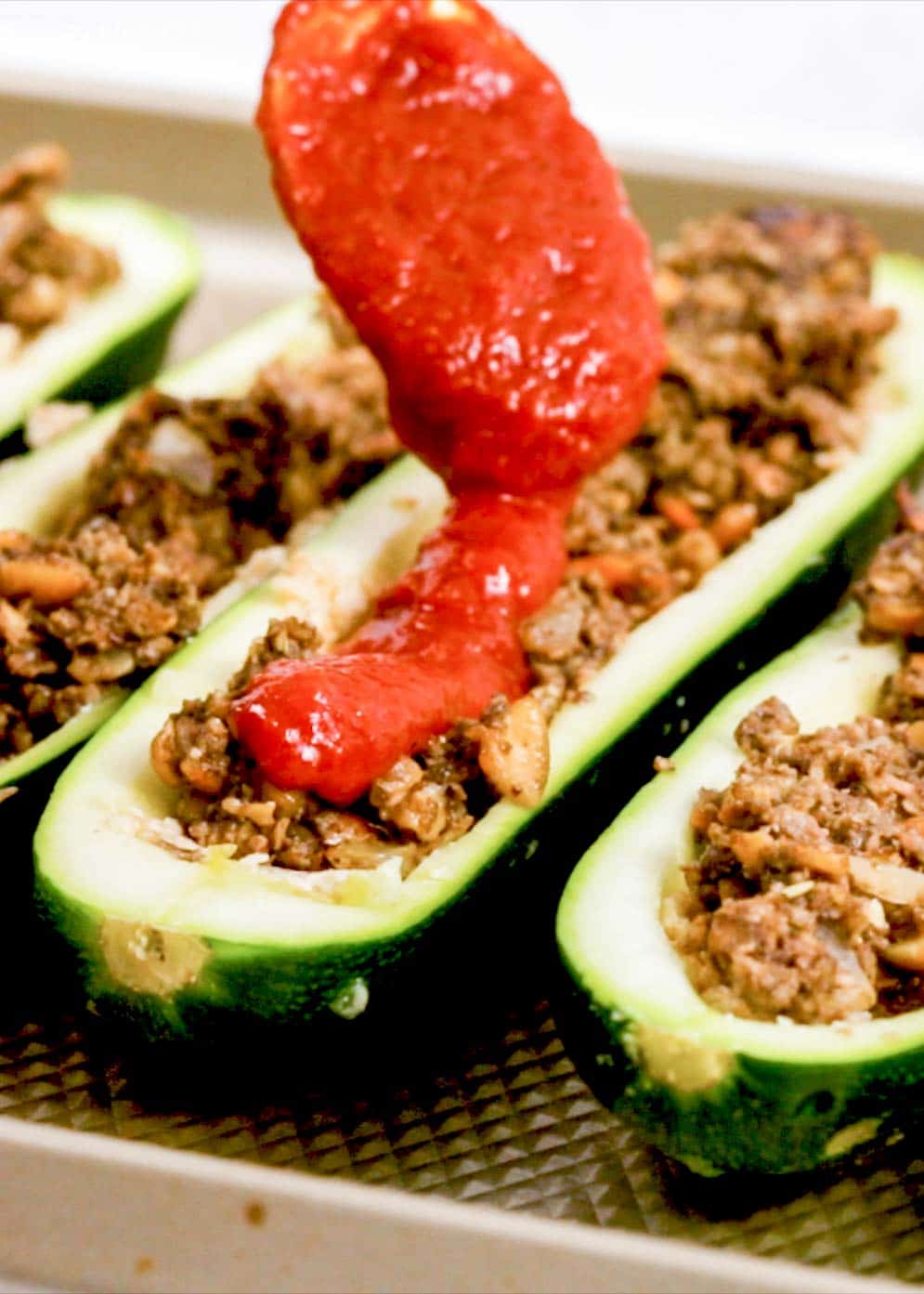 Can Vegetarian Stuffed Zucchini Boats be made ahead of time?
Yes. One of the things I found and was extremely grateful for is that these reheat extremely well. You can microwave or our preferred method would be to pop it back into the oven and reheat that way. About 10-15 minutes at 375 degrees F.
However, do keep an eye on it while you warm it back up. Also always set a timer. Learn from our own mistakes 😂
Just worth mentioning as well. One of our family members follow a low carb diet and while they are low carb the cashews are a bit higher in carbs so it's about 15.5g Net Carbs a zucchini boat. So what he did was eat one zucchini boat and paired that with a side salad which kept him within what he needed to be for his carb counts that night.
So whether you are a zucchini fan or just trying to use up all those zucchinis growing in the garden this is perfect.
It has been a fabulous dish in our family as one needs to be low carb and the other not a huge meat person so these vegetarian stuffed zucchini boats really have made everyone happy!