Healthy Gluten-Free Double Chocolate Chip Cookies recipe. Healthy chocolate chip cookies that are dairy-free, low-sugar and vegan. No oil added, refined sugar-free. Delicious!
(Gluten-free, dairy-free, low-sugar, vegan)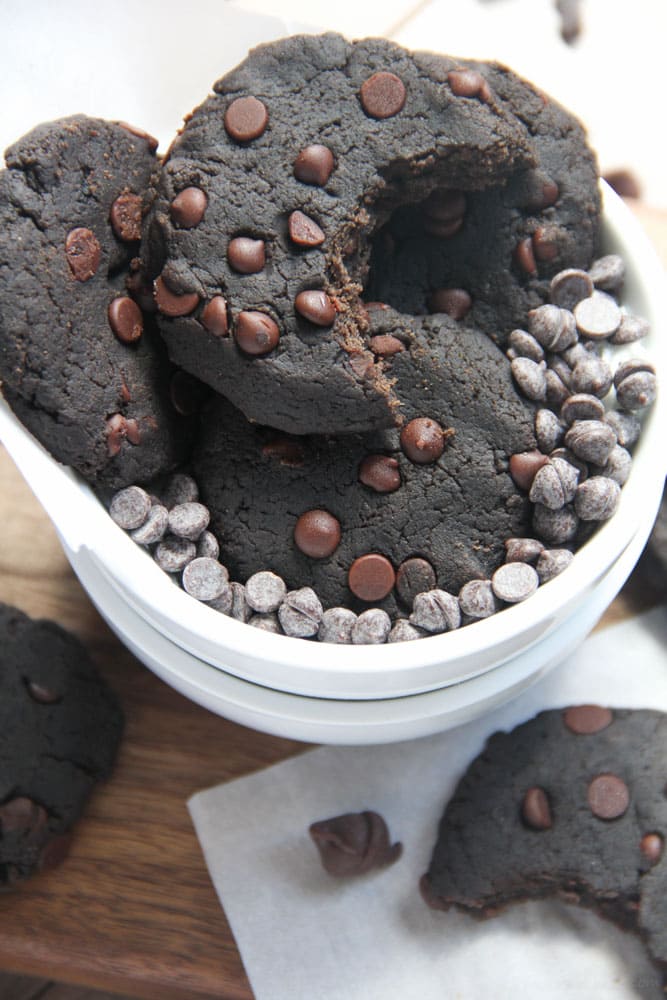 These double chocolate chip cookies are going to stop you in your tracks. That's right, they are DOUBLE chocolate–double the chocolate, double the fun! They are also healthy, gluten-free, dairy-free, low-sugar, and vegan. With double the chocolate, you'll find yourself dreaming of these healthy chocolate cookies. (Yes, I actually did have a dream the night I made them.) I just wanted more; every single cookie is mine and I am not sharing.
These are a spin on the latest cookie obsession I've been on lately. It all started with a remake of the very first cookie recipe here on Veggie Balance and then recently I took a gluten-free spin on cookies so that I can start devouring them more often. Turns out this has become a devouring-cookies-every-week kind of thing. #sorrynotsorry
These double chocolate chip cookies require chocolate, and lots of it. The more chocolate, the better. Chocolate batter with chocolate chips and why not make it so chocolaty we just want to bathe it in?
Yes, if you just imagined yourself in a bathtub filled with cookies, it's a pretty darn good image right there. Sanitary? No, but who cares, you are surrounded by cookies.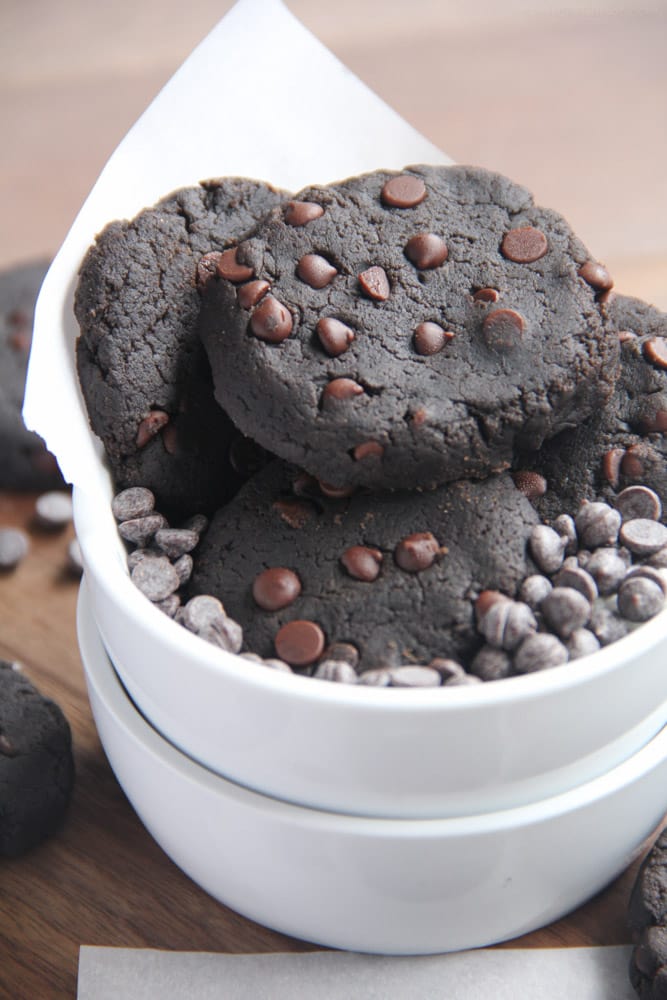 Did I paint the picture of how delicious these are? Good.
Gooey gluten-free double chocolate chip cookies chock full of chocolate chips. Uhh, wait a minute, they are also healthy, low-sugar, dairy-free AND vegan. Sayyyyy what!?!
Ooo momma, we have hit the double chocolate chip jackpot. Again, the image of being surrounded my millions of cookies and throwing them in the air comes to mind. Might my cookie obsession have gone too far this time? Never.
I've recently come into possession of cookie baking ninja tools. I still can't believe I put off owning them for all these years. My silicone baking mat and cookie scoop are essential for cookie baking, cookie loving, and cookie devouring moments. The more cookies the better in my professional opinion.
Serious moment though; if you do not own these utensils, you need to get them now. Life changers these are and, as you know, the less work the better. Less clean up? Now that is a whole different ballgame of awesome. Zero clean-up? Even better.
I absolutely hate cleaning pans. They are the bane of my existence, and it's even worse when you literally make something new almost every day. *SIGH* Food blogger problems.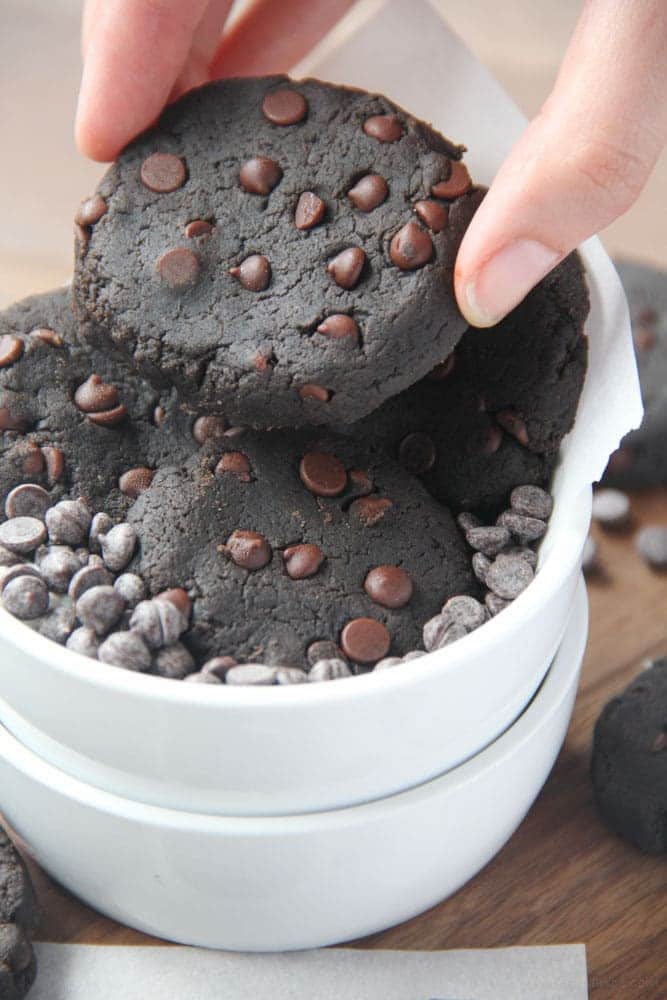 So, you have two options for clean up.
One, have the husband do it (my personal favorite).
Or two, buy yourself a handy silicone baking mat, a little bit of soap and water, and you're done. NO SCRUBBING. We all know about that annoying charred on chocolate that turns out  to be such a pain to get off. Chocolate is heavenly until it turns into some type of charred-on-devil. Never would think delicious, decadent chocolate would turn on you like that, but it does. Use your silicone baking sheet and that is a thing of the past.
Best moment ever.
R is pretty happy about it too since he still does the majority of the clean-up. I figure, I'm making him cookies and muffins multiple times a week, so he can clean the kitchen.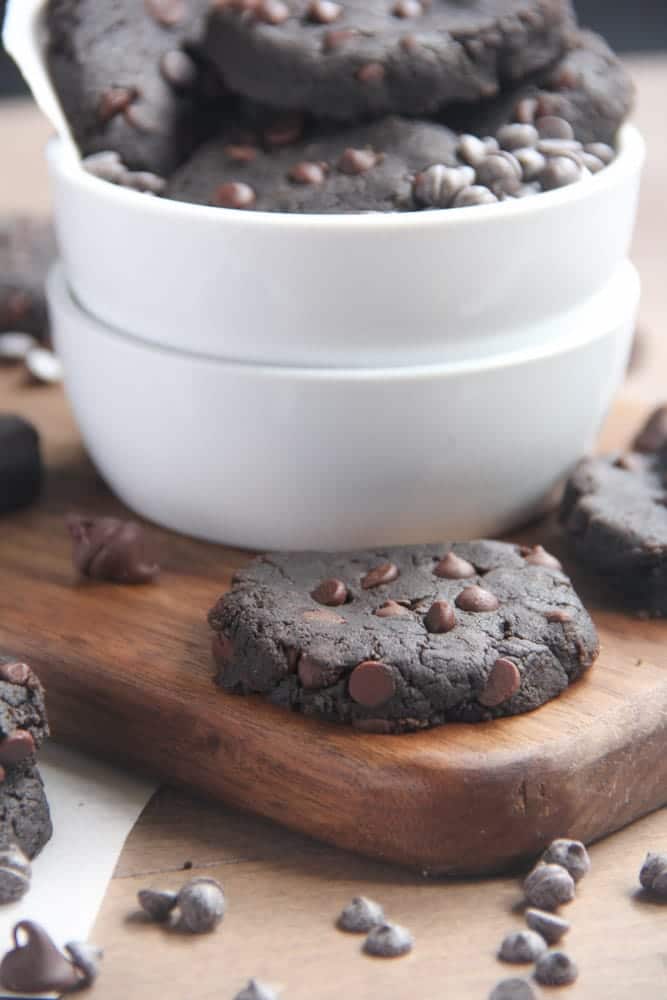 I don't feel bad having these cookies in my kitchen when they are secretly so healthy. R and I both have no self-control when it comes to cookies (or ice cream). If cookies are in the kitchen and available to eat, we demolish them. When they are healthy, low-sugar, and made with simple natural ingredients like these decadent healthy gluten-free double chocolate chip cookies, I say who cares how many we demolish; let's make more! R will happily back me up on that one; we are kindred spirits.
Baking so many cookies over these past few months has taught me some things about myself:
1. Chocolate is a necessity when I am stressed.
2. When I'm too busy to really work out, it just makes sense to bake cookies to compensate.
I know, I just said the most cliché thing of being too busy to work out. I never allowed that excuse before, and it's not really an excuse, just a fact. I wake up around 5:00 AM, work on my blog until 7:00 AM, head to my part-time job until 2:00 PM, (thank goodness for going part-time) then come home and work on the book until 8 or 9 PM. Crazy hours, my friends. We have time for cookies, but currently nothing more than random runs here and there.
Seriously, this amazing cookbook has me working on it like whoa crazy hours. It is all worth it though because we're getting closer and closer to completing the print version!