Avocado Taco Bowls with Sweet Potato recipe made with 6 simple and easy ingredients for a healthy and quick meal. This is a fantastic stuffed avocado recipe to make for meal prepping.
(Gluten-Free, Vegetarian, Vegan Friendly)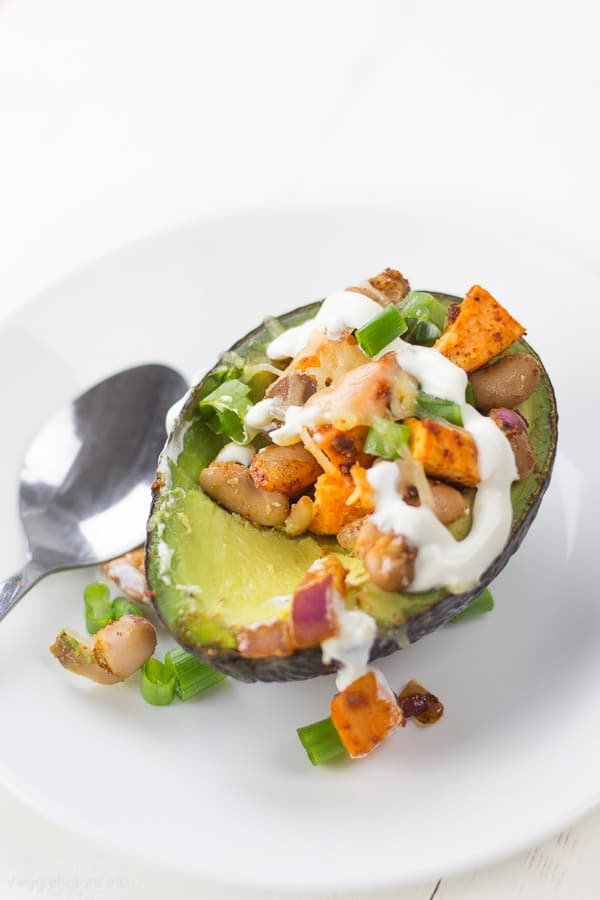 I've climbed aboard the sweet potato and Mexican spices bandwagon. It is amazing.
Generally speaking, I have no patience for time consuming meals. Ain't nobody got the time for that. These Avocado Taco Bowls are the epitome of an easy meal. // Just what I need.
Eat healthy with minimal work. Yasssssssssss.
How to Cook with the Sweet Potatoes in our Stuffed Avocado Taco Bowls
Make sure sweet potatoes are fork tender before placing filled avocado bowls into the oven. (They will not cook that much in the oven.)
To quicken this process, simply cover and cook the beans and sweet potato in a pan for 8-10 minutes on low heat, stirring every so often.
It doesn't take much for me to fall in love with a meal when it involves Mexican flavors. These flavorful Avocado Taco Bowls are no different.
This is especially true when we throw in our beloved sweet potatoes.
Mexican spices + Sweet Potatoes = DELICIOUS SWEET HEAVEN. We love using our homemade taco seasoning and then a drizzle of our copycat taco sauce.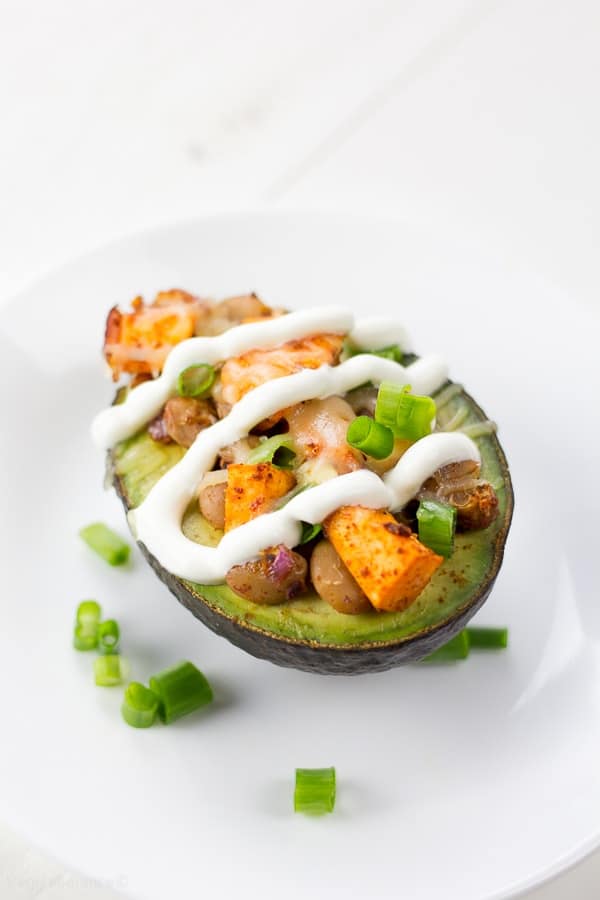 Best Reasons to Make These Stuffed Avocado Taco Bowls!!
You can easily swap the beans for ground beef or crockpot shredded chicken. I've done that before and it is good if you or a family member is not vegetarian.
One thing I love so much about this is the leftovers.
There is leftover filling to fill another 5-6 avocado taco bowls. This makes this recipe the perfect meal for meal prepping or quick lunches.
You don't have to bake the avocado taco bowls if you don't have the resources or the time. I've microwaved the sweet potato & bean filling, filled the avocado, topped with my favorite toppings, and called that a lunch when the oven wasn't an option.
Swaps to Make our Stuffed Avocados dairy-free
To make this 100% dairy-free and vegan, simply make with dairy-free cheese (or omit cheese entirely) and use dairy-free plain yogurt instead of sour cream. You've got options.
If you haven't joined the sweet-potato-in-Mexican-dishes bandwagon yet, I highly advise you to jump on and try these Stuffed Avocado Taco Bowls.