Avocado Taco Bowls with Sweet Potato recipe made with 6 simple and easy ingredients for a healthy and quick meal. This is a fantastic dish to make for meal prepping. (Gluten-Free, Vegan Friendly)
I've climbed aboard the sweet potato and Mexican spices bandwagon. It is amazing.
Generally speaking, I have no patience for time consuming meals. Ain't nobody got the time for that. These Avocado Taco Bowls are the epitome of an easy meal. // Just what I need.
Eat healthy with minimal work. Yasssssssssss.
TIP: Make sure sweet potatoes are fork tender before placing filled avocado bowls into the oven. (They will not cook that much in the oven.) To quicken this process, simply cover and cook the beans and sweet potato in a pan for 8-10 minutes on low heat, stirring every so often.
It doesn't take much for me to fall in love with a meal when it involves Mexican flavors. These flavorful Avocado Taco Bowls are no different.
This is especially true when we throw in our beloved sweet potatoes.
Mexican spices + Sweet Potatoes = DELICIOUS SWEET HEAVEN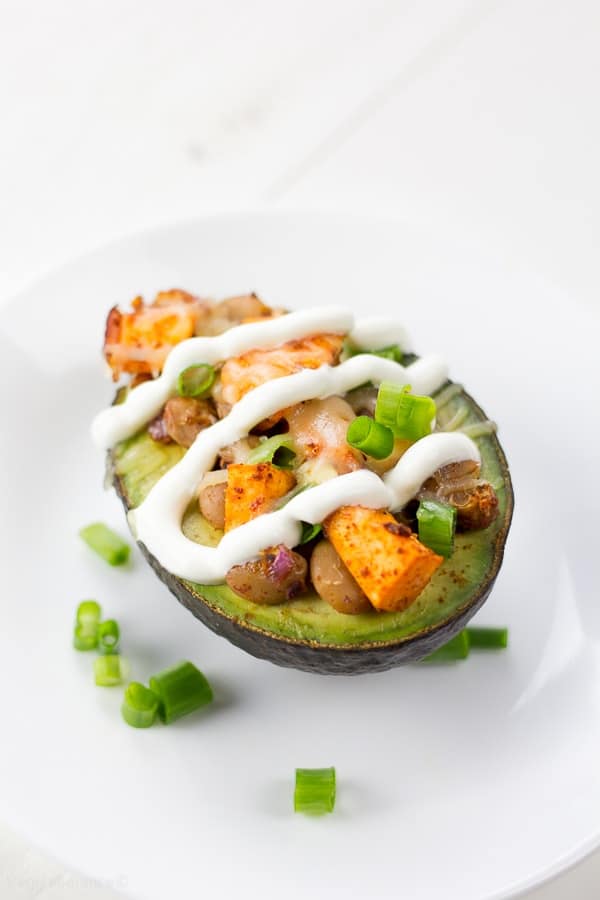 Best Reasons to Make The Avocado Taco Bowls!!
You can easily swap the beans for ground beef. I've done that before and it is amazingly delicious.
One thing I love so much about this is the leftovers.
There is leftover filling to fill another 5-6 avocado taco bowls. This makes this recipe the perfect meal for meal prepping or quick lunches.
You don't have to bake the avocado taco bowls if you don't have the resources or the time. I've microwaved the sweet potato & bean filling, filled the avocado, topped with my favorite toppings, and called that a lunch when the oven wasn't an option.
TIP: To make this 100% dairy-free and vegan, simply make with dairy-free cheese (or omit cheese entirely) and use dairy-free plain yogurt instead of sour cream. We have options.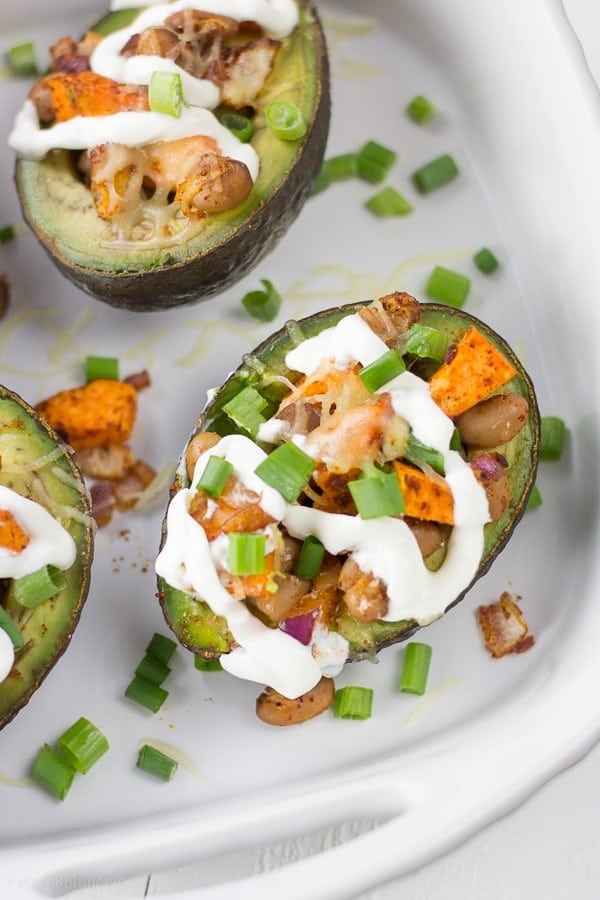 If you haven't joined the sweet-potato-in-Mexican-dishes bandwagon yet, I highly advise you to jump on and try these Avocado Taco Bowls.
Jumping into the New Year with some healthy and nutritious food doesn't hurt either. 😉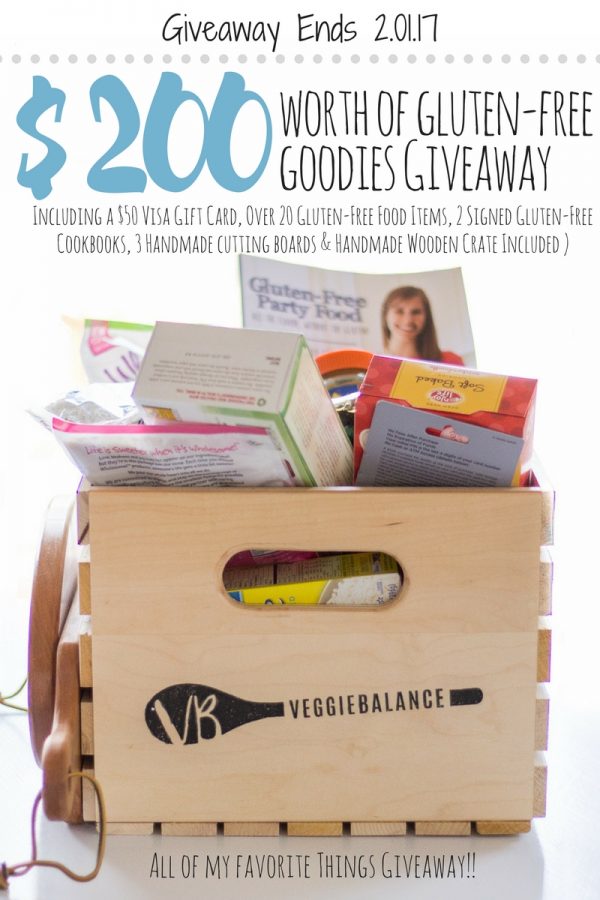 Now on to something super and awesomely fun! This month marks 3 YEARS that Veggie Balance has been up and running. How super crazy and exciting is that?!? // Seriously, where has the time gone!?
To help me celebrate, 9 other AMAZING gluten-free bloggers have joined me to put together a collection of my favorite things (Total value around $200) to give away to a lucky reader!
Veggie Balance | What The Fork Food Blog | My Gluten-Free Miami | Avocado Pesto | Vegetarian Mamma | Brunch-n-Bites | Wholesome Yum | The Heritage Cook | Fearless Dining | The Culinary Compass
Special thank you to the following companies that provided and create such amazing gluten-free products that I love: Bobs Red Mill, Wholesome, Muir Glenn, Jovial, Sunbutter, Peanut Butter & Co, Earth Balance, Enjoy Life Foods, San-J, and Daiya.
Avocado Taco Bowls with Sweet Potato
Main
Gluten Free, Vegan Friendly
Avocado Taco Bowls with Sweet Potato recipe made with 6 simple and easy ingredients for a healthy and quick meal. This is a fantastic dish to make for meal prepping. (Gluten-Free, Vegan Friendly)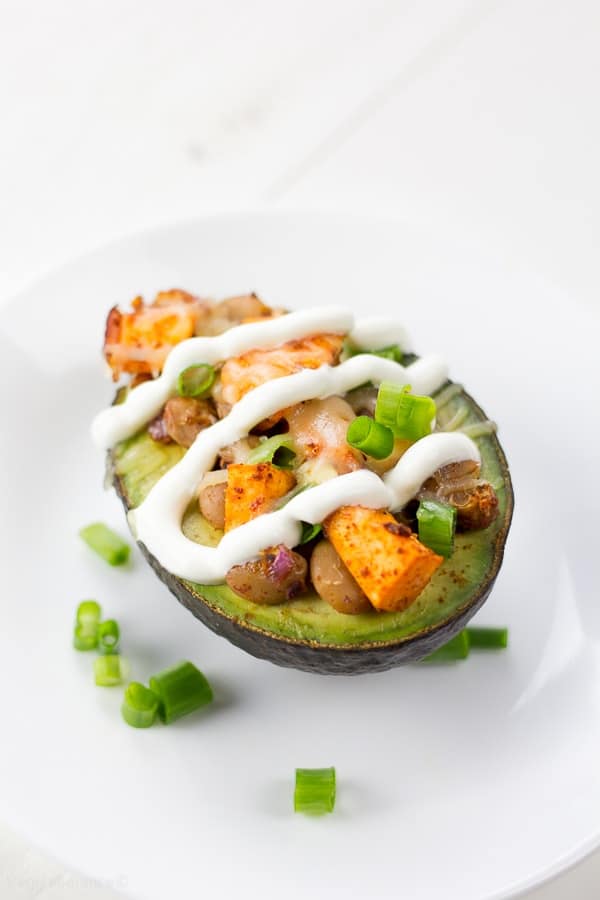 Print Recipe
Yield: 4 bowls
Prep Time: 15 min
Cook Time: 20 min
Total Time: 35 min
Ingredients:
2 avocados, sliced in half and pitted
2 Tablespoons olive oil
1 small onion, chopped (Approx 1/2 cup)
1 sweet potato, peeled and chopped
1 (15 oz) can pinto beans, drained and rinsed
3 Tablespoons taco seasoning
Salt and Pepper to taste
Avocado Toppings
1/4 cup cheddar cheese (or dairy-free cheese), optional
1/4 cup green onion, chopped
sour cream
Directions:
Preheat oven to 400 degrees F.
Place avocados, cut side up in a 8x8 baking dish.
In a large skillet, add olive oil, sauté onions, add sweet potato, pinto beans, taco seasoning, salt and pepper. Cook over low heat and cover until potatoes are fork tender.
Spoon 2-3 Tablespoons into each avocado.
Cook for 10 minutes.
Sprinkle cheese (optional) and cook for another 5 minutes or until the cheese has melted.
Garnish with green onion and sour cream.
Serve warm.
Recipe, images, and text © Veggie Balance