Crockpot Shredded Chicken recipe and how to make it in the crockpot with just 2 Ingredients and in a couple hours it's ready for dinner time.
(Gluten-free, Dairy-free)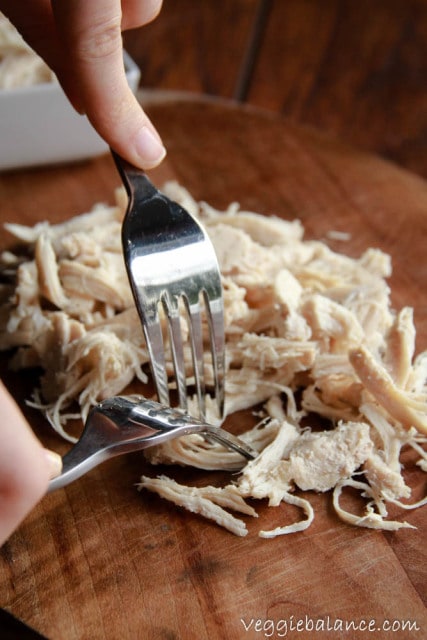 It's cold, it's dark by 5 p.m. and I want quick easy meals. Helllooo Crockpot Shredded Chicken. Seriously, if you do not own a crockpot or it's sitting in the depths of your cupboards.
On my pre-make list before shoulder surgery along with my vegetable soup with chicken meatballs. So to tackle the chicken breast I tried something where it was zero work of having to deal with the raw chicken. Just throw it in the crockpot? Yess.
Using frozen chicken breasts for our crockpot shredded chicken
I've read that it's not wise to throw frozen chicken in your crockpot because it'll fall to the 'danger zone' temperature for raw meat and can cause issues with botulism.
Never thought of it before but it does make sense. So, I first brought the chicken broth to boil then added the frozen chicken. Don't really know if it makes a difference but for all things meat. I don't take any chances.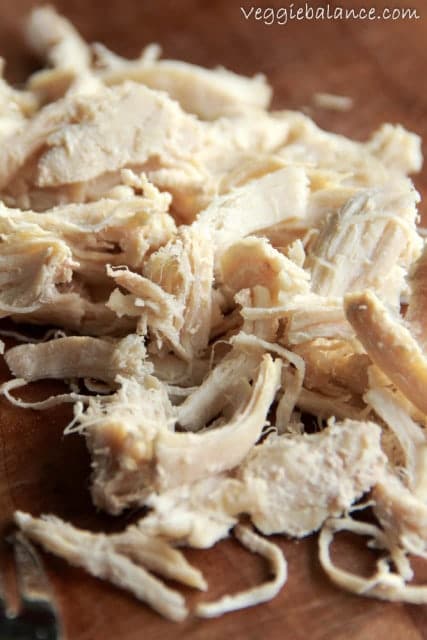 How to get the perfectly cooked crockpot shredded chicken
Whatever you do, do not cook it for longer than needed. Otherwise you'll end up with dry straw-like chicken. Which personally when chicken becomes like that is when I really hate chicken and will refuse to eat it.
Letting the chicken cook in it's own juices really brought out a lot of flavor in it and not to mention hands free easy cooking was heaven!
I've also done a batch of Cajun style shredded chicken along with crockpot shredded chicken tacos which is the same process just add some spices in to let it cook through.  I truly cannot stress enough of grass-fed chicken I purchased from a local farm really also does wonders for the taste!
This is actually in a way a Part One post… intrigued?
I was writing another post when I realized I probably should explain how easy it is to make crockpot shredded chicken! So next post will have this moist delicious shredded chicken in it.
How to Perfectly and Easily make Shredded Chicken.
I picked this trick up from the internet and it is as unbelievably simple and amazing at the same time.
Take your hand mixer and place right into the slow cooker. Turn on low and go to town on that chicken. It shreds in quarter of the time and is SO much less work.
You are welcome.