Baked Garlic Green Beans put a delicious flavor ahead of bad childhood memories of bad beans. Adulting doesn't have to be hard – it can be tasty! (Gluten-free, Vegetarian, Vegan)
Anyone else have bad memories as a child? It was always Me vs. putrid Green Beans. I hated them. These baked garlic green beans are so tasty I'm pretty sure I would of scarfed them down easier back in the day.
What I was raised with was canned or frozen green beans. Which if your going to send a child in revolt for vegetables it's going to be with either canned or frozen. I'm sorry it is just not even close to the same.  Fresh is the way to go.
As I've mentioned before, living in this tundra called the Midwest our produce becomes lifeless and tasteless. Those fruits and veggies have a long journey to get to us, by the time they get here it's useless and expensive.
For that reason I stick to the winter root vegetables. Green beans are another perfect vegetable that are hardy and keep well. I found a bag of organic green beans at my local store and I've been eating them all winter long. I eat a bag a week currently. YUM Green beans, carrots, onions, potatoes are beginning to become a little monotonous.
Spring where are you?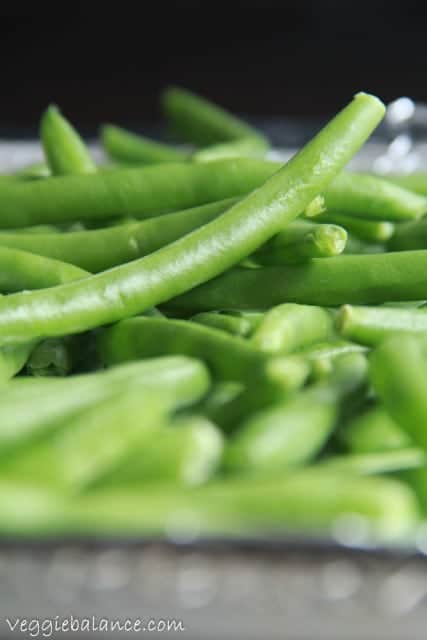 This is really the time of year when I question why I live in Michigan. Seeing people post pictures of warmth and outside in t-shirts makes me realize that could be me!
Maybe someday… *sigh*
I'm a simple girl. I hate recipes with a bazillion ingredients and steps. It's just to much. My attention span is limited and as soon as I see 10+ ingredients not including spices I run from it like it's on fire.
If were on this subject might as well mention my despise for weird crazy ingredients too. If I can't find it at my local market I'm passing as well.
Told you, I'm simple.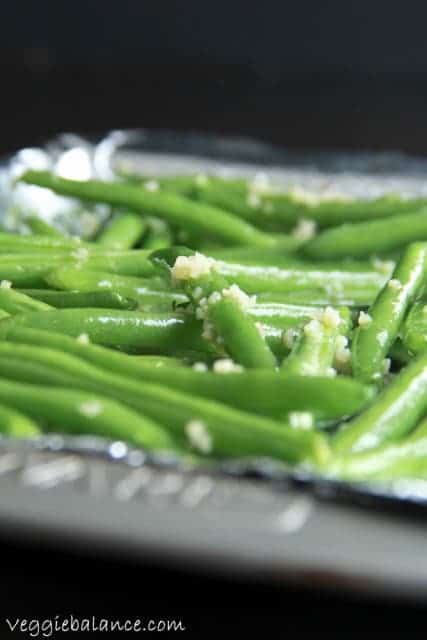 Simple makes things 20x more delicious I think. Especially with vegetables. Giving them a little bath in olive oil brings out so much simplistic delicious flavor. It's a winner.
Which, leads me into some exciting news! I've started working on my cookbook! Simple recipes with few ingredients but a whole lot ta flavor. I'm excited I've found a theme I'm going to do (stay tuned I'll share more). I've been rummaging ideas around for a while now, it's going to be a while before it's done. But just like VB, you just have to start. 🙂
Oh! Which leads me into another announcement! (Goodness, I swear it's just flowing announcements. Sorry.)
I started a page on how I got started with VB and also the tools I've used to have it grow! I've had people ask me what camera I use and that geeky sort of stuff.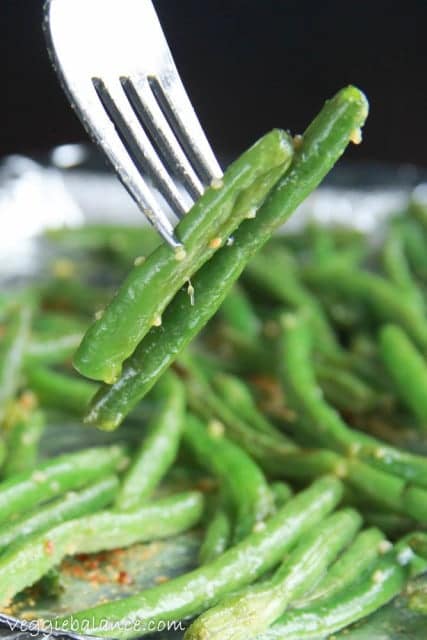 Buy yourself some fresh green beans, let them bathe in some olive oil and garlic and you'll have the perfect side for your next dinner. So simple even someone with one arm can make them. 🙂