Cabbage Roll Soup recipe is a classic dish made easy. No muss, no fuss. No rolling. Just easy unstuffed cabbage roll deliciousness with minimal cleanup made into a slow cooker soup.
(Gluten-Free, Dairy-Free, Low-Carb, Low-Sugar, Nut-Free)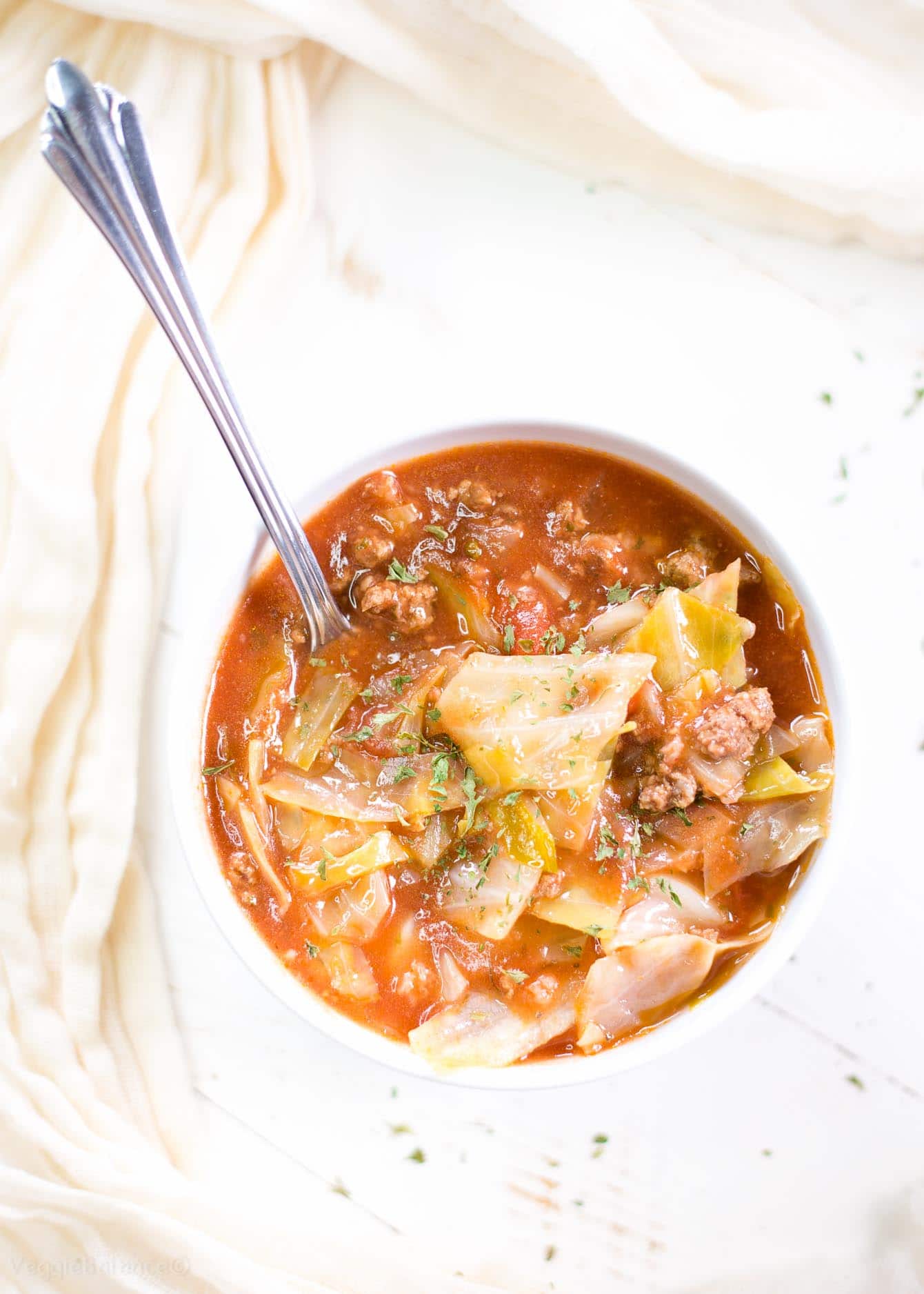 I grew up with cabbage rolls. They were the go-to dinner my grandma would make at family gatherings. My mother never quite understood this odd favorite of mine.
Of course, as I got older it was a given I would start making them myself for my family.
There is one problem. Cabbage Rolls are time-consuming to make. We all know I have little patience when it comes to cooking.
Dinner needs to be easy. Individually wrapping each cabbage roll tucked around beef and rice was painful and hence they slowly fell off the dinner rotation.
I was inspired by our Egg Roll in a Bowl –  it got me thinking perhaps we can make these Cabbage Roll IN A BOWL as well?
It's everything we love about Cabbage Rolls but ZERO of the painstaking rolling.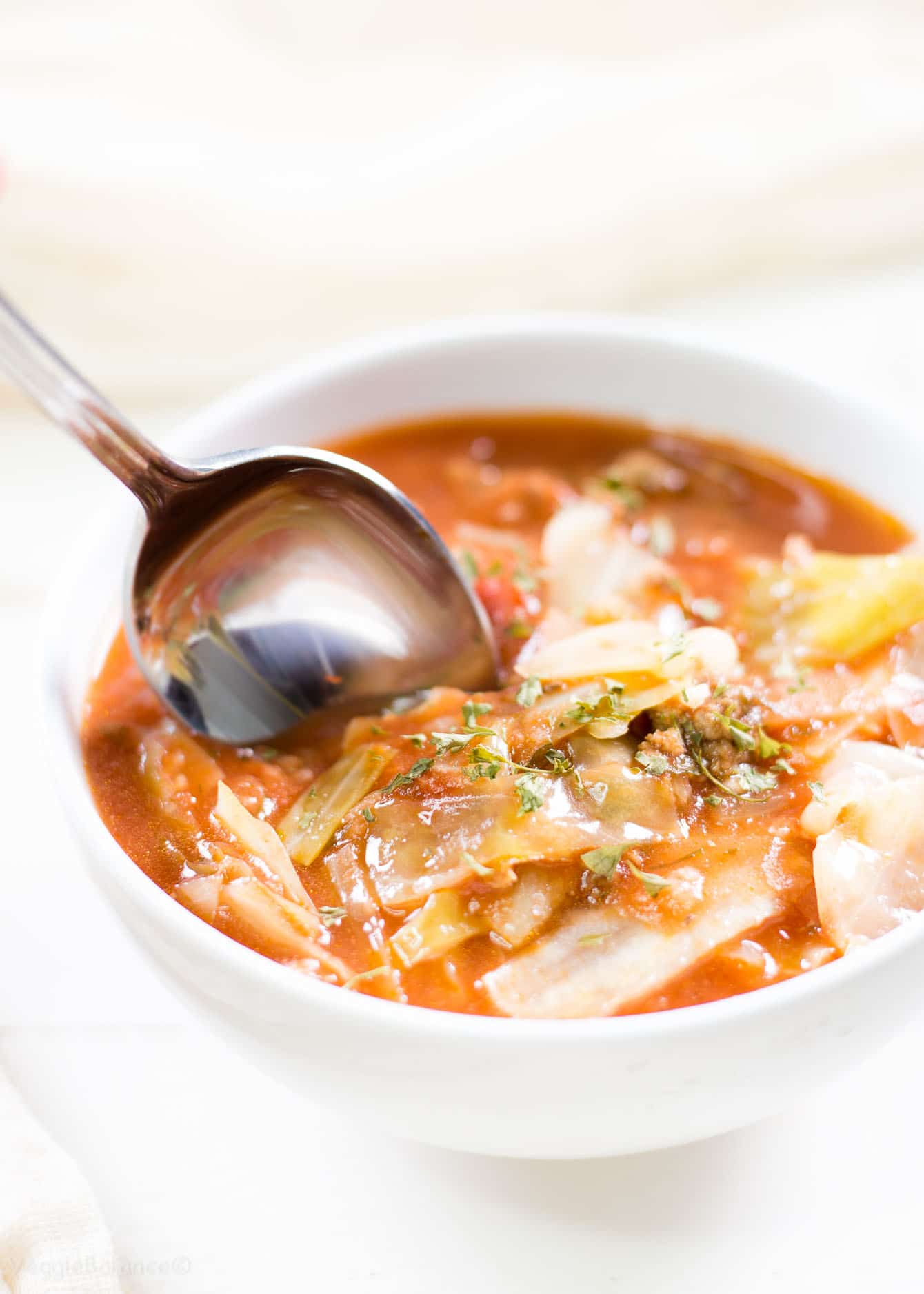 Throw it all in the slow cooker or pot and simmer. Bam we are complete. It is amazing and this dinner is now on our weekly rotations.
Packed with cabbage to get those greens in, filled with warming comfort and nostalgia. Yep this recipe is a winner on all fronts.
What type of meat to use in our Unstuffed Cabbage Roll Soup
Beef – this is personally our family favorite
Pork – Using ground pork is a great alternative if you want a little bit of a milder flavor compared to the beef.
Chicken – Ground Chicken or Ground Turkey if you are looking to avoid red meat.
Vegetarian meat base from our Vegetarian Meat recipe.
I began making this in a slow cooker.
I love the slow cooker and the whole set-it-and-forget-it mentality of it. I mean there are a ton of slow cooker recipes here on VeggieBalance. This cabbage roll soup is going to be added to as one of the best slow cooker recipes of all time.
I was still dirtying a pan to cook the ground beef but since I took my laziness up another level, I now make this in a large pot.
One less dish to clean. Yep, I'm lazy and I'm not ashamed. So make it in the slow cooker or in one pot. Whatever 'laziness level' you feel like achieving that day.
If you one day have it in your soul to muster up the work to roll each little cabbage roll this recipe here is for you.
Otherwise, all us other lazy peeps here will be eating our Cabbage Roll in a Bowl. Because really, we just need some nutritious dinner in our belly with minimal work. Am I right?!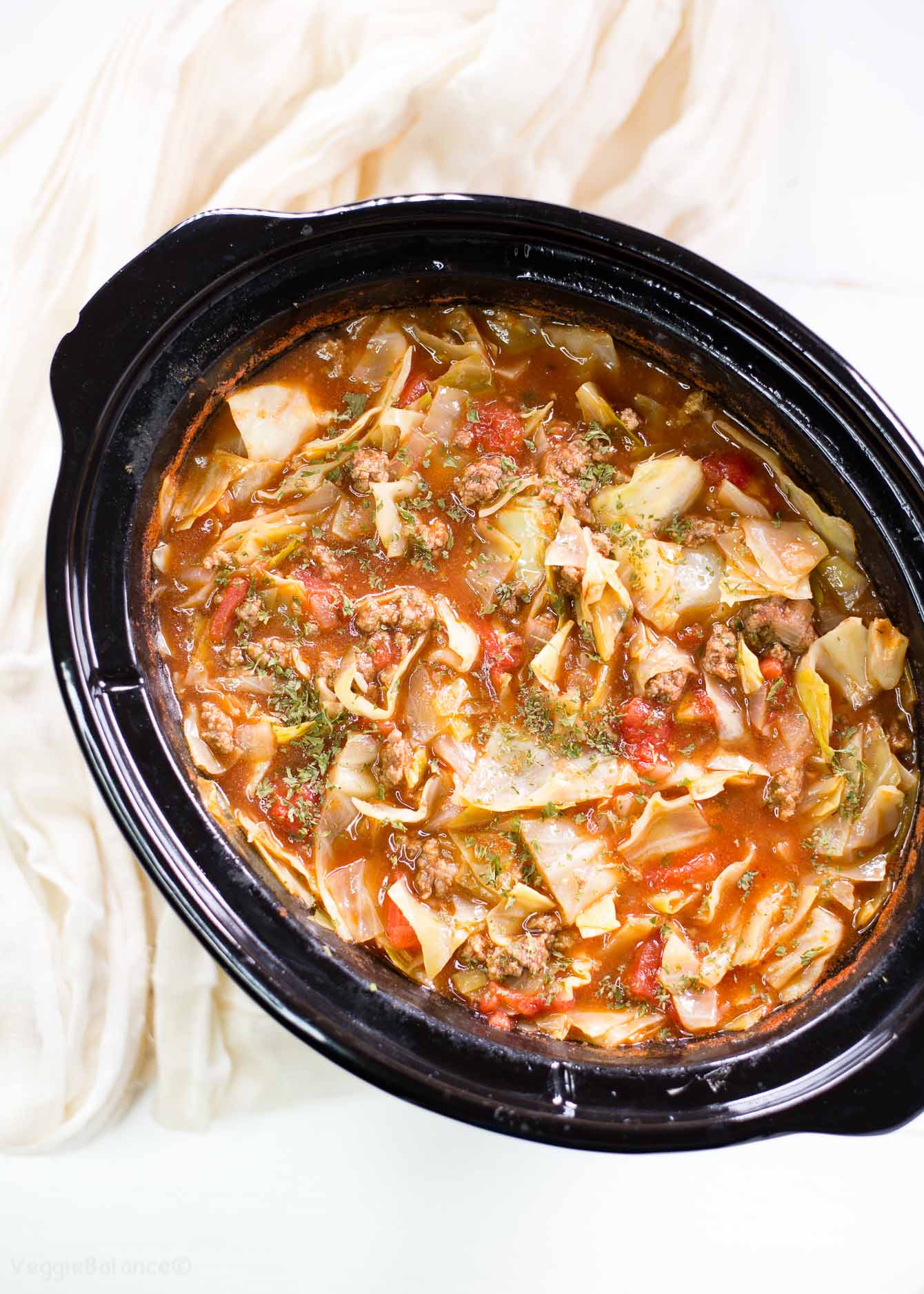 check out just how easy this cabbage roll soup is to make!