Grilled Vegetable Kabobs recipe using two simple, yet amazing ingredients for the marinade, fresh squeezed lemon and minced garlic really take it up to a whole new level. (Gluten-free, Vegetarian, Vegan)
All these beautiful vegetables in all their glory. I just can't get enough of them. Aren't these grilled vegetable kabobs just deliciously sexy looking!?
We've all been aware how 'anti-vegetable' R normally is. He couldn't resist these beauties. He said, "Damn that's just beautiful. Never thought I'd say that about so many vegetables."
Yeah, you can't resist them.
Perfectly seasoned with two simple, yet amazing ingredients and you got yourself an epic meal. Fresh squeezed lemon and minced garlic together are the bees knees.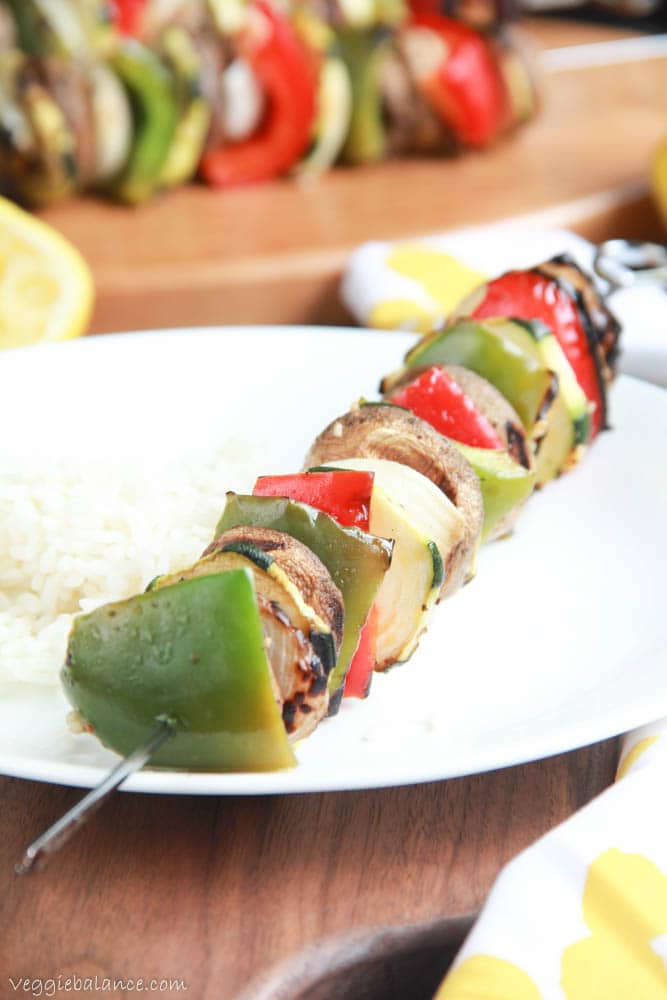 I always forget how much I love fresh squeezed lemon. It takes any dish to a whole new level.
We ended up buying a butt-ton of lemons the other weekend, as R wanted some homemade lemonade. I told him I'd improvise and figure out a healthier alternative for him with less sugar and with a more natural sugar approach.
Currently my family has honey coming out of our eyes and ears. The one honey hive exploded into 6 hives. That my friends is way more than a butt-ton that is a F***-ton of honey about to happen this summer. So my natural sugar option needless to say will be honey. I'm trying to convince them to try to sell it on the Looking Glass Lodge shop.
There really is only so much honey you can go through. I could make a billion of Chocolate Chip Almond Bites, those use honey and are oh so delicious.
If you haven't seen the awesome video I shot of my first honey harvest go check it out. It was absolutely so much fun. I'm secretly kind of excited they grew so much, I love having something that has so much purpose. We need our bees to pollinate and grow our food. I also find some deep passion for being outside and being with nature. (Wow, hippie alert.)
So back to these beautiful veggies and the lemon. I haven't gotten around to making the lemonade yet (someday I'll get to it). Using the lemons for lemonade wasn't happening as quick as I was hoping and with all these lemons though it just made sense to slather these beautiful vegetables in the fresh and wonderful juice.
The result: A full-blown fall in love kind of dish.
I don't know what I'm going to do, I've been whipping out some very delicious dishes lately. These grilled vegetable kabobs are now on my dinner meal schedule, along with the chicken parmesan, blackened chicken and strawberry cucumber salad.
That is a lot of delicious meals. I need to make myself a new dessert I think. I'm feeling brownies. It's a problem starting to run longer distances lately, I am so hungry! Especially right now, I could eat my weight in food after running my long distance this morning.
Yeah, I'm going to be doing just that right now. I LOVE FOOD!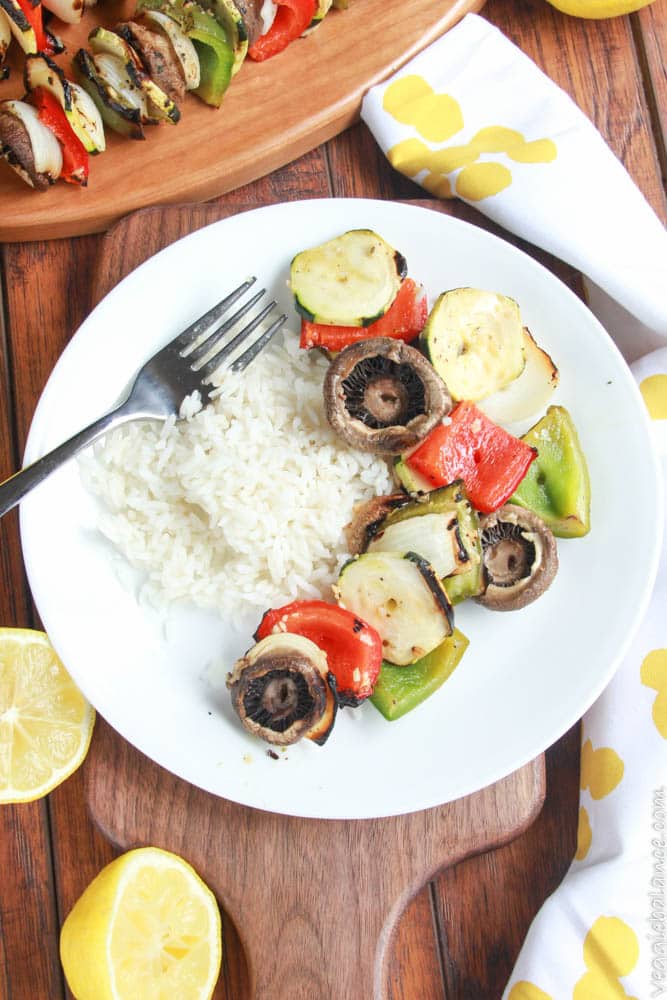 Have you invested in some metal skewers yet? Dude it is one of the best purchases I've made in a while. Such easy clean up and re-usable!