Crockpot Baked Beans recipe made with all-natural ingredients! Made healthier but still with that perfectly smoky and sweet flavor we love with our side of baked beans.
(Gluten-Free, Dairy-Free, Vegan and Vegetarian friendly)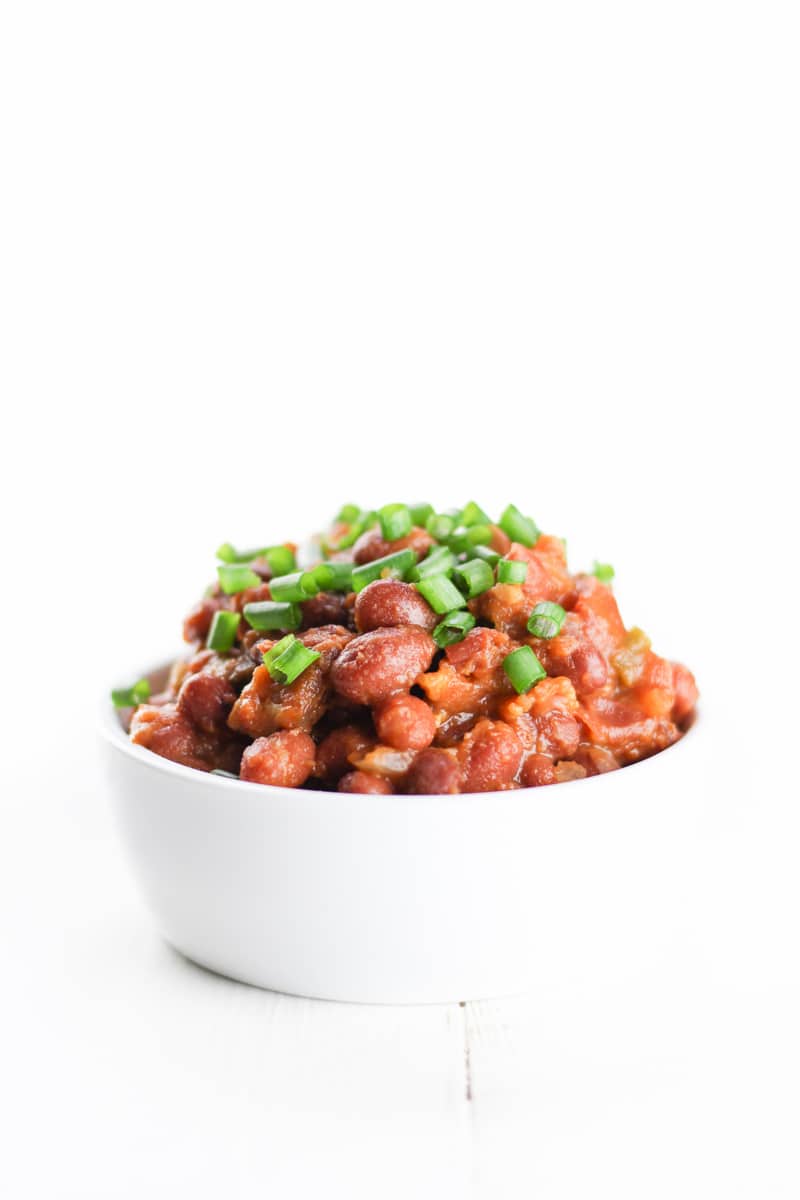 I feel the season for baked beans is right around the corner. We are ready for you. Especially when it's crockpot baked beans.
Serious question: Why do baked beans seem like only a summer dish to me? I mean, really, they are the most delicious and take me back to extremely happy summer moments.
The best summer moments after spending all day out in the summer sun and coming back to a pile of baked beans, corn on the cob, and a hamburger. #SummerBliss
I realized though, uhhhh, these are delicious, so why don't we make them year-round!?
We all know my love for crockpot recipes; that is, throw it in, set it and forget it. #CrockpotBliss
Here we go.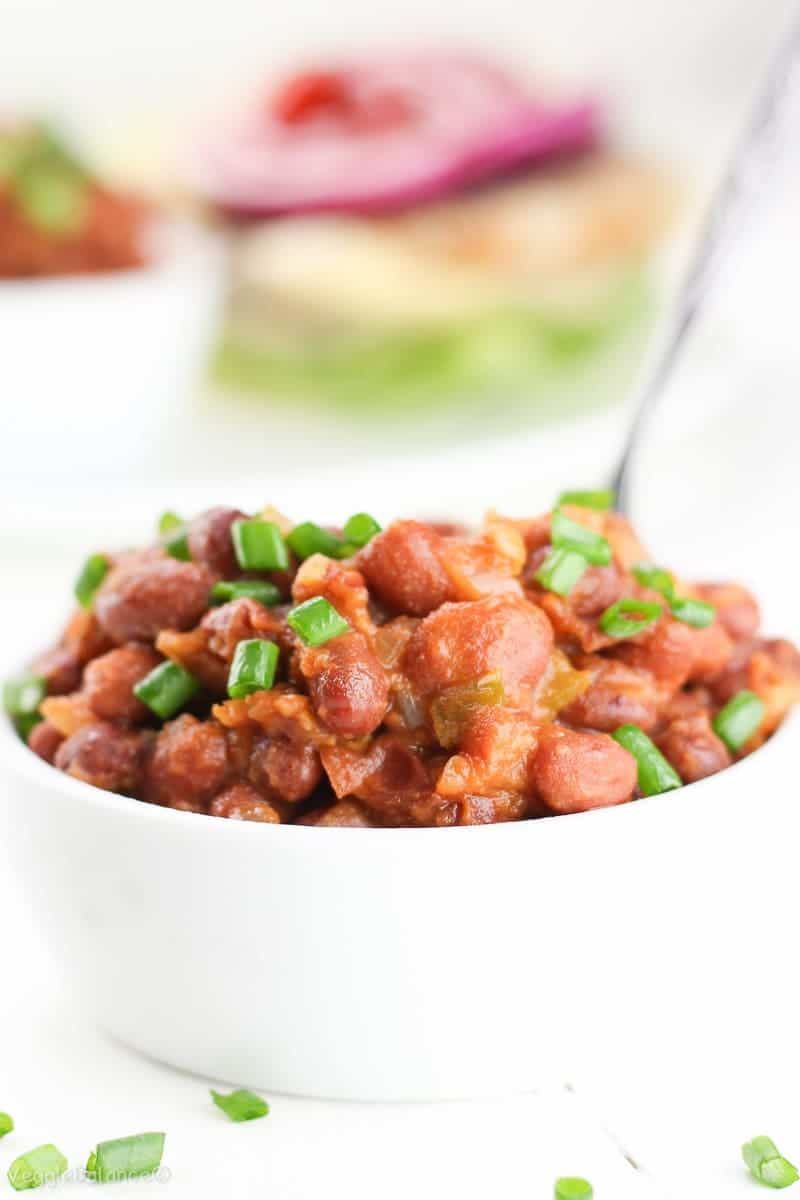 We are all about easy here at VB and these Crockpot Baked Beans fit the bill.
Made with natural ingredients and less sugar than the traditional versions, these are still packed with that sweet and smoky flavor we lovvveeeee about baked beans.
Making this Easy Crockpot Baked Beans Vegetarian and Vegan
This recipe can easily be made vegetarian and vegan by subbing out the bacon. The smoky flavor can be added in a few ways. Add 1-2 teaspoons Smoked Paprika or a little liquid smoke to substitute.
When my mother asked if these baked beans were from scratch, I said "Yeah!" Well, according to my dad, since I used canned beans, it's not from scratch . . . Hmm. Thoughts?
I personally hate waiting for dried beans to soak. I'm just not patient enough. Are you? If so, go for it. It gives you the same results.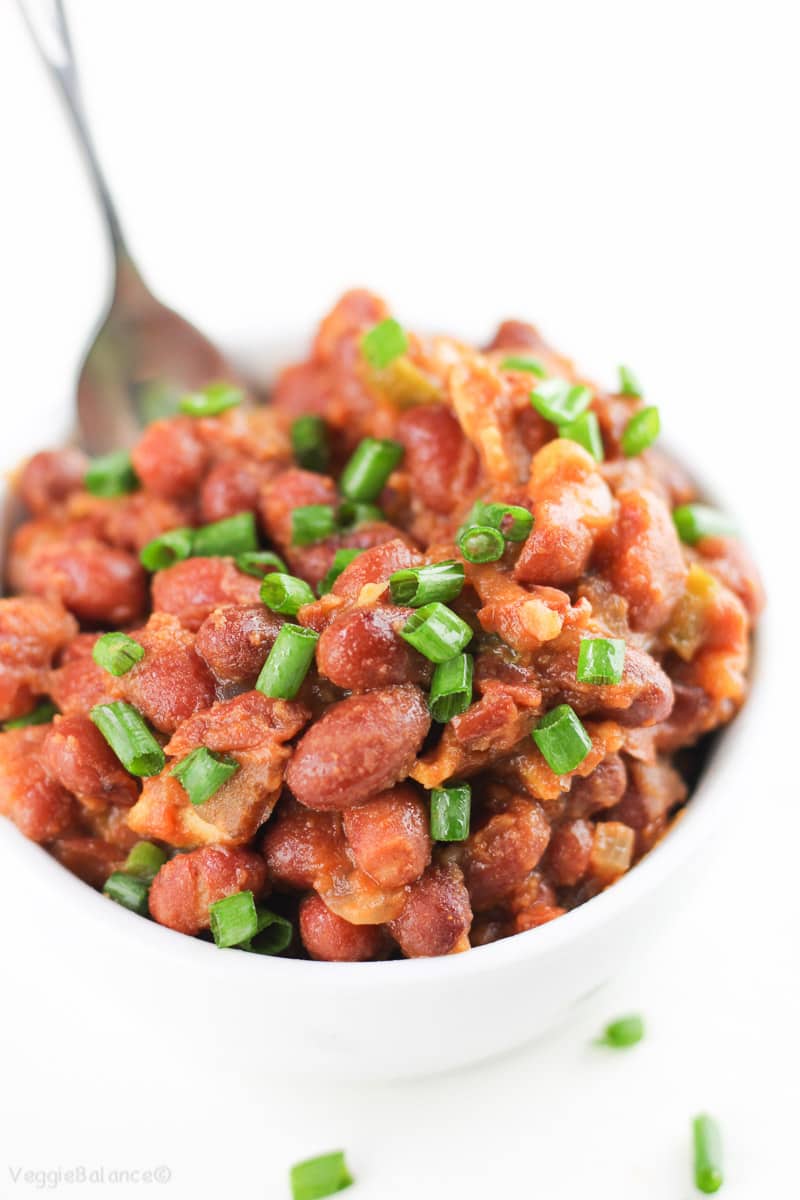 There were a few goals I wanted to achieve with these easy crockpot baked beans:
Throw everything in and forget it. √
Make these baked beans without molasses.√ // It's simply something I don't have on hand in my kitchen and figured there has to be other people without molasses in their kitchens, too!
Avoid those cans of pre-made pork and beans at all costs.√
Success. These crockpot baked beans were out of this world smoky, sweet and that perfect slice of summer (or winter, since these definitely need to made year-round from now on).