Crustless Vegetarian Quiche for those perfect brunch mornings or even those on the go mornings. Stores perfectly! (Gluten Free, Vegetarian)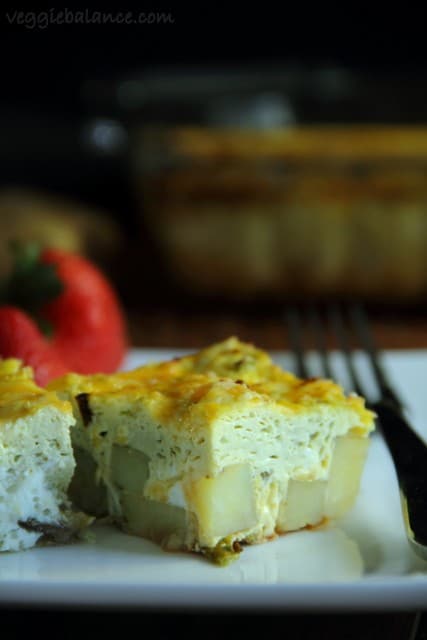 I go back and forth with eggs. Some weeks I can't get enough of them. Other times, not so much.
I especially love hard boiled egg with a little bit of salt.
What I love about eggs is the quick bang for your buck with protein.
I also find that tracking what I eat keeps me on track of what I put in my body. It makes me more aware. After an intense workout or simply not consuming  enough protein for the day I'll simply throw a hardboiled egg or two in the microwave, toss a little salt on it and bon appétit!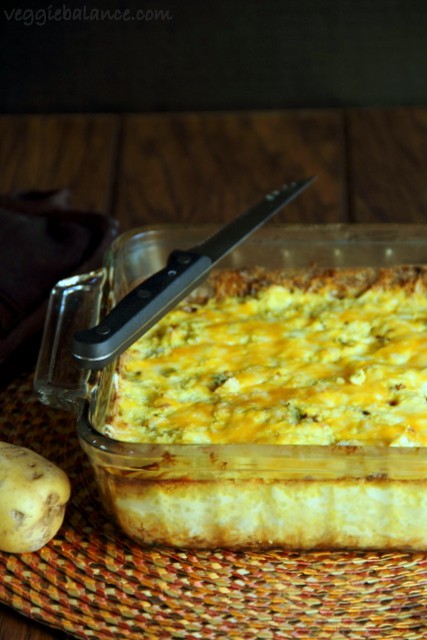 I through this Crustless Vegetarian Quiche together as I was trying to find something for my husband to begin eating in the morning.
He doesn't eat breakfast generally which I'm still trying to get him to join the 'breakfast' crowd. He's getting better though.
TIP: Make sure you cut potatoes up small enough that they bake in the oven. If they are too large of bites they will not cook through enough.
I've learned to just make delicious meals like this and then get them ready for him in the morning. This dish is hubby approved! He even ate it for dinner a couple of times!
He's a breakfast for dinner kind of guy. Me, I always felt breakfast needs to stay in its own realm of the morning before I met him. Sure enough though after 7 years, I don't mind me some pancakes for dinner once in a while.
These actually are our favorite pancakes ever! Once you make this delicious Crustless Vegetarian Quiche, pancakes are next.