Low-Carb Pizza Crust Recipe with sweet pears, salty prosciutto, red onion and tangy balsamic vinegar. Entirely gluten-free crust and sure to complete your Friday pizza night or wow your guests who'll keep asking for more.
(Gluten-Free, Low-Carb)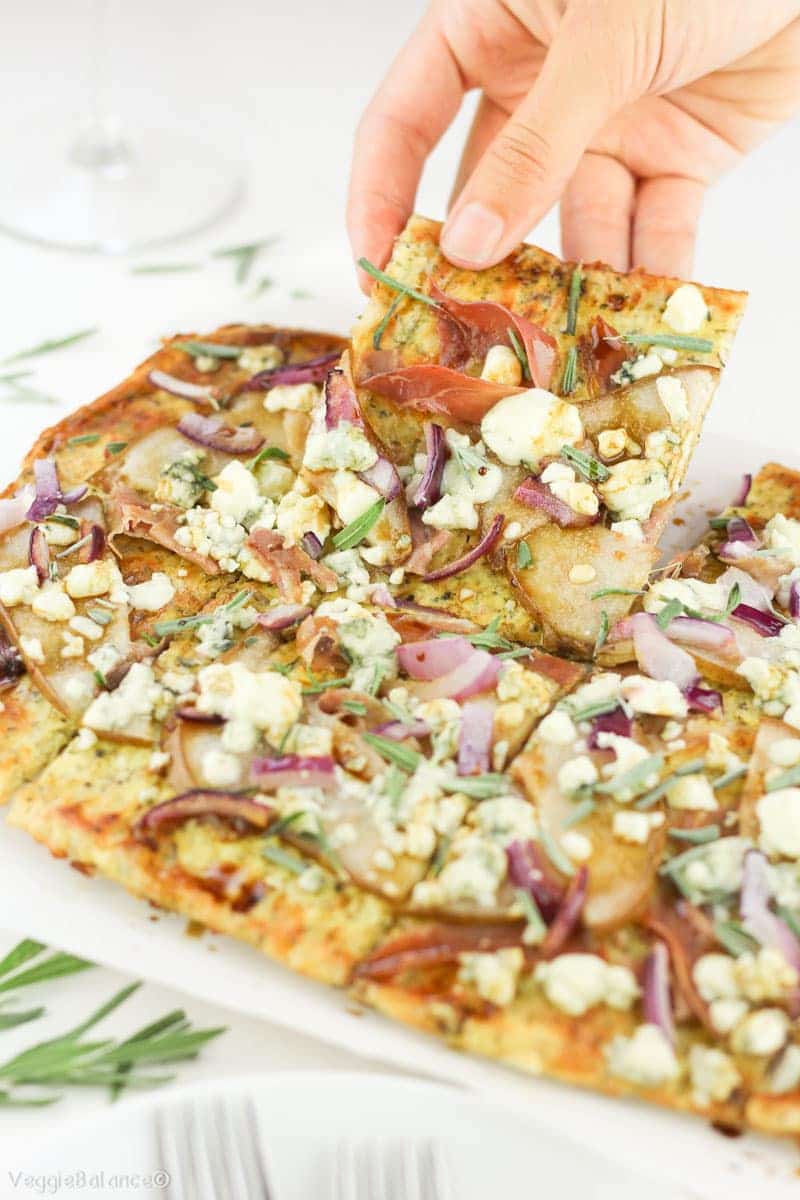 There are many things in life that I love, food obviously being one main component. // Hello, I am a Food Blogger. We love food.
Cookies, Cupcakes, Mexican Food… along with one amazing combo that is the epitome of a great Friday night: Pizza and a crisp glass of wine. // It doesn't take much to make me happy.
This Low-Carb Pizza is the only way we make pizza in our house, and for good reason.
It's naturally gluten-free, it perfectly mimics thin crust pizza, and (most importantly) IT DOESN'T involve cauliflower!
I know, I know, I'm totally going against my mantra, "We need more veggies in our life, etc. etc.", but hear me out.
Cauliflower crust pizza doesn't hold together well, and you can't pick it up and eat it like normal pizza.
While my last experience with it wasn't positive (i.e., I broke out in hives), honestly, it really doesn't taste that great either.
On the other hand, the amazing Low-Carb Pizza Crust: Tastes great, flourless, holds together perfectly, can be made with 4-Ingredients, you can pick it up like normal pizza, and it is completely void of cauliflower!
Uhh, yes, please.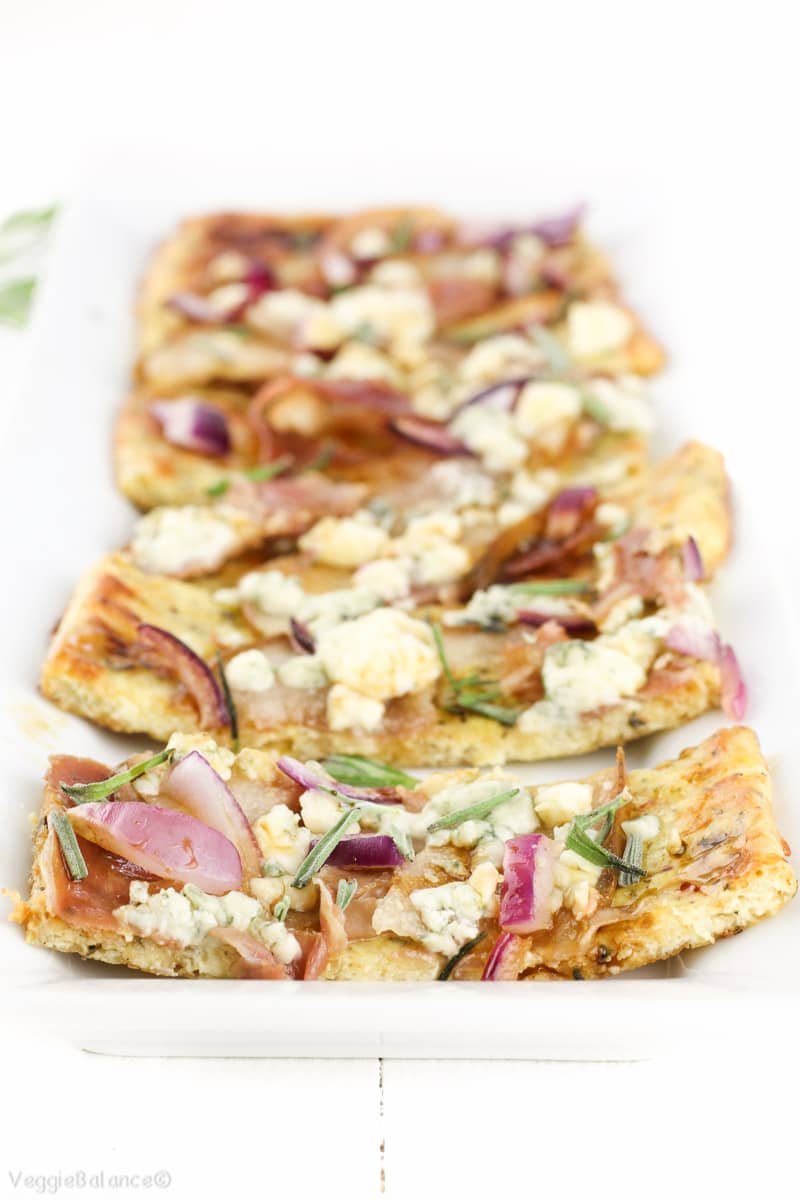 One of the huge reasons I love pizza is its versatility.
Feeling traditional today? No problem. Go with pizza sauce, some of your favorite veggies, and you are in business.
Feeling fancy? Take this flavor extravaganza of Pear, Prosciutto, Red Onion, Blue Cheese and Rosemary with a drizzle of quality balsamic vinegar. // OH MY WORD.
This is the dish you want to serve for your next get together. Cut into long slices for those perfect bite size pieces and this pizza will not last long, guys.
Serve with a crisp Chardonnay like Estancia Wines which is handcrafted with great purpose. Great purpose that is to have all the ingredients for an amazing summer night on the back porch with friends and family.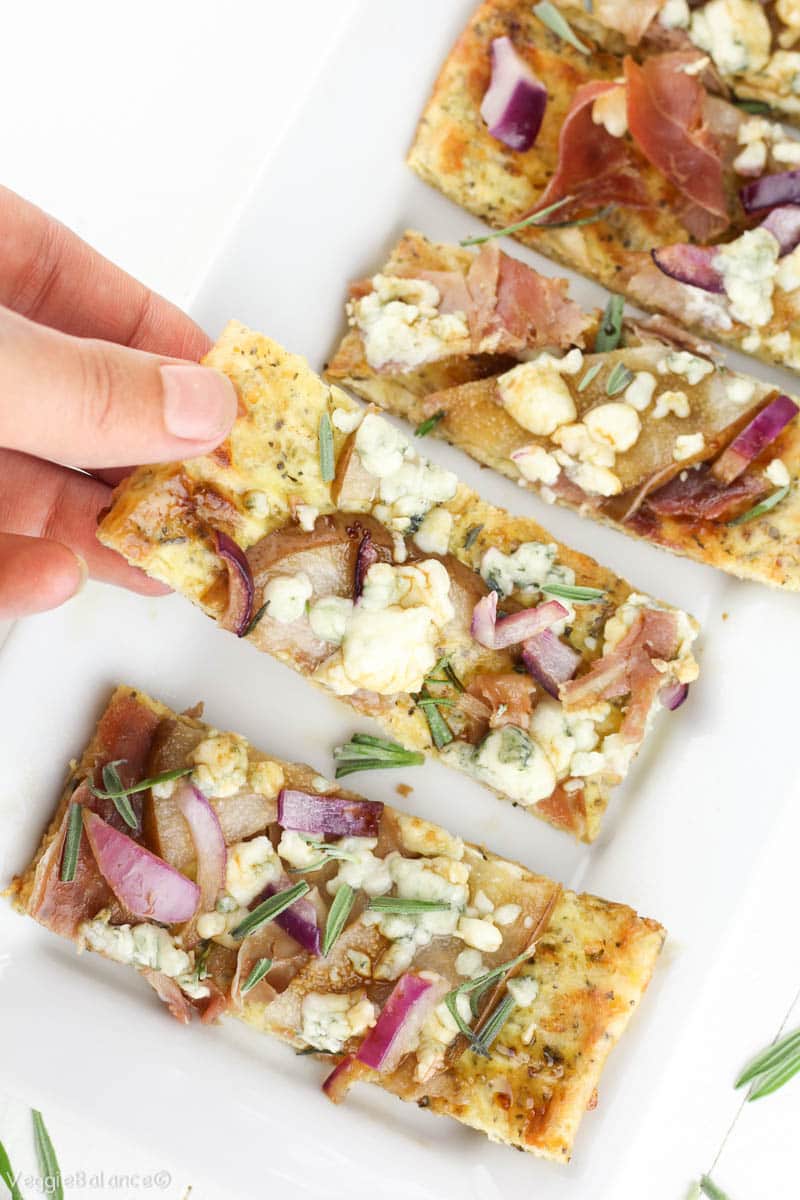 Whether or not you are sharing, this low-carb pizza crust is hands down the only crust you need!
I haven't needed gluten-free pizza crusts using flours because this recipe is that amazing.
Don't take my word for it though.
Take those easy 4-Ingredients you probably already have on hand, one bowl, and whip them together yourself.
In 20 minutes you'll have a low-carb pizza crust coming fresh out of the oven to top with all those fine toppings your heart is calling for. #ItsCallingYourName