Healthy Baked Potato Skins bring home the bacon when it comes to a healthy alternative to a snack-worthy hearty treat. (Gluten-free, Vegetarian)
When I look back to my past food obsessions over the years I've found a strong correlation to them all. Potatoes. Be it fries, wedges, mashed potatoes, baked potatoes, potato skins, potato soup… you get the point. There is a strong, strong connection between potatoes and I. It is true love.
I'll never jump on the current low-carb bandwagon that is currently sweeping diets around. Screw that, give me the potatoes. In all seriousness, potatoes are natural, I grew them in my backyard last year. Stop hating on the potatoes. Just because we decide to fry them doesn't make it their fault! I digress.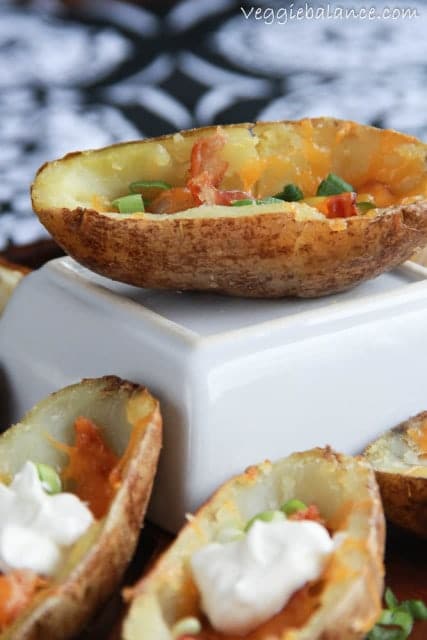 These potato skins are the ultimate way to make them at home. Minimal ingredients and you can add any yummy toppings that call your name. Green onion,bacon, cheese and a dollop of sour cream is personally what calls my name. It's a combination you just can't go wrong with.
It needs to get warm so I can stopping craving these 24/7. I feel like a broken record but I'm going to say this again. It is so friggin' cold out! Cold weather just sets me into crave fats over vegetables to an extreme. I have officially made them three times in less than two weeks. I think that is beginning to stem into obsession status. Just saying.
It's just so hard to crave vegetables when I've been eating the same thing for almost 3 months. Believe me, this is not by choice, there isn't any good produce in this tundra! I've even considered looking at possible organic baby food to sneak in more vegetables. Is that gross? I don't know maybe. I haven't had a chance to look at ingredients of those organic baby food though. Can't you tell that I'm in such desperate Give Me Vegetables mode?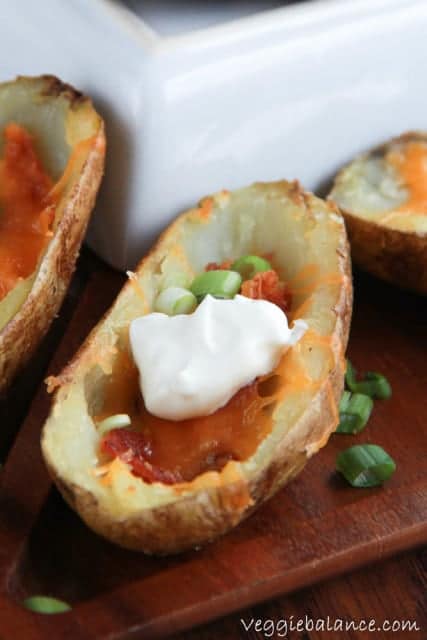 Believe me, these are so indulgent that they truly belong a part of a weekly tradition. Well, you get what I'm saying, these are so good!
I wanted to spice things up and try some mushrooms, green pepper and black olives. I was quickly turned downed by the husband as those are on the 'gross list'.
This list of his according to him do not have a place in this world and are an abomination to even be called food. (Drama Queen?)I have myself a big picky child on my hands.
No worries, I'll make myself another batch with my very own toppings and they will be all mine! Muhaha.
Now I know these aren't strict Paleo, but as I said earlier. These babies grew from the ground! That's natural enough for me.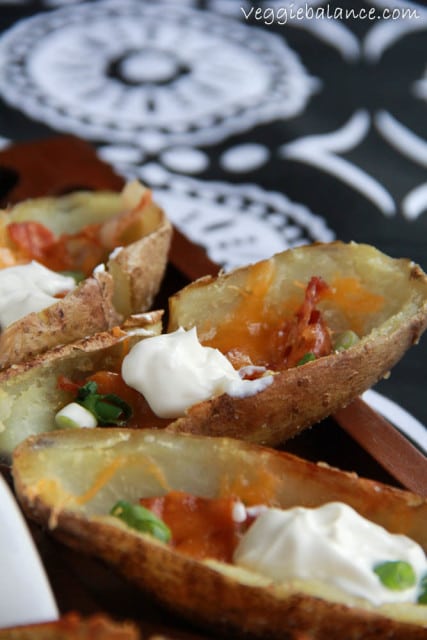 Now, to get to the nitty gritty of why I call these healthier potato skins. Based on ones I've gotten from restaurants they generally have a pool of grease swimming in the center. I am very happy to announce this recipe does not have that going on!
Making these I was very conscious of the amount of toppings I was using including the sour cream and cheese.
Drizzling them with olive oil and a pinch of salt adds a perfect crispy 'fried'-ness to the skin allowing you not to add so many toppings. Seriously, don't know how many times I'm going to say it but I'm going to say it again. Just make them! Gosh they are so gosh darn good!
Plus! Scooping out the insides leaves you some potato to eat later or make a mini batch of mashed potatoes! Telling you, this Irish blooded girl absolutely loves potatoes. 🙂