Strawberry Cupcakes with Cream Cheese Frosting made with a secret ingredient you'll never guess that packs these with extra protein. (Gluten-Free)
Cupcakes!! I love cupcakes. Especially moist, fluffy cupcakes with a ton of cream cheese frosting. I mean a TON of frosting, more frosting than cupcake please!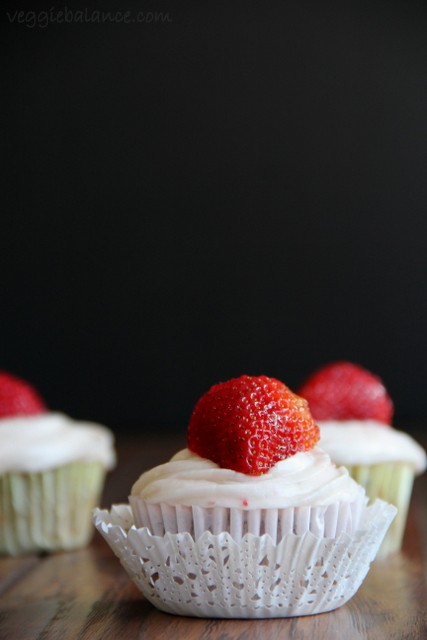 There is a bakery in my area that has these HUGE cupcakes, bigger than the size of your fist. They are good, but almost too much. I only needed to eat like a quarter of one to be satisfied. Now, after my journey I probably wouldn't even walk into the store to be honest.
Plus, they don't have cream cheese frosting… tsk tsk. Discovering how to make cream cheese frosting  and that it existed was a defining moment for me. It all began back when I made homemade healthier cinnamon rolls. #heaven
My goal was to create a cupcake that was healthier with a lower-sugar content compared to the traditional cupcake.  I've been experimenting with beans in baked goods and created my Chocolate Chip Cookie Bites.
Those turned out delicious so I figured why not try it in a cupcake? Don't be afraid of beans in baked goods, you have no clue they are in there but they kick it into the healthier realm with the added fiber and protein in them.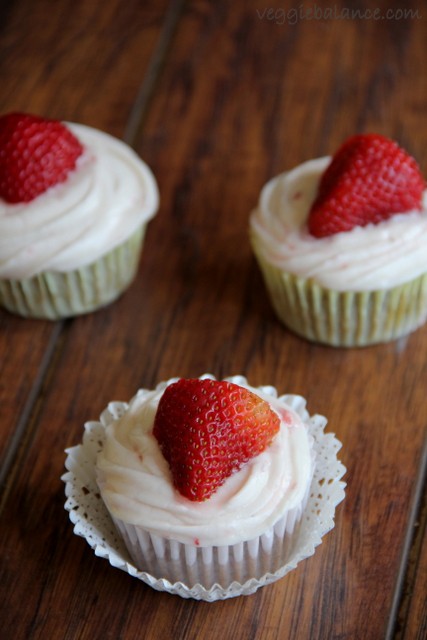 My taste tester, aka my husband, loved them. They have a perfect hint of strawberry in them and when garnished with a sliver of strawberry on top it kicked it into a whole new level.
They could perhaps almost be qualified as a muffin. Once you get the frosting on top though there will be in no doubt they are a perfect healthier alternative to the traditional cupcake.
Did I mention I have a deep, deep love for frosting? The sad part is it's hard to adapt frosting without the sugar since be default it is literally sugar. But, I've found the cream cheese has been able to help with lowering the amount of sugar used to achieve the results needed.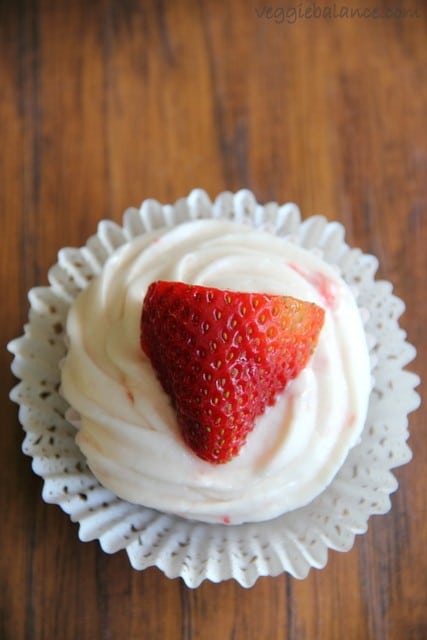 Now, two things I must warn you about. First the frosting, it doesn't handle the heat well. So, if you are making these for a outdoor event or if you are cheap (Like I am) and your A/C  is set at 78 degrees, I'd advise you to keep these refrigerated till they are ready to eat.
Second thing is with the slice of strawberry on top, they tend to have juices in the strawberries so I would advise not to garnish them until you are ready to serve. Otherwise the juices from the strawberry can mess with the frosting a little.
Oh did I mention each cupcake WITH the frosting is 158 calories and literally HALF the sugar content as a normal size cupcake. Booya.