Gluten-Free Chocolate Chip Banana Bread recipe made healthy! The go-to recipe for those weekend mornings. Made healthy with no oil or butter making it hands down the best gluten-free banana bread recipe!
(Gluten-Free, Dairy-Free, Vegan Friendly)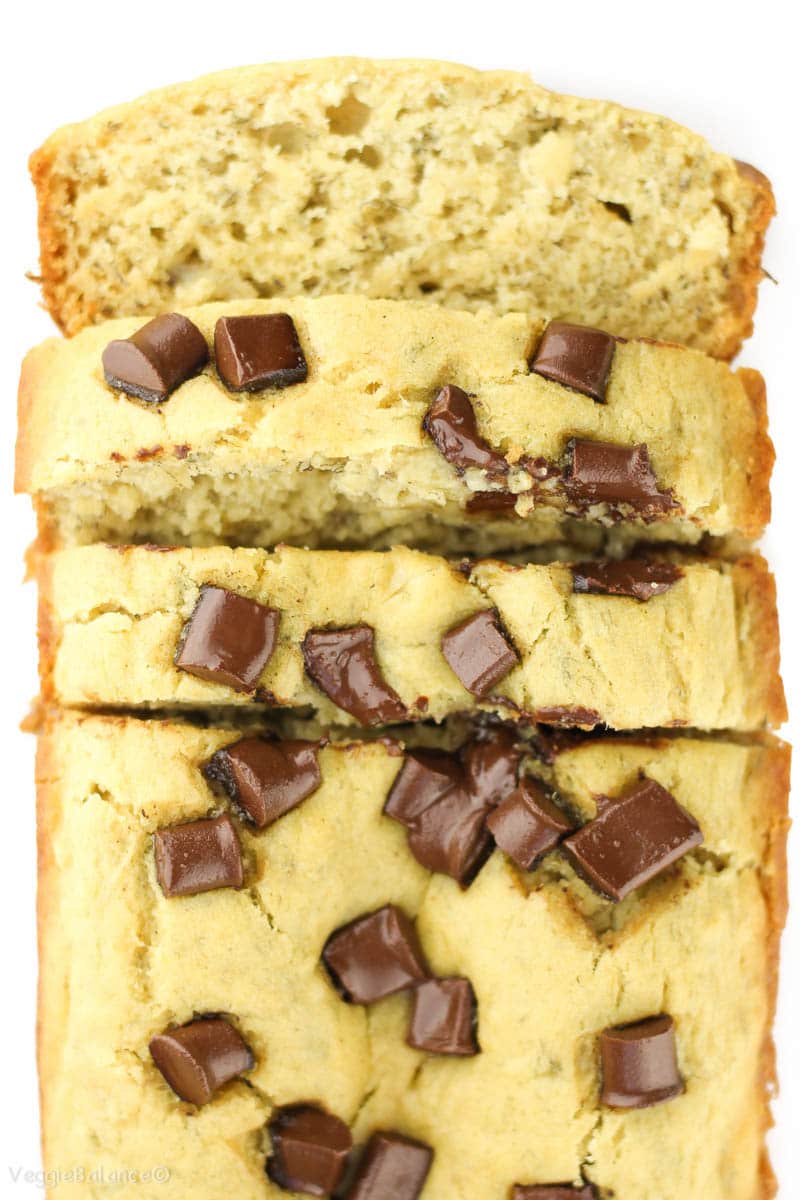 Fresh, warm and moist gluten-free chocolate chip banana bread from the oven? Is there ever a better smell to have coming from your oven on a Saturday morning?
Well, perhaps the fresh coffee brewing.
Chocolate Chip Banana Bread with Coffee = Saturday morning perfection.
What makes this the best gluten-free banana bread recipe
This fluffy loaf of chocolate banana goodness is entirely too easy to make, one bowl is all your need and 6-Ingredients.
None of these ingredients though include butter or oil, it is all healthy, delicious ingredients. Really, you would have nooooo clue this is a healthy banana bread if I weren't telling you. // Shhh. It's our little secret. 😉
It's the cream of the crop this gluten-free banana bread recipe.
It's unbelievably so easy to make, I find myself whipping up a loaf almost once a week.
Making our recipe into Gluten-Free Chocolate Chip Banana Bread
There really is no extra steps needed. I prefer to simply top the chocolate chips onto the top of the banana bread when I want chocolate chip banana bread. Which I have to admit, is most of the time.
If you want to mix the chips into the batter itself that is an option as well!
R buys bananas for his lunches but once in a while doesn't get around to either eating them, we bought extra, or really who cares the reason, I have extra bananas.
Extra bananas means a couple things, banana nice cream, banana bread muffins, or banana bread.
How to Freeze Bananas for future Banana Breads
Peel the bananas.
Freeze separated either into servings for the recipe or if you are freezing a ton freeze them on a baking sheet to avoid freezing together. You want to be able to easily separate them after freezing because once they de-thaw they will be very soft and impossible to not make a mess with.
When you are ready to make some banana bread, pop the frozen bananas in a bowl and let them thaw before baking, works like a charm.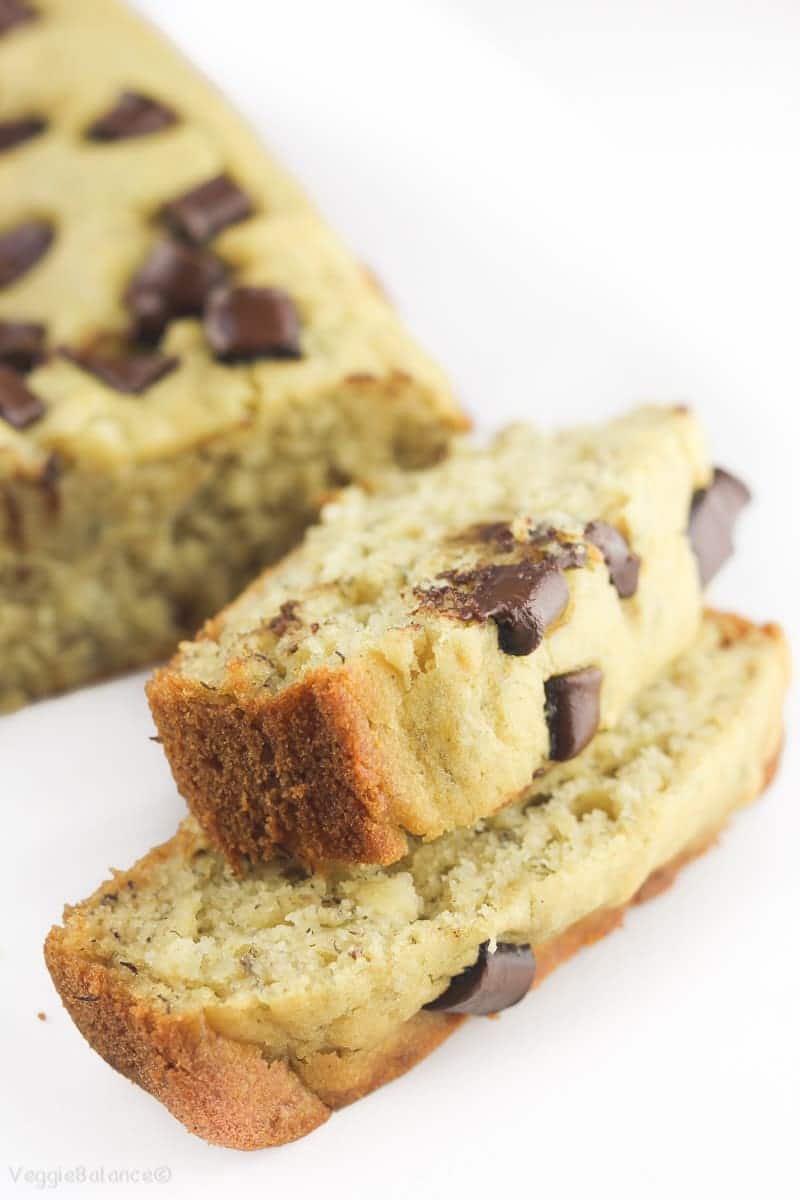 To help with keeping it healthier I just sprinkle chocolate chips onto the top of the loaf prior to baking vs. baking them into the batter also. This allows to have enough of that perfect chocolate banana flavor.
Really, it's perfect, it allows the banana bread to shine in all it's glory but then the chocolate graces your taste buds with an heavenly experience and all is right with the world.
How to Make the Perfect Moist Gluten-Free Banana Bread
Always make sure you measure your flour correctly! Lightly spoon the flour into your measuring cup then level with the back of a knife.
BAKE and when in doubt bake for longer: That is probably the 2nd most important tip I could leave with this recipe. It is a moist quick banana bread but unless the top of the banana bread is super dark brown keep baking to make sure it is fully cooked in the center. I made that mistake when shooting the photos for this post, I was hungry and inpatient. Learn from my mistakes. 😉
A little extra flour if measuring incorrectly won't ruin the bread since it's such a fluffy and moist bread to begin with, but believe me, you want it to be the perfect balance of fluffy and moist. This gluten-free banana bread is THE way to start your weekend.
And we are still being healthy!? Yes, this is definitely how to start the weekend.