Vegan Roasted Cauliflower with all the cheesy flavor that is the perfect plant-based dish to impress the family with minimal effort on your part!
(Gluten-Free, Vegan, Plant-based, Low-Carb, Nut-Free)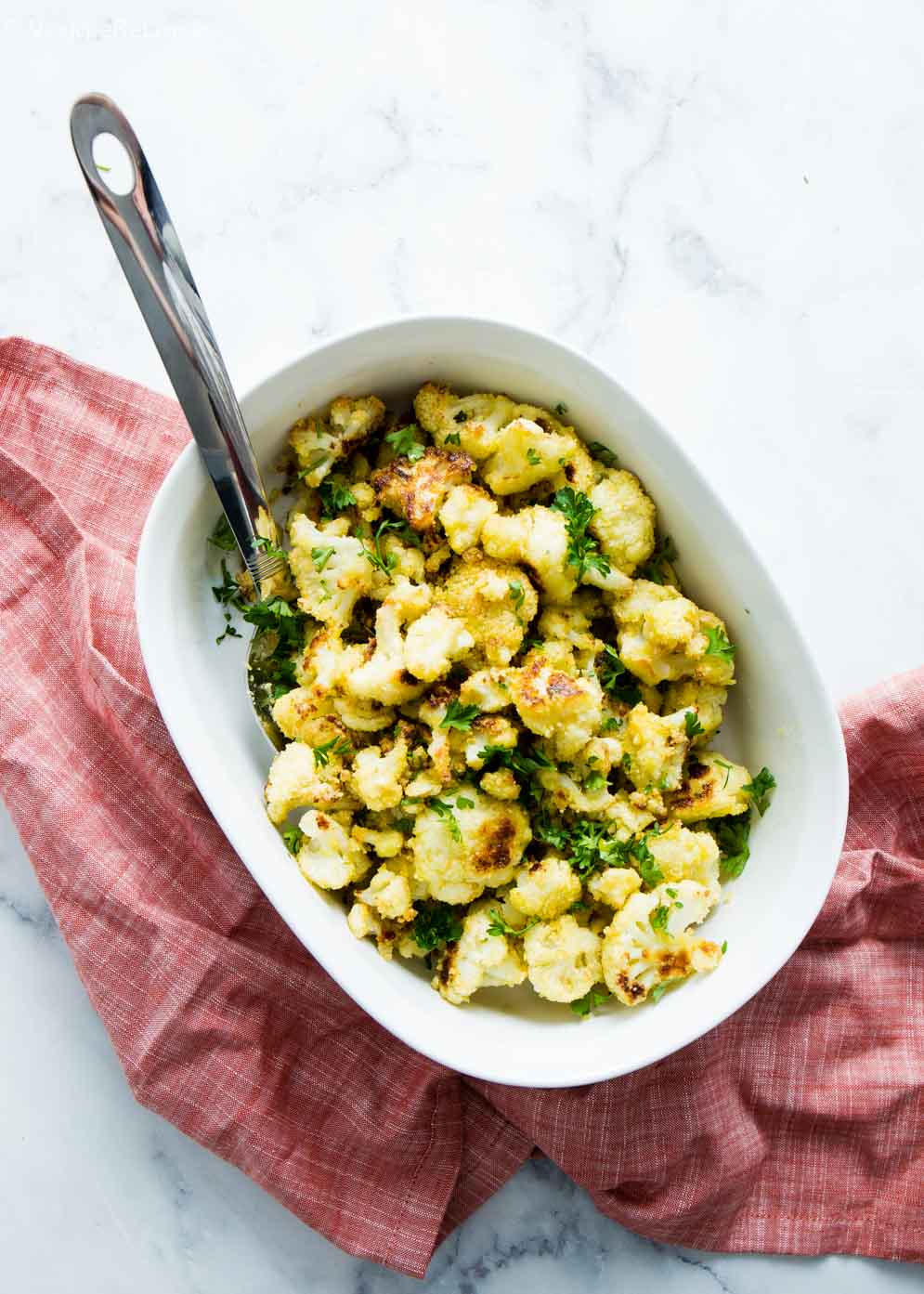 You might of noticed a trend in the past weeks with our recipes. We are loving cauliflower and for numerous reasons. It freezes well and it also can be dressed up and down in so many ways to enjoy it. Cue our Baked Buffalo Cauliflower for example. 😉
So now after us baking cauliflower steaks with a FABULOUS chimichurri sauce we've elevated our love of cauliflower and created it into a crowd pleasing side dish.
Welcome to the show Cheesy Vegan Roasted Cauliflower.
I think we are all looking for some simple recipes to make at home at the current state of the world and this recipe fits all the boxes. You can use fresh or frozen cauliflower and the rest of the ingredients are shelf stable. Woot!
So I hope this recipe can help lift your spirits – and while you are at it try out Broccoli Tater Tots .. those will surely lift spirits. They truly bring out my inner child and love how veggie packed they are..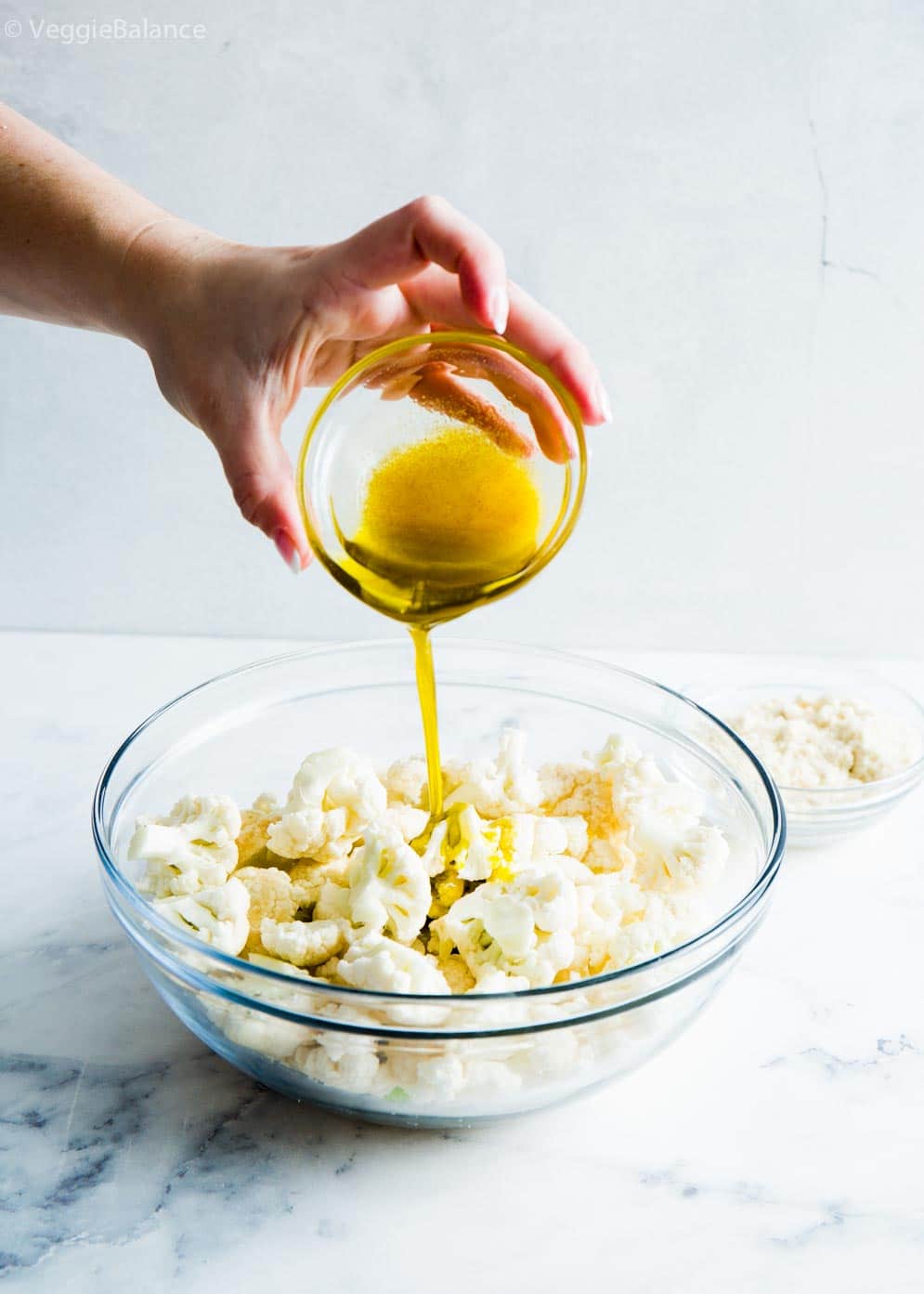 How do we make Cheesy Roasted Cauliflower Vegan?
So I know we are using the word cheesy but we are not using actual cheese. There is a fantastic dairy-free replacement for the flavor of cheese and that is nutritional yeast.
We've made several different recipes using it including our the ricotta cheese in our italian stuffed zucchini boats or our Vegan Parmesan.
It has a fantastic cheesy flavor without the dairy. Now if you would like to cheese a cheese alternative that is available in your local grocery stores go for it. We just figured at this time MOST people are going to need to stay close to home and nutritional yeast is a fantastic ingredient to use.
Bonus: You can order it online and we clicked to our favorite brand down in the recipe below.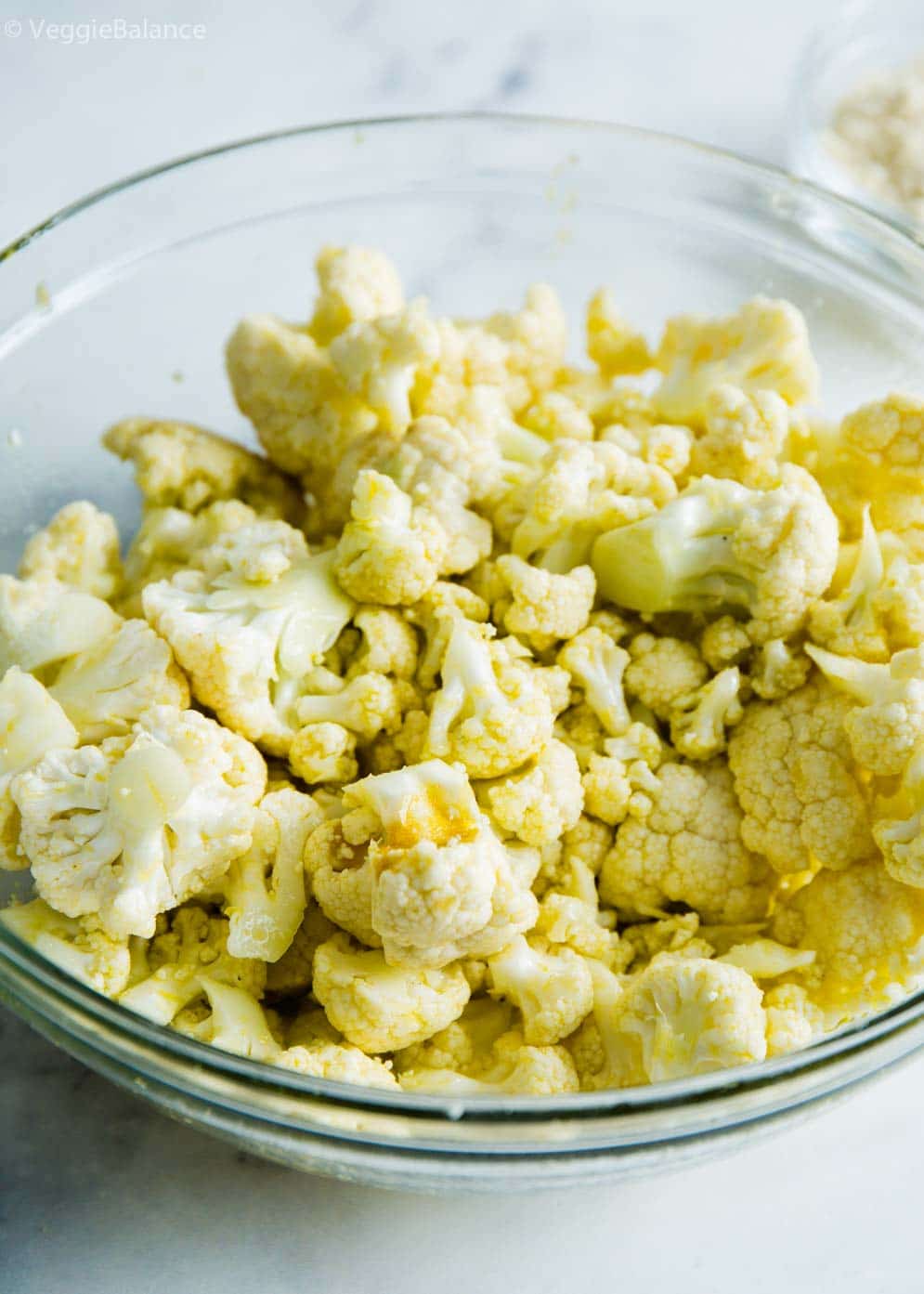 Can I use frozen or fresh cauliflower?
Fresh or frozen will work in this recipe. We PERSONALLY prefer fresh just because it tends to have less of a mushy texture that frozen does and holds together a bit better.
It's tasty regardless to be honest so if you've got frozen cauliflower to use go ahead if you don't mind the florets slightly falling apart.
And hey if you mash it together after it bakes… You can end up with cheesy mashed 'potatoes' like this cauliflower mash from That's Low Carb and that isn't entirely a bad thing right?
NOTE: If you are using frozen I would advise to partially defrost before preparing the recipe.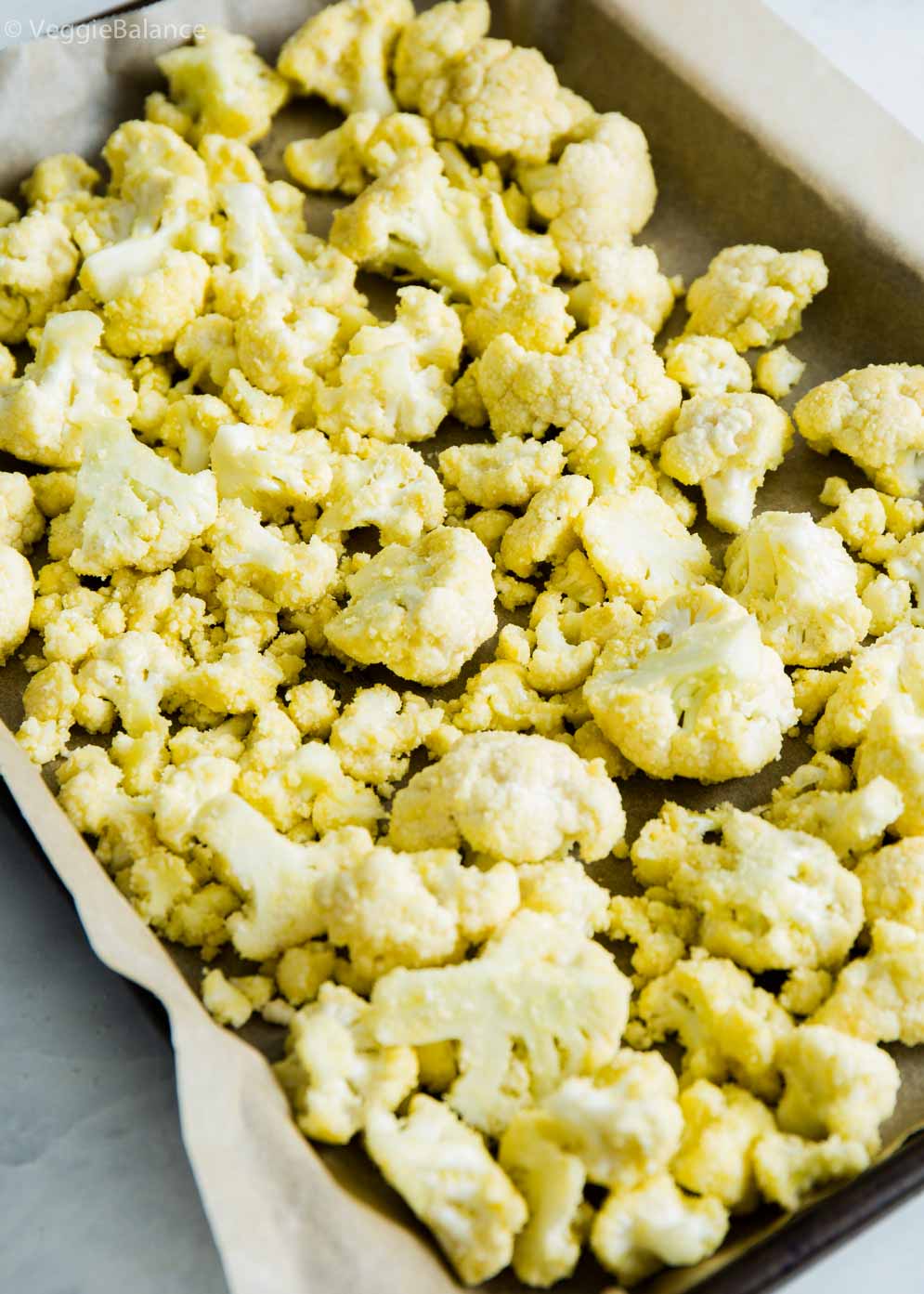 Other dishes you can serve with our Vegan Roasted Cauliflower
I would definitely say this is closer to a side dish. Anytime we make it we pair it with something else. So here are a few other recipes you may enjoy with simple ingredients you should already have on hand or frozen.
One massive benefit about being plant-based and vegetarian is in times like these many of our ingredients are either freezer friendly, shelf stable or not peoples first choice. So I hope this vegan roasted cauliflower recipe is something you can imagine yourself being able to make in the coming weeks since it has such simple ingredients.