Crockpot White Chicken Chili rings in the new year with a savory gluten-free meal to warm you up. (Gluten-free)

Hellooo 2015! Wow, cannot believe another year down. It truly has truly been a amazing year. I had a really scary moment this weekend though… I forgot how old I was. I've always made fun of my mother who literally forgets and has to do some math to figure it out.
Well, it finally happened to me. Here I was subtracting the current year from my birth year to figure out my age. It was a sobering moment realizing I'm a year older than I thought.
My age did sneak up on me just like the sobering realization that I am growing older and struggled to make it past midnight to watch the ball drop.
Not only that, my body has been screaming at me for the past 7 days. Just. So. Tired/Achy. Stupid flare up.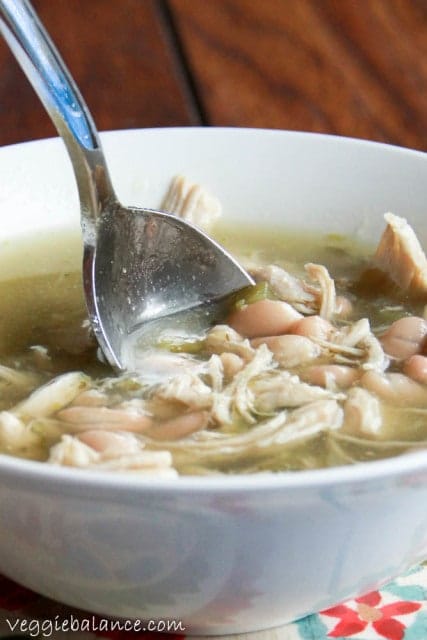 What better way to solve this problem of being absolutely exhausted and dealing with a flare? SOUP. Warm and comforting, throw in the crockpot, let it do the magic happen kind of soup.
This is my PART TWO post. Last week I shared how to make easy peasy shredded chicken and this week I have a even easier way to make gluten-free Crockpot White Chicken Chili with said shredded chicken!
My mother use to make a white chicken chili that I absolutely loved as a kid. Come to think of it, I think I need to make that sometime too. This one is a jar of this and a can of that. Which generally is the last thing I would recommend.
However, a jar of white northern beans and a jar of plain ole' green salsa are ingredients I use still as the ingredients are amazingly simplistic compared to the other processed options out there.
One thing you also might notice over the next couple months is the lack of fresh veggies. I know, it saddens me too. But I did want to point this out so people don't start worrying about me.
Well, living in Michigan the abundance of fresh produce- lacking in better words sucks. Which also confirms my beliefs that we are meant to eat what is in season around our area at the time.
I rely I root vegetables like carrots, potatoes, onions, and garlic for my main meals. I find that there is a reason for the seasons and what is locally fresh at the time and to take full advantage of it.
You might see a random recipe here and there but for the majority this is what I'm cooking up in my kitchen this time of year.
Michigan you are so cold. -15 F with the wind chill? Yeah, I'm going to stay inside with my soup thank you very much.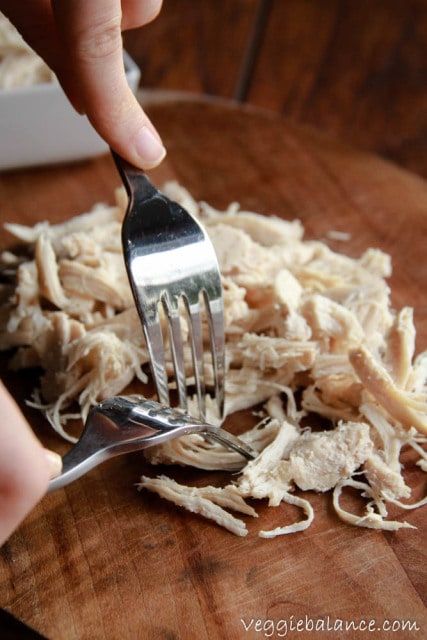 My recipes are generally pretty darn simplistic anyways. I don't like to be in the kitchen for hours to cook up one meal. Over the next couple months I have a sneaky suspicion my food is going to be really simplistic with working with one arm.
Not really sure how it's going to work but I'm going to do my best.
I even had a thought to share my SLAP tear surgery progress on a separate section of VB but haven't decided on that yet. There wasn't a lot of information of personal recoveries when I was trying to decide to opt for the surgery or not.
With it being such a long recovery time (7-9 months) I was trying to gauge if it would really take that long. Just been thinking of it though. Maintaining this end of VB with one arm for pictures and cooking alone might be an adventure in itself.