Gluten Free Steak Fajitas, all-natural and protein-packed dinner. Get on board with grilling season! (Gluten-free)
Mmmm STEAK.
Those are Roland's exact words right there, perhaps even some drool included. These gluten-free steak fajitas are all R's. Fresh grilled steak thinly sliced with some spicy peppers on a bed of quinoa. Sounds heavenly my carnivores?
I've been eating meat now for going on 8 months and I still haven't had any steak. Just not able to stomach it yet. (will I ever? idk)  R is the complete opposite (especially after watching his sugar levels) the more steak and chicken the better.
I've been working on getting some hearty grains in his diet while avoiding the normal flour/corn tortillas I figured it was worth a try to get him to eat some quinoa. He at least ate it. His opinion on quinoa has never been positive.
It's a texture thing. I figured if I threw steak on it I'd be able to hide it.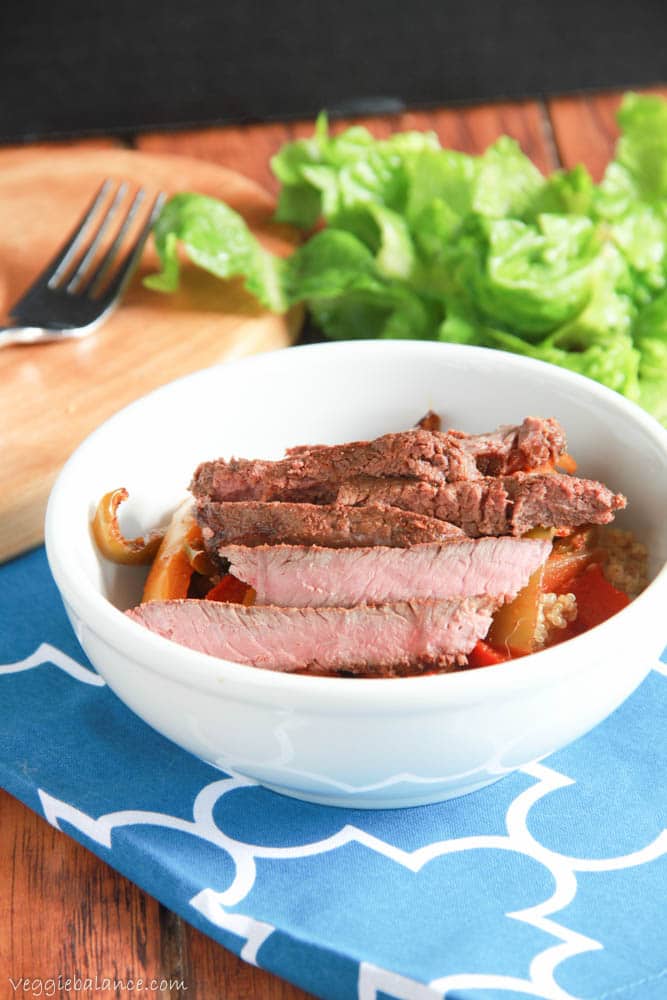 Also he forgets if he's tried certain foods, like all the time. So quite often I'll tell him he's tried it and he liked it that time for him to eat it again.
Yeah I'm sneaky like that. (Good thing he never reads these, I give away too many secrets on here.) This time he didn't remember having quinoa (again).
After being together for almost a decade you begin to recognize certain faces and actions. As soon as he had a bite of the quinoa It was obvious, it wasn't his favorite. He describes it as a thousand little seeds in his mouth… drama queen much? 😉
He happily munched away on the steak and peppers which he stated were phenomenal. Just the quinoa wasn't his favorite. This is the 4th time he's tried quinoa. He never remembers trying it though, so it can't be that horrible right?
I on the other hand happily munched away on my bed of quinoa and fajita peppers.
My point being, if you aren't a quinoa lover substitute it for some rice.
We purchased this steak from our local farm and not really know what I was expecting we got a sirloin that is so massive it hardly fits on a standard cookie pan. Epic. (Again, another choice word of R's.)
I am getting better at handling meat though, I enjoy seasoning it and grilling it to pretty decent perfection. I even touched raw chicken the other day and breaded them and ate a good 3 ounces of it. It's progress but just don't think I ever will have it in me to be a full fledge carnivore without any reservations like R.